Brussel-Moskou: Een ontmoeting met Ljoedmila Petroesjevskaja
In de Sovjetunie durfde niemand de verhalen van Ljoedmila Petroesjevskaja publiceren. In Amerika, in 2009, werden ze een New York Times bestseller. Denk je dat Petroesjevskaja van die late literaire blitzcarrière geniet? Welnee, de 76-jarige treedt liever op als cabaretière: "Ik wil een band voelen met mijn publiek en energie uitwisselen. Dat gaat beter met zingen dan met schrijven."
Het regent pijpenstelen op de zondag van het Passa Porta Festival en door een betoging draait het verkeer in het centrum van Brussel vierkant. Terwijl de wind mijn paraplu voor de derde keer binnenstebuiten blaast, vraag ik me af hoeveel mensen dit rotweer zullen trotseren om in een kelderzaaltje van het Bozargebouw een 76-jarige Russische schrijfster te ontmoeten. Tenslotte is het van 1993 geleden dat Petroesjevskaja's werk in het Nederlands in boekvorm is verschenen (De nacht is aan mij, Wereldbibliotheek). Sindsdien hebben zowel The New York Times als Publishers Weekly Petroesjevskaja bejubeld, kreeg ze in haar thuisland de hoogste literaire onderscheiding en bombardeerde Dmitri Bykov haar tot 'Ruslands enige ernstige kandidaat voor de Nobelprijs Literatuur'. Ik heb de jongste weken Petroesjevskaja's verhalenbundels in de Penguin Modern Classics reeks gelezen: There Once Lived a Girl Who Seduced Her Sister's Husband and He Hanged Himself en There Once Lived a Woman Who Tried to Kill Her Neighbour's Baby.
Ik gun de schrijfster een opkomst die recht doet aan haar unieke stem, maar ik vrees ervoor.
Onterecht. Tien minuten voor Petroesjevskaja het podium op moet, zitten er driehonderd mensen samengepakt in een zaaltje dat maar stoelen heeft voor tweehonderd. Het is drummen aan de balie waar je een hoofdtelefoon kunt ophalen voor de simultaanvertaling, want het interview zal doorgaan in het Russisch. Ongeveer de helft van de aanwezigen draagt zo'n setje, de rest heeft blijkbaar dezelfde moedertaal als de schrijfster. Ik ontdek enkele grote fans. Een vrouw op de eerste rij draagt een dramatische, fluwelen hoed – vast ter ere van de excentrieke Petroesjevskaja, die in het openbaar nergens zonder hoed verschijnt.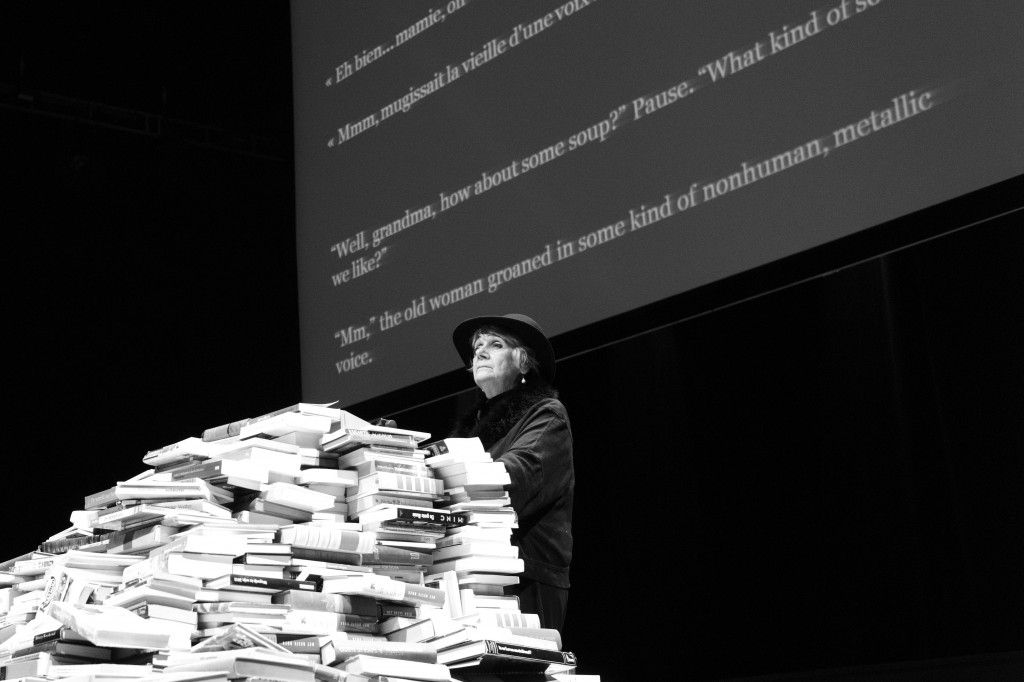 VIVA LA DIVA
Twintig minuten nadat Petroesjevskaja op het podium werd verwacht, is er van de schrijfster nog steeds geen spoor. Ik informeer even bij Svetlana, de Siberische moeder van een tienerzoon die me vandaag vergezelt, hoe beroemd Petroesjevskaja is in Rusland. "Beroemd," zegt Svetlana. "Ze komt op tv en iedereen kent haar. Al denk ik niet dat haar boeken massaal worden gelezen. Het blijft ernstige literatuur, voor een beperkt publiek." Petroesjevskaja heeft de reputatie nogal een diva te zijn. Toen ik probeerde om aansluitend aan dit publieke optreden een interview met haar te regelen, kreeg ik meteen een lijstje voorwaarden. Eén ervan was dat ik een tolk moest voorzien, want
Petroesjevskaja wil alleen Russisch praten. Best gek voor iemand tot haar vijftigste uit het Frans heeft vertaald en die – zoals zal blijken – een aardig mondje Engels spreekt.
Hoe dan ook, Svetlana zal straks inspringen en voorlopig hoeven we alleen maar te luisteren. Petroesjevskaja is immers gearriveerd, ruim een half uur te laat maar klaar voor haar one woman show. Ze laat zich giechelend het podium ophelpen door twee festivalmedewerkers. Zonder zich veel aan te trekken van de vragen van de interviewer richt ze zich tot het publiek. Ze vertelt over het weeshuis voor mentaal gehandicapte kinderen in Pskov dat ze steunt. Ze vergast ons op een absurd sprookje over een wekker met een snor en een hart. Ze heft zelfs schalks een lied aan, dat ze na twee maten met een lachje weer afbreekt. De organisatoren van Passa Porta hebben Petroesjevskaja op het hart gedrukt dat ze is uitgenodigd als schrijfster en niet als cabaretière. Sinds acht jaar timmert de Russische immers aan een tweede carrière, in de voetsporen van – dit is geen grap – Susan Boyle.
THEATRALE WORTELS
Aan het publiek in Bozar legt Petroesjevskaja uit dat die professionele wending niet zo abrupt is als ze lijkt: "Ik zing al m'n hele leven. Op mijn negende zong ik als bedelaarskind liedjes van Edith Piaf in Moskou. Het voelde goed om m'n eigen brood te verdienen. Ik ben een theatrale persoonlijkheid. Ik geniet van applaus en van zingen. In de theaterwereld ben ik begonnen als dramaturge en ik trad ook op in het studentencabaret. Ik schreef nieuwe teksten voor oude nummers – precies wat ik nu met mijn muziekgroep doe." Petroesjevskaja is veelzijdig, dat is het minste wat je kunt zeggen van een schrijfster die ook zingt, juwelen maakt, landschappen en naaktstudies schildert en scenario's voor tekenfilms schrijft. Als ze begint over één van haar animatiefiguurtjes, Biggetje Petrov, en een stukje debiteert in de zelfverzonnen en onbegrijpelijke taal van het varkentje, haken de eerste Brusselse toehoorders af. Het volgende kwartier verlaten behoorlijk wat mensen de zaal. Willen ze op tijd zijn voor het optreden van Stefan Hertmans, dat door de opgelopen vertraging zal beginnen voor Petroesjevskaja klaar is? Of is het hele optreden van de Russische te chaotisch en eigenzinnig voor de gemiddelde festivalganger op Passa Porta?
Petroesjevskaja is ontegensprekelijk een persoonlijkheid: grillig, zelfbewust en er niet op uit om te pleasen.
Precies wat je verwachten kunt van een schrijfster die haar verhalen opent met staalharde zinnen als: 'Er was eens een meisje dat graag werd gezien door haar moeder en door niemand anders' of 'Er was eens een vrouw met een hekel aan haar buurvrouw – een ongetrouwde moeder met een jong kind'.
IK, TSJECHOV
Door het recente, fenomenale succes van Petroesjevskaja's bundels in de Penguin reeks, staat de schrijfster in het Westen bekend als auteur van korte verhalen en novelles. Daarin beschrijft ze de dagelijkse beslommeringen, meestal van vrouwen, in de Sovjettijd. Liefde blijkt een voorbijgaande, schamele vreugde; het gezinsleven een eindeloze oefening in zelfopoffering. Petroesjevskaja's vrouwen zijn soms wanhopig of getraumatiseerd, soms lichtvoetig of ijzersterk, maar ze wonen altijd met teveel familieleden in te kleine appartementen. Hun bleke, claustrofobische leefwereld steekt zo schril af tegen het ideaalbeeld van 'Het Arbeidersparadijs' dat zelfs het meest progressieve literaire tijdschrift uit de Sovjettijd Petroesjevskaja in 1968 alle hoop op publicatie ontnam. De schrijfster was op dat moment dertig, had een zoon van vier en een verlamde echtgenoot en schraapte met slecht betaald redactie- en vertaalwerk een inkomen bij elkaar. Af en toe schreef ze voor het toneel. Een Russische auteur van kortverhalen die ook toneelstukken schrijft? Het duurt nooit lang voor buitenlandse critici Petroesjevskaja typeren als 'de vrouwelijke Tsjechov'. Daarover grapt ze in Brussel: "Ooit had ik een spreekopdracht in Boston, maar het nodige papierwerk bleek niet in orde.
Men had een foto van mij nodig en ik had er geen. Ze hebben dan maar Tsjechovs foto erbij gekleefd. Mensen zien toch nooit het verschil."
Petroesjevskaja beweerde ooit dat ze verhalen schrijft alsof ze op de bus een anekdote vertelt: levendig en met tempo, zodat de clou eruit is voor ze haar halte bereikt. Op Passa Porta klinkt het: "Ik heb drie kinderen, vijf kleinkinderen en drie achterkleinkinderen. Ik vertel al zo lang verhalen dat ik intussen wel weet wat ik doe." Niet zelden hebben Petroesjevskaja's verhalen een bovennatuurlijke, unheimliche twist. Eigenlijk kun je haar net zo goed met Gogol vergelijken als met Tsjechov.
OREN ALS SCHOTELTJES
Wanneer Svetlana en ik Petroesjevskaja voor ons alleen hebben, is de schrijfster behoorlijk moe. Om wat animo in het gesprek te krijgen, begin ik over haar theaterwerk. In de Sovjettijd waren  toneelstukken het enige werk waarmee Petroesjevskaja naar buiten kon komen. Toch interesseert die kant van haar oeuvre het Westen amper. Hoe komt dat? Petroesjevskaja: "De Engelse vertaling van mijn verzamelde theaterwerk, Cinzano – Eleven Plays (Stephen Mulrine, Nick Hern Books, 1991, red.) was slecht. Om een toneelstuk te vertalen moet je beide talen op moedertaalniveau beheersen en ook het taalgevoel hebben van een dramaturg. Een individu geeft zich bloot in bepaalde, individuele zegswijzen. Wat dat betreft heb ik oren als schoteltjes. Mijn toneelwerk zit vol alledaagse, maar volstrekt unieke uitdrukkingen. Ik ben daar gevoelig voor – de meeste vertalers niet." Petroesjevskaja komt op dreef en trakteert me op een korte typologie van theatertaal: "Mensen denken vaak dat er twee soorten theaterauteurs zijn. Je hebt types als Tsjechov die verzorgde, tijdloze dialogen schrijven. Iedereen begrijpt die, maar niemand spreekt zo. En dan heb je auteurs als Aleksandr Ostrovski (1823-1886, red.) bij wie de personages klinken als gewone mensen op straat. Ze spreken dialect of bezigen de clichés van hun tijd. Ik beschouw mezelf als een derde type toneelschrijver.
Met mijn grote oren pik ik originele, unieke uitspraken op. Zinnen die ik één keer heb gehoord op de bus of bij mensen thuis.
Als schrijver ben ik wezenlijk een chroniqueur. Ik schrijf op wat mij ter oren komt: spontane, treffende zinnen en de verhalen die mensen elkaar vertellen."
SPROOKJESLEVEN
Petroesjevskaja schreef al enkele autobiografische flarden. Als ze ooit met haar levensverhaal komt, zal dat lezen als een Russische variant van het 'rags-to-riches' scenario. Petroesjevskaja werd in 1938 geboren in een familie waarvan drie leden als staatsvijand werden geëxecuteerd. Haar eerste levenshelft in steekwoorden: een armoedige jeugd met 'n afwezige vader; een korte passage in 'n staatsweeshuis; een psychisch zieke opa (sinds z'n ontslag om politieke redenen); studies journalistiek; werk voor radio en tv; als toneelschrijver gecensureerd en in het oog gehouden; als auteur uitgesloten van publicatie; al jong weduwe met een astmatische zoon en een hulpbehoevende moeder; later twee kinderen met 'n tweede echtgenoot die (alweer om politieke redenen) nooit werk kreeg op zijn niveau. Het grote keerpunt komt in 1988 – Petroesjevskaja is dan vijftig – wanneer haar eerste boek in de Sovjetunie verschijnt. Volgen: een literaire prijzenregen in Rusland; vertalingen in dertig talen; internationaal aanzien en een groots feest op haar zeventigste verjaardag, op kosten van de staat. Hoewel dat klinkt als een klassiek zwart-wit sprookje met de Perestrojka als kantelmoment ten goede, voelt Petroesjevskaja het zo niet aan: "Ik kan mijn leven niet opdelen in periodes, voor mij vormt het een geheel. Ik ben ongelukkig geweest wanneer ik met ziekte of dood werd geconfronteerd. Al de rest tel ik als geluk. Gewone augustusavonden op het platteland – dat is geluk. De geboorte van een kind.
De publicatie van mijn eerste boek maakte me niet gelukkig. Ik werd niet overspoeld met vreugde toen. Voor een vrouw is geluk iets anders."
En zo belandt het gesprek weer bij de recente carrièreswitch: "Ik heb altijd willen zingen en toen ik een tijdje geleden als voorprogramma van rockster Joeri Sjevtsjoek voor zevenduizend mensen mocht optreden, toen kreeg ik vleugels. Dat was mijn sprookje. Dat was geluk. Ik wil een band voelen met mijn publiek en energie uitwisselen. Dat gaat beter met zingen dan met schrijven."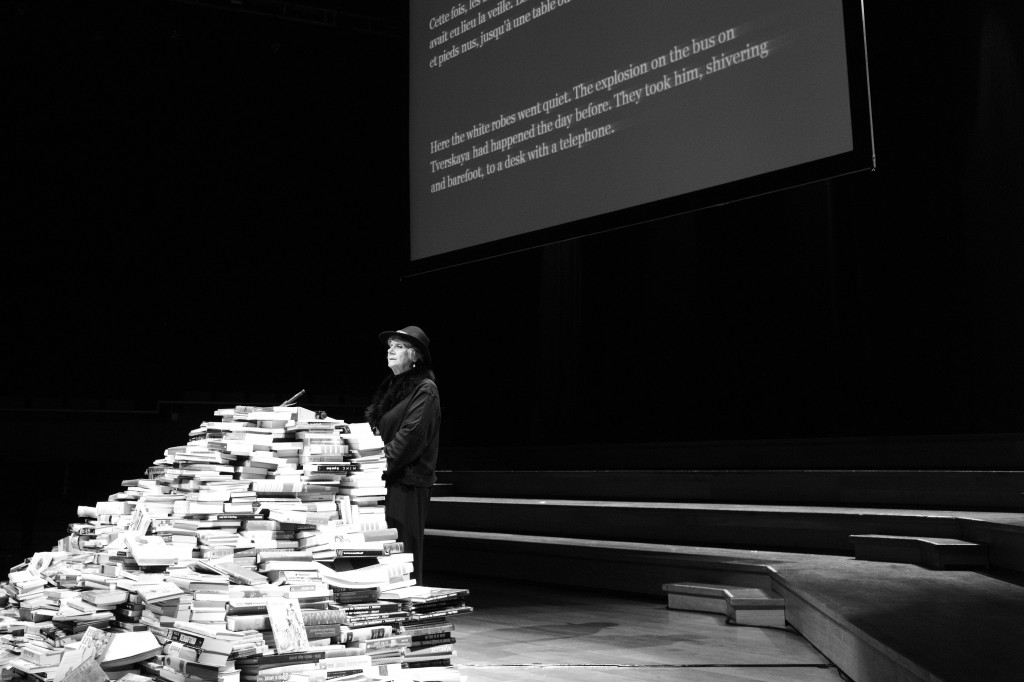 NIET ZOALS MAMA
Petroesjevskaja's enige dochter, Natasja, zingt in een Russische funkband. Hoe vindt zij het dat haar moeder op gevorderde leeftijd de literatuur de rug toekeert en voluit kiest voor muziek? Petroesjevskaja: "Mijn eerste nummer schreef ik over en voor mijn dochter, maar ze heeft het niet één keer gezongen. Ik begrijp en respecteer dat volkomen.
Lang geleden zat ik op een theaterfestival eens backstage tussen allemaal mooie, jonge actrices en scenaristes – ik was zelf ook nog jong. Iemand riep: 'Wie wil er zijn zoals mama?' En we scandeerden allemaal: 'Nooit, nooit, nooit.'
Tegenwoordig geeft mijn dochter toe dat we tenminste in één opzicht op elkaar lijken. We werden allebei voor het eerst moeder op ons zesentwintigste. Ik heb me altijd verantwoordelijk gevoeld voor mijn kinderen. Ik spreek me niet uit over politiek, ik wil niemand in de problemen brengen. Maar mijn gezin heeft me nooit verhinderd om me creatief uit te drukken. Niet zonder reden heeft één van mijn novelles de titel De Nacht is Aan Mij. Er waren jaren dat ik pas kon werken als mijn kinderen sliepen. Maar toen ze ouder werden, leerden ze al snel om me met rust te laten zodra ik een pen in mijn hand nam."
Met dank aan Svetlana Baklanova voor het tolken
Zwart-wit foto's van Petroesjevskaja op de Lange Nacht van het Korte Verhaal, c Luc Vleminckx/Portretten van Petroesjevskaja in Bozar, c Barbara De Munnynck