Tv-scenario's schrijven – hoe gaat dat in z'n werk? Ik liet het me vertellen door Malin-Sarah Gozin op de 10e Schrijfdag van Creatief Schrijven. Zelf gaf ik daar de workshop bloggen. Tijdlijn van een dag inspiratie – met een mentale spagaat als resultaat.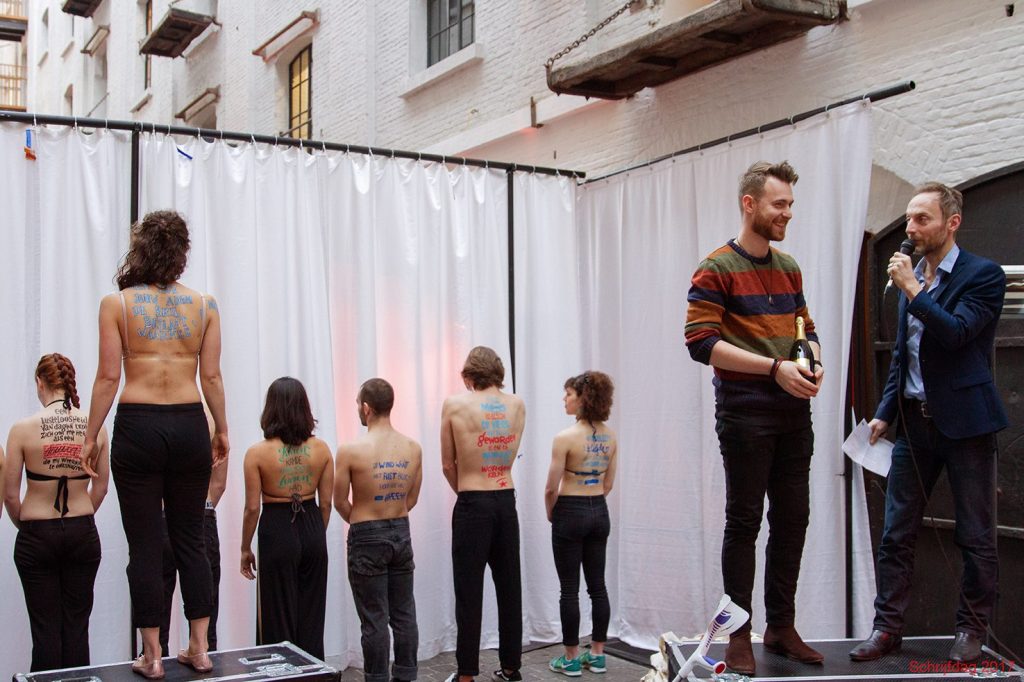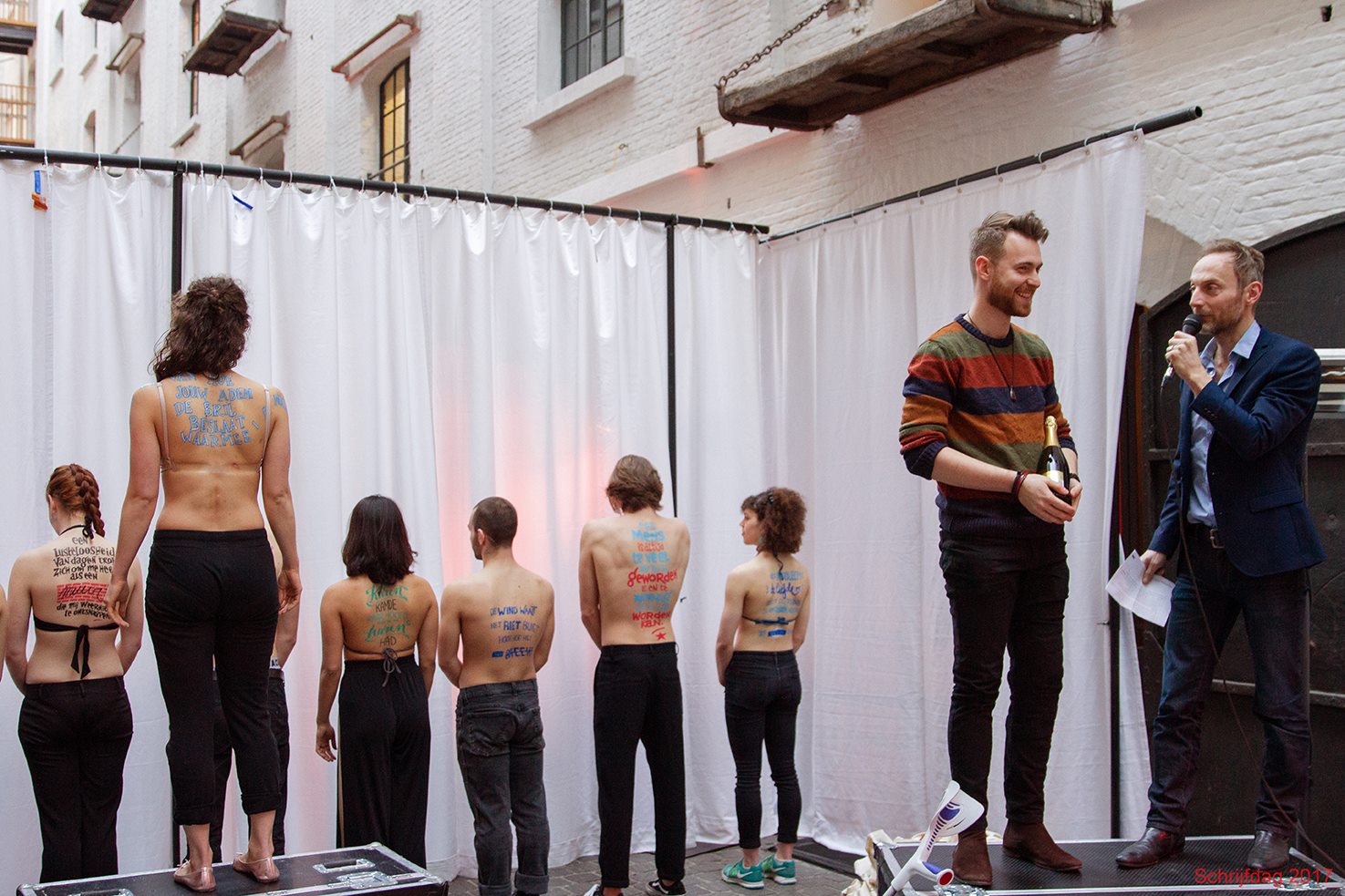 Vrijdagavond 24 maart – 21u30
Startschot van het weekend. Mijn eerste wapenfeit: crashen in mijn bed. Wat een week. Vier artikels, drie dochters tussen anderhalf en zeven jaar oud, input voor twee offertes, één gesprek met een uitgever. Het is geen schande dat ik gevloerd word door vermoeidheid. Laatste gedachte voor het inslapen: 'Waarom leek het weer zo'n leuk idee om een workshop bloggen te geven op een zaterdagvoormiddag?
Zaterdag 25 maart – 9u30
De zon schijnt en ik rijd in een verder lege auto over een niet al te volle E19 naar Antwerpen. Tegenwoordig is dat my idea of peace and quiet. Voor mij geen gehos langs twee balletlessen vandaag. Geen vuile chocomondjes en geen vetes over Barbieschoenen. Gewoon, met 300 andere schrijflustigen naar de 10e Schrijfdag van Creatief Schrijven in het Felix Pakhuis. Lekker rustig. Laat maar komen.
Zaterdag – 10u55
Er staan 31 mensen ingeschreven voor mijn workshop 'Bloggen in Stijl'. Vijf minuten voor aanvang tel ik al vijfendertig aanwezigen. We zullen maar beginnen, zeker?
Het publiek is een mix van bloggers die hun start nog moeten maken en mensen die al even bezig zijn maar een versnelling hoger willen.
Dat vind ik fijn, dat geeft ruimte voor interactie. Ik begin aan mijn verhaal en krijg meteen een heleboel vragen.
Zaterdag – 13u08
Op de eerste rij doet iemand subtiel-niet-zo-subtiel z'n jas aan. Ik werk een blik op de klok. Mijn twee uur zijn al voorbij. Wat? In mijn ogen is de tijd gevlogen. Ik voel me een beetje hyper. Tijdens het praten heb ik alvast mezelf opnieuw
overtuigd dat je nergens zo vrij en eigengereid kunt schrijven als op een blog en dat het heerlijk is om een eigen forum te hebben.
Nu maar hopen dat de boodschap overkwam. Omdat bloggen onlosmakelijk verbonden is met sociale media en netwerken, nodig ik mijn cursisten uit om iets te schrijven over de workshop en me de link te bezorgen. Zo krijg ik in de loop van de week fijn leesvoer onder ogen (zie onder).
Zaterdag – 13u25
Workshops geven, ik krijg daar honger van. Ik stort mij ongegeneerd op de aspergesoep, boterhammen met speenvarken, augurkjes enzoverder. Tijdens de lunch klets ik in de gauwte bij met een hoop vertrouwde gezichten. Zo verschrikkelijk groot is de Vlaamse schrijfwereld nu ook weer niet… Ik beantwoord nog een paar vragen over bloggen en besef – zodra ik columnist Jean-Paul Mulders in het vizier krijg – dat ik ook zelf nog een vraag te stellen heb.
13u48
Ha, Katrien en Eveline mogen mij straks bedanken. Ik heb zojuist het gastjurylid gestrikt voor onze This Is How We Read Columnwedstrijd 2017 – de derde editie alweer. Jean-Paul Mulders zal de honneurs waarnemen. Columns insturen kan pas vanaf 1 mei. Maar wie de workshop van Jean-Paul op deze Schrijfdag volgde, weet alvast perfect waarop de jury zal letten.
14u12
Zo stiekem mogelijk schuifel ik binnen in de workshop van Malin-Sarah Gozin. De scenariste en showrunner van tv-series zoals Clan komt vandaag vertellen wat er zoal bij haar vak komt kijken. Ik heb al wat hoeken van de schrijfkamer verkend, om het zo te zeggen, maar schrijven voor tv is terra incognito voor mij. Malin laat het klinken als een spannende puzzel, met zowel horizontale als verticale verhaallijnen die moeten kloppen en behoorlijk wat last-minute herschrijfwerk. Ik noteer haastig een lijstje lectuurwenken met als supertip Catching the big fish: Meditation, Consciousness and Creativity van David Lynch.
16u30
In de auto, op weg naar huis. Ik had op de Schrijfdag nog wel de uitreiking van de 'Zin van je leven' wedstrijd willen meepikken, maar ben toch maar vertrokken. Ik weet dat er thuis een husband op me wacht die in de tuin wil werken op zo'n mooie dag. Tijd om de drie dochtertjes weer onder mijn vleugels te lokken.
Bij mijn thuiskomst voel ik mij in die typische mentale spagaat glijden. In de ene helft van mijn hoofd gaat het nog over herschrijfrondes, deadlines, de beats in een scenario en wat al verder niet ter sprake kwam in het Felix Pakhuis. Terwijl ik met die andere hersenhelft avondeten kook, een peuter in bad zet en groenteknabbels serveer aan de twee trouwste fans ooit van de aflevering 'Een vet zwembadfeest' in de reeks Barbie – Life in the Dreamhouse (bekijk dat op YouTube en huiver). Ik denk aan dat gedicht van Annie M.G. Schmidt, Moeder dicht.
"Je moeder zou een Shakespeare kunnen zijn. Ze is het niet. Dat komt door jouw gedrein."
Misschien moet ik daar eens een vervolg op rijmen? Ik heb al een titel. Moeder blogt.
PS: Nina van Miss Bliss noteerde enkele tips die voor haar als ervaren blogger toch de moeite waren. "Vermijd dat je voor een zelf gecreëerde baas gaat werken" – yup, klinkt als iets dat ik heb gezegd!
PPS: Charlie Bravo Romeo, een schrijvende motorrijder of een auteur met een Honda CBR 600 – u mag kiezen – buigt zich over het fenomeen 'themadagen' en stelt voor om van de Schrijfdag het centrale punt van de kalender te maken. Zo'n opinie kun je toch alleen maar onderschrijven?
PPPS: De dames van Kunstpoort, een blog voor de amateurkunsten, maakten pas echt werk van hun reportage. Wie een gedetailleerd verslag van de Schrijfdag zoekt, weet bij deze waarheen.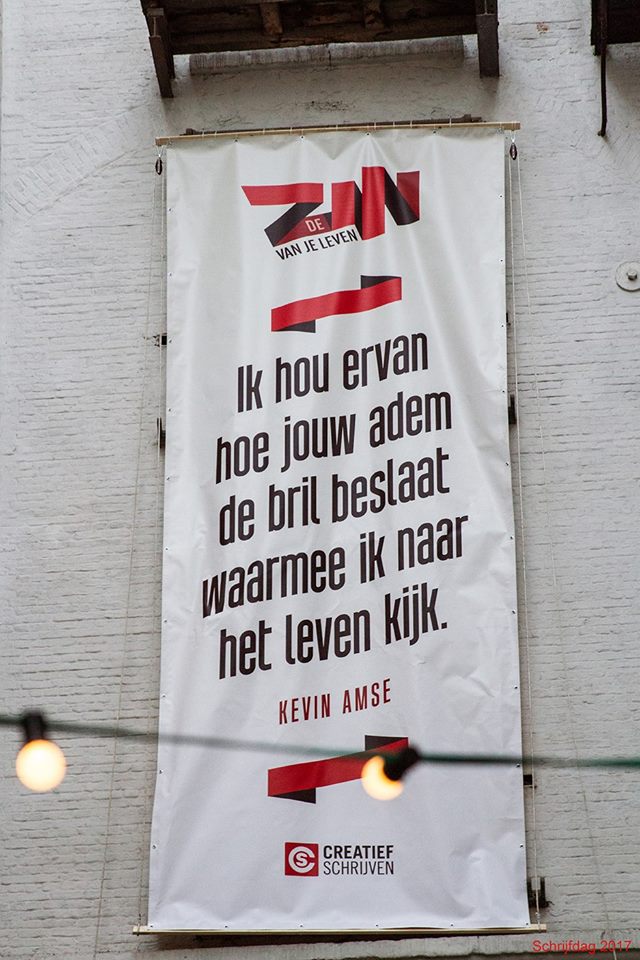 PPPPS: Ward Mertens was genomineerd in de wedstrijd rond de Schrijfdag 'De zin van je leven'. Zijn frase De slechtste smoes is opruimen – er is altijd iets om op te ruimen moest uiteindelijk de duimen leggen voor de zin van Kevin Amse (zie foto). Ward neemt dat sportief op, zo blijkt uit z'n blogpost. En nee Ward, je lijkt niet op een konijn op die foto!
PPPPPS: Op 7 april lees je op This Is How We Read een interview met Kelly Deriemaeker over haar nieuwe blogboek. Maar dat wist je al…
By the way, het was niet onze eerste keer op de Schrijfdag.
Fotografie: Jonas Dheedene, Mickey Verbeeck en Gust Peeters (via Creatief Schrijven) – foto 3 Bernadette Van de Velde (Kunstpoort)