7 literaire links voor de lente
Wij geven zeven tips om je lente literair te kleuren.
2 x schrijven
Ben jij tussen de 15 en 24 jaar, neem dan voor 1 april deel aan Write Now!, dé schrijfwedstrijd voor jongeren. Lize Spit, Niña Weijers, Maartje Wortel en Jaap Robben deden het je voor. Jammer, Barbara en Kurt, dat jullie net 25 zijn geworden want jullie kindergedichten en –verhalen waren geknipt voor deze wedstrijd van niveau, toch?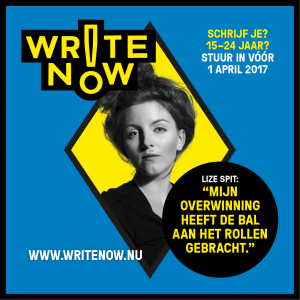 Publiceer je verhalen op Sweek en vind lezers. Sweek is een open platform dat iedereen – overal ter wereld – in staat stelt om verhalen te lezen en te delen.  Je kan er updates van je favoriete verhalen volgen, deelnemen aan wedstrijden en je eigen verhaal uitgeven en verkopen via webshops. Een kick-start voor je schrijfcarrière!
2 x lezen
Abonneer je op Kobo-plus van Bol.com en Kobo e-reader. Voor €9,99 per maand kan je onbeperkt ebooks lezen, de eerste 30 dagen zijn zelfs gratis. 'All you can read' of de 'Netflix voor boeken', het klinkt alvast heel catchy. Enneuh… voor degenen die de geur van echte boeken zouden missen, zijn er de Bibliophile geurkaarsen van Highland Bluff Studio.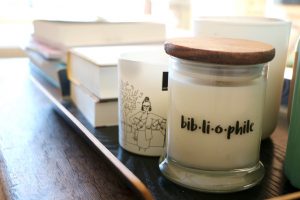 Deze longread is het lezen meer dan waard. Is het recept van een best-seller wel heel eenvoudig geworden? Duw je boek even in handen bij het panel van De Wereld Draait Door en klaar? Soraya Vink van Hebban.nl analyseert het (verkoop)succes van de 136 titels die al in het tv-programma passeerden. En trekt voorzichtig conclusies.
3 x literair event
Ga op 25 april kijken naar Wende in de Schouwburg van Leuven. Deze Nederlandse performer vroeg aan gerenommeerde schrijvers als Dimitri Verhulst, Arnon Grunberg en Typhoon om samen met haar nieuwe songs te schrijven over wat het is om mens te zijn in onze tijd. Meer weten? Barbara interviewt Wende vooraf voor De Boekenkamer.
Wij houden alvast van dit intiem chanson:
Plan een dagje/weekendje Brugge want van 5 tot 13 mei is Brugge de literaire place-to-be. Het nieuwe internationaal literatuurfestival Bru-Taal heeft een veelbelovend programma met grote namen en onverwachte activiteiten. Wat dacht je van een auteursgesprek met Sandro Veronesi, een boottocht met Philippe Claudel of High Tea met Anne Vegter?! Katrien heeft er alvast afgesproken met Julie Buntin, de Amerikaanse Lize Spit!
Rep je op 8 april naar de Minderbroedersrui in Antwerpen, voor een tjokvol Letterenhuisfestival. Op zestien verschillende locaties in de gezellige straten rond het Letterenhuis kan je luisteren naar Peter Verhelst, Maarten Inghels, Jeroen Olyslaegers en vele anderen,  toneel kijken in onze favoriete Nottebohmzaal, een workshop volgen bij David Troch, of deelnemen aan de stoet andere activiteiten. Ter voorbereiding schreven wij ons alvast in voor een cursus 'Sereen omgaan met keuzestress.' Wij zochten bovendien ook al uit waar langs het parcours je terecht kan voor voedsel, koffie, of een literaire impulsaankoop. En wel hier. Graag gedaan.
PS. Because we love… links. Materiaal voor een hele paasvakantie!