Lunchen als een Lady – het kan bij Duke of Antwerp. Wij nodigden Kelly van Tales from the Crib uit voor een babbel over bloggen. En we genoten van een typisch Belgisch stoofpotje in een decor dat 'English High Society!'  schreeuwt. 
Euh, zei ik zojuist dat het interieur van Duke of Antwerp schreeuwt ? Excuus, dat is het woord niet. De gastropub op een boogscheut van het Antwerpse Centraal Station biedt het perfecte decor voor gefluister, monkelende lachjes, steelse blikken, zoetgevooisde bekentenissen, gestes van een gentleman en all that jazz.  Maar schreeuwen? I beg your pardon –  dat is iets voor andere plekken in de stationsbuurt…
Katrien en ik hebben in Duke of Antwerp afgesproken met Kelly van Tales from the Crib. Rond 5 april brengt zij een herziene versie van haar Blogboek uit en daarin laat ze This Is How We Read aan het woord. Leuk – vonden wij. En meteen een goed excuus om – twee jaar na deze brunch – nog eens bij te praten over bloggen bij een bord lekkers.
Ik heb de locatie uitgekozen en arriveer als eerste. De houten draaideur die toegang geeft tot Duke of Antwerp, katapulteert me meteen in een ander universum.
Buiten schijnt een pril lentezonnetje en claxonneren auto's – binnen zijn de lichten gedimd en zingt een melancholische Bono de lof van Miss Sarajevo.
De hoge glas-in-lood verlichting boven de bar en de enorme art nouveau plafondversiering trekken meteen de aandacht. Maar het zijn de talloze details die de sfeer af  maken. In afwachting van Kelly's komst nemen Katrien en ik plaats aan een tafeltje achteraan, op het op één na hoogste niveau in de zaak. Nieuwsgierig bekijken we de antieke tennisrackets en vintage James Bond foto's aan de muur, de lege champagne- en ginflessen in de vitrinekasten, het witte tafellinnen en de ettelijke spiegels om ons heen. Een beetje decorum – het is aan ons wel besteed.
We laten ons een glas bubbels brengen door obers met rode bretellen en niet veel later is Kelly daar: 'Wat een leuke zaak!
Hier kun je lunchen en toch het gevoel hebben dat je een gezellig dinertje houdt. Hoe fijn is dat?
Ik moet dit onthouden als een goed adres om mensen te interviewen!' Terwijl we nog wat doorgaan op de 'soirée-sfeer' van de zaak, krijgen we een eerste hapje geserveerd, met een klein zilveren lepeltje erbij. Had ik al gezegd dat Duke of Antwerp het geraffinneerde leven ademt – alsof er elk moment twee Engelse lords naast ons kunnen plaats nemen, die de laatste polo-match willen bespreken bij een bel cognac?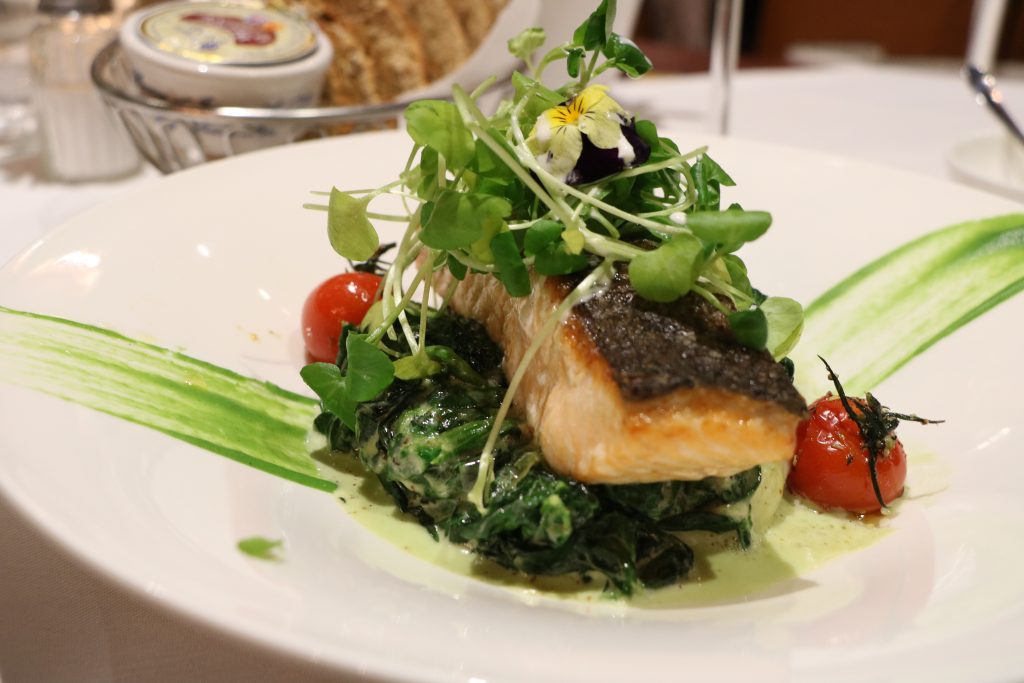 Over polo hebben Katrien, Kelly en ik niet zoveel te melden. Maar over bloggen, schrijven, inspireren, de combi werk-kinderen, de schaduwkant van online zichtbaarheid en interessante boekprojecten des te meer. We laten ons het stoofvlees 'Bourgogne de Flandre' met verse frietjes resp. de op z'n vel gebakken zalm goed smaken. De Vitello Tonnato, mosselen, rode zeebarbeel of parelhoen uit het suggestiemenu zullen voor een volgende keer zijn.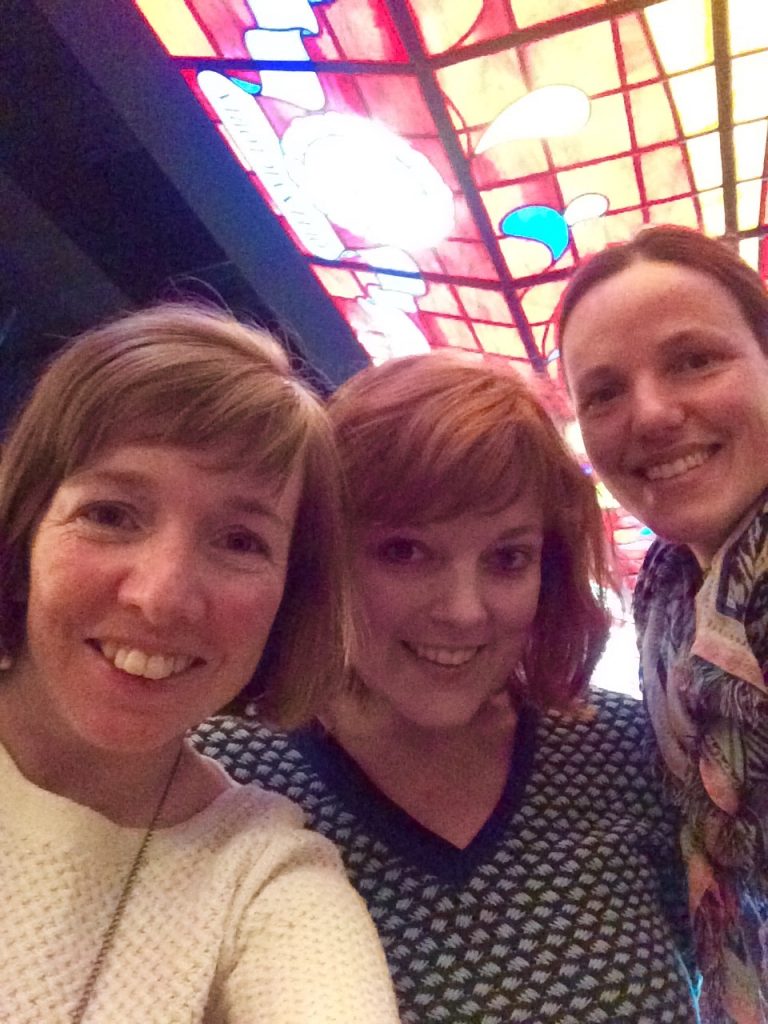 Duke of Antwerp is open van 9u 's morgens en de keuken sluit om 22u. Je kunt er terecht voor ontbijt (Engels of niet), lunch, een afternoon high tea of diner. Ook lekker doorzakken met één van de 28 gins uit de huiscollectie hoort tot de mogelijkheden. Al serveren ze tegenwoordig ook heel wat soorten vermouth, the new big thing in cocktailland. Van de broodjes bij de voorgerechten tot de koekjes bij de koffie – alles wordt huisgemaakt.
PS: Duke of Antwerp is het uitgelezen vertrekpunt voor een verkenning van Antwerpen, literaire metropool. En het vervolg daarop.
PPS: Ons interview met Kelly lees je hier op vrijdag 7 april.