We waren uitstekend voorbereid. We hadden een schema, we waren tot op de tanden gewapend met zwerfboeken en we waren uiterst gemotiveerd. We gingen het Passa Porta Festival uitpersen zoals een limoen voor onze mojito, geen minuut zouden we onbenut laten.
Dat kon alleen maar fout aflopen.
We begonnen nochtans stipt op tijd, met de performance The Quiet Volume in de Muntbibliotheek. Daar werden we in de leeszaal neergepoot, naast elkaar, met een iPod in onze oren en een stapel boeken voor onze neus. Katrien werd omgedoopt tot Links, Kurt tot Rechts.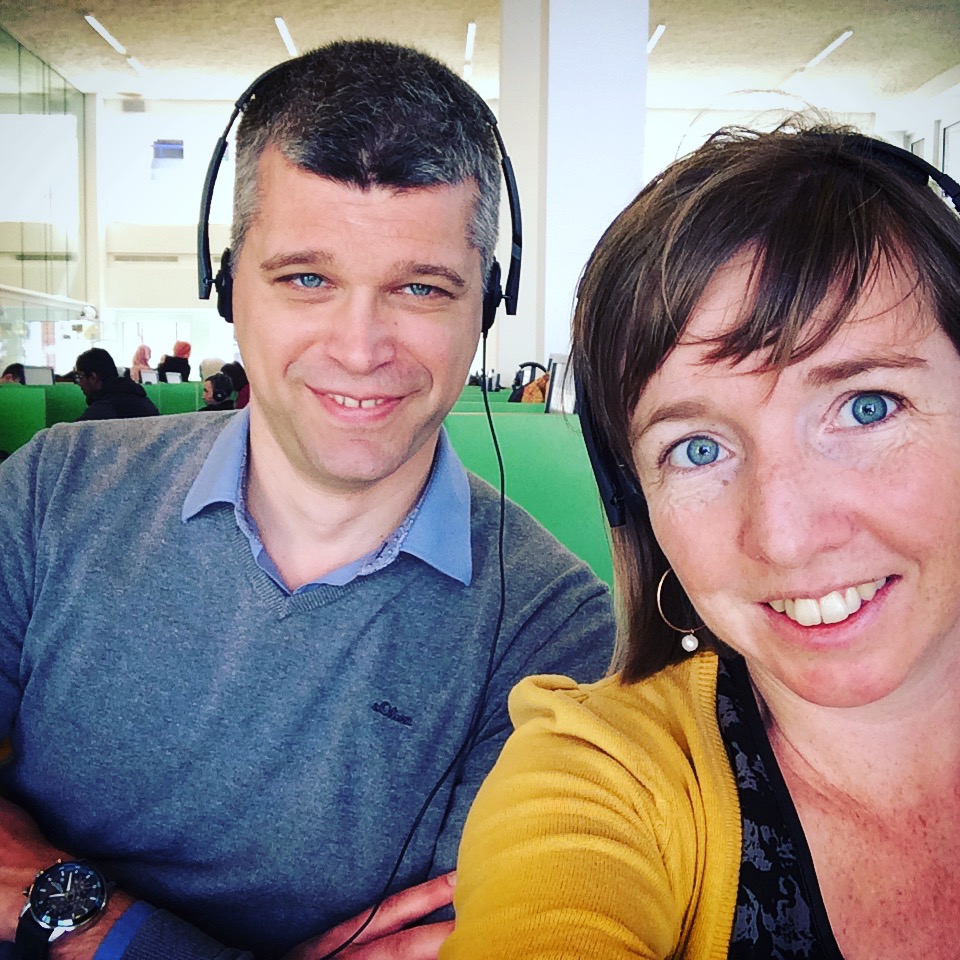 Rechts.
Een fluisterende mannenstem leest met me mee. Hij geeft me instructies, ook. Instructies zoals mijn linkerhand op de linker pagina leggen, om dan de aandacht te trekken van Links door een vinger op te lichten. Links doet prompt hetzelfde, maar dan in spiegelbeeld. We lachen, in spiegelbeeld. De stem leidt me door José Saramago's Stad der Blinden en Agotha Kristof's Het Grote Schrift, twee van mijn favoriete boeken. Links wijst dingen aan in mijn boek, ik in het hare. Ik lees ondersteboven en voel me lichtjes onnozel. Niet zo onnozel als de man die wat verderop de boel bij elkaar neuriet, weliswaar. Ik vermoed dat Katrien een potje slappe lach inslikt. Na afloop doet de leeszaal onwerkelijk aan, dit was een bizarre trip.
Links.
Handtas en jassen achterlaten, klinkt het streng. Stiekem smokkelen we onze smartphone mee binnen. Een ervaring zonder selfie, is niet echt ervaren toch? Al gauw ga ik helemaal op in deze allround ervaring. Ik volg gesproken instructies die naadloos overvloeien in een geschreven tekst. Is die onbekende stem nu echt gestopt met spreken? Waar is het lezen begonnen? Als er links van mij een neuriënde man plaatsneemt, weet ik zeker te zijn beland in een leeszaal vol acteurs. Is die kuch achter mij deel van het complot? En was dat stoelgeschuifel niet heel toevallig getimed? Of hebben die starende blikken alles te maken hebben met Kurts pinkgewuif en mijn subtiel opgestoken middelvinger.  Of is het mijn intense gestaar  om het woord 'kleuren' op een leeg blad te projecteren terwijl Rechts heel hard zijn best doet om hetzelfde te doen met het begrip 'zichzelf'?  Een bevreemdende ervaring waarin geen toeval bestaat en gedachten worden gelezen. 
Van postmodern interactief theater krijg je altijd zin in koffie, dat is bewezen. Die was ruimschoots voorhanden in de BartleBar, genoemd naar Herman Melville's Bartleby The Scrivener. Gelukkig stootten we bij het bestellen niet op Bartleby's legendarische 'I would prefer not to'. Kom niet tussen een Boekenknecht en zijn koffie.
Tot dusver verliep de planning vlekkeloos. We lieten zwerfboeken achter, hier en daar, en beenden daadkrachtig voorbij de zonovergoten terrasjes. Pas bij onze volgende stop werden we op het verkeerde pad gebracht. Op zoek naar mooie illustraties voor onze posts, vroegen we Grafische Waaghalzen Léonie Bischoff en Lies Van Gasse om het antwoord te tekenen op twee vragen over de Boekenmeisjes. We hadden beter geen koffie in onze Boekenknecht gegoten.
De vraag van Kurt aan Léonie Bischoff, immers: 'Hoe zouden Boekenmeisjes eruit zien als je van lezen dik wordt?'
Léonie ging lachend aan de slag. Vol bewondering keek hij toe hoe Léonie een klein kunstwerk afleverde. Dat de Boekenmeisjes dit niet onbeantwoord zouden laten, werd pennentrek na pennentrek duidelijk.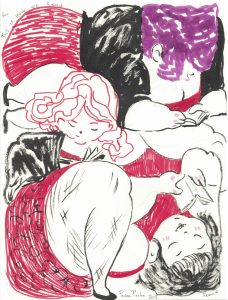 De vraag van Katrien aan Lies Van Gasse: 'Wat gebeurt er wanneer Boekenmeisjes zoveel werk hebben dat ze gedwongen worden een knecht aan te nemen?' Lies maakt er haar werk van. Het is maar dat Kurt beloofd heeft de waterverfillustratie te zullen inscannen of ze hing al te pronken aan Katriens muur.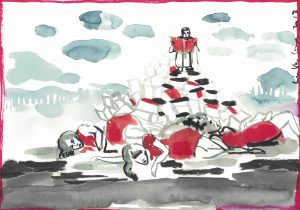 We beleefden zoveel plezier met onze prachtige illustraties dat we onze volgende halte vergaten. Oh well. Kurt beleefde nog wat plezier aan het dichten samen met Remco Campert in de Gamezone, waarna we besloten de namiddag in dezelfde teneur verder te zetten door te gaan luisteren naar de Keuze van de Kosmos van Randall Casaer.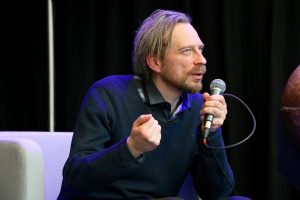 Randall, huistekenaar van de Slimste Mens en zelfverklaarde mensenfluisteraar en grommelpot, mag kiezen welke meesterwerken het waard zijn om in een sonde naar de uiterste grenzen van de kosmos geschoten te worden. Hij kiest voor de verhalenbundel Nobody Belongs Here More Than You van Miranda July. Kurt valt geestdriftig knikkend van zijn stoel. Katrien rolt met de ogen wanneer hij vermoedt dat ze bij Passa Porta het programma op zijn Goodreads lijst hebben gebaseerd. Miranda July's authenticiteit en zuivere stijl is voor Randall voldoende reden. Dat hij even moest gaan liggen toen zijn vriendin hem July's verhaal This Person voorlas, is voor ons dan weer voldoende reden om het opnieuw te lezen.
Dit is zo een goede vraag! Kan je ze nog eens stellen? (Randall Casaer)
Randalls tweede keuze, Shelter, is een vintage boek uit 1973 geschreven door twee hippies die beschrijven hoe mensen over de hele wereld een dak boven hun hoofd zetten. De ultieme handleiding voor de constructie van een mancave. Katrien rolt met de ogen wanneer Kurt in mansplaining over bouwtechnieken met duct tape en montagekit ontsteekt.
Dat onze tochten tussen De Munt, de Beursschouwburg en De Markten telkens de terrasjes van Sint Katelijne kruisen is overigens zuiver toeval. Echt.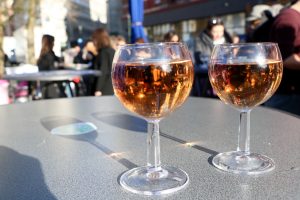 Weer volgetankt met vitamine D en een adequate hoeveelheid rosé stapten we vrolijk naar De Markten, voor een interview met Dimitri Verhulst.
Mochten we hebben gehoopt dat Dimitri Verhulst ons warm zou maken voor Made in Europe, het culturele televisieprogramma in de voetsporen van Pieter Steinz, dan hadden we het mis.
Verhulst bekent immers meteen dat ze als televisieploeg hebben tekort geschoten en dat de enige echt goede aflevering nog moet komen. Die van komende zondag, volgens Verhulst: "Wat mij stoort bij televisie, is dat men ervan uitgaat dat de kijker dom is. Alle moeilijke fragmenten zijn eruit geknipt."
"Ik vind het gênant hoeveel ik zelf in beeld kom. Dan interview ik een Nobelprijswinnaar en krijgt de kijker een close-up van mijn haarlok te zien."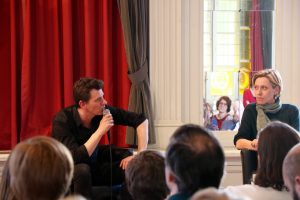 Gelukkig herwint Verhulst zijn enthousiasme bij de herinnering aan zijn verpletterende ontmoeting met Jeanette Bougrab, de weduwe van de vermoorde Charlie Hebdo cartoonist Charb: "Hoe kan een vrouw met een kind van drie en een fatwa boven het hoofd nog strijdlustig zijn?" Het antwoord is… niet meer.
Over Nobelprijswinnaar Orhan Pamuk is Verhulst opnieuw vernietigend. "Hij heeft een deal met de overheid gesloten. Je kon hem op geen enkele controversiële uitspraak meer betrappen.
We hadden hem als de meest antipathieke lul ooit kunnen portretteren. Uit beleefdheid hebben we ons ingehouden."
Is er wel een gedeelde Europese cultuur vraagt VRT-journaliste Annelies Van Herck tot slot? "We zijn inderdaad niet fantastisch verbonden," geeft Verhulst toe. "Maar hét ultra-Europese cultuurobject is kinderliteratuur. Europa is het enige continent waar alle kinderen kunnen lezen. Op de tweede plaats zou ik 'ironie' zetten. Buiten Europa lijken ze vaak niet te snappen dat lachen met niet hetzelfde is als uitlachen." Onduidelijk of Kurts monkellach na afloop ironisch bedoeld is.
Bij het verlaten van De Markten zien we nog hoe een man ons zwerfboek oppikt. Hij gaat veel plezier beleven met 2084.
De ondergaande lentezon zet Brussel in brand. Ons pad naar de volgende halte ligt bezaaid met hindernissen. Terrasjes, vol vrolijk pratende mensen. De Monk, dealer van de beste spaghetti van Brussel. Erika Fatland zullen we niet bereiken. Overmacht, heet dat dan.
Terwijl de wijn ons overmoedig maakt, leggen we Randall Casaer de volgende situatie voor. Hoe zou de wraak van de Boekenmeisjes eruit zien, mocht Kurt de knechtenregels overtreden? Casaer laat Katrien de eerste zeven potloodstrepen trekken. "Heerlijk gestructureerd", aldus Casaer. En ook "fuck it, ik ga mezelf niet censureren." En jawel, de eerste Casaer-Elen is geboren en is meteen gewaagd. Of de Boekenmeisjes in de toekomst als Book Bitches door het leven zullen gaan, valt nog af te wachten, maar zeg eens… wat is jouw interpretatie van dit abstracte kunstwerk?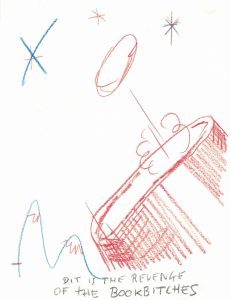 Ons schema hebben we overboord moeten gooien. Passa Porta plannen kan zoals voorspeld alleen maar fout aflopen. We hebben veel haltes gemist. Maar in de plaats kregen we prachtige illustraties, onverwachte, vrolijke ontmoetingen en een volcontinue literaire douche op een zonnige lentedag. Zo pakken het we het weer aan, volgende keer.