In het voorjaar van 2015 – toen de Boekenjagers nog moesten geboren worden – dropten wij regelmatig zwerfboeken. We lieten stapels van tien boeken achter in Aarschot, Amsterdam, Leuven en Mechelen. Morgen proberen we het opnieuw en laten Kurt en ik tien boeken achter in Brussel op en rondom het Passa Porta Festival. Via de Boekenjagers zullen we telkens de verstopplaats delen. Heb je een boek gevonden? Laat het dan weten in de commentaren of via Facebook. De jacht is geopend!
De batch van Katrien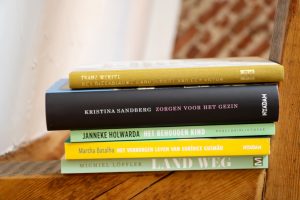 Het bleekblauwe handschrift van een vrouw van Franz Werfel (Vrijdag). Van de gezel van Alma Mahler. In deze novelle wordt een katholiek Oostenrijks staatsambtenaar geconfronteerd met zijn joodse ex-minnares. Volgens vertaler Marc Rummens een 'gedroomde kennismaking' met deze vergeten auteur. Geselecteerd door Schwob voor de 'mooiste vergeten klassiekers'.
Land weg van Michiel Löffler (Marmer). Een boer trekt de wijde wereld in en laat zijn broer achter bij de koeien. Het oordeel van Tzum: "Dit is een boek met een grote potentie, maar op een of andere manier komt het er niet helemaal uit. Terwijl het wel alles heeft: de taal, halfopen zinnen, de twist, het laconieke, een fijne onderliggende humor, goede daadkrachtige scènes ontdaan van tierlantijnen."
Zorgen voor het gezin van Kristina Sandberg (Nieuw Amsterdam). Het slot van de feministische Maj-trilogie – Leven tot elke prijs –  over de rol van de vrouw in de 20ste eeuw was een internationale bestseller. Deel twee kwam pas later in vertaling. Eveline vroeg Sandberg anderhalf jaar geleden al naar de reden van haar populariteit: "de herkenbaarheid. Vele vrouwen hebben het bestaan van Maj gekend. Ik krijg van lezers de reactie dat ze het leven van hun moeder of schoonmoeder herkennen."
Het behouden kind van Janneke Holwarda (Wereldbibliotheek). Over een zoon die de leugens van zijn moeder niet langer meer slikt en wegloopt. Over een moeder die steeds ongeloofwaardiger wordt.
Het verborgen leven van Eurídice Gusmão van Martha Batalha (Nieuw Amsterdam). De Braziliaanse Batalha had haar eigen uitgeverij in Rio, verkocht die en schreef haar debuutroman in New York. Ze schrijft over twee ondernemende zussen in de jaren veertig die de vrouwenrechten niet mee hebben. Een "swingend sociaal sprookje" volgens VPRO.
De batch van Kurt