Interview met Els Beerten
Barbara kondigde het al aan… Wij volgen dit najaar de Vlaamse en Nederlandse letterenkaravaan naar de Frankfurter Buchmesse om op de eerste rij mee ons gastlandschap te beleven. Maar Ehrengast zijn beperkt zich niet tot enkele intense dagen in oktober. Nee, het ganse jaar heeft intendant Bart Moeyaert activiteiten gepland die de banden tussen de Nederlandstalige en Duitse literatuur moeten aanhalen.
Zo lazen Els Beerten en Jaap Robben op 22 april voor uit hun werk aan de Goethe-universiteit van Frankfurt. De tweetalige avond past in de lezingenreeks Nederlandse taal en cultuur en is een initiatief van de Vlaamse Laurette Artois die Nederlandse literatuur doceert in Frankfurt. In 2016 staan de lezingen in het teken van de Buchmesse.
Ik ontmoet Els enkele dagen later in het Gasthuis in Aarschot. We kennen elkaar van zien en horen zeggen. Els of mevrouw Beerten was (en is) leerkracht Nederlands-Engels op het college in Aarschot, de school waar ik geïnspireerd raakte om in haar Germaanse voetsporen te treden. Helaas niet door Els want ik belandde nooit in haar klas. Gelukkig verdedigden mijn broer en zus de familie-eer in haar lessen en kon ik de leerkracht die mijn broer steevast – en na al die jaren nog steeds – 'één van mijn mannen' noemt eindelijk leren kennen.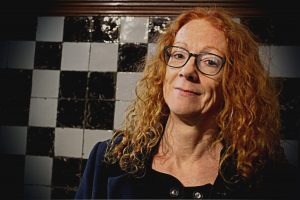 Vertel eens wat meer over vrijdag.
Els Beerten: "Het was een magische avond. Alles klopte. Jaap is zo'n lieve en getalenteerde man en we gunnen elkaar het succes. Ik zal nooit vergeten hoe hij op de uitreiking van de Gouden Uil de presentator het zwijgen oplegde na een ongepaste opmerking. Toen al dacht ik: whoever this is, hij kan nooit iets fout doen bij mij. Ik was heel gelukkig dat we samen het podium op mochten. Er zaten zo'n 50 toeschouwers in de zaal en die zaten echt geboeid te luisteren. Laurette Artois heeft ons ingeleid in het Duits, ik heb voorgelezen uit Allemaal willen we de hemel, Jaap uit Birk en een professor taalkunde las uit onze Duitse vertaling (de Duitse vertaling van Birk verschijnt in augustus). We hadden alletwee heel ernstige stukken met veel emotie uitgekozen. Daarna had Laurette een paar sterke vragen klaar die voor ontlading zorgden bij het publiek. Altijd fijn als ik vragen krijg die nog nooit gesteld zijn. Jaap kon vlot antwoorden in het Duits want hij woont in Duitsland en heeft bovendien veel gevoel voor humor. Het publiek was helemaal mee. Zelf heb ik Nederlands gesproken terwijl Laurette samenvatte in het Duits. Ik kreeg er een heel warm gevoel van. Heel bijzonder als je merkt dat je boek gaat leven in andere talen."
Allemaal willen we de hemel gaat over een Vlaamse Oostfronter, verleid door de Duitse propaganda. Lag dat niet gevoelig in Duitsland?
Els: "Ik wilde een universeel verhaal schrijven, geen ideologisch geschiedenisboek over de oorlog in België. Allemaal willen we de hemel gaat over keuzes maken in moeilijke omstandigheden en hoe die vaak in verband staan met een ontwrichte thuis. De oorlogssetting hoort er bij omdat het zo'n extreme situatie is. Dat heeft het Duitse publiek ook zo aangevoeld. Ik probeer die boodschap altijd mee te geven in de klas. Ik toon empathie als een leerling het moeilijk heeft en vertel hen dat iedereen soms foute dingen kan doen maar dat – eenmaal je beseft dat je niet goed bezig bent – het veel moediger is om tegen de stroom in te gaan en stop te zeggen."
Het thema van de avond was all-age literatuur. Is dat de juiste stempel voor je boeken?
Els: "Wauw, jazeker! Dat is volgens mij een idee van Bart Moeyaert. Het is de eerste keer dat ik zo word aangekondigd. In Young adult kan ik me ook vinden maar veel volwassenen haken daar op af. Mijn romans zijn voor iedereen bedoeld. Ik schrijf niet met een bepaalde doelgroep voor ogen.
Het is een fout idee dat jongeren geen zware boeken aankunnen. Net doordat zij nog minder hebben meegemaakt, gaan ze anders om met al die lagen van een boek. Maar dat is geen probleem. Dat maakt het soms minder confronterend.
Voor veel tieners is Allemaal willen we de hemel gewoon een verhaal over liefde en verraad en ze reageren dan ook heel fel: 'Dat zou ik nooit doen!'"
Je bent niet één van de 120 schrijvers die in Frankfurt in de spotlights zullen staan. Jammer?
Els: "Ja, ik vind dat wel spijtig. Blijkbaar was het criterium dat je laatste boek moest vertaald zijn in het Duits. Dat is voor Eén mens is genoeg niet het geval. Mijn Duitse redacteur vindt het boek te donker, hoewel het wel goed afloopt. Anderzijds was het wel heel fijn om apart aan bod te komen. Dat is veel rustiger dan tien minuten in de spotlights te staan tussen 120 andere schrijvers."
Je boeken zijn onder meer vertaald in het Duits, in het Spaans, in het Noors, in het Hongaars… Hoe gebeurt dat eigenlijk, de vertaalrechten van je boek verkopen?
Els: "Eerst worden er 40 bladzijden van je boek in het Engels vertaald, dan legt de uitgeverij contacten met buitenlandse collega's en maken ze een afspraak op een beurs zoals Bologna of de Buchmesse. Daar krijgen ze dan een half uur om info te geven. Het moet allemaal heel snel gaan. Vaak speelt er ook een wisselwerking tussen twee uitgeverijen: als jij deze titels neemt, nemen wij die boeken. Je gezicht laten zien op feestjes of netwerken helpt niet echt. Hoewel, de Franse vertaling van Allemaal willen we de hemel is heel informeel tot stand gekomen. Ik wist dat Francine Bouchet van La joie de lire het boek heel mooi vond en wilde vertalen. Maar ze had beslist om het niet te doen omdat het te veel geld ging kosten. Twee jaar geleden ontmoette ik haar toevallig op een vertalerstour van het Vlaams Fonds. Ik kende haar niet maar we stonden samen op de tram te wachten.
Ik zei haar: 'Ah jij bent diegene die mijn boek zo schoon vond en het niet durft te wagen.' Uit zottigheid stelde ik haar daar ter plekke voor om de twee delen van het boek apart uit te geven.
'Denk je dat dit kan?', vroeg Francine. Ik dacht: I don't care of het kan of niet maar dit is mijn kans. En zo gebeurde het dat Nous voulons tous le paradis in twee delen verscheen. De uitgeverij heeft twee keer een boek kunnen verkopen voor de kostprijs van één. En het werkt. De recensies zijn lovend en de vertaling is genomineerd voor Le Prix Farniente in Wallonië."
Hoe komt het dat de Engelse vertaling op het lijstje ontbreekt?
Els: "Ik zit echt te wachten op een Engelse vertaling. David Johnson, een Engelse vertaler is wild van mijn boek en wil het zelfs zo vertalen, zonder overeenkomst. Er zijn al contacten geweest met de Amerikaanse uitgeverij Clarion Books maar zij geven geen boeken uit die ze niet helemaal gelezen hebben. De Amerikanen lezen niet in een andere taal en enkel de eerste 40 bladzijden van mijn boek zijn vertaald.
De Engelsen klagen daarom wel eens dat ze enkel hun eigen navel kunnen lezen.
Heel weinig Europese boeken zijn naar het Engels vertaald. Dat heeft ook te maken met chauvinisme en het feit dat de Engelse markt al heel groot is."
Heb je je boeken in andere talen gelezen?
Els: "Als schrijver heb je het recht om een vertaling na te kijken. Ik lees altijd enkele passages die me nauw aan het hart liggen. Als die goed zijn, ben ik gerustgesteld. Soms is het wennen. Duitsers werken bijvoorbeeld met veel komma's en ik gebruik er bijna geen. De Franse vertaling vind ik echt heel sterk. In Parijs heb ik mijn vertaler Maurice Lomré ook ontmoet. Als je op zo'n moment voelt dat hij echt  snapt waar het verhaal over gaat en geworsteld heeft met bepaalde nuances die in het Frans niet mooi zouden klinken, dan ben ik gelukkig.
Ik heb veel bewondering voor vertalers. Je moet lef hebben om dat te durven."
Ben je ooit naar de Buchmesse geweest?
Els: "Ja, één keer in 2013. Het is helaas geen grappig verhaal en bevat genoeg stof voor een roman. Allemaal willen we de hemel was genomineerd voor de Deutscher Jugendliteraturpreis. Iedereen supporterde en dus reisde ik op donderdagavond af naar Frankfurt. Omwille van omstandigheden die ons hier te ver zouden leiden, heb ik de prijsuitreiking echter nooit kunnen bijwonen. Bart Moeyaert heeft de gebeurtenissen voor mij gevolgd en me per sms op de hoogte gebracht van de mooie dingen die werden gezegd over mijn boek. Hij heeft zelfs een filmpje gemaakt, maar helaas heb ik niet gewonnen. Ik ben dus ook nooit op de Buchmesse geraakt. Enkel van horen zeggen weet ik dat het heel druk en groot is."