Hoe zit dat met u, beste lezer, op een vrijdagmorgen? In een kattige bui? Aaibaar? Of al wat krolser?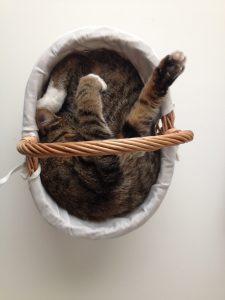 U raadt het al, Thisishowweread is in een poezelige bui vandaag. En ja, we gaan het hier vandaag hebben over katten. Ongegeneerd. Want in de aanbiedingsfolder van Nijgh & Van Ditmar voor de zomer konden we het al lezen: 'Kattenliefde is een klassiek literair thema'. Zo. En het is vrijdag de dertiende. Over zwarte katten gesproken.
Katten en boeken. Boeken en katten. Na koffie vormen de pluisbollen een geliefd onderwerp voor boekenfans.
Boekhandels weten dat een viervoeter met puntige oren in de vitrine klanten lokt en maken daar gretig gebruik van. Ook boekhandel Salvator in Mechelen heeft een huiskat, Ozlo, compleet met eigen facebookpagina. De website Literary Hub bekijkt het van de andere kant: waarom vinden katten boekhandels leuk?
Voor de diehards bestaat er ook blog The Literary Cat, vol foto's en weetjes over boeken en katten en katten en boeken. En nog wat poezen erbij.
Wij gingen ook al de poezentoer op met onze muzische bewegingsles rond het prentenboek Stoute poes!
En ja, ondergetekende pleit schuldig. De huistijger die hier thuis de regels dicteert kreeg een literaire kattennaam: Matilda. Voor meer inspiratie, verwijzen we u graag door naar de talloze lijstjes die het internet rijk is. Gatsby, Ichabod of Godot lijkt mij ook wel wat, bijvoorbeeld.
Voor zij die een stapje verder willen, kan het ook met wat humor: Emily Lickinson, Rudyard Kitten, Catniss Everclean of Franz Katka.
En dit lijstje zou niet compleet zijn zonder enkele links naar lijstjes met boeken waarin katten de hoofdrol spelen. Deze, bijvoorbeeld? Of hier? Dit lijstje kan ook… En hier nog eentje met enkele kinderboeken.
Misschien hebben ze wel gelijk, bij Nijgh en Van Ditmar? Over katten als groots literair thema.
Goed dan, hier toplijstje met leuke kattenboeken:
Mijn achterlijke kat Lola van Sylvia Witteman. Over haar twee beruchte katten Lola en Siepe, die elk apart meer volgers hebben dan de gemiddelde kwalitatieve nederlandstalige boekenblog. (Nijgh & Van Ditmar)
Katten zijn net vrienden: ze jatten eten van je bord, ze willen aandacht als je geen zin hebt en vice versa, ze liggen te slapen op een krant waar je al anderhalf uur naar zoekt en ten slotte gaan ze dood, met achterlating van een diep en machteloos verdriet.
De kat van Takashi Hiraide. Over een kat die op een dag bij een jong koppel komt aanwaaien. En er beslist te blijven, zoals enkel katten dat kunnen. (Meulenhoff)
Zo train je je kat, door Sarah Ellis en John Bradshaw. En zo weet je meteen waarom je kat per se aan de achterdeur zit te krabben om binnen te mogen. Terwijl de juffrouw twee meter verder over een volautomatisch kattenluik beschikt dat enkel open gaat als haar chip wordt gedetecteerd. (Nieuw Amsterdam)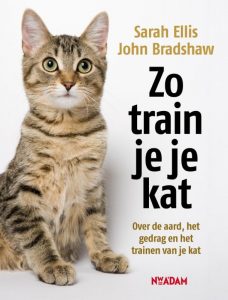 Eentje die wel heel bekend is, maar vertederend blijft. Het verhaal van bibliotheekkat Dewey, die op een dag als kitten in de dropbox voor boeken gevonden wordt. Dewey brengt zijn leven door in de bibliotheek, en laat de bezoekers niet onberoerd. (Vicki Myron en Bret Witter, Boekerij).
En voor de kinderen in huis, ééntje die er aan zit te komen en die we u nu al willen tippen; De beste kat van de stad van Rian Visser en Christina Kingma (Van Halewyck). Over een dikke rijke huiskat die zwerfkat wordt:
kat loopt weg van haar baas. duif zit in de boom.

ze ziet een kat.

hee, die kat kent ze niet! duif geeft kat wat vis.

en ze weet een huis voor kat.
Een fijn, poezelig weekend gewenst!