Nog tot 25 juni kun je in de Beurs van Brussel naar de fototentoonstelling The World of Steve McCurry. Het is de meest volledige retrospectieve van de Amerikaanse Magnum-fotograaf  tot nu toe. In 2013 sprak ik McCurry naar aanleiding van zijn boek Voorbij de camera, waarin hij vertelt over z'n leven als fotojournalist.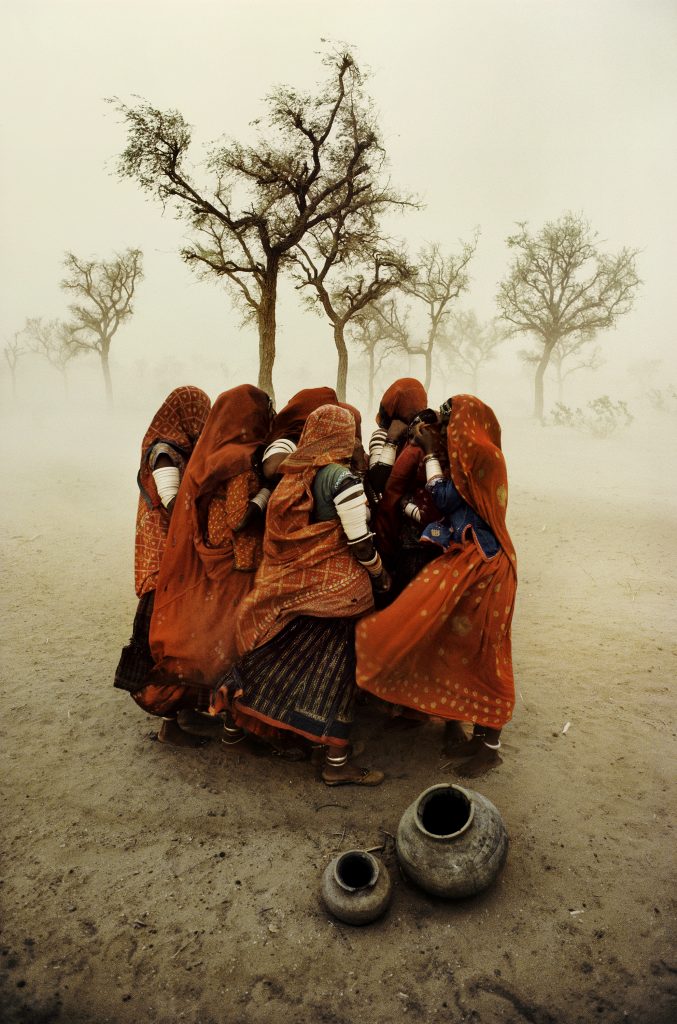 Steve McCurry is een kat met negen levens. Hij overleefde twee arrestaties in Afghanistan (1980 en 1997), viel bijna van het dak van een rijdende Indische trein (1983), stond op een brug in Goa die instortte door de moessonregen (1983), crashte met een vliegtuigje in het Sloveense meer van Bled (1989), reed met z'n auto rakelings langs een landmijn in Koeweit (1991) en verdronk haast tijdens een hindoeïstisch festival voor de olifantengod Ganesh (1993). De bekende Amerikaanse reportagefotograaf heeft in z'n 35-jarige carrière wel één en ander meegemaakt. Daarom is er nu Voorbij de camera: Het verhaal achter de foto (Phaidon/Terra).
Het boek bevat naast honderd twintig grote kleurafdrukken van McCurry's beste werk ook pittoreske anekdotes over zijn werkomstandigheden en avonturen on the road.
Bovenal biedt het boek echter inkijk in McCurry's lievelingsthema's en diepere drijfveren. En in zijn onwrikbare geloof in de kracht van fotografie.
Wij krijgen McCurry aan de lijn op een zonnige zaterdag in september, die hij doorbrengt in zijn New Yorkse studio. Hij lacht wanneer we hem omschrijven als moderne nomade: "Welnee, ik voel me een echte New Yorker. Of ik nu zes, negen of elf maanden per jaar in het buitenland zit: hier liggen mijn spullen, hier bewaar ik mijn werk. New York is mijn thuis. Ik ben geen ontheemde."
Was dit boek jouw idee? Wat motiveert je om het verhaal achter je foto's te vertellen?
Steve McCurry: Ik merk dat mensen daar nieuwsgierig naar zijn, of ze nu zelf fotograferen of niet. Ik werk in omstandigheden die vragen oproepen. Voor mijn project rond de moesson stond ik wekenlang kniediep in het water te fotograferen en moest ik 's avonds letterlijk de bloedzuigers van me afbranden. Toen ik in 1997 voor het eerst naar Jemen trok, had dat land de hoogste kans ter wereld om als buitenlander gekidnapt te worden. Hoe zoek je dan toch een veilige route? Ik wou dat soort ervaringen graag delen, zolang ik ze maar niet zelf moest opschrijven (lacht). Ik heb een reeks interviews gegeven aan iemand van de uitgeverij. Daarom gaat het in het boek altijd over 'McCurry'.
Je hebt in je lange carrière de overstap moeten maken van analoog naar digitaal. Daarover rep je nergens. Ging het zo geruisloos?
SMC: Ik herinner het me wel, het was tijdens een reportage in Afghanistan. Ik had naast mijn gewone spullen voor het eerst een digitale camera bij die ik eens wilde testen. Op dat moment was me al duidelijk dat digitaal de toekomst was. Vraag was alleen nog op welk moment ik zou overstappen. Ik schoot mijn eerste beelden analoog, maar heb de reportage op de digitale camera afgewerkt. Ik was meteen overtuigd. Het is zo'n immens voordeel om je beelden onmiddellijk te kunnen evalueren. Niet dat ik het vroeger vreemd vond dat zoiets niet kon, of dat mijn beeldredacteur – naar wie ik mijn onontwikkelde rolletjes opstuurde – mijn foto's zag en publiceerde voor ik ze zelf had kunnen zien. Dat was toen gewoon de realiteit.
Je duikt graag traag en diep in een onderwerp. Voor je reportage over Mumbai woonde je twee à drie maanden in de stad. Met hoeveel foto's eindig je dan?
SMC:  Ik vind het totaal irrelevant hoeveel foto's iemand op een dag maakt. Mij interesseren alleen de foto's die uiteindelijk op tafel komen. Zijn die sterk genoeg?
Spreken die aan? Ik druk niet in het wilde weg op de ontspanknop. Elke opname moet zinvol lijken. Maar je kunt het moment van je beste fotokans nooit voorspellen. Daarom is het absurd om maar één beeld te maken van een interessante situatie. Dat is zo bij portretten, want de persoon voor je lens kan plots bewegen of emotie tonen. Maar het geldt ook bij andere foto's. Ik bereid me voor: als ik een stadsbeeld wil fotograferen met een trein op een brug, dan check ik vooraf de dienstregeling. Maar dan nog blijft het afwachten of en wanneer alle elementen op hun plaats vallen. Een fotograaf moet altijd alert blijven.
In Voorbij de camera staat een foto van een huilende Vietnamese vrouw. Je noemt dat een moeilijke opname waartoe je jezelf moest dwingen. Heb je regelmatig zo'n opgelaten gevoel?
SMC: Eigenlijk niet. In beladen situaties vraag ik me altijd af: 'Waarom ben ik hier?'  Ik respecteer de mensen die ik fotografeer en heb genoeg empathie om te beseffen dat er momenten zijn waarop je liever geen camera ziet. Die Vietnamese vrouw had net gehoord dat haar HIV-test positief was. Dan stort je wereld in. Toch heb ik de foto gemaakt, precies omdat die vrouw wist waarom ik er was. Ik volgde haar gezin meerdere weken in het kader van een boek voor The Global Fund, een organisatie die gratis medische zorgen verstrekt aan HIV en aidspatiënten in arme gebieden. Zij had hulp nodig en mijn fotoverhaal was de manier om die te krijgen.
Ik doe mijn werk omdat ik rotsvast geloof dat foto's een verschil kunnen maken.
Op jouw portretten kijken mensen altijd recht in de lens. Je mantra is dan ook: 'Eerst contact leggen met de persoon, dan pas fotograferen'. Heb je nog zo'n vuistregels?
SMC: Zoek je eigen stijl en aanpak, maar behandel de mensen voor je lens met respect. Het is grappig dat we altijd hopen dat succesvolle mensen ons hun geheim kunnen verklappen, een simpele maar feilloze regel: 'Doe dit of dat en je zult zonder grote inspanningen fantastisch werk maken.' Zo gaat het natuurlijk niet. Je kunt de jaren van zoeken, proberen en ervaring opdoen niet zomaar overslaan.
Ik geloof trouwens dat de meeste fotografen niet van teveel advies houden. Die doen gewoon hun eigen ding.
Tijdens je hachelijke avonturen ben je al meerdere camera's verloren. Zit je daar diep over in? Ben je gehecht aan je materiaal?
SMC: Ik voel geen emotionele band met mijn camera's. Voor mij tellen alleen de foto's en het verhaal.  Zo heb ik ook geen lenzen waarbij ik zweer, noch een uitverkoren type toestel. Mijn materiaal heeft het vaak hard te verduren. Tijdens de reportage over de milieuramp in Koeweit na de Golfoorlog reden we tussen de brandende olievelden. Zoveel stof en as in de lucht is nefast. Het moessonproject was ook een uitdaging. Toen huurde ik een lokale assistent in om een paraplu boven me open te houden. Ik probeer verstandig te werken, maar houdt het meestal op minimale bescherming. Als mijn materiaal het begeeft, dan is dat zo.
In 2005 richtte je ImagineAsia op, een organisatie die onderwijs voor Afghaanse kinderen stimuleert. Word je als fotojournalist sneller filantroop dan iemand anders, omdat je zoveel ellende ziet?
SMC: Ik hoop dat iedereen het verlangen voelt om iets bij te dragen, om van de wereld een betere plek te maken. Waarom zijn we anders hier? Als fotograaf heb ik in mijn ogen het voordeel dat ik met relatief weinig moeite veel kan doen. Soms doneer ik een afdruk om geld in te zamelen. Voor andere projecten maak ik foto's uit overtuiging.
Het verlangen om iets terug te doen typeert Steve McCurry. Als er één foto is die zijn carrière heeft gemaakt, dan is het Afghan Girl, zijn portret van een 12-jarige Afghaanse vluchtelinge met groene ogen, een rode omslagdoek en een bijzonder indringende blik. Het portret stond in 1985 op de cover van National Geographic en groeide vervolgens uit tot een moderne icoon, één van de best herkende foto's van de afgelopen vijftig jaar.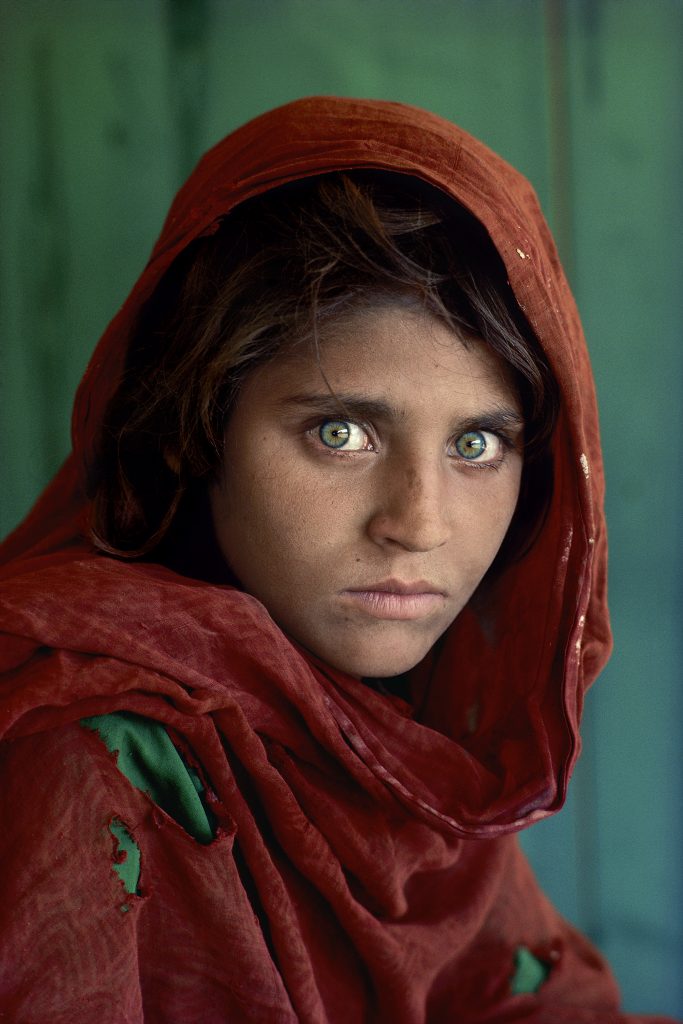 In 2002 ging Steve McCurry met een cameraploeg van National Geographic Television op zoek naar 'zijn' onbekende Afghaanse meisje. Hij wilde kijken wat er van haar was geworden en of hij iets voor haar kon doen. Na lang en moeizaam speurwerk kwam de ploeg uit bij de enige echte Sharbat Gula – haar naam betekent 'zoetwater bloemenmeisje' in het Pasjtoe. Ze was intussen getrouwd en herinnerde zich McCurry. Hij mocht een tweede foto maken – een confronterend beeld dat is opgenomen in Voorbij de camera. En wat verlangde Sharbat Gula, toen ze – zoals in een sprookje – haar wensen mocht doen? Medische zorgen voor haar man en drie kinderen, een naaimachine en een bedevaart naar Mekka.
PS: Dit interview verscheen eerder in fotografiemagazine Shoot.
PPS: Marc Lagrange en Jimmy Kets over hun werk.
PPPS: In 1978 gaf de Amerikaan Steve McCurry (1950) zijn krantenbaantje eraan om te gaan freelancen in Azië – het begin van een blitzcarrière. McCurry is lid van Magnum Photos, publiceert regelmatig in National Geographic en won ettelijke prijzen. Hij dankt zijn grote populariteit aan persoonlijke boekprojecten (o.a. over het boeddhisme) en prachtige kleurportretten van mensen die recht in de lens kijken – zoals het iconische 'Afghan Girl'. Allen naar die expo in de Beurs van Brussel, dus!