How to stay calm @ School of Life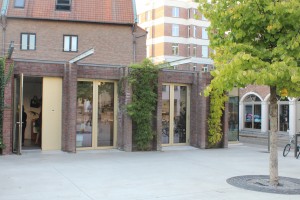 De filosofische boeken van Alain de Botton heb ik bijna integraal onderlijnd. Zo raak zijn de quotes van een van 's werelds meest populaire filosofen. Toen ik enkele jaren geleden via Skype een sessie bibliotherapie mocht volgen aan zijn Londense School of Life was ik dan ook razend enthousiast (hoewel de aanbevolen literaire wurgseks tot nog toe ongelezen is gebleven). Bijna een jaar geleden opende er aan het Antwerpse Munthof een nieuw filiaal van The School of Life. Op een druilerige zomerdag eind juli liep ik in het strak gedesignde pand directrice Yvonne Cox tegen het lijf die me meteen begeesterde om een sessie te volgen. Ze raadde me de vaste workshop How to stay calm aan die ik afgelopen donderdag mocht volgen.


De workshops bij The School of Life hebben niet de ambitie om instant oplossingen aan te bieden, maar ze helpen je wel een flink eind op weg met concrete ideeën en referenties en ze zetten je aan het denken. De docente vanavond is psychotherapeute Nele Eyckerman, die meteen zorgt voor een warm onthaal met een aperitief. De manier van lesgeven is eerder klassiek (een powerpointpresentatie die wordt afgewisseld met momenten van interactie aan de hand van een persoonlijke vraag) en daarin voel je de hand van opperman De Botton die graag de kwaliteit van The School of Life universeel bewaakt. Nele stelt het twaalfkoppige publiek – dat verrassend genoeg (hoera hiervoor) bijna voor de helft uit mannen bestaat – meteen op hun gemak (het omgekeerde zou ietwat vervelend zijn geweest in een sessie over kalm blijven). Haar stijl is vlot en empathisch en je voelt dat ze een enorme bagage heeft uit haar praktijk.
Tijdens de interactiefases krijgen we telkens een andere discussiepartner. Vrij open wordt er gepraat over de momenten dat we de controle verliezen, hoe we tot rust komen en of we ons diepere zelf al zijn tegengekomen. Nele volgde zelf al lessen bij de Londense School of Life en beschrijft hoe het er in Londen toch nog een tikje losser aan toegaat:
'De lessen in Londen worden constant onderbroken. Mensen staan er soms recht en hun bekentenissen zijn wel heel erg openhartig. De Vlaming is dan toch een heel pak introverter.'
Persoonlijke interactie is trouwens wel een voorwaarde voor al wie deelneemt aan de workshops bij The School of Life. Voor wie hier helemaal geen zin heeft zijn er de special events zoals de introducties in de mindfulness door Edel Maex, de Vlaamse grondlegger van de mindfulness. Bij de deelnemers aan de workshop zitten enkele adepten en lijkt Edel Maex op hetzelfde goeroeniveau als dat van de Botton te staan. Toch maar eens uittesten? Wie net heel erg veel zin heeft in interactie met onbekenden en het dan niet over koetjes en kalfjes wil hebben, moet de conversation dinners maar eens proberen. Na iedere -naar horen zeggen zeer smakelijke – gang gaat het van 'changer' en krijg je een nieuw gespreksonderwerp. Speeddating? Ik dacht het niet met vragen als 'heeft angst je ooit positief gemotiveerd'. Met het publiek van de sessie van donderdag indachtig – waar ontmoet je tegenwoordig nog mannen die alle boeken van Brene Brown hebben gelezen – lijkt zo'n etentje me echt wel een grensverleggende ervaring.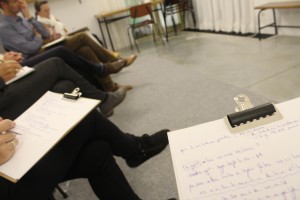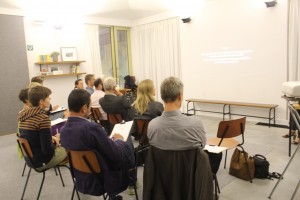 In de lessen van The School of Life krijg je heel wat leestips mee. Nele: 'We wilden de Londense lessen eerst niet zomaar klakkeloos overnemen. We waren sceptisch en we hebben geprobeerd om de lessen te vervlaamsen. Dat is hier en daar gebeurd. (Ik vermoed dat ze hiermee doelt op de streepjes Dirk De Wachter…) Verbeteren, dat lukte niet. De boeken waarnaar Alain de Botton verwijst, zijn simpelweg de beste.'
Twee auteurs waarin ik me na de les van Nele verder wil verdiepen, zijn:
De kracht van kwetsbaarheid van Brene Brown (A.W. Bruna). Als je Brene nog niet kent, bekijk dan zeker haar TEDtalk

 

The power of vulnerability.

Hierin 

argumenteert ze op humoristische en openhartige wijze hoe kwetsbaarheid niet enkel samengaat met pijn en schaamte maar ook een voorwaarde is voor liefde en geluk. Mensen die de moed hebben om niet perfect te zijn, die zich authentiek opstellen en zichzelf durven zijn, leiden volgens Brown een veel gelukkiger leven.
Irvin Yalom… alles. Zelf mocht in één van 's werelds meest bekende psychiaters interviewen  over de therapeutische relatie met één van zijn patiënten, maar zijn meer theoretische werken daar bleef ik voorlopig van af. Nele baseerde haar les op zijn vier existentiële oorzaken van angst (dood, isolatie, ontbreken van betekenis en vrijheid). Toch iets om me in te verdiepen.
Hoewel The School of Life de lesinhouden nauwgezet bewaakt – in 2014 openden wereldwijd maar liefst zeven filialen van The School of Life – legt Nele af en toe haar eigen accenten. Voldoende bewegen en dan liefst nog in de bossen, zou volgens haar heel wat psychische klachten kunnen verhelpen. De natuur intrekken, check, dat ga ik doen! Verder onthou ik dat angst levensnoodzakelijk is en dat we die nooit helemaal mogen kwijtspelen – wat de boeddhisten ook mogen beweren – , dat het gros van de psychologische klachten neerkomen op de angst een ongeleefd leven te lijden en weet ik min of meer waar ik me bevind op de ax van kalmte tussen de Queen of England en Basil van Fawlty Towers. Tot slot legt Nele ons nog op om de komende weken te oefenen in onbevooroordeeld mededogen. Phieuw!
Heel wat onderwerpen om over na te denken, te babbelen en toe te passen. Een zware avond? Nee, dat niet. Triggerend en inspirerend, geen sessie die je zomaar los laat! Iets om jezelf af en toe kado te doen…
De smaak te pakken? Abonneer je op het gratis Youtube kanaal van The School of Life voor 'the education we should have got at school but didn't' en bekijk dit filmpje over het belang van literatuur.