Graphic novels: de titels die u niet mag missen
De 'to read' stapel bij Thisishoweread is te allen tijde torenhoog. Tussen de romans, prentenboeken, essays en dichtbundels liggen ook heel wat graphic novels die regelmatig onze blik vangen.
Ik pikte uit de stapel vier graphic novels die u niet mag missen. Omdat het concept in het oog springt, omdat de auteur zo'n ronkende naam is of omdat we er heerlijk om hebben moeten lachen of huilen. U hebt uw boekenbeurslijstje toch al openstaan, mag ik hopen?
Doorsnee, Phaedra Derhore, Oogachtend
Het concept:Het doorleefde verhaal van Phaedra, voorheen zwaarlijvig, en na een gastric bypass operatie aan de snel slinkende beterhand. De blikken op straat en in het zwembad, de risico's van de operatie, de moeilijke revalidatie en de eerste onzekere stappen in date-land. Duik mee in de queeste van Phaedra.
De auteur: Phaedra, dus, het hoofdpersonage. Deze Leuvense studeerde aan Sint-Lukas in Brussel, geeft momenteel les en lanceerde met Doorsnee haar eerste graphic novel. Een dappere zet, om zo open over de operatie en haar lichaam te tekenen en te schrijven.
Waarom u deze wil lezen: Phaedra tekent recht uit het hart en kaart een problematiek aan die vaak -letterlijk en figuurlijk- onder vele lagen verstopt zit. De opmerkingen van vreemden, de steun van haar ouders, de koude douches in het zwembad en bij de dokter, en hoe ze afscheid neemt van haar vroegere dikke zelf. Een toegankelijke graphic novel met een hoofdpersonage dat je zo tot je vriendenkring wil rekenen. Oh, en voor de Leuven-kenners: spot de kruidtuin, Gasthuisberg, het stadhuis en kleine en grote hoekjes van de stad in haar werk.
Het amusement, Brecht Evens, Oogachtend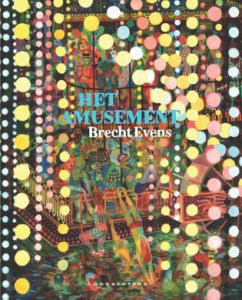 Het concept: Euh, tja, dit is gewoon de nieuwe Brecht Evens, mensen. Daar kan geen graphic novel minnend persoon omheen. Langverwacht en erg naar uitgekeken, en wij voorspellen dat deze prijzen gaat scoren. One night only, en honderden pagina's lang, kruisen de levens van drie twintigers elkaar in een bruisende grootstad.
De auteur: Brecht Evens, die de al even succesvolle en legendarische titels Panter, De liefhebbers en Nachtdieren leverde. Zeg niet dat België niet op de stripmap staat. Ah, en maak niet dezelfde fout als ons: gierend een half uurtje werkdag verliezen omdat je op man's site in de afdeling 'Short Comics' terecht komt. Vooral die met het springkasteel. Hihihi… Geeft u mij even, ik kom zo verder graphic novels tippen.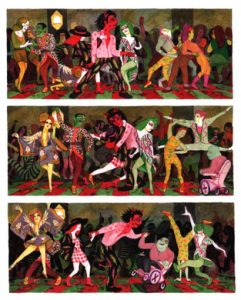 Waarom u deze wil lezen: Een snuifje Picasso, wat orientalisme, Escheriaanse invloeden, een vleugje pointillisme hier en daar, een spoortje Klimt en een uitspatting van kleuren. We kunnen het proberen, maar om ten volle te begrijpen hoe fraai Het amusement is, moeten we je doorverwijzen naar de betere boekhandel. Nina Vandenbempt en Atelier Michael Woolworth dragen bij.
1000 Pinguins, Wasco, Scratch
Het concept: Letterlijk, 1000 pinguïns. Een sober boek in zijn opzet: geen blurb, geen inleiding, enkel een reeks paginanummers die pinguïns tellen. Net die eenvoud en no nonsense prikkelt onze nieuwsgierigheid. Waarom pinguïns? Waarom duizend? Waarom de kleuren zwart, blauw en oranje?
De auteur: De Nederlandse Wasco. Heeft iets met katten en pinguïns en tekent deze ook vaak. Verschuilt zich achter drie blogs, waar veel over zijn werk, maar weinig over de man zelf te vinden is. We zijn nog benieuwder.
Waarom u deze wil lezen: Of beter gezegd, waarom u deze wil kijken. Omdat u net zo geïntrigeerd bent als ons. omdat u mee op zoek wil gaan naar het verhaal achter het boek, en de pinguïns. Of op z'n minst het verhaal mee wil verzinnen. En omdat zoontje Nathan er gek op is, op de 1000 manieren waarop pinguïns getekend kunnen worden. En ja, het lukt om hem ervan te weerhouden aan de randen van het boek te sabbelen.
Eldorado, Tobias Tycho Schalken, Oogachtend
Het concept: 'Wij hielden van alles wat leefde, en wij dachten dat alles wat leefde ook van ons hield'. Poëtische beelden, heftige kleine en grote verhalen, zoals dat van Pete de cowboy, jongeren die hun weg zoeken, en tekeningen die thuishoren in musea voor hedendaagse kunst.
De auteur: Tobias Schalken. U kent hem van het vijfdelige Eiland, dat hij samen met Stefan J.H. van Dinther schreef en tekende. Breng op zijn site een bezoek aan zijn pinboard, waar hij met foto's en korte stukjes tekst zijn werk en leven bericht.
Waarom u deze wil lezen: Omdat dit na Eiland de comeback is van Tobias, en hij naar onze mening te lang uit de schappen van de boekhandel verdween. Omdat zijn werk zo divers is, en hij geen experimenten schuwt. Omdat  hij er in slaagt z'n lezers mee te zuigen in zijn wereld, en vraagt om even stil te staan in zijn boek en zijn verhaal.