Op schrijfretraite in Griekenland
Deze gastpost is een gevaarlijke. Je krijgt er zomaar zin van om jezelf te trakteren op een zevendaagse schrijfretraite op het Griekse eiland Limnisa. Watch that wallet!
Deze gastpost is er ook eentje die inspireert. Heb jij evenveel schrijfambitie als twijfel aan je eigen kunnen? Klinkt het bekend: 'Schrijven is een martelgang'? Dan presenteert Isabel je vijf mantra's om vooral te blijven worstelen met woorden. De redactie is het 100% eens met alle statements hieronder – en 200% met het eerste.
Tenslotte is deze gastpost een dubbeldik verdiende eer. Isabel De Wit is de enige schrijver in de geschiedenis van onze columnwedstrijd die niet één, niet twee, maar wel drie keer werd genomineerd. Een overrompelende overwinning in z'n eigen soort. Je zou haar als prijs een schrijfretraite schenken, als deze boss lady dat al niet voor zichzelf had geregeld… Lees en geniet.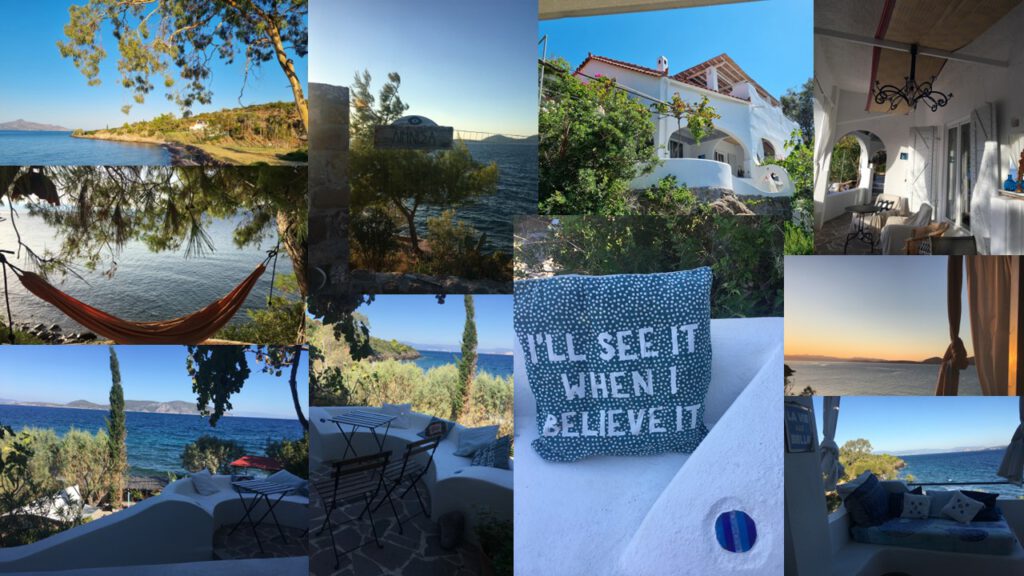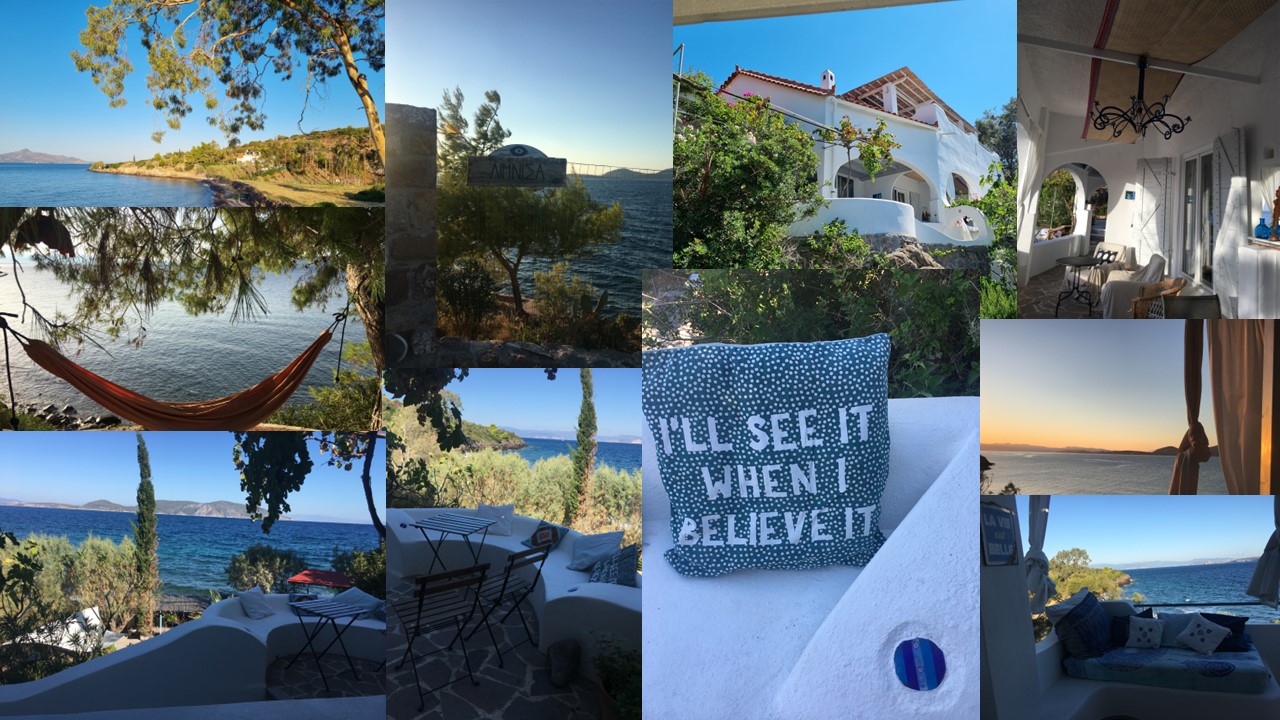 Lyrisch over Limnisa
De herfstblues slaat onverwacht maar genadeloos toe. Zeker in combinatie met het winteruur zorgt ze voor een stevige dreun. Maar de herinnering aan mijn verblijf op het Griekse Limnisa helpt om zulke Blue Mondays om te buigen in een ander soort blauw. In combinatie met wit bezorgt het Griekse blauw mij een instant energieboost en gelukzalig gevoel. Ik vertoefde deze zomer immers in het goede gezelschap van gelijkgestemde zielen die zichzelf net als ik een schrijfretraite cadeau deden. Het waren zeven dagen van herbronnen, inspiratie opdoen, columns schrijven en cursiefjes schrappen. Ik leerde er, naast onthaasten en de plaatselijke wijn degusteren, vijf levenslessen die ik dankzij een goede stapeltechniek net nog in mijn koffers kreeg.
'You do it by doing it'
Éen van mijn soulmates terplaatse was Lissette, een Amerikaanse romcom schrijfster met pit én een strakke deadline (maart 2023) voor haar tweede boek. Ze vertolkt met verve de stand-in van Mega Mindy want naast een knappe auteur is ze ook tv-producer van realityshows. 'Say yes to the dress…' En tegen deze aimabele Amerikaanse. Tijdens het natafelen met zicht op zee (en de lege flessen wijn), vertelde Lissette over haar allereerste tv-job bij het toen erg populaire MTV. Haar toenmalige baas was een man van weinig woorden maar als hij iets zei, kwam het wel binnen. Eentje voor op de lijst 'Motivational quotes': 'You do it by doing it'. Sterker dan de slogan van Nike als je 't mij vraagt…
'You are a writer'
Een andere deelneemster was Lizzie. Een dichteres met een allergie voor mannen en rijm. Tijdens ons eerste etentje samen had ik last van het imposter syndrome. "Ik zit hier tussen allemaal auteurs met fameuze boeken op hun palmares, shit, ik ben de enige zonder zo'n indrukwekkend cv." Ik heb mijn syndroom eerlijk op tafel gelegd, tussen de glazen lokale wijn en de moussaka. Verrassend genoeg werd ik niet van het eiland verbannen en nam Lizzie het voortouw om een pleidooi in mijn voordeel te houden. "Je hebt een column in een magazine (Ferm) én bent voor de derde keer genomineerd in een columnwedstrijd. "You ARE a writer!" Blij dat Lizzie de puntjes op de i van onze beide voornamen zette. Het syndroom verdween met de vloed van de helderblauwe zee.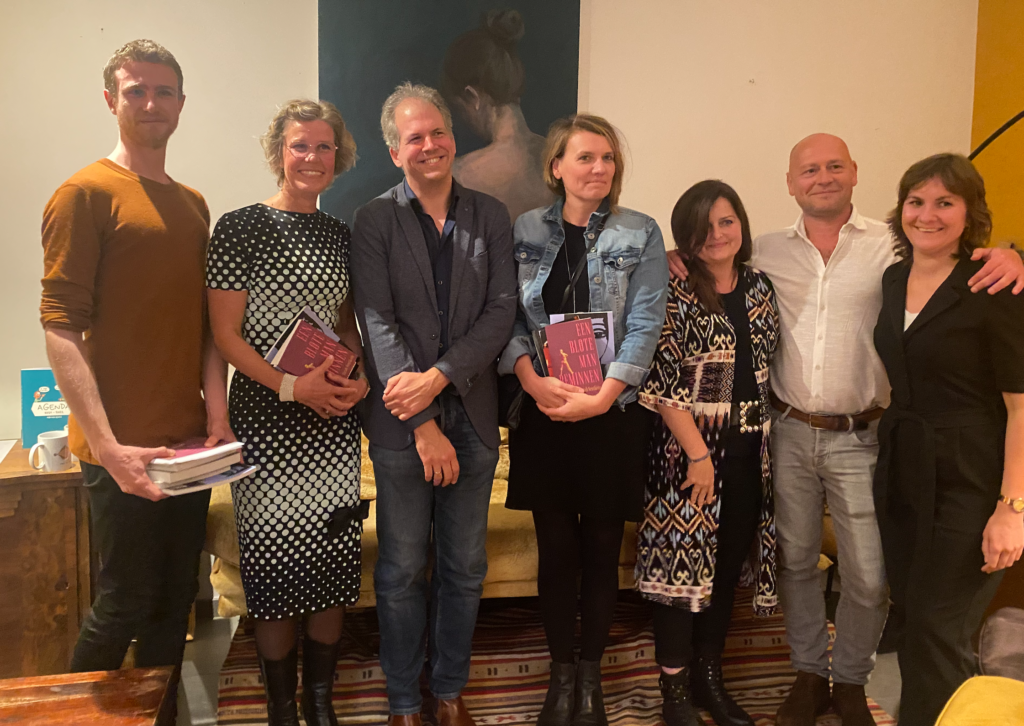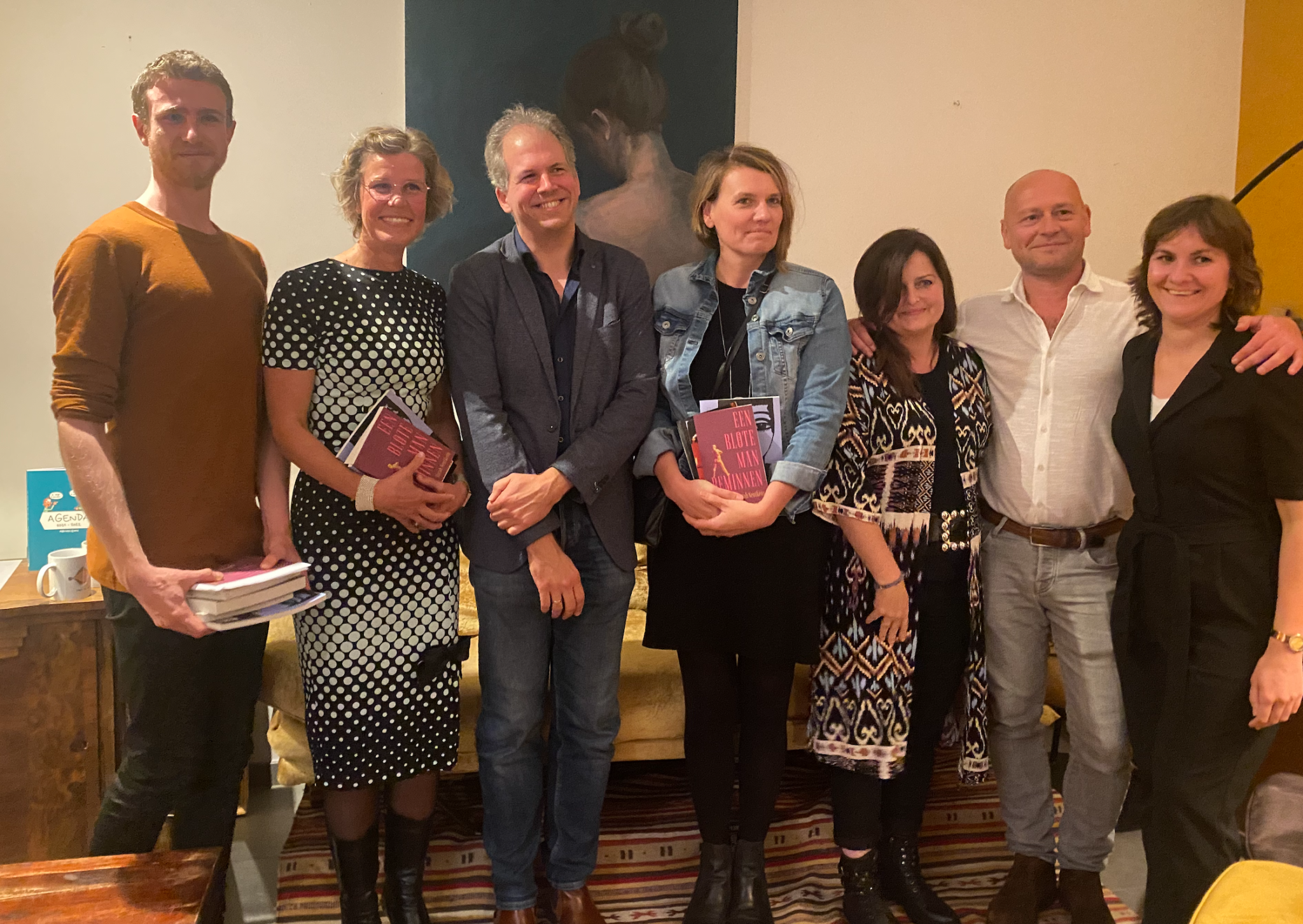 'It's a sign'

Nog meer dan voor mijn vertrek naar het goddelijke Limnisa, geloof ik in tekens. Alles gebeurt met een reden. Toch toevallig dat het koppel zestigers naast mij in het vliegtuig op de heenreis zat te lezen in De Standaard, net op die ene columnpagina van Rebekka de Wit (nvdr: jurylid van de jongste This Is How We Read columnwedstrijd – lees hier haar mening over Isabels genomineerde tekst)? Toeval bestaat niet. Een blauwwit kussentje op één van de knusse schrijfplekjes op onze idyllische locatie was de kers op de toevalstaart. Ik heb getwijfeld om de quote die erop stond, te laten tatoeëren op mijn schrijfhand: 'I'll see it when I believe it'. Die quote werd trouwens de rode draad tijdens de retraite, zeker met zulke gelijkgestemde zielen in de groep.
'The language of writing (and humour) is universal'

De meest kleurrijke deelnemer van de bonte schrijversbende was Alexander. Een Duitser, psycholoog van beroep en stand-upcomedian in wording. Alles wat hij zei, was grappig. Misschien lag het ook gewoon aan de wijn in combinatie met zijn sappig Duits accent? Ook mijn mopjes vielen, naast dat uitmuntend lokaal druivensap, in de smaak. De (lach)band was gesmeed. Ondanks dat we soms naar onze te vertalen woorden moesten zoeken, vonden we ze altijd. Een mooie blend.
'Cats have a sixth sense'

Tijdens mijn verblijf op Limnisa maakte ik kennis met de 'katten des huizes' maar ook met de straatexemplaren. Stuk voor stuk schatjes van katjes. Als een writer's block dan toch eens wou binnenglippen, zorgde een onverwacht bezoekje van de kleurrijke viervoeters meteen voor verstrooiing en nieuwe inspiratie. Poeslief waren ze, maar gêne stond niet in hun woordenboek. Ze legden zich er gewoon bij neer, bij al die rare schrijvende wezens. Het liefst op de laptops of de notitieblokken, niet ernaast. Ik had instant een déjà vu van het thuisfront. Griekse katten hebben dus veel gemeen met de Belgische tricolore exemplaren.
De schrijfretraite was er één uit de boekjes. Het onderweg zijn was een retraite op zich. De eerste keer alleen op reis. De route ernaartoe was eerder 'offroad'. Erg afgelegen, niet-toeristisch, onontgonnen terrein. En taxichauffeurs die geen letter Engels kunnen. Maar dat met hun Griekse flair ruimschoots probeerden te compenseren.
Eens toegekomen op het schrijfeiland kwamen tientallen boekenrekken me tegemoet. Letterlijk. De natte droom van het This Is How We Read-team, ik ben er zeker van. In elke kamer, zelfs op het kleinste, lagen er kanjers van exemplaren. Het rek op het terras, dat was een spécialleke. Een ware trofeekast. Want hier enkel paperbacks van vorige retraitegangers. De boeken die ze op Limnisa hebben neergepend. Indrukwekkend. Een grote stimulans ook om op dat bovenste schavotje terecht te komen.
Ik heb op Limnisa niet enkel aan columns gewerkt maar ook aan een boek (in embryonale fase). Waarover? Dat hou ik nog even voor mezelf.
Dankzij de deugddoende schrijfvakantie staan al mijn zintuigen op scherp, mijn pen ook, en houd ik het zomeruur ondanks het najaar toch nog even aan. Ik kijk met weemoed maar ook met veel dankbaarheid terug op de reis van mijn leven.
Limnisa, ik blauw van jou.
X De Wit
PS: Vanwaar de naam 'Limnisa' hoor ik je denken? Het betekent 'Little Lake' in het Grieks… Big impact!
PPS: Ook Eveline van de This Is How We Read-redactie ging op schrijfretraite… maar dan in een kasteel. En Katrien kent de artistieke onderbuik van Athene.