Mijn moeder zet mij op vrijdagavond, na een dagje bruidsshoppen, af voor een schrijfweekend in een Luiks kasteel. Schrijfdocent Peter (George Clooney-lookalike, volgens de vrouwen in mijn schrijfgroep) opent één van de enorme deuren, verwelkomt mij met een vaderlijke knuffel en gaat mijn moeder nog even netjes een hand geven door het autoraam. Mijn moeder stelt zich blijkbaar geen vragen bij het concept schrijfweekend-George Clooney-Luiks kasteel-geenanderegroepsledeninzicht en rijdt haar A-klasse gezwind (lees: 3x keren) de binnenplaats af.
Binnen wachten de 15 andere kasteelbewoners voor het weekend mij op. Voor ons liggen twee vorstelijke dagen in fijn gezelschap met lekker eten en heel wat schrijfworkshops.
Schrijfvakanties zijn al een tijdje aan het boomen. Ook formules als dit, waar je als liefhebber van het geschreven woord twee dagen lang geen afleidingen (kat, hond, kinderen, kleinkinderen, wederhelft, …) hebt die je van schrijfprojecten afhouden, zijn vrij snel volgeboekt. Er bestaan schrijfverblijven waarbij je je idee/sinds 1997 half afgewerkte manuscript/vastgeroeste ode aan de bloem meebrengt en verder ploetert met behulp van tips van een mentor. De tweedaagse waar ik voor inschreef is een schrijfcursus waarbij je als groep verschillende workshops volgt met een schrijfdocent.
De locatie is alvast bevorderlijk voor de inspiratie. Chateau Cortils is een charmant kasteel, omgeven door uitgestrekte weilanden en bossen waar je in geval van acute writers block mijmerend naar een kudde schapen kan staan kijken (helpt altijd, geloof me maar). Verder worden we culinair in de watten gelegd door duo Eveline en Wesley van restaurant Het oude raadhuis in Halsteren (NL). Zij serveren heel het weekend lang zinnenprikkelende gerechten, een somptueus ontbijt en heerlijke lunches.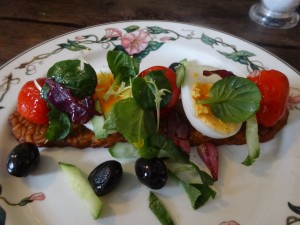 De groep is een mix van euh… vanalles wat eigenlijk. 'Schrijfjuf' Peter van Schrijven en Schrappen komt uit Bergen-Op-Zoom, dus de Belgen zijn in de minderheid. Wat voor grappige schrijfselen en enige hilariteit zorgt. Leg maar eens uit wat een 'kabardoush' is. West-Vlaamse Stefanie, wiens imitatie van het Antwerpse dialect kan tippen aan Slongsdievanongs, vertaalt het in netjes Algemeen Beschaafd Nederlands als een 'prostitueehokje'. Hm, de toon is gezet. Er zijn verschillende oma's die naast kleinkinderen ook verborgen passies hebben als buikdansen, twisten en televisieshows met de naam 'De gouden geit' presenteren. Een paar leerkrachten die niet enkel een troep kinderen of pubers maar ook woorden tot orde of net de nodige chaos kunnen dwingen. Twee exacte wetenschappers slaan de brug tussen literatuur, taal en de tabel van Mendeljev. Het is wat bijbabbelen met Belgen Yolande en Sarah ('familiebedrijf verkocht!', 'nieuw lief!') die samen met mij dezelfde schrijfopleiding volgden bij Geor…euhm Peter. Hond Luna komt ook kennis maken en is meteen dikke vriendje met de pompons op mijn pantoffels. De pompons zijn ondertussen mee naar Nederland, denk ik.
Bij de kennismakingsronde adopteer ik meteen een oma. Tine is geboren in 1939, ik in 1982, dus als oudste en jongste komen we tijdens de eerste oefening bij elkaar uit.
'Och, ik heb enkel kleinzoons, een kleindochter zou enig zijn.'
'Tja, ik heb wel al enkele jaren een vacature voor een oma openstaan'.
Et voila, ik ben niet langer grootouderloos…
Zaterdagochtend kijken we uit op een postkaart. Te midden van een dik wit tapijt zie ik een sneeuwkonijn van het ene maagdelijke stukje sneeuw naar het andere huppen. Blijkt hond Luna te zijn, fan van sneeuw en van haar (gelukkig) knalgroene bal. 10 cm sneeuw later zijn we bezig met een kortverhaal rond temperaturen en stemmingen. De catering belt. Ze zitten met hun achterwielaandrijving vast op een kilometer van het kasteel (de Drève de Cortils is voer voor de Rallye Du Condroz en niet toegankelijk voor strooiwagens). 4 stoere schrijfbinken zetten meteen een reddingsactie op poten en de achterblijvers zijn stiekem blij dat de deadline voor het kortverhaal van 'nog vijf minuten' naar 'genoeg tijd om het helemaal te herschrijven' verschoven is.
Na een late lunch smijten we onze tere aaneenschakeling van woorden in de groep en lezen de kortverhalen voor. Het examen Duitse Taalkunde 1, een heruitzending van 'Silence of the Lambs' of een avondje oppassen op mijn achtjarig neefje zijn niks in vergelijking met een zelfgeschreven tekst voorlezen. Niks te 'op internet posten' en jezelf wijsmaken dat niemand het toch ooit gaat lezen, maar 15 mensen met kennis van literatuur en het juiste gebruik van het bijvoeglijk naamwoordelijkgezegdig voorzetselvoorwerp die naar je luisteren.
Peter gunt ons geen rust. We gaan een rondeel schrijven en krijgen de regels nog eens haarfijn uitgelegd. Het rijmschema wil nog wel lukken (ABba en nog van die Eurosongtoestanden), maar bij de uitleg rond het metrum kruipt hond Luna bij mij op schoot en is de schrijfjuf mij even kwijt. Bij 'aan de slag' schrikken hond en ondergetekende op uit hun gezamenlijk gemijmer en laat de viervoeter mij en mijn metrum in de steek. De groep waaiert uit over het kasteel en ieder bakent een schrijfplek af. Gezwoeg 2.0 kan beginnen. Net als ik ontdek dat mijn rijmschema niet helemaal klopt (A en B wisselen elkaar braaf af maar ik heb er blijkbaar ergens een C in laten sluipen), komt Peter met een vervolgopdracht: een rondeel vertalen in duo's. Ik zie mijn kans schoon en charter Bert, een dichter met publicaties in literaire tijdschriften. Samen zetten we een dijk van een vertaling neer. Dat wil zeggen dat Bert geweldige beeldspraak verzint en ik bizarre rijmwoorden opnoem uit het Groote rijmwoordenboek der Nederlandsche taal. Fazant rijmt op kant, sassefrassen op paperassen en vierbaanswegen rijmt op regen. Ondertussen laat ik Bert op mijn metrum los, dat in no time gefixt is. Waarvoor dank, Bert.
Heerlijke geuren komen uit de keuken gedreven, dus we verzamelen rond de tafel en laten ons vorstelijk bedienen. De avond eindigt met enige vunzigheid tijdens het Woordenboekenspel. Elke deelnemer zoekt een onbekend woord op in het woordenboek en iedereen mag de betekenis raden. In de stijl van de 'kabardoush' worden er woorden als 'propgat', 'pleet', 'lurf' en 'kwellat' genoemd. Ik bespaar u de details… Jan begrijpt dat elk groepsweekend om een gitaarman schreeuwt en bedient ons van wat Simon & Garfunkel. Harro zet de late barshift in met pianospel.
Zondag zet de dooi in en ook de workshop ruimte geraakt oververhit. Opdracht: breng een stukje ten tonele uit 'Suske en Wiske'. Dat wil zeggen acteurs, attributen als bezems en keukenhanddoeken en heel wat geluidsmannen en -vrouwen langs de kantlijn, want het gaat vooral over de geluiden die bij de scène horen. Waar dit in godsnaam toe moet leiden of wat de link is met onze volgende schrijfopdracht is niet duidelijk, maar we splitsen meteen op in twee groepen en beginnen te brainstormen. Arthur, leraar Nederlands en vooral toffe peer, neemt de leiding en verdeelt de rollen. Gouden Geit Marianne en ik vormen een soldatenduo en smeren ons gezicht vol paarse (lippenstift) oorlogsstrepen. Na een uur koortsachtig oefenen mogen we de stukken opvoeren. Uiteraard is het een aaneenschakeling van acteurs die te vroeg opkomen, te laat uitgesproken zinnen, proestbuien, de nodige travestie en attributen die op het verkeerde moment omvallen. Carla speelt een schitterende Jeroom met zeven kussens rond haar lijf, Yolande oefent tien maal een spectaculaire val. Best. 10. Minutes. Ever. Peter koppelt er voor het volgende feestmaal toch nog snel een schrijfopdrachtje aan, hoewel we hem vooral verdenken van illegale youtube-praktijken.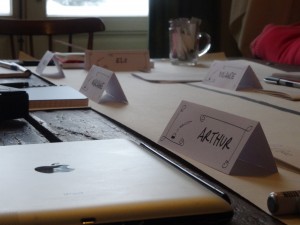 Het eten smaakt weer naar meer, maar het is tijd om buiten wat te gaan luchten. Hoewel. We krijgen de opdracht om schrijfinspiratie te gaan opdoen in de verlaten, ietwat muffige en vaag naar mest ruikende paardenstallen en dan 'een gedicht' te schrijven. Over paarden. Met wat rijm. En liefst ook nog een klets ponykampherinneringen erbij. Oh, ja, en jullie hebben een uur. Uiteraard. Ik holderdebolder wat van heen en weer tussen de stallen, maar mijn niet-waterdichte schoenen jagen mij weer richting open haard. Ik ben niet bepaald een vlotte dichter, dus ik gooi het over een iets ander paardenrug:
Zo! Zegt hij verbaasd,
Wat een haast!
Nu al terug?
K'heb een snelle pen,
Zeg ik,
En ook geen waterdichte schoenen.
Terwijl mijn laarzen staan te drogen bij de verwarming, loopt het weekend ten einde. Er worden geen e-mailadressen uitgewisseld, enkel zinnetjes, verzen en coupletten. Ik knuffel mijn schrijfoma nog eens. Ik heb een hip exemplaar uitgekozen, want ze vraagt mijn facebookadres. De auto's glibberen de Drève de Cortils tegemoet. Beste schrijfjuf, wanneer gaan we nog eens?