Literaire DIY voor DIY nitwits
Omdat het vandaag Gedichtendag is, wilde ik iets speciaals doen. Op de blogagenda noteerde ik daarom enkele weken geleden 'een DIYproject rond literatuur'. Ik snuffel wat rond op het walhalla van doehet-Pinterest-ers, 'pin' designboekenkasten en droom van grootse projecten. Aan creativiteit geen gebrek maar ik stuit al snel op één belemmering: ik heb geen boormachine of zaag in huis. En de voorwaarde die ik mezelf heb opgelegd, is toch om het hele project eigenhandig uit te voeren. Wat heb ik mezelf aangedaan? De weken gaan voorbij, boeken worden gelezen en zonder al te veel pleinvrees post ik blogrecensies maar het DIYproject schiet niet op.
Tot vrijdagavond… ik besluit mijn Pinterestbord links te laten liggen en gewoon naar de Hubo te trekken. Ik zou wel zien. Ik bekijk enkele planken en overleg met de lokale Hubomedewerker of ik die scheef kan laten snijden. Verschrikt staart de man me aan: 'Nee dat kan niet hoor. Hiervoor kan ik mijn job verliezen.' Say what! De man kijkt alsof ik hem een oneerbaar voorstel heb gedaan en ik druip af. Ik beland uiteindelijk in de rayon van de isomo waar mijn aandacht wordt getrokken door isomo tegels.
Isomo zeg je? Jawel. Isomo is licht, makkelijk te snijden enneuh… maakt een bijzonder vervelend geluid. Ik kies voor isomo tegels en een soort van isomo latjes die lijken op een kader. Ik schaf me meteen ook enkele spuitbussen en wat sterke dubbelklevende plakband aan en voel me onmiddellijk een wannabe doehetzelver (met de nadruk op wannabe).
En zo heb ik een plan. Er zijn ongetwijfeld wel meer mensen als ik die af en toe eens een vriend uitnodigen voor een glas wijn in ruil voor… het ineen timmeren van een kast. En misschien is er dus wel een markt voor doehetzelf nitwits. Maar toch… argh. Wat als al die mensen met een klantenkaart van de Brico me gaan uitlachen.
Laat ons er stap voor stap aan beginnen.
1. Voila, mijn materiaal.
2. Hier bevestig ik de isomo tegels aan elkaar. Doordat ik twee lagen isomo gebruik en de tegels geschraagd leg, zie je hiervan niets aan de buitenkant.
3. Daarna maak ik van de latjes een kader. De hoeken zijn wel wat moeilijk, of zou dat zijn omdat ik dit vanuit de losse pols heb gedaan?!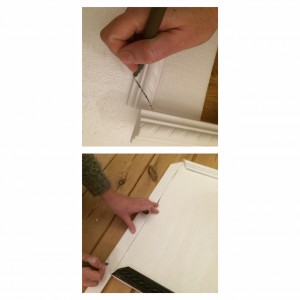 4. Ik spray de verschillende onderdelen. Het isomo 'canvas' krijgt een luxueuze stenen afwerking. Voor de kader koos ik zwart.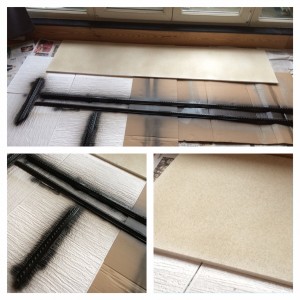 5. Dan begint de moeilijkste opdracht: het schrijven. Mijn handschrift evenaart dat van een dokter en wordt totaal oncontroleerbaar als ik het vijf keer uitvergroot. Ik ga ten rade bij mijn mama die me als 'lagereschooljuf met een kalligrafiehobby' enkele tips die nooit kunnen mislukken aan de hand doet. Ik kies een tijdloos gedicht van Herman De Coninck en zorgvuldig tel ik letters en test ik het alfabet uit. De latjes van de kader dienen om recht te schrijven… en als penseel gebruik ik een alcoholstift. Ik zei het al, voor dummies.
6. Maar toch, het resultaat mag er zijn!
En met de mooie woorden van Herman De Coninck wens ik jullie een prettige gedichtendag:
Geen sentimenten die me schrijven

Maar ik die sentimenten maak

'Liefste' zeg ik, en dat woord

doet me beminnen

'Huil niet' zeg ik

En zachtjes ga je huilen

Liefste, liefste, liefste
PS Er rest me nog één vraag. Isomo tegels, waarvoor worden die normaal gebruikt?