In 2022 kiest This Is How We Read iedere maand een 'Boek van de Maand'. In mei hebben we het in onze 'gespreksrecensie' over 'Hoe je van je dochter moet houden' van Hila Blum!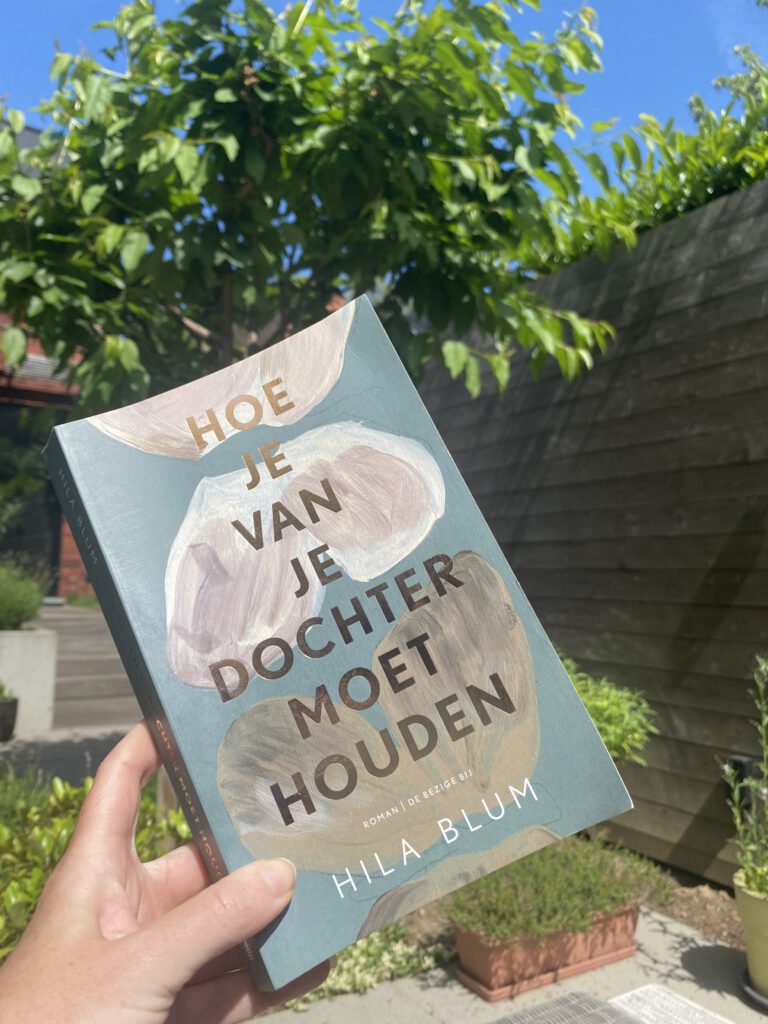 Win, win, win! Laat een reactie achter en meng je in het gesprek. Zo maak je eind december 2022 kans op een excellent boekenpakket: onze 12 boeken van de maand in één indrukwekkende stapel. Tot dusver uitverkoren: Het voorval van Annie Ernaux (onze stand-in voor januari), Wachten op het Westen van Nausicaa Marbe (februari), Kerozine van Adeline Dieudonné (maart) en Veranderen: methode van Edouard Louis (april).
Katrien (vooraf): Kan je een moeder-dochterboek goed recenseren als je zelf (nog) geen moeder bent? Heel kort flitst het door mijn hoofd als Barbara me Hoe je van je dochter moet houden van Hila Blum suggereert als Boek van de Maand mei. Jawel, besluit ik snel. Ik heb zelf toch ook een moeder, ben een dochter, word omringd door moeders. En ik recenseer boeken over seriemoordenaars, queer mannen en AI-robots zonder me die vraag ooit te stellen.
Barbara (vooraf): Met haar vraag in de titel verleidt de Israëlische Hila Blum (53) me meteen om haar tweede roman te lezen. Hoe je van je dochter moet houden – ik denk dat ik over dat thema wel kan meepraten, met 12 jaar ervaring met Astrid, 9 jaar met Johanna en 6 jaar met Karolien op mijn teller.
Ik heb (alles opgeteld) 27 jaar girl mom experience, dat legt al wat gewicht in de schaal.
Tegelijk is 'goed moederschap' de fata morgana waar ook ik achteraan blijf hollen. Ik streef ernaar, kom zeker in de buurt, maar durf toch niet luidop zeggen dat ik het vastheb. Daarom verslind ik fictie en non-fictie over ouderschap. Vertel me je inzichten, Hila Blum!
Katrien (belezen vrouw): Als er al schroom was om met Hoe je van je dochter moet houden te beginnen, is die snel verdwenen. Met een verwijzing naar Turist – een uitstekende, maar ook wel confronterende film over een gezin dat een sneeuwlawine overleeft tijdens een skivakantie – weet je meteen dat dit geen zeemzoet verhaal wordt over de liefde van een moeder voor haar dochter. 'De klap was dodelijk, het kwaad was geschied, want tijdens de lawine was de vader snel van zijn stoel gesprongen om zichzelf in veiligheid te brengen, terwijl de moeder meteen was opgevlogen om de kinderen te beschermen.'
Het is niet de enige verwijzing naar boeken en films in Hoe je van je dochter moet houden.
Blums hoofdpersonage, Joëla is een belezen moeder met een boekenkast die opvallende gelijkenissen vertoont met die van mij/ons: van Susan Sontag tot Elizabeth Strout, van Roddy Doyle tot Margaret Atwood en waaruit ze gretig citeert.
Voilà mijn sympathie is gewekt voor deze Israëlische vrouw die met haar grenzeloze liefde voor haar dochter geen blijf weet en daarvoor te rade gaat in de wereldliteratuur.
Barbara (suspense en dreiging): De vragende titel en 57 korte, beschouwende hoofdstukken zetten een filosofische toon, maar Hila Blum vergeet de spanningsboog niet. Er zit ook een dramatische vraag in dit boek. Waar is het misgelopen tussen Joëla en haar enige dochter Lea, dat Lea op volwassen leeftijd het contact met haar moeder mijdt? Waarom moet Joëla naar Nederland reizen en stiekem door een raam turen, als ze een glimp wil opvangen van haar twee kleindochters? Blum werpt de lezer mondjesmaat brokjes informatie toe, die mij al snel fascineren én alarmeren.
Als Joëla al een fout maakte als moeder, dan was het eerder dat ze te veel dan te weinig van haar kind hield.
Na haar zwangerschapsverlof keert Joëla terug naar haar werk, een grafische ontwerpstudio aan de universiteit: "Ik werd met vreugde weer ontvangen, iedereen wilde foto's zien van Lea en over haar horen, en ik begreep meteen dat ik moest praten over hoe zwaar het allemaal was. De hechtingen en de vermoeidheid en de nachtelijke sage van het huilen en het voeden. Moeiteloos begreep ik wat ik moest vertellen en hoe ik het geluk in mijn verhalen moest verdunnen." Blum verwoordt het beter (lees dat opnieuw: 'Moeiteloos begreep ik hoe ik het geluk in mijn verhalen moest verdunnen') maar het idee lijkt haast gepikt uit deze column over mijn oudste dochter en het moedwillig overhoop halen van doopsuiker. Unheimlich: als ik me herken in de uitgangspositie van Joëla (onverdund moedergeluk), kan ik dan ook eindigen zoals zij – vervreemd van mijn kind?
Hila Blum maakt meteen duidelijk van wel. Ze beschrijft de film Turist (die zij niet benoemt maar Katrien hierboven wel. Thanks daarvoor, Katrien – spaart me rondje research 🙂 ) en verklapt zo dat de ramp die hun gezin trof geen grote was (type verkeersongeval, woningbrand, ongeneeslijke ziekte…), geen klassieke boeman: Ik zou nog weleens meer films willen zien over een leven dat op die manier, bijna vanzelf, verkeerd loopt, en geen films over luidruchtige klappen van het leven. Ik zou willen horen over ons soort gezin, van Meïr en van Lea en van mij, over fouten die gemakkelijk gemaakt zijn en die desondanks onvergeeflijk gevonden worden, de gewone ongelukken, bedoel ik, de zonden van de wil. Ik herinner me een ander boek, door Helen Schulman, over zo'n 'klein' incident dat niettemin een gezin uiteenrukt en ik huiver.
Wat oh wat voor 'gemakkelijke fout' gaat in dit boek alles kapotmaken voor de al te liefdevolle moeder? Helemaal mijn soort suspense!
Katrien (het caravanterrein): 'Wat jij hebt gezien, is helemaal van jou alleen. Dat heb jij gemaakt. Elke lezer ziet iets anders bij een tekst. Zo maken schrijver en lezer samen het boek', zo schrijft Auke Hulst in – my current read waarover ik al na 50 pagina's laaiend ben – De Mitsukoshi Troostbaby Company. Passages waar ik aan blijf haken, zijn niet per se dezelfde als die bij Barbara resoneren. En ook de omstandigheden waarin je een boek leest – in mijn geval: een weekendje met een campervan in Duitsland -, bepalen mee de interpretatie. Het toeval wil namelijk dat Blum ook zo'n campervakantie in een Duits dorp beschrijft.
En die beschrijving is zo accuraat dat lezen en leven een ogenblik lang samenvallen.
'Ten noorden van het dorp strekt zich een enorm caravanterrein uit, tussen het struikgewas staan er honderden geparkeerd in voorbeeldige orde, volgens een oude Europese wijsheid van privacy in de afwezigheid van privacy, eenvormig en toch verschillend van elkaar en doodstil, ongelooflijk hoe stil het daar is.' Die vele zorgvuldige en veelzeggende observaties – uiteraard in de eerste plaats over het moederschap en niet over caravanterreinen – maken dat ik Blums debuut, Het bezoek, ook maar meteen op mijn leeslijst zet.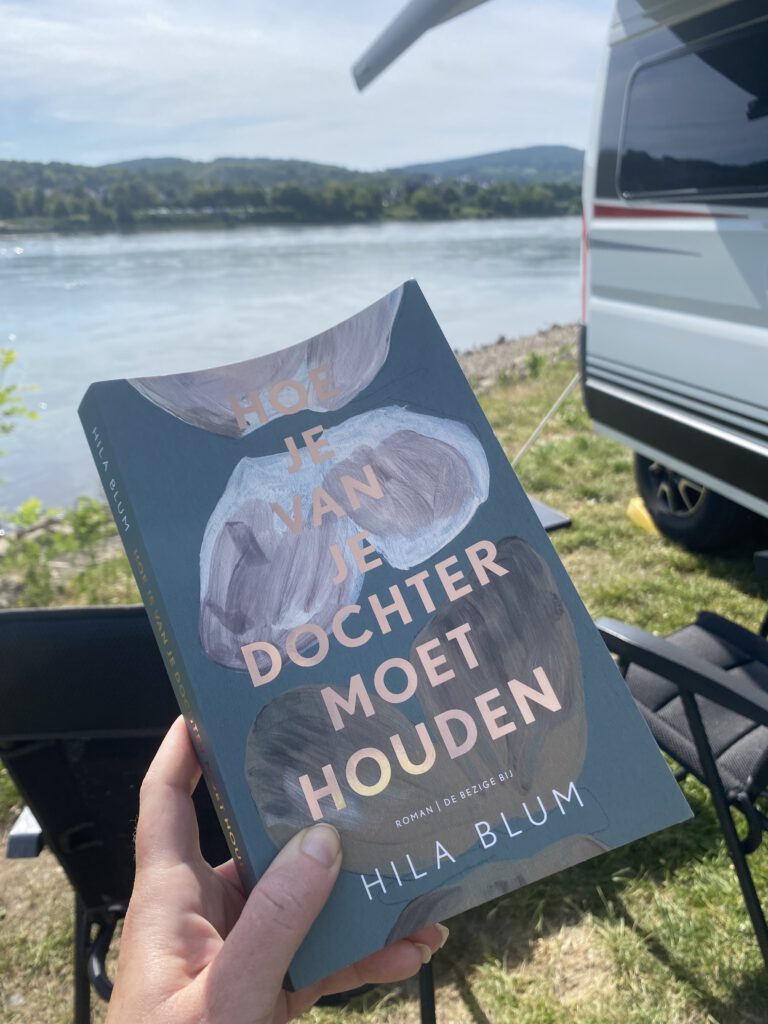 Barbara (de parabel): Het gelijk van Auke Hulst is meteen bewezen. Terwijl Katrien herkenning vindt in de beschrijving van een concrete campervakantie, scan ik Blums tekst koortsachtig op zoek naar abstracte, magische toverformules: hoe kan ik het ongeluk afwenden, op welk punt moet ik zorgen dat ik als lezer een andere afslag kies dan hoofdpersonage Joëla, als ik mijn gezin van onderlinge vervreemding wil redden? In hoofdstuk 37 duikt een Bijbelse parabel op – die van Abraham, die van God het bevel krijgt zijn zoon Isaak te offeren en daartoe bereid is, waarop God zegt dat het toch niet hoeft.
Als de parabels bovenkomen, weet je als lezer dat de kernboodschap niet veraf kan zijn. Ik lees de passage waarin Joëla met Lea over het Bijbelverhaal spreekt meermaals:
En meteen zeg ik: 'Het maakt niet uit. Op het verzoek van God aan Abraham is maar één antwoord: nooit. Nooit krijgt u mijn kind. Nog in geen miljoen jaar, ook niet als u mij ter plekke doodmaakt, ook niet als u de hele wereld in brand zet. Ik zou tegen God zeggen: wat u ook doet, mijn kind krijgt u niet, niet van mij.'
Lea krijgt tranen in haar ogen.
'Niet uit mijn handen', zeg ik, alsof dat boven elke twijfel verheven is, alsof ik beter ben dan anderen, 'nooit'.
En weet je wat?' zegt Lea. 'God zou voor jou in zijn handen klappen.' (…)
Ze lacht. Ik voel dat ik haar in de steek heb gelaten, dat ik de last niet met haar heb gedeeld, dat ik haar door mijn onwrikbaarheid met Abraham aan één kant heb geplaatst terwijl ik aan de andere kant sta.
Ik begrijp eerst niet waarom dit antwoord (herkenbaar toch, voor moeders? Blijf van mijn kind!) zorgt voor een muur tussen Joëla en Lea. Herlezen helpt niet, of pas nadat ik de roman heb uitgelezen. 'Oh', denk ik dan. 'Het was dat onwrikbare.'
Bereid zijn te offeren, zoals Abraham. Niet bereid zijn te offeren, nooit, zoals Joëla. Het is het wit en het zwart, terwijl Lea kiest voor een leven in grijstinten.
Niets zo vervelend als een recensie die teveel verklapt, dus ik hou het hierop: Hoe je van je dochter moet houden geeft tussen de lijnen wel degelijk een praktische, opvoedkundige tip: hou van je dochter zonder haar, wanneer ze voor een morele keuze komt te staan, onwrikbaar in één richting te duwen. Amen to that.
Katrien (genadeloos): 'Genadeloos', dat is het woord dat in me opkomt, als je me zou vragen om Hoe je van je dochter moet houden in één woord samen te vatten. Blum schrijft zonder genade. Zoals wanneer Joëla voor het eerst een eigenschap – kruiperigheid – ontdekt in haar dochter waar ze niet kan van houden. Of wanneer ze haar eigen schaamte ontleedt, over hoe ver ze is gegaan om haar dochter te beschermen, over hoe hard ze daarin mislukte en hoezeer ze dat voor de buitenwereld probeert verborgen te houden. Lea heeft die 'kruiperigheid' duidelijk van geen vreemden.
Transgenerationeel trauma is een ding bij Blum, gelukkig zonder dat het er ooit te dik bovenop ligt.
Waar Barbara speurt naar mogelijke afslagen in het verhaal om dit onheil in haar eigen leven af te wenden, fascineert het mij om ongegeneerd het omgekeerde gade te slaan. Ik zie personages die gedoemd zijn om dezelfde afslag als die van hun moeder te nemen – al proberen ze op 5000 km van huis voor grijs te kiezen – en kijk mee als naar een rampenfilm. Het maakt dat Hoe je van je dochter moet houden een fatalistisch kantje heeft: het leven is cyclisch, het lot onafwendbaar, ongeacht of het pad van het moederschap geplaveid wordt met de beste en meest liefdevolle bedoelingen. Niet meteen een vrolijke noot om een recensie mee af te sluiten, besef ik. Ik neem me dan ook voor als iemand me ooit vraagt naar de opvoedkundige les uit dit boek Barbara en niet mezelf te citeren!
PS van Barbara: Ik ben wel hooked nu, Katrien. Zet je mij op de uitleenlijst voor je exemplaar van Blums debuut Het bezoek?