In 2022 kiest This Is How We Read iedere maand een 'Boek van de Maand'. Alleen vers gedrukt of herdrukt werk dat de hele redactie aanspreekt, komt in aanmerking. We lezen en bespreken de topper immers samen in een 'gespreksrecensie'. Kom erbij en ontdek onze favoriet van maart: 'Kerozine' van Adeline Dieudonné!
Zin om mee in gesprek te gaan? Zeker doen! Laat een reactie achter onder deze post of op sociale media. Op het einde van het jaar verloten wij onder de reacties een boekenpakket met onze twaalf 'Boeken van de Maand'.
Vooraf (Katrien): Welke Waalse schrijvers lonen de moeite? Al heb ik (of beter gezegd: hebben wij) aan Franse coups de coeur geen gebrek – denk: Annie Ernaux, Édouard Louis, Leïla Slimani – toch moet ik tot mijn scha en schande toegeven, dat de Waalse literatuur onbekend terrein is voor mij. En daarin sta ik blijkbaar niet alleen. De Vlamingen lezen de Franstalige Belgen niet. Sinds 2019 is er daarom Flirt Flamand, 'het liggend streepje dat onze Nederlandstalige en Franstalige literatuur met elkaar verbindt' en dat dit jaar de poëziewedstrijd Ik poëzie je graag/Je te poème organiseert.
Flirten over de taalgrens doen wij deze maand met 'Kerozine' van Adeline Dieudonné.
Vooraf (Barbara): Zeggen dat ik nieuwsgierig ben naar 'de Waalse Lize Spit' – zoals Dieudonné in 2018 in Vlaanderen werd geïntroduceerd – is een understatement. Gelijkenissen tussen Lize en Adeline zijn er zeker – de twee jonge, Brusselse schrijfsters betoverden een kwart miljoen lezers met hun debuutroman (respectievelijk 'Het Smelt' en 'Het ware leven'), die wreder en perverser bleek dan de goegemeente had verwacht. Ik ben blij dat ik het duo in februari 2022 mag interviewen voor ELLE. Het hele gesprek verschijnt in het aprilnummer (nu in de winkel), maar ik deel hier al enkele quotes. Zo zegt Adeline: "Ik zie Kerozine niet als een roman, maar als een ongedefinieerd literair object. Tijdens de eerste lockdown liep ik volledig vast bij het schrijven. De angst om iedereen teleur te stellen verlamde me. Om uit die impasse te geraken, schoof ik mijn tweede roman aan de kant en gunde ik mezelf meer vrijheid. Kerozine is een experiment, een web van verhalen, vol sterke karakters en allerlei dwarsverbanden. Ik puzzelde als een soort Agatha Christie met clous en aanwijzingen. Dat was heerlijk!"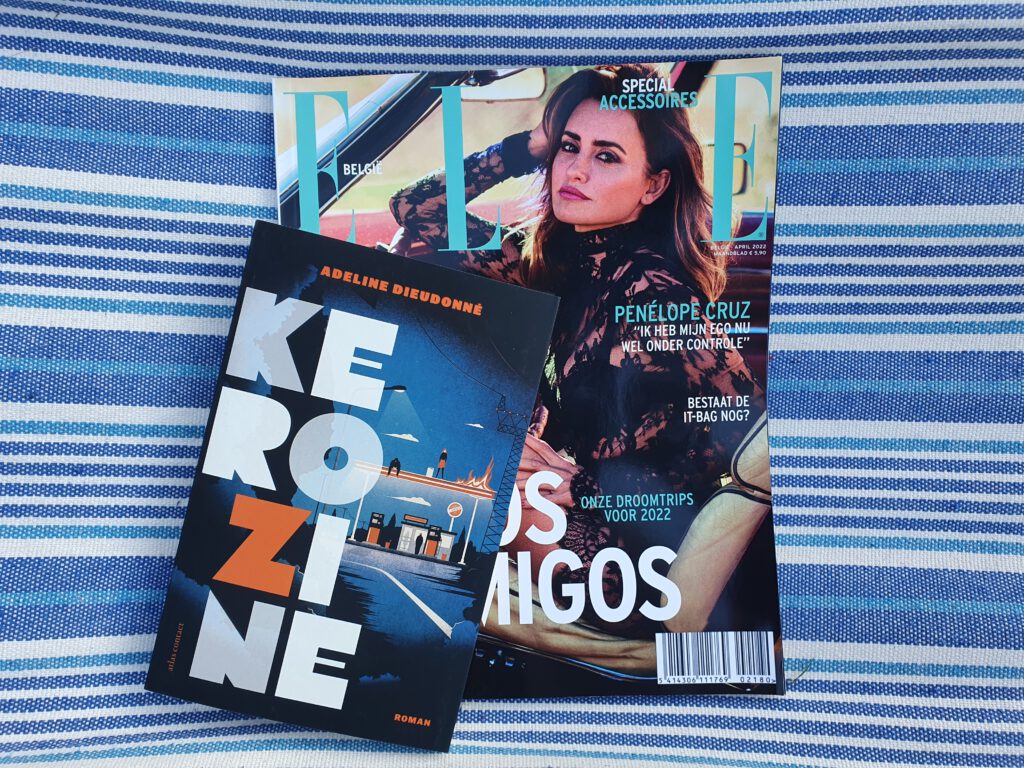 Allesbehalve doorsnee (Katrien): "23.12 uur. Een benzinestation langs de snelweg, op een zomernacht. Als je het paard meetelt maar niet het lijk, zijn er op dit moment veertien aanwezigen." Zo opent 'Kerozine'. Ultrakort introduceert Dieudonné vervolgens de veertien aanwezigen in het benzinestation, elk met "hun problemen, hun angsten, de wirwar van toevallige gebeurtenissen die samen een uniek en onvervangbaar leven vormen".
Je moet er je aandacht bijhouden, want aan alles in dat eerste hoofdstuk merk je dat elk detail er – Agatha Christiegewijs – zal toedoen.
Dat er een oudje – Monica – over de vangrail is geklommen, dat caissière Juliette klanten die een 33cl blik bier kopen hoger inschat dan de dronkelappen die voor een halve liter gaan en dat de vervaarlijk uitziende man met de paardentrailer alleen zijn linkerarm gebruikt. Het zijn kleine tipjes van de sluier die in de volgende hoofdstukken – elk genoemd naar een personage – hun betekenis krijgen.
Als eerste aan het woord: Chelly, een paaldansende fitfluencer, die haar ergernis over de dagelijkse woordendiarree van haar vriend vertaalt in een gewelddadige moord. En voilà, zo komt 'Kerozine' aan zijn eerste lijk. Dat de uit hashtags opgebouwde Chelly een personage is met een hoek af, denk je als lezer nog op die eerste pagina's. Maar dan heb je nummer twee nog niet ontmoet: Victoire, een topmodel dat zo'n hekel heeft aan dolfijnen dat ze zelfs geen water meer verdraagt.
Op dat moment weet je: Dieudonné schrijft geen doorsnee-boeken. Dit gaat ontsporen. En dat doet het ook!
De literaire poepluier (Barbara): De karakters in 'Kerozine' hebben opvallende eigenaardigheden en afwijkende ideeën. Deze verhalenbundel wil uitdrukkelijk géén feest van herkenbaarheid zijn – of identificeren jullie je met een moordende fitfluencer? Toch mikt Dieudonné evenmin op totale vervreemding. In een van de latere verhalen vertelt ze wat Victoire, het aquafobe topmodel, tijdens haar eerste klus voor een dolfinarium heeft meegemaakt. Het voorval is bizar, maar ook schrijnend en traumatiserend voor een onervaren twaalfjarige.
Zo krijg je als lezer empathie voor een extreem personage dat je eerder (gemakkelijkheidshalve) als 'weirdo' had weggezet in je hoofd.
Het personage met wie ik de sterkste klik voelde was Alika, de Filipijnse nanny die 's nachts op het benzinestation terugdenkt aan een andere bijzondere nacht – in een luxeski-oord, "het soort plek waar je een handtas van drieduizend euro kunt kopen zonder je ski's uit te doen". Om een baby met een vuile luier te kunnen verschonen moest Alika toen een tas uit de master bedroom halen waar haar werkgevers lagen te slapen. Tegen alle regels van het Handboek voor Filippijnse Huishoudhulpen in, deed ze dat – hoe het afloopt zal ik niet verklappen. Maar het dilemma bewijst volgens Alika het bankroet van de wereld. Hoe komt het dat je niet kunt rechtvaardigen dat je een baby geen vier uur in een poepluier wil laten liggen? "Als er daar boven een god bestaat die een lening is aangegaan om zijn bedrijfje in menselijke beschaving op te starten, vindt Alika haar situatie precies het soort geval waardoor hij zichzelf failliet moet laten verklaren."
In ons interview zei Adeline het volgende over Alika's verhaal: "Ik schep er plezier in om thema's aan te kaarten die niet aan bod komen in de traditionele literatuur. Zo zijn poedermelk en een volle babyluier twee cruciale elementen in een verhaal in Kerozine. Proust hield zich daar niet mee bezig, maar zo'n alledaagse, praktische thema's zijn echt en interessant. Er zijn nog geen bibliotheekkasten over volgeschreven. Dat geeft me een vrij gevoel tijdens het schrijven."
Paard in de hoofdrol (Katrien): Pratende dieren. Al wie me een beetje kent, weet dat ik geen grote (huis)dierenvriend ben. Geef me dus alsjeblieft geen roman met dieren in de hoofdrol. Zij die Dieudonnés boekopener aandachtig hebben gelezen, weten echter: er zit niet alleen een lijk maar ook een paard in 'Kerozine'. Een paard dat me mijn mening over dierlijke personages bovendien deed herzien. De scène waarin Red Apple beschrijft hoe het voor haar voelde om voor het eerst te worden bereden, is misschien wel de beklemmendste uit de hele roman. En eerlijk: Red Apple is het personage waar ik de meeste compassie voor voelde. Is het omdat de zwarte humor een hoofdstuk lang ontbrak? Misschien. Of omdat we bij Red Apple wat meer verleden meekrijgen dan bij Chelly bijvoorbeeld? Misschien ook. Zeker is dat 'Kerozine' na de passage van Red Apple een stuk duisterder is geworden.
De vunzige schoonheidsspecialiste (Barbara): Het meest schokkende verhaal is dat van Julie, de schoonheidsspecialiste die door een koppel gynaecologen en hun zoon Olivier – ook een vrouwenarts, met een serieuze vorm van smetvrees bovendien – als ideale (hygiënische, gezonde) schoondochter wordt binnengehaald. Julie is een people pleaser van de ergste soort: "Ik wilde niet de indruk wekken dat ik iemand was die nee zegt." (Als moeder van 3 dochters is het mijn missie om te zorgen dat géén van mijn kinderen deze zin ooit in ernst denkt. Zeg luidop nee als je nee denkt, meisjes – maar dit terzijde…) Julies enige plicht is zorgen voor een frisse nakomeling, haar schoonouders Marie en Roger zeggen tegen haar: "Je zult de ideale buik zijn." Ze heeft het gevoel geleidelijk te stikken in de steriele omgeving en dat beschrijft Dieudonné zo goed, in korte maar treffende zinnen:
"Er was nooit genoeg lucht. Zelfs de wind die uit de tuin binnenwaaide leek al duizend keer door Marie en Roger te zijn uitgeademd. Ik kon er deeltjes uit hun longen in ruiken. Het was gerecycleerde lucht. Ik wilde verse lucht."
Julies wraak is onverwacht, grotesk en zo grensoverschrijdend dat je er wel moet om lachen – humor begint altijd met het overschrijden van een grens. Stilistisch draait het uit op een spelletje SOA's stapelen. De climax van Julies verhaal (jaja, pun intended) is overduidelijk smerig, maar evengoed hilarisch.
Vernietigend (Katrien): "Une espèce de flaque de vomi." Nee, de Franse pers is – en dat is dan nog heel zacht uitgedrukt – niet mild voor 'Kerozine'. "J'ai eu envie de prendre une douche après l'avoir lu," lees ik nog. Even twijfel ik aan mijn eigen goede smaak. Ik las 'Kerozine' bijna in één ruk uit, sommige passages tot twee keer toe om toch maar geen van die welgemikte clous en heerlijke eigenaardigheden te missen. Hoe kunnen deze Franse kritieken zo uitdrukkelijk vernietigend zijn?
Moet je uit het land van Magritte komen om deze gruwelijke absurditeiten in de Ardennen te kunnen appreciëren?
Verrassend (Barbara): Geen zorgen, Katrien, je staat niet alleen met je positieve oordeel. Marijke Arijs schreef in De Standaard dat Dieudonné zichzelf overtreft met 'Kerozine' en dat haar bravoure en aparte gevoel voor humor (ver voorbij de grens – ik zei het al…) doen denken aan Amélie Nothomb. Ik onthoud van mijn lectuur dat de schrijfster met korte, onsentimentele zinnen toch sterke gevoelens wist op te wekken en dat ze de psychologie van haar personages aantoont met concrete details in plaats van lange beschrijvingen. Dat beviel me. Het laatste woord geef ik aan Adeline zelf, met deze quote uit ons interview: "Op een bepaald moment kreeg ik de vraag: 'Zit hier een man achter?' Alsof het ondenkbaar was dat een mooie, glimlachende vrouw over harde, agressieve thema's zou schrijven. Blijkbaar verwachten sommige mensen nog altijd dat wij vooral aan koekjesrecepten en eenhoorns denken (lacht)." Wie 'Kerozine' heeft gelezen, weet: dat doet Dieudonné niet!