De poppenmaker van Krakau
In het land van de poppen is er magie.

In het land van de mensen is er oorlog.

Overal is er pijn.

Maar samen is er hoop.
De poppenmaker van Krakau is een sprookjesachtig jeugdboek met een bikkelharde les. Karolina ontvlucht het land van de poppen en komt in de winkel van een poppenmaker in Krakau terecht op de vooravond van het uitbreken van de tweede wereldoorlog.
R. M.Romero laat duistere en magische krachten los op de gruwelen die we kennen uit de geschiedenisboeken. De poppenmaker bezit over de kracht om te helen, de SS officier die lijnrecht tegenover hem staat is een donkere tovenaar. Het plan om Joodse kinderen met een snuifje tovenarij uit het ghetto te smokkelen wordt hierdoor des te gevaarlijker. De schrijfster is uitermate vaardig in het verwerken van de structuur en typische elementen van sprookjes in haar boek. Bijzonder is de blik van Karolina: ze neemt de jodenvervolging door poppenogen waar, wat doet denken aan de kinderblik in de personages van La Vita e Bella en The Boy in the striped Pyjama's.
Thisishowweread tikte R.M. Romero op de schouder met enkele vragen:
Sprookjes spelen een belangrijke rol in je werk en in je leven: je contrasteert de gruwelijke wereld van de nazivervolging met de magische wereld der poppen.
Sprookjes zijn  een fantastische lens om naar de meer obscure kanten van onze leefwereld te kijken. Door de structuur van een sprookje over te nemen en parallellen te leggen tussen een historische gebeurtenis en het kwaad in sprookjes, leer ik jongeren begrijpen wat er in Polen gebeurd is. Zonder ze te veel de stuipen op het lijf te jagen.
Net als in een sprookje slaagt de poppenmaker er in zijn moeilijkheden en vijanden te overwinnen door zijn intelligentie en goedheid te gebruiken.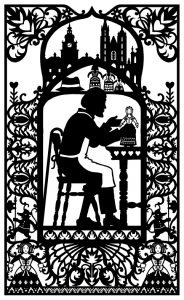 Waar haalde je de inspiratie om over Krakau te schrijven?
Als tiener bracht ik een bezoek aan Polen. Krakau was de mooiste stad die ik ooit gezien had: de architectuur, de geschiedenis en de verhalen lieten een diepe indruk na. Mijn bezoek aan Auschwitz achtervolgde me: ik zal nooit vergeten wat ik daar te zien kreeg. Pas toen Karolina plots in mijn fantasie opdook, wist ik dat ik mijn impressies op papier moest zetten.
Kwam er veel research aan te pas?
Vorig jaar trok ik opnieuw naar Polen om te kijken of ik alle details goed onthouden had. Ik heb ook erg veel gelezen: getuigenissen van overlevenden van de Holocaust, boeken over de folklore en de geschiedenis van het land en ik raadpleegde enkele Duitse bronnen over de Tweede Wereldoorlog. Het was zwaar, en vaak gruwelijk, maar ik wilde dat het boek accuraat is.
Heb je een persoonlijke link met de Holocaust?
Mijn bezoek aan Auschwitz veranderde mijn blik op de wereld. Ook de research heeft me enorm beïnvloed: ik bekeerde me tot het Jodendom, hetgeen mijn link met het verhaal heel erg intiem maakt.
Mogen we stiekem al uitkijken naar een volgend boek?
Momenteel ben ik bezig met besprekingen voor mijn tweede boek. Ik heb samen met mijn redacteuren enkele ideetjes, dus ik hoop dat ik snel kan beginnen schrijven.
De poppenmaker van Krakau, R.M. Romero, Van Halewyck
P.s.: kan je niet langer wachten? Hier is al een voorproefje met een leesfragment.