Flashback: De Babysittersclub
Twee van de redactieleden pleiten absoluut schuldig wat betreft de Babysittersclub frenzy halverwege de jaren '90. En nee, wees gerust, als de boekenknecht thuis een kast met de volledige Babysittersclub serie zou hebben staan, hadden wij hem hier al veel eerder mee uitgelachen. Katrien en ik delen de liefde voor Gertie, Joke, Petra, Inge, Betty, Tine en Jessie. En ja, ik schrijf de namen knal uit mijn hoofd neer.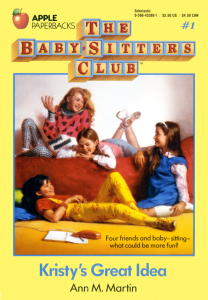 De schrijfster
Ann M. Martin studeerde psychologie en pedagogie, werkte een aantal jaar als lerares en ging dan aan de slag bij Uitgeverij Scholastic. Het was deze uitgeverij die het idee opperde voor de serie. Zij merkten dat jonge tienermeisjes wild enthousiast waren van boeken over babysitten en vroegen Ann om vier boeken te schrijven. Dat werden er al snel 12, en nog veel meer. Uiteindelijk zou Ann 35 titels schrijven, daarna namen ghost writers het van haar over en ging het door tot nr 131, de vele extra spin-offs niet meegerekend.
De plot
Op een dag observeert de 13-jarige Gertie Bouwman haar moeder, die babysit na babysit belt om opvang te vinden voor haar jongere broertje, Willem-Jan. Plots heeft ze een reuze idee: wat als ze met enkele vriendinnen een babysittersclub begint waarbij ouders in één klap meerdere babysitters kunnen bereiken. Vanaf dan vergadert de Babysittersclub drie keer per week en verschijnt er gemiddeld één boek per maand. In de boeken komen onderwerpen aan bod die tienermeisjes bezig houden: schoolperikelen, gescheiden ouders, vriendschap en een groeiende verantwoordelijkheid als opgroeiende adolescent.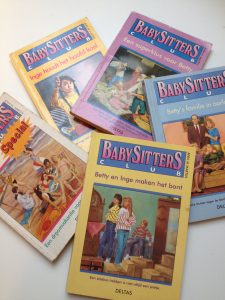 De hype
Of het een hype was, daarvan getuigen de 176 miljoen verkochte exemplaren. En de merchandising, de televisieserie, de film, de tweede film en zoveel meer.
Elk van de boeken verloopt volgens een vast stramien. In het eerste hoofdstuk worden de personages voorgesteld. Ze zijn getypeerd zodat elk tienermeisje zich met iemand kan identificeren. De sportieve en ietwat bazige tomboy Gertie, de artistieke en modieuze Joke, de gezondheidsfreak Betty die liefst in hippiekledij rondloopt of de verlegen Inge die doorheen de serie uit haar schulp kruipt of de stadse en wereldwijze Petra. Daarna gaat het verhaal van start, met een hoofdplot die zich doorheen de hoofdstukken ontwikkelt. Elk boek wordt verteld vanuit het standpunt van één van de meisjes. Voorspelbaar? Ja. Zeemzoet? Wel, lees vooral verder.
Hoera voor het Feminisme
The New Yorker publiceerde in 2016 een interview met Ann M Martin, waarin wordt ingezoomd op de boodschap die de boeken uitdragen. En hoewel de serie soms als melig of gedweep met 'tienergedoe' wordt afgeschilderd, roemt The New Yorker Ann voor de feministische ondertoon in haar boeken:
For many of us, the Baby-Sitters Club offered an early glimpse into the world of ambitious working women. Granted, they were middle-schoolers, but they were girl bosses, role models.
De schrijfster ontving duizenden brieven van jonge meisjes die zelf een babysittersclub gingen opstarten. (Ondergetekende kan hiervan getuigen, hoewel dat in een klein Vlaams dorp, als 12-jarige, niet evident was. Ik had zelf nog een babysitter, godbetert).
Ook werden de boeken goedgekeurd door de Bechdel Test (een test ontworpen om fictie te testen op seksisme). In de boeken heeft één van de personages een vriendje, en af en toe is er eentje verliefd, maar de focus ligt vooral op andere thema's die van belang zijn in een jong tienerleven.
De Duvernay Test, een gelijkaardige test die kijkt naar raciale differentiatie, doorstaan de boeken ook glansrijk: Jessie, het 11-jarige junior lid, is een zwart-Afrikaans meisje, doet aan ballet en krijgt regelmatig de hoofdrol in stukken van haar dansschool. Joke, de artistiekeling, heeft Japanse roots.
"I wouldn't say that I had a feminist agenda, but I certainly had a feminist perspective," Martin told me. "I think of myself as a feminist. I wanted to portray a very diverse group of characters, not only from different racial backgrounds, but from different kinds of family backgrounds, religions, and perspectives on life. I just really wanted a group of girls who were very different from one another and who became very close friends."
Een serie die toch impact heeft gehad. Oh, en Katrien, hier een tip voor je kerstlijst: In 2010 verscheen een prequel van de serie: The summer before.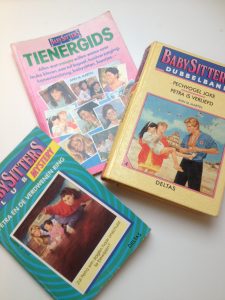 Meer lezen over de voorlopers van de Babysittersclub? Duik in de wereld van De Olijke Tweeling, Polly en Schoolydillen met Meisjesboeken van weleer van Kristine Groenhart.
En als u me nu wil excuseren, ik probeer een poging te wagen tot 'mijn werkdag'. Ik ga vooral niet oude babysittersclub boekjes zitten herlezen, zucht.