Tel Aviv – Hipsters, baarden en martelaren
Tussen de lijnen door kon je het merken, dat ik na het lezen van Mazzel Tov naar Israël wilde reizen. Dat Mazzel Tov een paar maand later een gespreksonderwerp bij de strenge grenscontrole zou worden, had ik toen niet kunnen vermoeden
"Why do you travel to Israel?"

"Because I am fascinated by the culture"

"Do you know something about our culture?"

"A little bit"

"How?"

"From books"

"Which books about Israel have you read?"

"Mazzel Tov"

…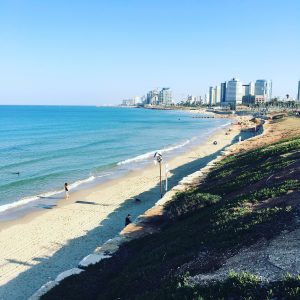 Nochtans was het tijdens de vlucht al duidelijk geworden dat boeken lezen over Israël nooit een neutrale daad is. Gezeten naast een joodse Zweed kreeg ik na twee uur vliegen al opmerkingen over de Nederlandstalige ondertitel van Hipsters, baarden, martelaren: "Ontmoetingen in Israël en Palestina". Dat het nooit 'en' kon zijn, dat het twee benamingen voor hetzelfde waren, dat ik er maar op moest letten hoe overal ter wereld de moskeeën de synagogen achtervolgen, – en dan escaleert het gesprek -, dat België over tien jaar niet meer zal bestaan… Even overweeg ik om mijn boek voor het vervolg van de reis dan maar in te kaften, hoe ga ik in Israël ooit kunnen lezen als alles zo zwaar beladen lijkt…
Dat was gelukkig buiten Tel Aviv gerekend. Het moet één van de meest relaxte steden zijn waar ik ooit ben geweest.  De Nederlandse journaliste Anna Krijger merkt het ook meteen op bij het begin van haar correspondentschap in 2014:
"Ik weet dat er op nog geen uur afstand hiervandaan burgers worden gedood. Maar in Tel Aviv lijkt die oorlog nog wel verder weg dan in Nederland."
En even verder:
"Je vergeet gemakkelijk dat je je überhaupt in het Midden-Oosten bevindt. Tel Aviv is the bubble, Berlijn at the beach."
Keppeltjes, lange baarden en rokken. Ik heb het amper gezien in het straatbeeld van Tel Aviv. Feestende hipsters, vegan burgers en regenboogvlaggen in overvloed, daarentegen. Bij mijn ochtendloopje op de promenade waan ik me ieder dag even in Miami, dat ik al drie avonden per ongeluk in een (semi-)veganistisch restaurant ben beland, kan niet langer toeval zijn. Gelukkig zet Anna Krijger me in Hipsters, baarden en martelaren meteen met de voeten op de grond.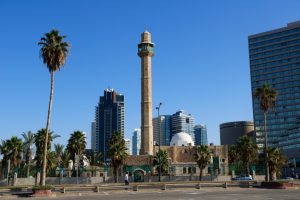 Tel Aviv is immers ook de thuisstad van van vele Afrikaanse vluchtelingen die "voor altijd in limbo verkeren" en de liberale hoofdstad waar Palestijnse homo's niet meevieren op de Gay Pride. Verder schetst Krijger een bijzonder scherp beeld van de actuele leefomstandigheden in Gaza en op de Westelijke Jordaanoever en van de patstelling in het Israëlisch-Palestijnse conflict, want "waarom bezetten de Israëliërs een ander volk, terwijl hun zo veel is aangedaan". Dat ze geen kritiek op Israël kan uiten zonder gevolgen, blijft uit de moeilijkheden die ze telkens weer ondervindt om haar perskaart aan te vragen. De veelvoorkomende antisemitische beschuldigingen zouden zelfs een reden zijn waarom weinig journalisten de post nog ambiëren. Zelfs haar Israëlische vrienden staan aan de kant van de overheid: "Jullie kunnen niet zomaar even uit Europa komen om ons te vertellen wat we wel en niet moeten doen". Een boek met gespreksonderwerpen genoeg me dunkt om de komende reisdagen door te komen. Wat dacht je van deze conversatiestarters:
   "'Kan ik neutraal zijn?' Het antwoord van HaYovel is helder. 'Nee! Op een bepaald punt zal iedereen de keuze moeten maken of hij het joodse volk wil liefhebben of vervolgen.'"
"Toen ik hier net woonde, zei een andere expat tegen me: "Het eerste jaar dat je hier woont, haat je de Israëli's, het tweede jaar haat je de Palestijnen en het derde jaar haat je ze allebei Het vierde jaar ga je jezelf haten.""
Over de haredim: "Volgens de berekeningen zullen zij, gezien hun buitengewone vruchtbaarheid, over veertig jaar een derde van de Israëlische bevolking beslaan. Verwacht en gevreesd wordt dat dit ingrijpende gevolgen voor de hele samenleving zal hebben."
"Israëlische joden zeggen: de Holocaust mag ons nooit meer overkomen. Amerikaanse Joden zeggen eerder: de Holocaust mag niemand ooit overkomen."
En één belangrijke persoonlijke les die ik indirect van Anna heb geleerd… Nooit zeggen dat je journalist bent, al is het literair journalist. Het had me van dat oncomfortabele gesprek in het vliegtuig gespaard.
Schrik dat Tel Aviv een te beladen reisbestemming is? Absoluut niet nodig. Ik hou enorm van boeken die me meer inzicht in mijn reisbestemming geven, maar ik heb in Tel Aviv toch vooral genoten van:
de moderne architectuur. Tel Aviv is geen Parijs of Londen met grote highlights maar staat wel vol met prachtige gebouwen als deze.
een fantastische fietstour via Abraham Tours: veel fun facts, tof gezelschap, goed ritme… en je mocht de fiets voor de rest van de dag houden, wat ideaal is in een lange uitgestrekte stad als Tel Aviv. Een perfecte introductie op de eerste dag.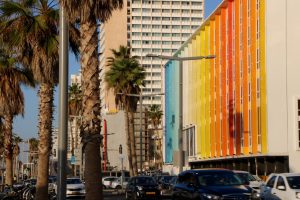 de charme van het Arabische Jaffa, de oudste haven ter wereld, waar afgelopen weekend de grootste zeilboot ter wereld aanmeerde. Leuk is dat je elke dag een gratis walking tour kan volgen die start om 11.00u aan de clock tower.
de levendige sfeer. Een hoofdstad aan zee, dat zorgt voor een heel speciale vibe. 26 graden in december maakt dat iedereen op zaterdag buiten is: aan het sporten op de promenade, aan het wandelen of picknicken op de Rothschild Boulevard, of aan het keuvelen op één van de duizenden gezellige terrasjes.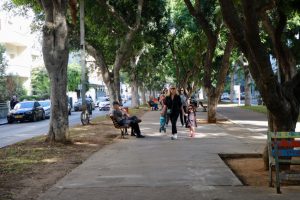 Morgen reis ik verder naar Nazareth, met Amoz Oz! En hopelijk hebben ze daar ook limonana, verse citroenlimonade met munt.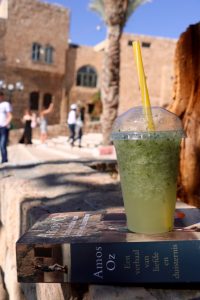 Hipsters, baarden, martelaren van Anna Krijger (Querido)