Meet the Writer: Leïla Slimani & Olivier Guez
Brain food.
Het lief en ik hadden afgesproken (enfin, ik had dat gevraagd) om elk twee sleutelideeën te onthouden uit de literaire avond met de Franse auteurs Leïla Slimani en Olivier Guez in Bozar en die na afloop met elkaar te delen. Dat bleek geen moeilijke opgave. Anderhalf uur lang hadden we aan de lippen gehangen van dit welbespraakte, intelligente en ook grappige schrijversduo. Bij een craft beer in Brewdog vlakbij het Centraal Station, stak Mirand van wal.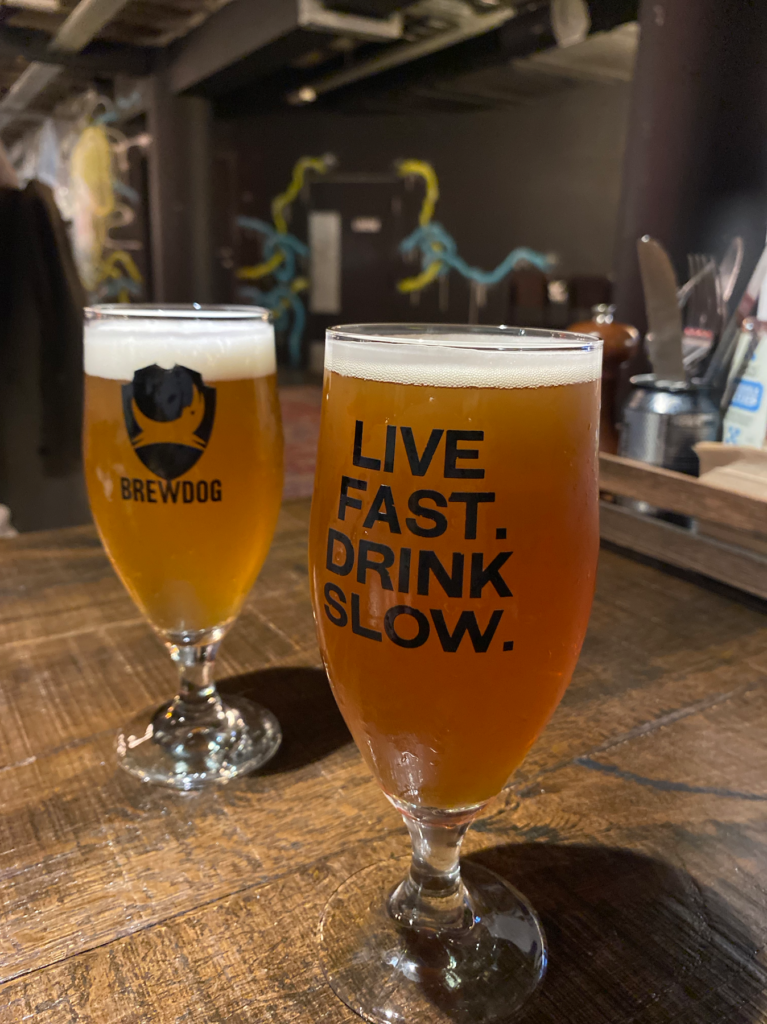 L'étranger c'est la liberté
Olivier Guez woont tegenwoordig in Rome, Leïla Slimani in Lissabon. Beiden houden ze van reizen, van de anonimiteit van een hotelkamer, van het onderweg zijn. Volgens Guez omdat het hem toelaat om naar de wereld te kijken als een kind.
Herkenbaar vonden Mirand en ik: dat kinderlijke, onbevangen enthousiasme waarmee Guez vanochtend op zijn vliegtuig van Rome naar Brussel was gestapt. En hoe afstand ook altijd voor helderheid zorgt.
En daar kwam sleutelidee nummer twee.
L'écrivain doit se mettre en danger
Na haar Goncourt in 2016 en haar aanstelling als vertegenwoordiger van de Francophonie door president Macron had Slimani in Parijs kunnen blijven. 'Maar dan was ik ingedommeld', zegt ze. 'En er is niets gevaarlijker voor een schrijver dan indommelen.' Het werd dus Lissabon, een stad waar niemand haar kent. Want niets bevreemdender, vindt ze, dan onbekenden die je voortdurend zeggen dat ze weten wie je bent.
Want wie is Olivier Guez? Wie is Leïla Slimani? Met die vraag opende journalist Pascal Claude van La Première de debatavond. Identiteit zou het overkoepelende thema worden. Voor de hand liggend met dit duo: Guez groeide op in Straatsburg – 'een grensgebied' – , heeft joodse roots maar voelt zich bovenal Europeaan. Slimani is geboren in Marokko en schippert tussen twee culturen. Lange tijd vroeg ze zich af of ze als schrijver geen territorium nodig had, tot Salman Rushdie himself haar erop wees dat ze toch net zo goed vanuit die plaats in het midden kon schrijven.
En dat brengt ons bij sleutelidee nummer drie.
Je suis l'Arabe qu'on aime
Slimani drinkt (Orval op het podium), ze rookt, draagt geen hoofddoek, is niet religieus… In een vorige ontmoeting noemde Guez haar 'de Arabier die we in het Westen graag hebben'. Sindsdien vraagt ze zich af of de Fransen haar wel in het hart hebben gesloten om wie ze is? Of toch vooral omdat ze zo goed heeft geassimileerd?
Dat idee van haar over 'l'Arabe qu'on aime' had ik eerder gehoord, in deze razend interessante podcast. Maar de tristesse waarmee ze dit keer tot dezelfde vaststelling kwam, was nieuw voor mij. Al herpakte Slimani zich snel, bijvoorbeeld met dit idee.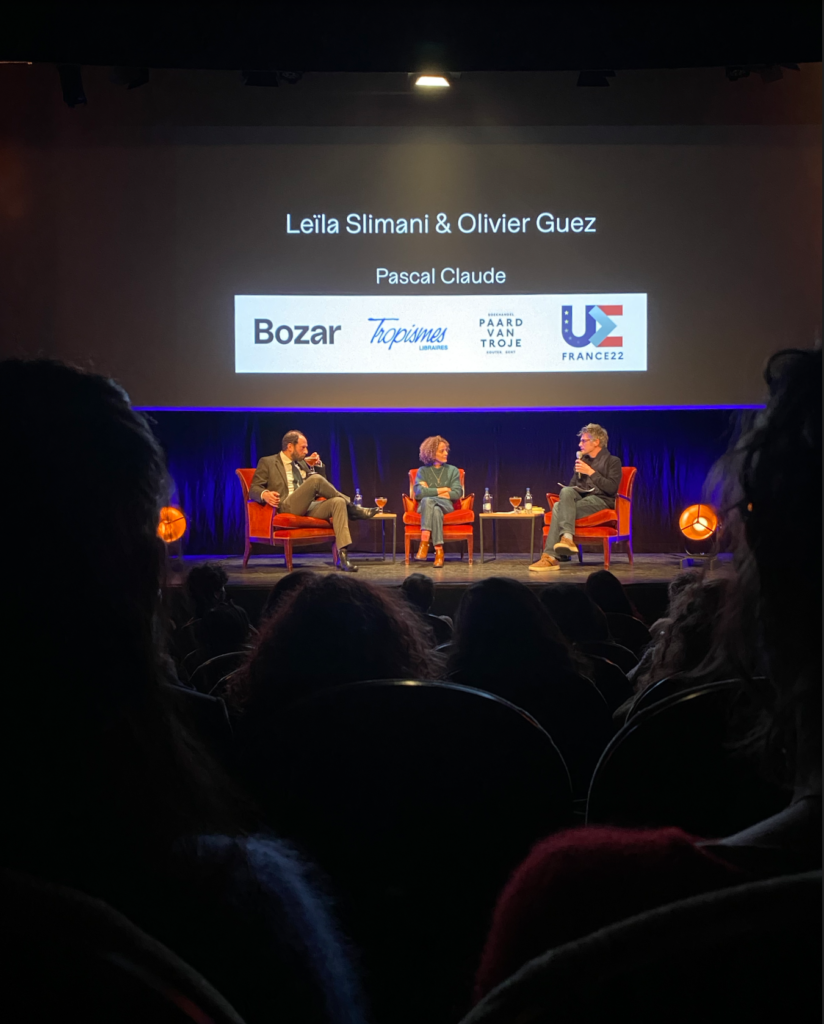 Une famille, c'est comme un pays
Met dit zinnetje antwoordt Slimani op één van de vele publieksvragen aan het einde van de avond. Welke tradities kies je als je je tussen verschillende culturen bevindt? Maar Slimani bleek lange tijd te hebben gedacht dat ze was opgegroeid in een familie zonder rituelen. In haar gezin deden ze niet mee aan Marokkaanse tradities als de ramadan. Tot ze – toen ze zelf moeder werd – besefte dat die rituelen er wel waren geweest, zoals in elke familie. Zo kwam haar grootvader op kerst altijd toe op een ezel. Omdat die ieder jaar te koppig was om een stap te zetten, kneep haar grootvader in zijn ballen. 'Kerst', concludeert ze laconiek, 'dat is mijn grootvader die in de ballen van een ezel knijpt.'
Evenveel hilariteit is er als Olivier Guez, Europeaan in hart en nieren, de Europese wijk als symbool voor Europa op de korrel neemt. 'Er heeft toch nooit iemand op een zondag gezegd: en nu ga ik eens wandelen in de Wetstraat.'
Guez reflecties doen uitkijken naar zijn nieuwe boek Le grand tour waarvoor hij aan 27 schrijvers, één uit elke lidstaat – Lize Spit voor België, vroeg om een kortverhaal of relaas te schrijven over "plaatsen die de Europese cultuur en geschiedenis oproepen" en waar "herinneringen, inzichten en klimaten van een Europa van vlees en bloed elkaar kruisen". Die van Slimani naar Regardez-nous danser, het tweede deel van een trilogie die Slimani's eigen familiegeschiedenis vertelt.
En tot slot is het uitkijken naar één van de volgende Writers & Thinkers sessies in Bozar, naar Mary Beard bijvoorbeeld. Of George Packer.
PS. Wij tipten Slimani al en een paar keer op This Is How We Read. Zo had Barbara al meteen een unheimlich gevoel bij haar debuut.
PPS. De literaire programmatie in Bozar is altijd straf.