Colette – de film, het gesprek
Afgelopen zondag waren wij – Barbara en Katrien – aanwezig op de avant-première van de film Colette in Bozar. Alvorens Keira Knightley haar ding deed in de film van Wash Westmoreland, sprak Dirk Leyman met twee Belgische schrijfsters over hun liefde voor Colette. Die bleek hoogst aanstekelijk.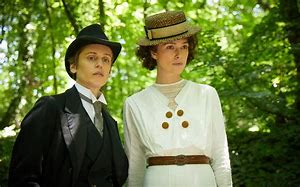 HET GESPREK
Barbara: Recensent Dirk Leyman – met wie wij ooit nog een Zwaard van Dioclecijan deelden, zoek maar op – ging in gesprek met de Vlaamse Heleen Debruyne en de Luikse Caroline Lamarche over het fenomeen Colette (1873-1954). Debruyne kon niet vaak genoeg herhalen dat
Colette veel meer is dan de vrouw die al rond 1900 over seks durfde schrijven en die als mimespeelster op Franse podia haar borsten toonde en passionele kussen uitdeelde.
Colettes journalistieke werk tijdens WO II en haar autobiografische schetsen – verzameld door Kiki Coumans in 'De Eerste Keer dan ik mijn Hoed Verloor' – moeten erg de moeite zijn. De 'meest gelezen Franse schrijfster van de 20e eeuw' leed haar leven lang pijn – ze had artritis – maar vertikte het om pijnstillers te nemen: ze vond de ervaring van pijn interessant. Ze bekeek haar schrijven nogal nuchter, als een ambacht, en vond het een probaat middel om financieel onafhankelijk te zijn.
Caroline Lamarche herinnerde zich dan weer de talrijke dictees van teksten van Colette die ze als schoolmeisje in het Franstalige onderwijs moest schrijven.
Ze wou in Bozar ook Colettes imago van 'provinciaaltje dat naar Parijs kwam' bijstellen.
Oké, Colette hield van de natuur en het platteland, maar ze was vooral erg belezen toen ze op haar 20ste in de lichtstad arriveerde – met dank aan haar gecultiveerde ouders. Al durfde Lamarche betwijfelen dat Colette echt al Balzac las op haar 8ste – zoals ze zelf beweerde…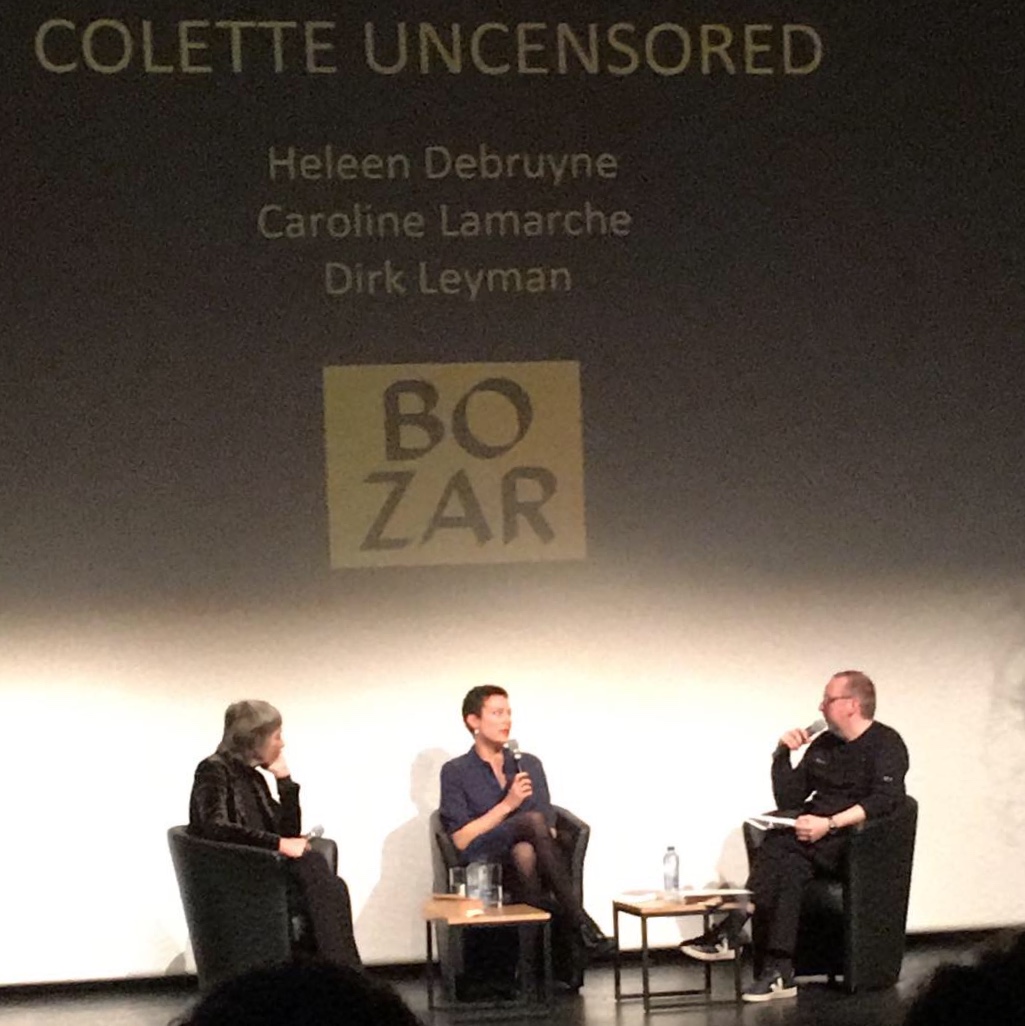 Katrien: Dat pittige kantje van Colette hadden Barbara en ik alvast niet ontdekt in onze (bescheiden) leeservaringen. Barbara nam jaren geleden Het ochtendgloren mee op citytrip naar Parijs.
Dat bleek zich niet af te spelen in de Franse hoofdstad, zoals ze had gehoopt, noch bleek het gewaagd.
Zelf schafte ik me afgelopen week Sido aan, Colettes enige roman die nog in het Nederlands verkrijgbaar is. Ook deze novelle, over haar eigengereide moeder, moet het eerder hebben van de poëzie dan van de erotiek, maar fijnzinnig is die wel. Colette kan schrijven over een rozenstruik zonder een minuut te vervelen. Het duurde zondag dan ook niet lang alvorens het trio Leyman, Debruyne, Lamarche de vergelijking maakte met Proust, Colettes tijdgenoot en literaire evenknie: dat er met Colette meer plezier te beleven valt en dat er bij Proust meer scheve zinnen te rapen vallen. Een oordeel in het voordeel van de eerste Franse vrouw die ooit een staatsbegrafenis te beurt viel!
DE FILM
Barbara: In het voorgesprek gaf Heleen Debruyne aan dat ze niet zo blij is met de casting van Keira Knightley als Colette. In mijn ogen doet de Britse actrice het uitstekend. De film focust op Colettes eerste huwelijk (ze trouwde drie keer), met de 14-jaar oudere schrijver/ondernemer Willy.
Hij introduceert Colette bij le tout Paris, spoort haar aan tot schrijven en publiceert haar eerste romans onder zijn naam.
De machtsverhouding in hun relatie zit overduidelijk scheef. Het 'aansporen' van Willy ontaardt niet zelden in 'dwingen' – Colette moet schrijven, want haar Claudine-reeks brengt brood op de plank en Willy vergokt en verzuipt grote bedragen. In hun seksleven staat Willy zichzelf merkelijk meer toe dan zijn jonge bruid, al gaat hij akkoord met haar lesbische avonturen. Knightley stort zich onverschrokken op die scènes, maar dat is niet waarmee ze haar hoogste punten scoort bij mij. Dat doet ze met de ambivalentie die ze de relatie Willy-Colette weet te geven: er is zowel haat als liefde. En met de evolutie die ze toont in de schrijfster.
Op het hoogtepunt van de film sist Keira/Colette tegen Willy: 'Ik ben Claudine ontgroeid.' Je voelt als kijker dat dit waar is.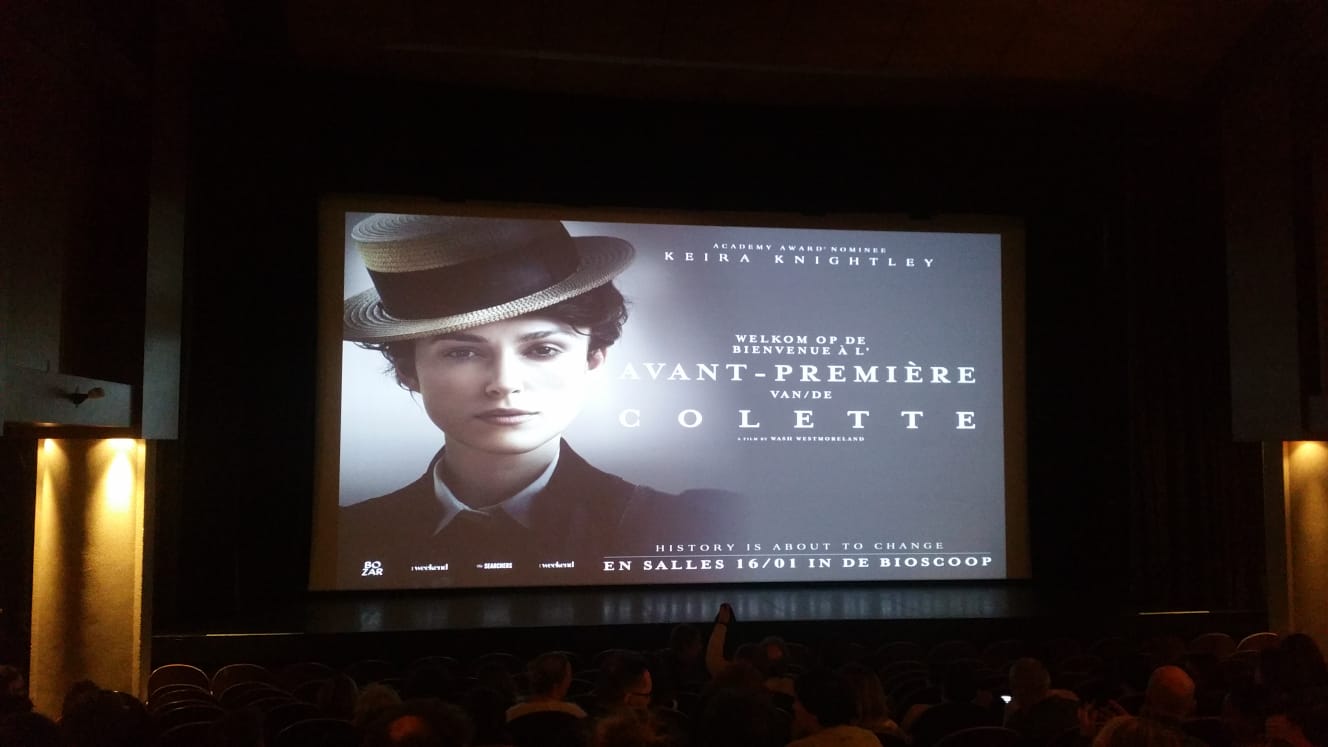 Katrien: Dat de film slechts een relatief korte periode (zo'n 15 jaar) uit het leven van Colette belicht, is de grote verdienste van regisseur Wash Westmoreland. Kort samengevat laat Colette zich tijdens haar huwelijk eerst haar literaire stem ontnemen door haar man, om zich later van hem te bevrijden – ook weer met haar pen. Door zo nadrukkelijk te focussen op deze transformatie benadrukt Washmoreland hoe moeilijk het voor een vrouw aan het begin van de twintigste eeuw was om een stem te hebben – zeker als die wat gewaagd was – en zich te emanciperen. Een schoolvoorbeeld van literair feminisme quoi, zowel tussen als naast de pagina's! Maar ondubbelzinnig is dit stukje uit het leven van Colette zeker niet. Hoewel Willy zijn vrouw letterlijk de mond snoert, is hij het ook die haar ontdekt en aanmoedigt om te schrijven.
Literaire heldinnenverhalen met een twist, j'adore!
Voor een regisseur met meer porno dan reguliere films op zijn conto, filmt Westmoreland Colettes escapades in de Moulin Rouge en haar woeste lesbische affaires behoorlijk gedistingeerd. Colette is after all een Hollywoodiaans kostuumdrama, geen alternatieve kunstenaarsfilm voor obscure filmzalen. Of dat erg is? Heleen Debruyne liet verstaan van wel. Wat zou Colette hiervan gevonden hebben, verzuchtte ze in het voorgesprek. Wel, haar Claudine-reeks was een bestseller, de schrijfster nam deel aan het variété leven in Parijs en haar levensverhaal doet mij sterk denken aan dat van Frida Kahlo die het toch ook tot in Hollywood schopte. Een toegankelijke, goed gedocumenteerde film is wellicht gewoon wat Colettes oeuvre verdient.
THE AFTERMATH
Barbara: Je weet dat je geboeid bent, wanneer je thuiskomt van een evenement en meteen nog wat dingen wil opzoeken. In het voorgesprek werd verwezen naar de sterke band die Colette had met haar moeder Sido.
Dat Colette zelf een slechte moeder was, wilde niemand gezegd hebben – oordelen is zo 1919.
Maar het werd wel geïmpliceerd. Omdat Colette met Willy geen kinderen kreeg, moest ik toch even weten hoe dat dan zat. Et voilà.
PS: Ook deze Franse schrijft heerlijk pikant.