Oké, ik weet het. In deze rubriek moet ik vooruit kijken naar het weekend en leuke literaire links oplijsten. Bestelling ontvangen, komt eraan. Maar toch ga ik eerst even achterom kijken. Gewoon omdat gisteren zo'n fantastische dag was.
Om 10u30 had ik een afspraak in Passa Porta met de Libanese schrijfster Iman Humaydan. Humaydan verblijft nog tot 2 februari als writer-in-residence bij Passa Porta. Ze werkt in Brussel haar vierde roman af, die in de zomer zal verschijnen. Ik kan het niet laten om alvast één quote uit ons gesprek en één foto op jullie los te laten. Kwestie van mijn enthousiasme voor deze vrouw te ventileren en jullie nieuwsgierigheid aan te wakkeren. Het volledige interview lees je hier op woensdag 4 februari.
"Mensen vragen me vaak waarom ik pas op m'n veertigste mijn eerste roman schreef. Maar het was burgeroorlog in Libanon en ik had drie kinderen. Ik heb tien jaar in schuilkelders doorgebracht! Mijn dagen stonden in het teken van naar de bakker gaan: wanneer was dat het veiligst? Ik schreef wel, maar die flarden belandden in de lade. Sinds mijn veertiende heb ik altijd geschreven."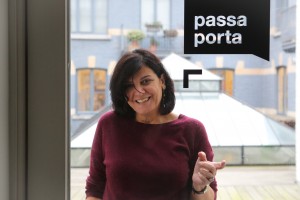 Geboeid? Lees dan de recensie van Andere levens van Iman Humaydan (De Geus) door Guus Bauer. (En zo gaan we naadloos over op het beloofde linklijstje…)
Wie is de koning van het bloedstollende proza? Edgar Allan Poe of Stephen King? In deze rap battle vechten ze het uit.
Kristien Hemmerechts is niet jaloers op het verkoopsucces van 'Koning Stefan en Koningin Griet'. Krrtssjjoing. Is dat geluid vaag applaus of het gekraak van een leugendetector?
Een midweek schrijven op een lage energieboot in de Westhoek? Het kan in schrijversresidentie De Droge Paulette, helemaal gratis.
Nu iedereen Charlie is, mag satire meer dan ooit. Lees en lach: Mark Cloostermans doet een Kader Abdola'ke.  "Dit is Kader, hij is gek op schrijven, van moeilijke woorden krijgt hij snoruitval."
De Meester en Margarita van Michail Boelgakov is naast een persoonlijke favoriet ook een echt cultboek. Na de film, de strip en de Rolling Stones song is er nu ook…de handtas.
Columniste verkiest vergeelde pockets boven ebooks onder het motto: 'Ik wil zelf niet altijd en overal bereikbaar zijn, dus ik verlang dat ook niet van mijn boeken.' Gelijke rechten voor boeken en mensen!
Modehuis Céline kiest de 80-jarige auteur Joan Didion als nieuw gezicht. Tijd voor een appendix aan de zes lessen die Joan Didion je over het leven kan leren?
En om te eindigen waar we begonnen waren – bij Iman Humaydan… Wist je dat de schrijfster gefascineerd is door de muziek van de Arabische diva Asmahan, die jong stierf en misschien spioneerde tijdens WO II? Opgepast, verslavende biografie. Als je Asmahan googlet weet je waar je begint, maar niet waar je eindigt. (Gelukkig is het vrijdag…)
En zo zit onze derde week als bloggers erop. Prettig weekend iedereen en tot maandag!