Iedereen bleef brood eten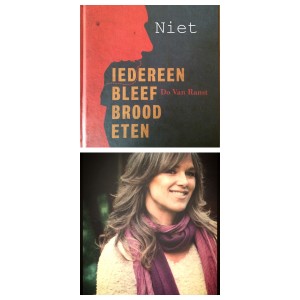 Boeken over de Eerste Wereldoorlog. Je kon er niet omheen in 2014. Ik deed mee en las Achter de draad van Hans Kuyper, een tienerboek over 'de dodendraad' in Hamont-Achel en De jongen die zijn vader zocht van John Boyne. Maar toegegeven, eigenlijk ben ik niet zo'n Wereldoorlogboekenadept. Technische oorlogsdetails kunnen me normaal gezien maar matig boeien. Ik was dan ook verbaasd toen ik vorige week samen met mijn collega's het gloednieuwe museum De brug rond het begin van de Tweede Wereldoorlog in Riemst bezocht. Strategische oorlogvoering werd plotseling wel spannend. Misschien was het het belevingskarakter van het museum, de sensatie de allereerste bezoekers te zijn of waren het de aanslagen in Parijs die nog te vers in het geheugen lagen om geen parallellen te trekken. In elk geval lukte het me daar wel om mee te denken over aanvalsplannen en tactiek.
Maar doorgaans moet een oorlogsroman voor mij toch een stevige portie shell shock bevatten; want de psychologische gevolgen van oorlogvoering, die interesseren de Florence Nightingale in mij wel.
Daarom stond Iedereen bleef brood eten van Do Van Ranst (Eenhoorn) op mijn lijstje van 'De vijf voor 2015': een romantisch oorlogsverhaal voor tieners. Ik hou wel van jeugdboeken met net dat extra tikkeltje drama en poëtische volzinnen en was al fan van Do Van Ransts vorige boek, De Engel Yannick, over een jongen die opgroeit in een gedestabiliseerde omgeving en in zijn fantasiewereld een instant-oplossing vindt.
De personages uit Iedereen bleef brood eten reageren allemaal totaal verschillend op de Grote Oorlog. Nelle verveelt zich tijdens haar werk in de bakkerij en geeft zich op als verpleegster in een oorlogsziekenhuis uit hang naar avontuur. De verschrikkelijke gruwel van door handgranaten opengereten gezichten, geamputeerde ledematen en stinkende wondes doorstaat ze bijna zonder kokhalzen. Haar vriend Simon is in eerste instantie een bibberend vogeltje, dat banggemaakt door zijn eeuwig in schuilkelders verschanste moeder, ver weg blijft van de oorlog. Als zijn heldenstatus bij zijn vader daardoor zienderogen verdwijnt, geeft hij zich toch op om mee te vechten. In de loopgraven wordt Simon herenigd met zijn jeugdvriend Kamiel die veranderd lijkt te zijn in een oorlogsmachine. Van Ranst onderbouwt deze diversiteit aan emoties stevig waardoor de lezer zich zowel met Nelle als Simon kan identificeren en heen en weer wordt geslingerd tussen beide kanten van het verhaal.
Hoofdstukken over Nelle en Simon wisselen elkaar af en zo blijft hun liefdesgeschiedenis de rode draad doorheen de roman. Hun jeugdige naïeve liefde krijgt al een stevige knauw aan het begin van de roman als Nelle zich – tegen de wens van Simon in – engageert in het oorlogsziekenhuis. Eén jaar lang zien of horen ze elkaar niet. Dan zoekt Simon haar weer op. Hij veinst verwondingen om toch maar tijd bij zijn vriendin door te brengen. Hun relatie struikelt opnieuw over dezelfde knelpunten van voorheen: Simons jaloerse reacties op Nelles ambitie. Toch blijft de liefde overeind.
Dan raakt Simon echter zwaargewond en moet hij een gezichtstransplantatie ondergaan. Niet alleen krijgt Nelles vriend een nieuw gezicht, ook zijn persoonlijkheid is helemaal veranderd. Zal hun relatie dit overleven?
Terwijl de eerste helft van het boek stinkt naar de fysieke oorlogswonden, blijven op het einde van de roman – als de oorlog bijna voorbij is – vooral de psychologische gevolgen nazinderen.
'Hoe ziet ons later eruit? Denk je dat dit allemaal over is als de oorlog voorbij is? Dat we een deur achter ons dichttrekken om een andere te openen? Dat we opnieuw kunnen beginnen? Denk je dat alleen zichtbare verwondingen blijvend zijn?'
Simons gezin blijft na de oorlog volledig verwoest en gedestabiliseerd achter, klaar voor het gekkenhuis. Nelle stelt het scherp als het dramatische gevolg van een -voor de meeste mensen- onrelevant feit:
'Omdat door een zot van het eerste uur de Oostenrijkse kroonprins en zijn vrouw werden vermoord, ging heel de wereld in oorlog. Honderdduizenden doden en gewonden.'
Een simplifiëring van de feiten die oneer aandoet aan de historiek? Een romantisering van de geschiedenis? Geenszins. 400 pagina's doffe ellende uit 360° oorlog slaan in als kogels, handgranaten en shrapnels. De Eerste Wereldoorlog is bij Van Ranst geen walk in the park. Maar iedereen bleef brood eten. 'Ook tijdens zo'n rotoorlog.'
Een minpuntje? Do Van Ranst lijkt dit boek wel te hebben geschreven om een plaatsje te veroveren op de leeslijsten van het middelbaar onderwijs. Op regelmatige basis geeft hij historische achtergrondinformatie op een wat gekunstelde en belerende manier. Ongetwijfeld nuttig voor de jongere lezer maar de toepassing is geforceerd. Je voelt die momenten zo komen. Van Ranst dropt een moeilijke term, een historische figuur of gebeurtenis en de hapklare definitie volgt. Deze info had hij beter in het verhaal kunnen integreren. Misschien ligt dit wel aan de aard van het verhaal. Van Ranst zei er in een interview met Leesplein het volgende over:
'Ik hou er normaal gesproken van om suggestief te schrijven, maar met het beschrijven van deze gebeurtenissen kon ik dat niet. Daarvoor was het te overweldigend.'
Ik wil graag een exemplaar van Iedereen bleef brood eten weggeven. Je kan dit boek winnen door te reageren op deze post met jouw ultieme oorlogsboek! Maandag maak ik de winnaar bekend op Facebook en Twitter.
PS: Pascale Naessens, sorry voor het cheesy grapje. Ik ben fan!