Charlotte Vandermeersch over 'Buzz'
Voor heel wat lezers van onze blog was de theatervoorstelling Buzz het culturele hoogtepunt van 2018. Ook ik ging in het najaar kijken naar de aangrijpende monoloog van Charlotte Vandermeersch, gebaseerd op de populaire debuutroman van de Noorse Johan Harstad. Afgelopen donderdag ontmoette ik Charlotte tussen twee voorstellingen door in Mechelen voor een gesprek over Buzz.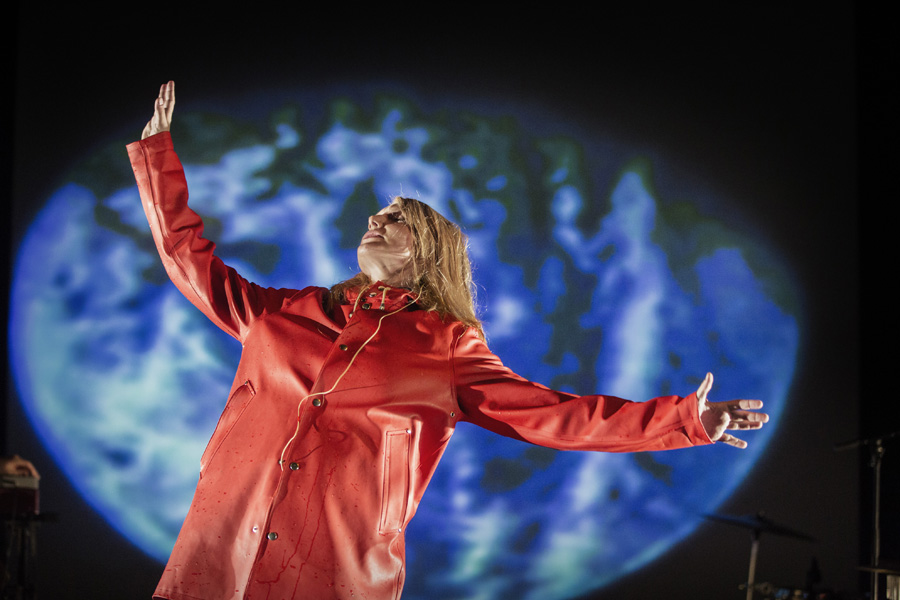 Hoe ben jij in aanraking gekomen met Buzz Aldrin, waar ben je gebleven?
Charlotte Vandermeersch: "Het was een tip van mijn schoonzus, de filmmaakster Ann-Julie Vervaeke. Aan de kersttafel vroeg ik haar welk boek ze me kon aanraden. Ik werk veel met taal maar heb maar weinig ruimte om te lezen. Er zijn al zoveel series, films en theaterstukken die ik moet zien om op de hoogte te blijven van mijn vakgebied, dat ik de tijd niet vind om veel boeken te lezen. 
Toen ik nog maar halverwege het boek zat – ik ben een trage lezer – wist ik al dat ik er iets mee wilde doen."
Mattias, het hoofdpersonage is een jongen. Was het een evidente keuze om zelf in zijn huid te kruipen voor een theatermonoloog?
CV: "Oorspronkelijk had ik aan een mannelijke collega gevraagd om de rol te spelen. Ik zou het stuk bewerken en ging het regisseren. Tegelijkertijd dacht ik: dju, ik had het wel graag zelf gedaan. In april 2018 moest die collega echter afhaken. Dat was vervelend, want de voorstelling was al verkocht. Ik voelde meteen heel sterk: ik ga het zelf doen. Ik was al vol van het verhaal, ik had geen zin om het aan iemand anders uit te leggen. Die beslissing was een enorme bevrijding.
Ik maakte van Mattias wel een meisje: Johanna, naar Johan Harstad, de auteur. Zijn vriendin Helle, werd een jongen enzovoort. Alles draaide ik om. Mijn lief (filmregisseur Felix Van Groeningen) vond dat raar. "Maak er toch gewoon lesbische meisjes van", zei hij. Toen de repetities eind deze zomer begonnen, had ik twee teksten mee. De oorspronkelijke versie met Mattias en de tweede met Johanna. Mijn twee coaches, Josse De Pauw en Jan Bijvoet vonden de eerste versie de max.
Ze zeiden: "Het is theater, je kan zijn wie je wil."
Plots klopte het allemaal. Ik heb dus gewoon de tekst van Harstad gevolgd."
Vind je het fijn om te werken met de tekst van iemand anders?
CV: "Een eigen tekst schrijven is niet gemakkelijk. Voor Woody, een stuk dat is gebaseerd op het oeuvre van Woody Allen, heb ik het wel gedaan, samen met Jan Sobrie en Joris Van Den Brande. Ik heb me daarbij heel goed geamuseerd: samen brainstormen en een verhaal bedenken. Op mijn eentje zie ik dat voorlopig niet zitten. Ik ben blij om mooi materiaal te mogen bewerken. Mocht ik mijn eigen verhaal willen schrijven, was ik wel auteur geworden.
We – ik en al mijn ikken – zijn acteur, net omdat we in verhalen graag andere personen verklanken.
Ik vind het wel boeiend om uit te zoeken wat mijn link is met een personage.  Vaak komen er verhalen op mijn pad waarvan ik denk: dat kan geen toeval zijn, alsof die regisseur wist dat er iets voor mij inzit. Als ik die link niet voel, neem ik de rol niet aan."
Wat is jouw link met Mattias, een jongen die liever niet in de schijnwerpers staat? Wat trekt je in hem aan?
CV: "Mattias is te gevoelig voor deze wereld. Het leven is voor hem te veel waardoor hij zich begint af te sluiten. Hij bedenkt een autistisch systeem om te functioneren: regelmatige werkuren, een lief dat hij op vaste momenten opbelt, niet te veel zotte dingen. Maar eigenlijk werkt het niet. Zijn lief gaat weg omdat hij niet echt leeft, het bedrijf gaat failliet. Zijn systeem stort in met hem erbij.
Ik interpreteer het verhaal als een tocht naar zichzelf. Mattias moet zijn hart leren openstellen, anders zal hij eenzaam en verstoord raken. Hij komt terecht op de Faeröer eilanden, in een bizarre psychiatrische kliniek, bij een groepje fragiele zielen die voor elkaar zorgen. Ook daar lukt het hem niet meteen om zich open te stellen. Hij ziet bijvoorbeeld niet dat Ennen, een ander meisje uit de kliniek van hem houdt. Als ze gevoelens toont, kruipt hij weer in zijn schelp. Pas als zij dood gaat, opent er iets in zijn binnenste en beslist hij om terug naar huis te gaan. Het is geen happy end maar het voelt wel warm aan. Dat herken ik. Soms kan je dankbaar zijn voor de moeilijke dingen die je overkomen.
De gebeurtenissen op de Faeröer doen me denken aan één van mijn soloreizen waarop ik in een klein Argentijns dorpje uit de bus ben gestapt en toevallig ben terecht gekomen in een gemeenschap van kunstenaars. Ik heb daar vijf prachtige dagen beleefd. Een intuïtieve manier van leven brengt veel mooie dingen mee. Mattias leeft in principe helemaal niet zo, tot zijn geest en lichaam crashen en hij zich wel moet overgeven. Dan pas gebeuren er dingen in zijn leven.
Buzz is dus niet letterlijk mijn verhaal maar veel kleine dingen ken ik wel van ergens."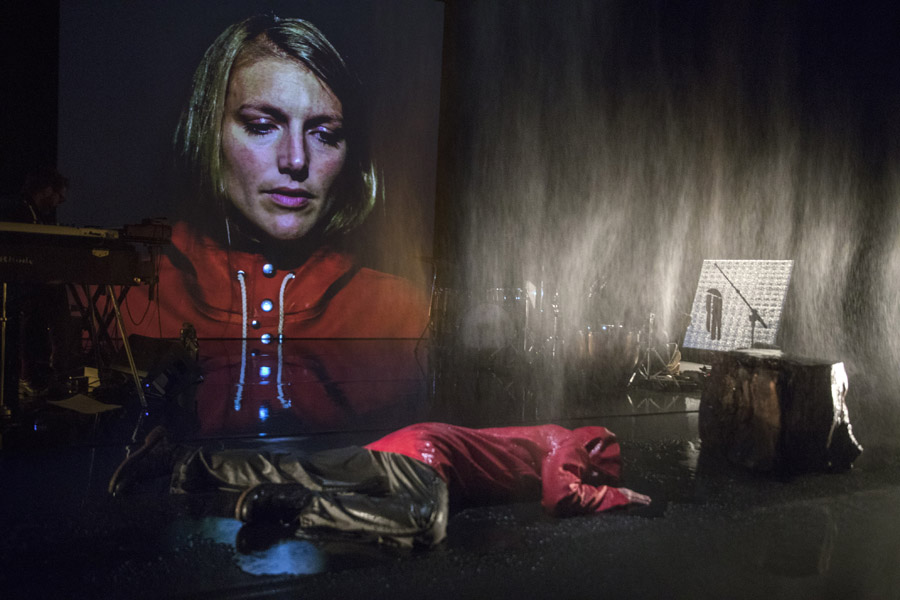 Jij stopt het verhaal na de dood van Ennen, terwijl het boek nog veel langer doorgaat.
CV: "Er was zo veel om te vertellen, maar in mijn interpretatie was zijn tocht voorbij. Daarna wordt het verhaal voor mij, met de plannen om een boot te bouwen om naar de Caraïben te varen, wat magisch realistisch.
Maar wist je dat de Engelse versie van het boek nog veel langer is dan de Nederlandse!? Het Nederlandstalige boek stopt als de boot vertrekt naar de Caraïben. In de Engelse versie heeft hij een heel leven op de Caraïben en keert hij terug naar Noorwegen met een zoon.
Harstad vertelde me dat zijn Nederlandse uitgever hem had gevraagd om het verhaal in te korten. Hij heeft zelf het einde geschrapt. Buzz Aldrin, waar ben je gebleven was zijn eerste boek, hij was amper 23 toen hij het schreef. Wellicht was hij minder streng voor zichzelf en ging hij maar door met vertellen."
Het boek gaat niet alleen verder, maar zit ook vol mooie randverhalen, zoals dat van de aangespoelde Carl en psychiater Havstein. Had je ook hun verhaal kunnen brengen?
CV: "Ja, er zit meer dan één theaterstuk in dit boek. Ook hierin voel je dat Harstad een jonge geëngageerde schrijver was die al zijn ideeën, indrukken en aanklachten van dat moment in één boek wilde steken. In mijn stuk had ik geen ruimte voor al die plots.
Het is een wetmatigheid in het theater: als je al een uur luistert naar het verhaal van Mattias, wil je als publiek daar niet meer te ver van weggaan.
Ik heb het boek tot de essentie herleid. De enige uitstap die ik maak, is het verhaal van Ennen. Dat is heel belangrijk voor mijn interpretatie van de gebeurtenissen: Mattias verliest twee keer een geliefde, maar toch is er groei. Op een bepaalde manier is hij gelouterd."
Mattias heeft psychologische problemen. Twijfel je soms aan de echtheid van zijn verhaal?
CV: "Dat je in zijn geest zit, vind ik het schone van het verhaal. Het voelt altijd heel nadrukkelijk aan als zijn interpretatie van de werkelijkheid. Voor mij is het allemaal echt gebeurd maar ik speel wel iemand die voor veel dingen blind is, zoals voor Ennen die zijn liefde vraagt. Op het einde van het stuk, laat ik Mattias wel terug met zijn voeten op de grond komen. Hij komt uit zijn hoofd en arriveert op aarde."
Je hebt Harstad geïnterviewd voor Radio 1 en hem gevraagd of zijn verhaal autobiografisch is. Hij ontkent dat. Wat denk jij daarvan?
CV: "Het is een heel teruggetrokken figuur, geen man voor smalltalk. In dat opzicht doet hij denken aan Mattias. Terwijl hij nee zei op die vraag, leken zijn ogen te zeggen: je weet toch wat ik bedoel. Maar ik denk niet dat je zijn boek letterlijk mag lezen. Harstad heeft veel fantasie. Het is zijn geheim wat van hem is. Maar voor de mimiek van Mattias heb ik me misschien onbewust wel wat laten inspireren door Harstad."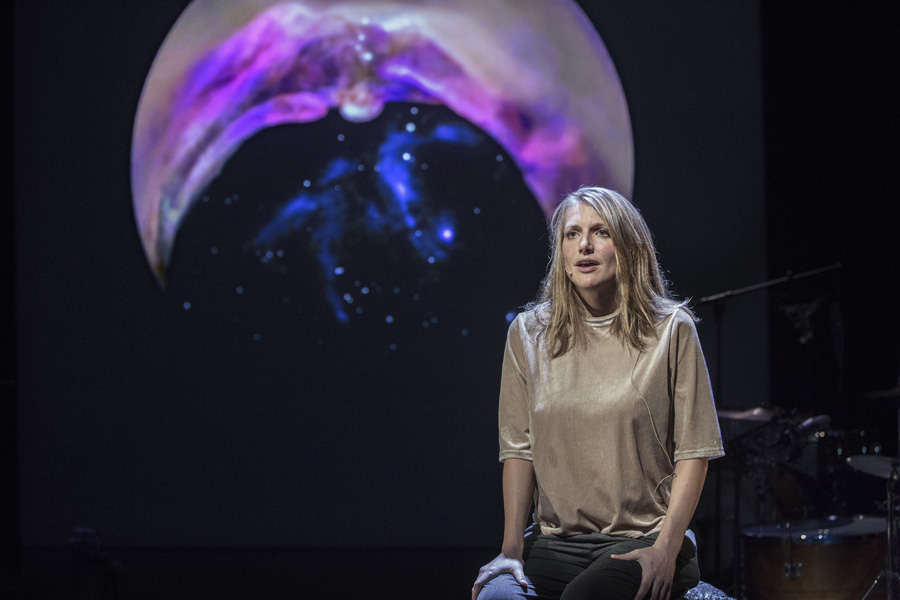 Voor de beelden in je voorstelling ging je filmen op de Faeröer eilanden. Hoe was dat?
CV: "Ik had er heel erg naar uitgekeken. Ik ben er traag naartoe gereisd, met de ferry. Terwijl ik me verveelde in de lelijke bar op de boot, beeldde ik me in hoe Mattias daar heeft gezongen. Ik kon helemaal in het verhaal komen. De Faeröer zelf zijn fantastisch, heel verlaten en open. De locals zijn bovendien erg grappig, ze hebben veel humor.
Met de beelden wilde ik graag de natuur binnenbrengen in het theater: de helende kracht en ook het Unheimliche."
Naast de beelden is ook de muziek heel belangrijk in deze voorstelling.
CV: "Ik snap heel goed op welke momenten Mattias zingt in het verhaal. Het werkt heel bevrijdend voor hem. Hij zit opgesloten in zichzelf en dan laat hij zijn stem klinken. Zelf vind ik ook wel eens troost door alleen op een berg te staan zingen.  Zingen is een deel van mij en theatraal was dat natuurlijk te schoon om te laten liggen. Nu, Mattias zegt wel van zichzelf dat hij fantastisch zingt, maar ook dat is een interpretatie. Het zit in zijn kop. Dat zingen vermengen met de fantasie, is zo mooi."
Je speelt Buzz ook voor scholen. Stijn Meuris gaf daar onlangs de brui aan. Het publiek is te moeilijk, zegt hij. Hoe is jouw ervaring?
CV: "Het grote verschil tussen ons is dat Stijn naar scholen gaat. Het lijkt me heel lastig om in een foyer of turnzaal de juiste sfeer te creëren. Als jongeren in de magie van een theaterzaal komen, wordt hun interesse meteen gewekt. Ik kom ook heel bewust niet kwetsbaar en klein op, maar combineer film, muziek en regen. Je voelt de zaal meteen denken: wow, wat is dit.  
Ik probeer het jeugdige publiek te triggeren en uit te dagen, anders loop je het risico een schietschijf te worden.
Het geeft mij in elk geval een veiliger gevoel om het op die manier aan te pakken én het heeft gewerkt. Maar ik snap ook dat als het tegenvalt, zoals bij Stijn, dat je dan denkt fuck it."
Buzz is een lange monoloog, zonder veel actie. Is dat moeilijk om te onthouden?
CV: "Veel actie is er niet, want Mattias is geen fysiek iemand. Het verhaal zit in zijn hoofd. Ik moet het publiek dus ook in zijn kop lokken. De zaal mag zich niet laten afleiden door zijn handelingen. Het is dus een lange tekst geworden. Maar iedereen kan een tekst leren. Eenmaal het erin zit, verleer je het niet. Het is als fietsen. Ik heb de tekst nu 1,5 maand niet gespeeld. Voor de voorstelling van vandaag heb ik de tekst twee keer herhaald en dat is voldoende. Als ik er sta, komen de woorden die bij een scène horen automatisch."
Wil je 'Buzz' nog zien, haast je dan en boek een ticket voor de voorstellingen in Mechelen op 17, 18 en 19 januari. Zelf ga ik donderdag nog eens kijken en Barbara zal er vrijdag zijn. Tot dan?
Voor wie er dit jaar niet meer geraakt, hou dan de  hernemingen in 2020 in de gaten.
PS. Ook deze opvoering uit 2018 zal ik niet snel vergeten.