Column op woensdag: Podiumfluweel
Tijdens de zomervakantie presenteert This Is How We Read elke woensdag één van de genomineerden van onze columnwedstrijd 2017. Op donderdagavond 21 september bekronen we de eindwinnaar tijdens een prijsuitreiking in Barboek. Wil je nog deelnemen aan de augustuseditie? Stuur ons je inzending voor 16 juli!
Deze woensdag lees je Shadia, die je vanmiddag met een karafje rood achter de fluwelen gordijnen van De Artist kan vinden, alleen.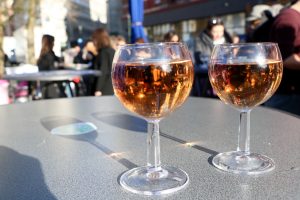 Er hangt een grote stationsklok boven de deur van Brasserie De Artist. Een antieke, zo lijkt het toch, met vette Romeinse cijfers en stevige puntige wijzers die wat terugveren net voor ze de volgende minuut aankondigen. Een rood fluwelen gordijn houdt de voordeur in de gaten en er wordt altijd even opgekeken wanneer iemand vanachter het doek verschijnt.
Soms heb ik zin om het kleed met twee uitgestrekte armen open te schuiven en met luide stem mijn aanwezigheid in het café aan te kondigen, dan naar binnen te glijden over de gladde tegelvloer richting toog en al tapdansend mijn karafje rood te bestellen.
Maar ik kan niet tapdansen, dus ik laat het zo.
Sinds enkele maanden heb ik elke woensdagnamiddag vrij en wandel naar de brasserie, ik streel het gordijn, knik vriendelijk, neem plaats en bestel meestal hetzelfde. In de zomer zit ik op het terras onder de platanen met een salade, in de winter of als het regent aan het raam vooraan, waar ik de mensen op straat kan bespieden. Ik bestel dan meestal een vol au vent of stoofvlees met frietjes. En altijd een karafje rood. Mijn smartphone staat af, soms lees ik een boek. Ze vragen me wel eens wat ik daar zit te doen op mijn eentje. "Niets", zeg ik dan. "Is dat niet saai?" " Nee, totaal niet."
De eerste drie woensdagen is Fred meegegaan. Het was mijn plan om samen wat meer tijd met elkaar door te brengen. Zonder de kinderen. Hij had er mee ingestemd na lang discussiëren over het uur en hoe lang, waar, parkeermogelijkheden en de prijs van het eten. "Je moet er wat voor over hebben!" had ik toen geantwoord, maar hij kon er niet mee lachen.
Hij kwam telkens te laat binnen, was onhandig met het velours, liep rechtstreeks naar de bar en bestelde altijd eerst een pint. Dan kwam hij bij mij zitten, keek wat rond en tokkelde met zijn vingers op ons tafeltje. "Heb je al besteld?" "Nee, enkel een fles wijn, voor ons twee." Hij vulde mijn glas tot bijna aan de rand. Hij weet dat ik dat niet graag heb.
Ik reserveer altijd, want het is er vaak druk. Niet op een onplezierige manier. Het komt door de akoestiek. Glazen rinkelen, mensen lachen, de stoelpoten schuren over de grond, en tussen al het geroezemoes klinkt een deuntje van Miles Davis of een andere Grote wiens naam ik steeds vergeet. Soms hoor je elkaar niet goed en moet je voorover leunen om je verstaanbaar te maken. Het is te zeggen, ik leun voorover, want Fred zit altijd te ver.
Het is zoals met het aanreiken van de boter, hij strekt zijn arm nooit helemaal en je had het al evengoed zelf kunnen nemen.
Fred kon niet meer op woensdag, iets op het werk. Ik zei hem dat ik het maar kon proberen en hij deed alsof hij niet begreep wat ik daarmee bedoelde. De keer daarop reserveerde ik voor één persoon. Ik stapte het café binnen en trok het gordijn achter me dicht.
Voor Shadia is schrijven "op zoek gaan naar de waarheid". De mens en zijn verhaal houdt haar al zolang ze zich kan herinneren bezig en sinds enkele maanden vertrouwt ze haar geheimen toe aan Word en papier. De eerste 42 jaar heeft zij leren luisteren en kijken, de volgende 42 jaar wil zij leren begrijpen en schrijven.