I know, I know, het staat hier op de blog bol van de 'Ik ga op reis en ik neem mee…' posts. Maar het is dan ook de tijd van het jaar. Barbara zakt af naar Italië voor La Dolce Vita, Katrien zwaait buslading na buslading jongeren uit richting zomerkampen, de boekenknecht jast er ettelijke boeken door met een cocktail erbij en ik genoot vorige maand van een literaire ontdekkingsreis door Thailand. Dus, hier gaan we: Ik ga op literaire reis naar Thailand en ik neem mee: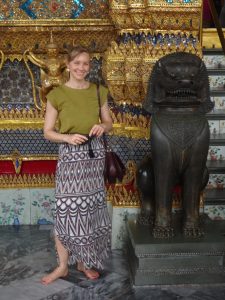 De thriller: Bangkok tattoo, John Burdett, The house of books
Schrijver John Burdett duikt in zijn thrillers diep in het nachtleven van Bangkok. Zijn protagonist, Sonchai Jitpleecheep, detective bij de Royal Thai Police, is het product van een korte ontmoeting tussen een barmeisje en een voormalige G.I. In Bangkok Tattoo wordt een 'Farang' (buitenlander) dood aangetroffen in het bordeel van Sonchai's moeder. De man blijkt een CIA agent te zijn. Om de zaken nog wat delicater te maken, wijst de bewijslast in de richting van Sonchai's grote liefde. De boeken van John Burdett zijn spannend, sexy en genuanceerd. Hij blijft weg van het typische beeld van de onderdanige Thaise barmeisjes die hengelen naar het geld of de aandacht van rijke westerlingen. In zijn inleiding vat Burdett het zo samen:
These are all country girls, tough as water buffalo, wild as swans, who can't believe how much they can make by providing to polite, benevolent, guilt-ridden, rich, condom-conscious farangs exactly the same service they would otherwise have to provide free without protection to rough drunken whoremongering husbands in their home villages."
De klassieker: Anna en de koning van Siam, Margaret Landon, De boekerij
Anna Leonowens, een jonge weduwe met twee kinderen, werd begin jaren 1860 uitgenodigd door de koning van Siam om zijn vrouw en kinderen de Engelse taal en gebruiken bij te brengen. Anna kwam terecht in een totaal nieuwe wereld, bulkend van het exotisme en mystiek. Ze bracht vijf jaar door in het Koninklijk paleis, en had grote invloed op de latere koning van Thailand, door hem te onderwijzen over Abraham Lincoln en democratische principes. Eenmaal terug in Londen publiceerde Anna twee memoires. Margaret Landon inspireerde zich op de memoires, voegde er talrijke details aan toe over het land, zijn inwoners en de cultuur. Ondertussen is het boek ettelijke malen vertaald en verfilmd. Niet te missen, dus.
De kortverhalenbundel: Sightseeing, Rattawut Lapcharoensap, Grove Press
Naast heel wat tongtwisters om de naam juist uit te spreken, brak Lapcharoensap ook heel wat potten met zijn debuut 'Sightseeing'. Een bundel kortverhalen die ver weg blijft van exotische stereotypen. Hij belicht alle kanten van de moderne Thaise maatschappij op een doordachte en elegante manier. Generatieconflicten, liefde tussen Oost en West, dorpsvetes en culturele veranderingen spelen de hoofdrol in zijn kortverhalen.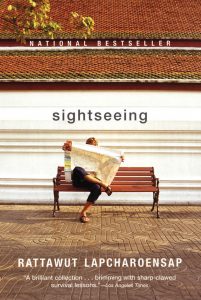 De beach read: Catching the sun, Tony Parsons, Harpercollins
Tom ontsnapt samen met zijn gezin aan Londen en de gebeurtenis die zijn leven er onmogelijk maken. Hij betrapt twee inbrekers en weet hen te overmeesteren, maar wordt veroordeeld. Op Phuket hopen hij en zijn vrouw een nieuw leven te starten. Er hangt echter een luchtje aan zijn nieuwe job als manusje van alles voor een immobiliën imperium. Parsons boek wordt bevolkt door even fantastische en bizarre individuen als de strandgangers die je spot als je even opkijkt uit je hoofdstuk. Barpersoneel, rijke expats, louche figuren, restauranthouders, massagemeisjes,… Het boek komt in een stroomversnelling als de tsunami het idyllische strand overspoeld. Een kostelijk en spannend strandboek.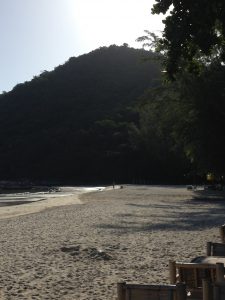 De 'het boek is beter dan de film': Het strand, Alex Garland, Uitgeverij Atlas
Laat u niet verleiden door de film, en ga met het boek in de hand zelf op zoek naar een idyllisch stukje strand. Moeilijk is het niet: wij hoppen van eiland naar eiland en ontdekken op Koh Samui, Koh Phangan en Koh Tao parelwitte stranden, hoge palmbomen en veel leuke leesplekjes.
Richard zakt af naar Thailand. Een gestoorde Schot geeft hem een handgetekende kaart van de Golf van Thailand, met daarop de locatie van een geheim strand. Als Richard de Schot later dood terugvindt na een wanhoopsdaad, overtuigt hij een bevriend Frans koppel om het strand te gaan opzoeken. Ze ontdekken er een cannabisplantage, ontkomen aan de gewapende bewakers en belanden in de alternatieve commune van Sal. Een dertigtal backpackers leeft er al jaren in peis en vree. De drie vrienden mogen blijven, maar onder strenge geheimhouding. Richard is er niet gerust op, want hij gaf een kopie van de kaart aan enkele studenten.
P.S.: En nee, we zijn hem niet vergeten, die andere grote klassieker. Lees hier alles over 'The bridge over the River Kwai'.