Column op woensdag: Oermannen
Tijdens de zomervakantie presenteert This Is How We Read elke woensdag één van de genomineerden van onze columnwedstrijd 2017. Op donderdagavond 21 september bekronen we de eindwinnaar tijdens een prijsuitreiking in Barboek. Wil je nog deelnemen aan de augustuseditie? Stuur ons je inzending voor 16 juli!
Deze woensdag lees je Elise, die de jager-verzamelaar technieken van de hedendaagse barbecuekrijger aan het spit rijgt.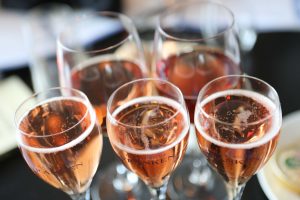 "Vanavond gaan we BBQ-en!", hoor ik vanuit de kamer roepen. Oh ja natuurlijk, het is één graad boven nul en de zon schijnt al maximaal drie minuten, ja dan is de verleiding moeilijk te weerstaan!
De grillmaster begint oververhit heen en weer te lopen. Ik weet nu al dat alles deze dag in het niet valt omdat de man des huizes de vlam in zijn Weber wil laten branden. Je zou denken, fijn dan hoef ik niet te koken, maar de ervaring leert mij dat dat niet het geval is.
"Ik heb net even een rondje gebeld en Hans, Klaas, Ed, Piet, Freek en Jan vinden het ook gezellig. Ze nemen vrouw en kids mee. Gezellig hè!"
Reuze gezellig, als de organisator van dit festijn alles goed op een rijtje heeft. Ik kan je nu al vertellen dat dat niet het geval is. De focus ligt voornamelijk op de BBQ en het vlees. Een biertje ernaast en de rest kan verbranden. De grillmaster is helemaal in zijn nopjes en rent naar de schuur om zijn Weber tevoorschijn te toveren, inclusief aanverwante accessoires.
"Ik ga wel even naar de slager om het juiste vlees te halen, daar heb ik nét iets meer kijk op dan jij. Het is wel zaak dat er namelijk een goed stukkie vlees op het rooster ligt." Wat een brenger.
Ik had namelijk verwacht met die opkomende oergevoelens dat er een jachtgeweer tevoorschijn gehaald zou worden om de eerste de beste geit overhoop te knallen en vervolgens op die fantastische BBQ te roosteren.
Dus dit valt alweer mee.
Een dagdeel later keert de grillmaster terug in zijn hol met de gehele voorraad van de slager. "Ik zie dat wij voor de komende drie zomers genoeg vlees hebben om een buurtbarbecue te geven, dan hoop ik wel dat het iedere week mooi weer is, anders houden we wat vlees over. Kon het allemaal niet in één auto? Of ga je zo terug voor de rest?"
"Welke rest? Ik heb bier zat voor die jongens."
Ik ben inmiddels op het punt beland om de grillmaster met zijn hoofd op het rooster te drukken, maar dan hou ik iets te veel vlees over het komende decennium.
"Wat denk je dat de vrouwen willen drinken? Dus waar is de wijn en denk je dat er niemand een sapje wil? Wat drinken de kinderen? Gewoon een glaasje water? Heb je aan salades gedacht? Moet er niet iets van stokbrood komen? Waar dacht je te gaan zitten? Met je reet op het rooster, of zal ik toch maar even een paar tafels en stoelen gaan regelen? Wat als het toch gaat regenen? Moet er geen partytent neergezet worden? Of is dat funest voor jouw oergevoel, wellicht? Is het de bedoeling dat wij vrouwen en kinderen lekker op de grond gaan zitten en dat jij dan af en toe een gebraden poot van een of ander beest naar ons toe werpt? En dat wij dan vechten om dat stukkie vlees, terwijl jij lekker met je maten om het vuur heen staat te bekvechten of het vlees wel gaar is? Dat zal dat mannelijke oergevoel van jullie wel een boost geven, maar wij zitten er echt niet zo op te wachten. Dussssss, wat ga je doen?"
"Uhhhhhhmmmmm, ik wilde eigenlijk de kolen en aanmaakblokjes gaan pakken. Het is namelijk zaak dat het vlammetje op tijd aangaat. Dan heb ik ook nog even de tijd om te wapperen. Als ik nu niet begin, hebben we om negen uur nog geen vlees op tafel. Ik kan trouwens mijn Weber handschoen niet vinden. Die heb ik echt nodig, anders krijg ik van die ruwe handen. Zou jij anders even naar de supermarkt willen gaan om die paar dingetjes te halen, waar je het net over had?"
Verbrand lekker!
Met een druk leven, waarin gezorgd, gewerkt, gekookt, schoongemaakt en uitgegaan moet worden weet Elise toch de belevenissen die zij samen met haar familie, vriendinnen en verdere omgeving meemaakt met veel zelfspot en hysterie op papier te zetten. Zij heeft meerdere columns gebundeld in het boek Het zwakke geslacht.