Ken je dat gevoel, dat je het zo druk hebt, dat je niet eens de tijd hebt om te bedenken dat het anders kan en moet? Zelf combineerde ik tot voor kort een fulltime hoofdberoep met een stevig bijberoep. Ja, ik kreeg dat allemaal wel gebolwerkt, maar nadenken over 'is dit echt wat ik wil' en 'wat zou ik graag nog doen', daar was vaak geen tijd meer voor. Sinds april werk ik eindelijk vier vijfde, en dat was toch wel de beste beslissing van het jaar. Er is zoveel meer rust in mijn hoofd, er staan een paar nieuwe projectjes gepland, ik sport bijna dagelijks en heb tonnen meer energie voor mijn hoofd- en bijberoep. En nu er eindelijk ruimte voor is, droom ik eigenlijk al stiekem van een volgende stap. En of dat nu reizen en werken combineren, een buitenlandse reportagereeks maken of  een boek schrijven, wordt, zeker is dat ik zelf mijn leven wil vormgeven en het niet meer overlaat aan mijn hotmail, werkopdrachten of to do-lijstjes.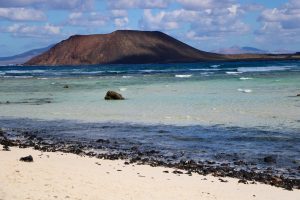 Wil jij de zomervakantie ook gebruiken om grootse plannen te maken… en die ook uit te voeren, om je leven efficiënter te organiseren of om het simpelweg leuker te maken, stop dan deze vier boeken in je koffer!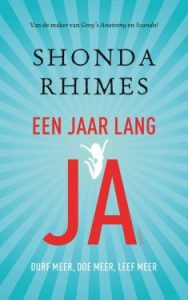 'Een jaar lang ja' van Shonda Rhimes (De Bezige Bij)
Als tekstschrijver van populaire series als Grey's Anatomy en Scandal is Shonda Rimes één van de meest invloedrijke vrouwen van de Verenigde Staten. Wanneer ze uitgenodigd wordt voor een televisie-interview of moet spreken voor publiek, staat ze echter doodangsten uit. Terwijl haar personages groots en meeslepend leven, hangt ze thuis rond in pyjama met een portie comfortfood en een glas rode wijn. Als ze beseft dat – als ze echt had kunnen kiezen – ze had bedankt voor een diner met president Obama, wil ze niet langer haar leven laten bepalen door angst. Ze zal een jaar lang ja zeggen tegen alles wat haar bang maakt.
Shonda is eerlijk, ontwapenend en recht door zee. In haar interne monologen gaat ze met de billen bloot. Hilarisch en pijnlijk is het moment dat ze de gewone veiligheidsgordel in het vliegtuig niet meer dicht krijgt. Rhimes speelt op herkenbaarheid. Ze schrijft voor her tribe, voor alle vrouwen en moeders. Een jaar lang ja leest bovendien even witty als de dialogen van Grey's Anatomy.
De beste tip? Als je moet spreken voor publiek, bedenk dan het allerergste wat je kan overkomen (bvb. je valt flauw). Zolang dat niet gebeurt, is er niets aan de hand.
'Get real' van Lien De Pau
Voor mij veruit het "gevaarlijkste" boek uit het lijstje. Lien De Pau is een professionele "goestingdoener" uit de school van Timothy Ferriss' Een werkweek van vier uur. Als digitale nomade werkt Lien nu eens onder een palmboom in Fuerteventura, dan weer vanuit een strandbar in Bali. Iedere dag als ze opstaat, stelt ze zichzelf de vraag 'wat wil ik vandaag het allerliefste doen'. In Get real doet Lien uit de doeken hoe ze zelf slaaf was van haar eigen bedrijf en op reis in Maleisië besloot om haar leven te transformeren. Maar 'voor altijd blijven reizen', kan dat wel? Lien leerde omgaan met de kritische stemmetjes in haar hoofd en creëerde haar eigen droomleven. Nu wil ze ook anderen inspireren om hun eigen pad te vinden en te bewandelen.
Lien schrijft heel down-to-earth en richt zich direct tot haar lezers. Ze prent ons in dat we altijd keuzemogelijkheden hebben, dat we ons moeten laten omringen door een tribe van mensen die het leven leiden waar we van dromen en leert ons op basis van haar eigen ervaring valkuilen te vermijden. Denk bijvoorbeeld niet 'wat wil ik met mijn leven aanvangen', maar 'wat wil ik de komende 6 maand met mijn leven doen'.
Deze Vlaamse stem in 'zelfhulpland' moet absoluut niet onderdoen voor haar Amerikaanse collega's. Maar opgepast, dit is een boek waar je je slaap voor laat. Sommige lezers zouden zelfs hun c4 al hebben ingediend.
Liens ultieme tip? Vind je missie door in één zin op te schrijven wat het echte doel van je leven is. Schrap en herschrijf tot je begint te huilen, pas dan heb je je missie gevonden. Ter info, Lien moest 87 keer opnieuw beginnen.
'Diep werk' van Cal Newport (Atlas Contact)
Met Diep werk geeft Cal Newport tegengewicht aan de lifehacks trend waarin we ons werk altijd maar meer sneller en beter willen organiseren. Als we echt het verschil willen maken op professioneel vlak en tot baanbrekende inzichten willen komen, moeten we moeilijke activiteiten uitvoeren met uiterste concentratie. We moeten niet méér gaan werken maar wel harder en op een hoogwaardiger niveau. Omdat multitasken ons aan kwaliteit en productiviteit doet verliezen, moeten we ons op één taak tegelijkertijd concentreren. In plaats van to do-lijstjes van de ene naar de andere week te slepen, stelt Newport voor dat we tijdsblokken vrijhouden voor belangrijk werk. Kleine taakjes zoals mails en telefoontjes moeten naar de periferie van de dag en mogen ons ritme niet bepalen. Over e-mail en sociale media is Newport onverbiddelijk. Het leidt ons af, vermindert de concentratie en kan een rampzalige invloed hebben op onze prestaties. Toch moeten we van hem niet helemaal afkicken, wel op voorhand bepalen wanneer we terug op Facebook mogen. Na een uur, na iedere maaltijd of éénmaal per dag?
Newport schrijft een tikkeltje zakelijk, met veel voorbeelden uit de IT en universitaire sector. Maar ook als je geen wetenschappelijk onderzoek op hoog niveau doet, is er veel te zeggen voor zijn tips.
Mijn e-mailnotificaties staan al maanden af en over de vraag 'wat heb je vandaag gedaan' hoef ik nooit meer langer dan twee seconden na te denken.
Meer lezen? Ik werkte een maand 'diep'. Mijn verslag lees je hier.
'Microadventures' van Alastair Humphreys (Harpercollins)
De meesten onder ons werken van 9 tot 5u. Achteraf zijn we vrij, 16 uur lang. Maar die vrije tijd vullen we vaak nogal voorspelbaar in: boodschappen doen, koken, wassen, televisie kijken, slapen en als we geluk hebben nog wat sporten, vrienden zien of aan cultuur doen. 16 uur vakantie kan je het bezwaarlijk noemen. En toch is het zo… 16 uur vrijheid! Bedenk eens wat je in die tijd allemaal kan doen. Het idee inspireerde de Britse avonturier Alastair Humphreys. De National Geographic Adventurer of 2012 draait er zijn hand niet voor om met een roeiboot de Atlantische Oceaan over te steken, een jaar door Indië te wandelen of vier jaar lang met de fiets de wereld rond te reizen maar hij besefte gaandeweg dat deze grootse avonturen niet voor iedereen haalbaar zijn. Daarom bedacht Humphreys het concept micro-avontuur: wildkamperen, een nachtelijke wandeling, picknicken op een bijzondere locatie… het kan allemaal.
Micro-avonturen beleef je dichtbij huis, kosten weinig geld en zijn stuk voor stuk inspirerende of nieuwe ervaringen die je kan inplannen tussen 5 en 9u.
Waarom? Door op micro-avontuur te gaan krijg je een vakantiegevoel midden in de week en beleef je een heus avontuur. Hierdoor ga je je gelukkiger en meer ontspannen voelen. Wie weet zal de adrenaline wel door je lichaam stromen. In ieder geval wordt het een avond die je niet gauw zal vergeten. Humphreys meest 'gekopieerde' micro-avontuur is een nacht onder de open hemel slapen. Je trekt erop uit met enkele vrienden, neemt een slaapzak en eten mee en kiest een plekje uit in de wilde natuur. Maar eigenlijk is een micro-avontuur alles wat je spannend, nieuw en anders vindt. Een micro-avontuur haalt je uit je routine en misschien wel je comfort zone. Zelf testte ik het concept uit voor Psychologies. Het verslag van mijn mini-avonturen lees je hier.
PS. Hoe kies je een zelfhulpboek?
PS2. Over Een jaar lang ja, Diep werk en Microadventures schreef ik al in Psychologies. Deze stukjes zijn gebaseerd op deze artikels.