Brussel Beiroet – een gesprek met Iman Humaydan
Ze is de kersverse voorzitter van PEN Libanon en voltooide begin dit jaar in Brussel haar vierde roman. Journaliste en schrijfster Iman Humaydan roept met haar fictie graag een 'storm van vragen' op. "Ik heb jaren on the road geleefd omdat thuisblijven niet veilig was. Die ervaring zit heel sterk in mijn werk."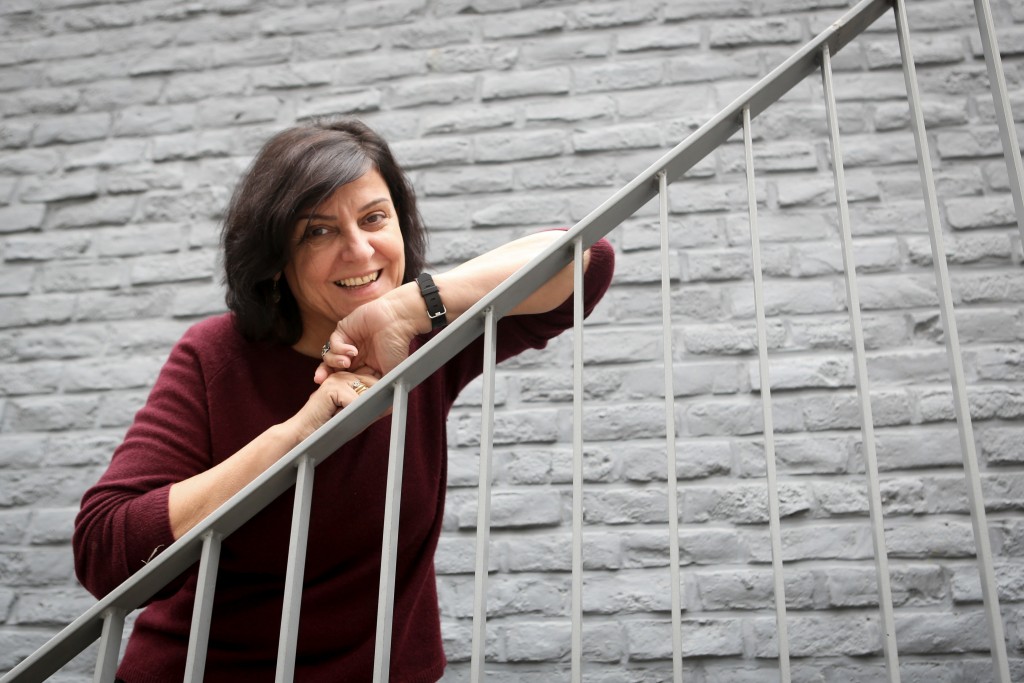 "Brussel doet me denken aan Beiroet," begint Iman Humaydan, de Libanese journaliste en schrijfster die in januari voor de tweede keer te gast was bij Passa Porta.  "Beide steden zijn rijk aan talen en etnische groepen. Ik zou graag meer tijd hebben om me te verdiepen in de Belgische taalkwestie, want die boeit me. Ik voel een conflictdynamiek in Brussel, maar een heel  andere dan in Beiroet. Al bij al ervaar ik deze stad als een vredige plek om te schrijven." Heel vredig begon Humaydans residentie in de schrijversflat aan de Hallepoort in Sint-Gillis nochtans niet. Op 5 januari arriveerde ze in Brussel vanuit Parijs, waar ze na haar echtscheiding enkele jaren geleden een tweede thuis vond. Op 7 januari richtten de gebroeders Kouachi hun bloedbad aan op de redactie van Charlie Hebdo. Humaydan: "Ik was in alle staten toen ik het nieuws hoorde, ook omdat mijn dochter in Parijs haar telefoon niet opnam. De dag van de aanslag was verschrikkelijk. Charlie Hebdo is geen weekblad dat ik bewonderde, al kocht ik het wel eens toen de Fransen nog discussieerden over het homohuwelijk – dat ik steun. Maar heb je de cover van de kersteditie van 2014 gezien? Die stootte me echt tegen de borst. Hoe dan ook, zulke bedenkingen zijn nu niet meer van tel. Ik hoop dat Charlie Hebdo verder gaat in z'n typerende stijl en ik blijf vrij om het al dan niet te kopen. Het geweld van 7 januari maakte diepe indruk. Het haalde de trauma's uit mijn leven in Libanon weer boven. Ik heb het gevoel dat veiligheid zeldzaam wordt in deze wereld. We kunnen niet langer zeggen dat bepaalde problemen niet 'van ons' zijn. De wereld is te klein geworden. Buitensluiten, afschermen – dat lukt niet meer. Er zijn andere oplossingen nodig, op basis van integratie."
BABY'S ON THE ROAD
Als Iman Humaydan verwijst naar de trauma's uit haar jaren in Libanon, dan is dat geen overstatement: "Mijn eerste kortverhaal werd gepubliceerd in 1989, mijn eerste roman verscheen in 1997, toen ik al veertig was. Mensen vragen me vaak waarom het zo lang duurde. Maar ik heb tussen 1982 en 1989, terwijl er een burgeroorlog woedde, drie kinderen gekregen. Ik ben geen enkele keer rustig thuis bevallen. Mijn eerste baby werd in Frankrijk geboren, omdat we niet in Beiroet konden blijven door hevige bombardementen. Voor mijn tweede bevalling moest ik om veiligheidsredenen van West naar Oost-Beiroet. En mijn jongste kind kwam ter wereld in Cyprus.
Ik herinner me dat ik tegen de gynaecoloog zei: 'Wat is dat toch? Elke keer als ik zwanger ben, laait de oorlog herop en moet ik vluchten.' Waarop hij zei: 'Neem geen kinderen meer. Misschien krijgen we dan vrede.' (lacht)
Ik heb tien jaar in schuilkelders doorgebracht. Mijn dag stond in het teken van naar de bakker gaan voor het gezin: wanneer was dat het veiligst? Ik schreef wel, maar die flarden belandden in de lade. Sinds mijn veertiende heb ik altijd geschreven." Humaydan beseft goed dat de recente geschiedenis van haar land in het Westen weinig gekend is: "Juist daarom ben ik zo gedreven om erover te schrijven. Ik heb jaren on the road geleefd, omdat er teveel geweld was om thuis te kunnen blijven. Die ervaring zit sterk in mijn werk. Ik schrijf niet over de verschrikkingen van de oorlog of over de politieke feiten. Ik wil lezers laten voelen hoe mensen met zo'n situatie omgaan. Hoe we het geweld overleven door te reizen, gek te worden, te dansen of te schilderen. Iedereen zoekt een uitweg. Niet iedereen vindt die – in mijn eerste roman pleegt één van de personages zelfmoord in zee, precies omdat ze geen deur naar buiten vindt. Maar het gaat me om de zoektocht."
STORM VAN VRAGEN
Achttien jaar na haar debuut legt Humaydan in Brussel de laatste hand aan haar vierde roman. De verhalen van de schrijfster hebben een lange ontstaansgeschiedenis en zetten haar op allerlei zijsporen. Humaydan: "Ik kan geen boek lezen wanneer ik voel dat de schrijver helemaal zeker weet wat goed is en wat slecht. Zo'n totaal gebrek aan twijfel stoot mij af. In mijn romans ga ik nooit tot het einde. Ik werp een storm van vragen op en laat de lezer daarmee verder gaan. Vroeger dacht ik daarom dat ik 'fout' schreef. Ik kom uit een seculier gezin en groeide op zonder religieuze dogma's. Maar mijn vader had een uitgesproken visie op literatuur. Schrijven gold als een politieke en sociale missie, een manier waarop mannen de gemeenschap konden redden.
Ik heb lang niet durven publiceren omdat mijn werk zo anders was dan de boeken die mijn vader me gaf.
Maar je kunt je aanpak niet verloochenen. Het paternalistische schrijven, waarbij de lezer een waarheid wordt ingelepeld, ligt me niet. Ik doe liever wat ik doe." Niet zelden raakt Humaydan verstrikt in haar eigen 'storm van vragen': "Na mijn eerste roman (Engelse vertaling B as in Beirut, Interlink books; Franse versie Ville à vif, Verticales) bleef ik achter met grote vraagtekens. Waarom zit geweld zo ingebakken in mijn land? Ik heb een bachelor in sociologie van de American University in Beiroet, maar geen enkele docent heeft me ooit een verklaring gegeven voor de wortels van het geweld. Ik besloot dan maar zelf op zoek te gaan en zo ontstond mijn tweede roman (Wild Mulberries, Interlink Books; Mûriers sauvages, Verticales). In dat boek ga ik terug naar het begin van de 20e eeuw, naar een stukje familiegeschiedenis. Mijn grootvader was een echte patriarch die zijdewormen kweekte. Hij verbood mijn tante om te trouwen, zodat ze zijn huishouden kon runnen en hield ook mijn vader, die briljant was, na de basisjaren thuis van school om op het veld te werken. Ik moest de confrontatie met dat oude, brutale patriarchaat aangaan."
ANDERE LEVENS
Aan haar derde roman Andere levens (De Geus), voorlopig de enige die van het Arabisch naar het Nederlands werd vertaald, schreef Humaydan maar liefst acht jaar. Humaydan: "De eerste flarden dateren van 2002, toen ik in Mombasa was voor een VN conferentie rond ontwikkeling. Ik sloeg een paar rondetafels over en glipte mijn hotel uit om gewone mensen te ontmoeten. Bepaalde indrukken en ervaringen van Maryam in Andere levens heb ik zelf zo meegemaakt in Kenia. Toch worstelde ik met Maryam als personage. Ze heeft een dubbel trauma. Ze verlaat Libanon nadat ze haar broer heeft verloren bij een bombardement. En daarna verdwijnt haar verloofde, die haar had moeten nareizen naar Adelaide. Maryam zwerft van Australië naar Kenia en keert na vijftien jaar terug naar Beiroet, maar ze voelt zich nergens thuis. Om dat echt te begrijpen moest ik stoppen met schrijven. Ik ben opnieuw gaan studeren om grip te krijgen op mijn onderwerp." In 2006 behaalde Humaydan een master in de antropologie aan de American University in Beiroet met een thesis over de 2600 mensen die tijdens de Libanese burgeroorlog (1975-1990) verdwenen. Ze schreef een theatertekst over haar thesis, waar later de bekroonde film Here Comes the Rain van werd gemaakt. Verder verzorgde ze een handboek creatief schrijven voor de universiteit van Iowa  en werkte ze met de Italiaanse regisseur Silvano Castano aan een documentaire over de jonggestorven zangeres Asmahan, een Arabische diva die waarschijnlijk spioneerde voor de Britten tijdens WO II. Dat Andere levens überhaupt af raakte in 2010, mag een wonder heten. Humaydan: "Ik heb veel elementen uit mijn studie in de roman kunnen integreren. De cyclische vertelstructuur bijvoorbeeld – zo praten getraumatiseerde mensen echt. En dat gevoel van 'in betweenness' waaronder Maryam gebukt gaat? Dat is beschreven door Mary Douglas. Voor mij voelt het heel natuurlijk om wetenschappelijke inzichten in mijn fictie te gebruiken.
Ik heb snelwegen in mijn hoofd, waar de ideeën overheen razen.
Ik geloof niet in het scheiden van disciplines."
ARABISCHE VROUWEN
Ook vandaag is Iman Humaydan met meerdere projecten tegelijk bezig. Ze rondt haar vierde roman af die de voorlopige titel Brieven naar Istanboel draagt, ze werkt met een Pakistaanse auteur aan een kookboek ("het eerste van de hand van schrijvers in plaats van chefs") en ze stelt een tweede handboek creatief schrijven samen, dat voorbeelden put uit de Arabische literatuur.  Vanaf 1 februari 2015 neemt ze het voorzitterschap op van PEN Libanon: "Ik zou 200 jaar willen leven. Ik ben altijd bezig, met literaire en andere projecten. Het frustreert me enorm wanneer ik bots op mijn fysieke grenzen. Ik heb een zwakke rug. Ik zwem en volg fysiotherapie, maar er zijn dagen dat ik alleen kan slapen. Dan kan ik wel huilen om alle dingen die ik liever zou doen." Op uitnodiging van buitenlandse universiteiten en organisaties geeft Humaydan lezingen over Arabische vrouwen: "Ik benader het onderwerp via literaire teksten van schrijfsters uit o.a. Egypte, Libanon, Syrië en Tunesië. Hun werk komt vanzelf uit bij kwesties als vrouwenrechten of familiewetten en de grote verschillen daarin tussen Arabische landen. In mijn ogen staan de Tunesische vrouwen het sterkst, al rukt ook in dat land de Sharia op. Ik hoop dat Tunesische vrouwen nog lang een voorbeeldrol mogen vervullen." Maryam in Andere levens is een onafhankelijke vrouw, al geeft de roman geen eenduidig beeld van de plaats van de vrouw in het hedendaagse Libanon. Humaydan: "Er zijn grote sociale en intellectuele verschillen tussen Beiroet en dorpen in de bergen. Ik ben seculier opgevoed, maar dan nog.
Als een man voor mij kookt, vind ik dat fantastisch. Gewoon omdat het zo indruist tegen alle rolpatronen die ik heb meegekregen.
Mijn scheiding in 2008 maakte van mij de eerste gescheiden vrouw in de familie Humaydan. Familieleden vonden mijn scheiding een struikelblok, met die nuance dat ik niemand de kans gaf om er een punt van te maken. Ik ben sterk, ik ben financieel onafhankelijk – wat is het probleem? Het probleem begint als de vrouw afhankelijk is en terug moet naar een familie die haar met schaamte ontvangt. De vrouwenkwestie is altijd economisch."
BRIEVEN NAAR ISTANBOEL
In Brieven naar Istanboel, dat in de zomer van 2015 zal verschijnen, borduurt Humayan verder op een aantal zaken die haar boeien. Ze onderzoekt een zwarte bladzijde uit de Libanese geschiedenis – tijdens de burgeroorlog werden heel wat kinderen aan buitenlanders verkocht. Ze experiment met een springerige vertelvorm ("Ik ga zigzag door de tijd, als een naaimachine."). Ze laat zelfs één van haar nevenpersonages research doen naar de zangeres Asmahan ("Voor mijn familie was Asmahan de slechte vrouw met de goede stem. Ik aanbad haar zoals ik alle vrouwen aanbad over wie ik niet mocht praten.") Begin 2011, toen Humaydan nog maar net bezig was met het boek, verbleef ze in een schrijversresidentie in Den Haag. Nu werkt ze de laatste bladzijden af in Brussel, terwijl ze ook in de herfst van 2013 als Passa Porta resident in Villa Hellebosch aan de tekst schreef. Is Brieven naar Istanbul voor haar verbonden met de Lage Landen? "Ik haal altijd zuurstof uit een buitenlandse residentie. Het is alsof ik met lege batterijen aankom en opgeladen weer vertrek. Dat betekent niet altijd dat ik tijdens mijn verblijf veel schrijf.
Deze keer in Brussel, met de deadline in zicht, werk ik als bezeten. Maar in Den Haag resideerde ik in januari 2011, net op het moment van de Arabische lente. Het leek toen onmogelijk om aan een roman te werken.
Ik moest verbinding maken met mijn vrienden. We geloofden allemaal dat alles ten goed zou gaan veranderen. Ik schreef op mijn Facebook pagina en stuurde artikels naar Libanese kranten. Ik was zo opgewonden! Ik ben zelfs even stiekem van Amsterdam naar Caïro gevlogen – ik moest erbij zijn (lacht)." Alleen: vier jaar later, zelfde boek, weer een Benelux residentie… maar geen lente meer, wel Charlie Hebdo. Humaydan: "Dat ik me deze maand wel kon concentreren, heeft alles met de dynamiek van het schrijfproces te maken. Aan het begin van een roman, wanneer ik nog op zoek ben naar de draadjes van mijn verhaal, ben ik vatbaar voor afleiding. Maar op het einde zit ik zo in mijn tunnel, dan storm ik overal doorheen."