'Een klein leven' op de planken
Zelden heb ik naar een theatervoorstelling uitgekeken als naar die van 'Een klein leven' (Internationaal Theater Amsterdam), zelden heb ik een theatervoorstelling zo gevreesd als die van 'Een klein leven'. Naar deze opvoering ga je immers als een bokser naar een wedstrijd, je weet dat je klappen zal krijgen. En ja, mijn stoelenrij heeft bij momenten geschokt en gebeefd van het huilen en ik heb mensen hele stukken zien wegkijken omdat de intensiteit hen te veel werd.
Maar wie zich afvraagt waarom deze voorstelling – waarvan je kon verwachten dat ze heftig ging zijn – al maanden op voorhand wordt gehypet, heeft duidelijk nog nooit van catharsis gehoord.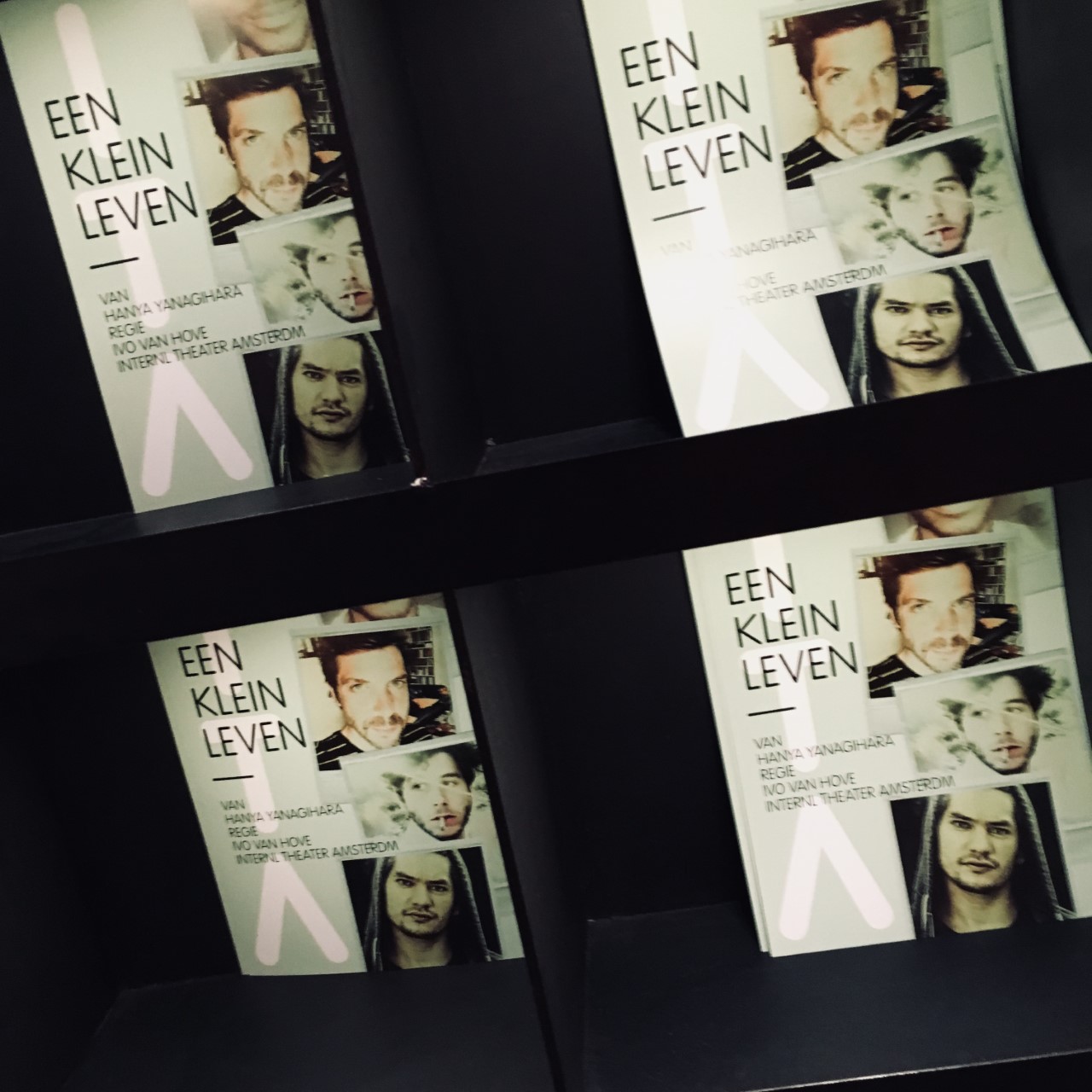 'Een klein leven' is gebaseerd op de gelijknamige bestseller van Hanya Yanagihara. Het is een ode aan de vriendschap tussen vier mannen in New York, de architect Malcolm, de kunstenaar JB, de acteur Willem én de advocaat Jude. 'Een klein leven' is echter geen feelgood bromance want al heel snel draait het verhaal om Jude. Die is immers misbruikt van zijn vijfde tot zijn vijftiende, maar verzwijgt dit vreselijke verleden voor zijn vrienden, net als de reden waarom hij mankt en vaak lijdt onder helse pijnen.
Voor zij die het verhaal niet kennen: hetgeen Jude overkwam is niet erg, nee, het is erg in de hoogst overtreffende trap.
Het boek lezen is als een pingpongpartijtje met jezelf: telkens opnieuw slinger je van 'ah nu hebben we het allerergste zeker achter de rug' naar 'argh nee, het kon nog erger'. Maar het miljoenen keren gelezen verhaal is natuurlijk ook veel meer. Het is een reflectie over relaties en de rol van seks, het gaat over trauma's die onherroepelijke schade berokkenen en de fundamentele tweespalt van de (ouder)liefde: het geluk en de angst om de geliefde te verliezen. In het tweede deel van het verhaal/de voorstelling doet Jude een aarzelende poging om toch liefde te leren ontvangen en anderen volledig te vertrouwen. Zo wordt hij als dertiger geadopteerd door zijn voormalig professor Harold en vindt hij romantisch geluk bij zijn boezemvriend Willem. Maar de hyena's van het verleden blijven onophoudelijk gillen in zijn hoofd.
Uitdaging is, hoe vertaal je deze klepper van meer dan 700 pagina's naar het podium, zonder intensiteit te verliezen maar ook zonder al te expliciet te worden? Toneelgroep Amsterdam – onder leiding van de vermaarde regisseur Ivo van Hove – kreeg de eer van de theatrale wereldpremière en dit op uitdrukkelijke vraag van Hanya Yanagihara die fan is van de producties van de Vlaamse van Hove. Hij maakte er een marathonvoorstelling van die het publiek meer dan vier uur meeneemt in een rollercoaster van emoties, slechts af en toe ruimte latend om even adem te halen. Door de backstage op te geven voor een extra tribune komt het podium terecht in het midden van de zaal en kijkt het publiek van alle kanten binnen in de loft van Jude waarin alle acteurs bijna permanent aanwezig zijn.
Het doet je vergeten dat je naar een opvoering kijkt, het lijkt of je gewoon stiekem binnengluurt in een appartement in New York.
De pulserende soundtrack en de live muziek van het Bl!ndman vioolensemble intensifiëren de kijkervaring.
De bewerking blijft vrij dicht bij het boek, maar focust op (slechts) negen personages: de vier mannen, Harold, Andy (Judes lijfarts), Ana (Judes overleden maatschappelijk assistent en vertrouwenspersoon) en drie 'slechteriken' (Broeder Luke, Dr. Taylor en Caleb). Die drie laatsen verpersoonlijken het kwaad en worden gespeeld door één en dezelfde acteur (Hans Kesting), die gekleed in het zwart en met subtiele verschillen in accessoires drie door en door slechte personages neerzet. Ana krijgt een prominentere rol dan in het boek. Hoewel ze is overleden, komt ze regelmatig tussen: om Jude te sturen en te temperen, als een soort van innerlijke stem die ook voor het publiek rust brengt.  De hoofdrol is weggelegd voor dichter/schrijver/acteur Ramsey Nasr die fysiek een topprestatie neerzet en 100% Jude ademt. Chapeau, want heel vaak wringen de neergezette personages in een boekverfilming of theaterbewerking met het beeld in mijn hoofd.
Dit keer was de typecasting en de acteerprestatie echter zo raak dat het leek alsof ik Jude, Willem, Malcolm en JB eindelijk in het echt kon ontmoeten.
Niet eenvoudig, zeker niet voor romanpersonages waarmee in bepaalde lezerskringen zo gedweept wordt dat ik ook in het publiek deze bekende cult T-shirts zag opduiken.
En ja, het was heftig. Van Hove geeft de kijker echter genoeg tijd en adempauzes. Het stuk komt traag op gang, expliciete scènes als die van de aanrijding door Dr. Traylor worden afgewisseld met rustmomenten én bepaalde zaken krijgen we gewoon niet te zien maar wel te horen. Of woorden het dan minder erg maken? Nee, integendeel. Het is alsof de combinatie van de verbeelding met de rauwe beelden samen nog harder binnenkomt dan het boek. En toegegeven, soms wordt het toch wel expliciet. Hoeveel bloedzakjes er aan de zorgvuldig opgebouwde en uitgesponnen automutulatiescènes zijn opgegaan, dat wil je niet tellen. Hoeveel spelminuten Harold bloed opkuist, dat ook niet. Maar het allerhardst raakt het slot. Als een volledig opgebrande Jude in zijn rolstoel op het podium zit en de telefoon met voicemails van bezorgde vrienden en familie blijft rinkelen en van Hove zijn tijd neemt met een perfect gevoel voor dramatiek… Dan houdt niemand het nog droog.
Grote kans dat 'Een klein leven' nog wel even één van de allerbeste, maar ook allervreselijkste stukken zal blijven dat ik ooit zag.
De catharsis van mijn leven, dat zeker!
PS. Ik ging kijken naar de try-out op 22 september.