Achtervolgd door een Chinese minnaar
Sommige boeken moeten je een tijdlang achtervolgen voor je ertoe komt om ze te lezen. Zo ging het alleszins met mij en L'amant van Marguerite Duras.
Ik had nog nooit van Duras gehoord toen ik haar naam in 1995 ontdekte in één of ander lijstje over schrijvers en alcohol. In de top tien stonden de nodige grote namen (Faulkner, Hemingway, Fitzgerald…) en welgeteld één vrouw. Gelukkig kan niemand Duras de excuustruus van de literaire drankorgels noemen: "Ik ben een echte schrijver en ik was een echte alcoholicus. Ik dronk rode wijn om in slaap te vallen. Dan 's nachts cognac. Elk uur een glas wijn en 's morgens cognac na de koffie, waarna ik begon te schrijven. Wat me verbaast nu ik erop terugkijk, is dat ik tot schrijven in staat was." (1991, interview met The New York Times) Mijn interesse was gewekt.
Zo'n tien jaar later werkte ik aan een essay over Simone de Beauvoir en daar was ze weer, Marguerite Duras. Probeer het maar eens te hebben over de ene excentrieke Franse feministe met narcistische trekken en een moederobsessie zonder dat de andere van zich laat horen. Veel succes.
Ik focuste mijn research op de Beauvoir, want dat was de opdracht. Maar ik voelde instinctief dat Duras mij sympathieker was. De Beauvoir kan pedant en langdradig zijn in haar lijvige essays. Als Duras vertelt, doet ze dat bondig en betoverend. Ze is niet zonder reden een graag geciteerde vrouw.
In 2007 in China nam ik me voor het eerst ernstig voor om L'amant te lezen. Tijdens het anderhalf jaar dat ik doorbracht in de expatkringen rond Shanghai zag ik zoveel blanke mannen met Chinese vriendinnetjes, dat ik nieuwsgierig werd naar het relaas van een type koppel dat ik veel minder zag op straat: een westerse vrouw met een Chinese minnaar. Dat de feiten beschreven in L'amant van voor 1940 dateren en dat de vrouw in kwestie amper vijftien was, mocht geen punt zijn. Toch las ik L'amant uiteindelijk niet. Zelfs niet op vakantie in Ho Chi Min City, het vroegere Saigon. Ik stem mijn lectuur op reis nochtans graag af op mijn bestemming. En elke reisgids van Vietnam vermeldt braaf dat Duras er in 1914 werd geboren en tot haar zeventiende heeft gewoond.
Het keerpunt kwam in de herfst van 2014. Ik las de bijzonder sterke roman Je moet veel van mannen houden van Marie Darrieussecq (De Arbeiderspers). Daarin wordt de blanke, Franse Hollywoodactrice Solange totaal en wanhopig verliefd op een regisseur uit Kameroen. Deze Kouhouesso staat op het punt Joseph Conrads Heart of Darkness te verfilmen in Congo en Solange versiert een klein rolletje in die prent. Daarmee heeft ze de job binnen, maar nog niet de man. Solange volgt Kouhouesso tot diep in de Afrikaanse jungle, maar hoe meer ze zich uitslooft om hem tegemoet te komen, hoe meer afstand hij neemt. Marie Darrieussecq en Marguerite Duras delen meer dan hun nationaliteit en initialen. De titel van Darrieussecqs roman komt uit een citaat van Duras:  "Je moet veel van mannen houden. Heel veel. Heel veel van ze houden om van ze te houden. Anders is het onmogelijk, dan kun je ze niet verdragen."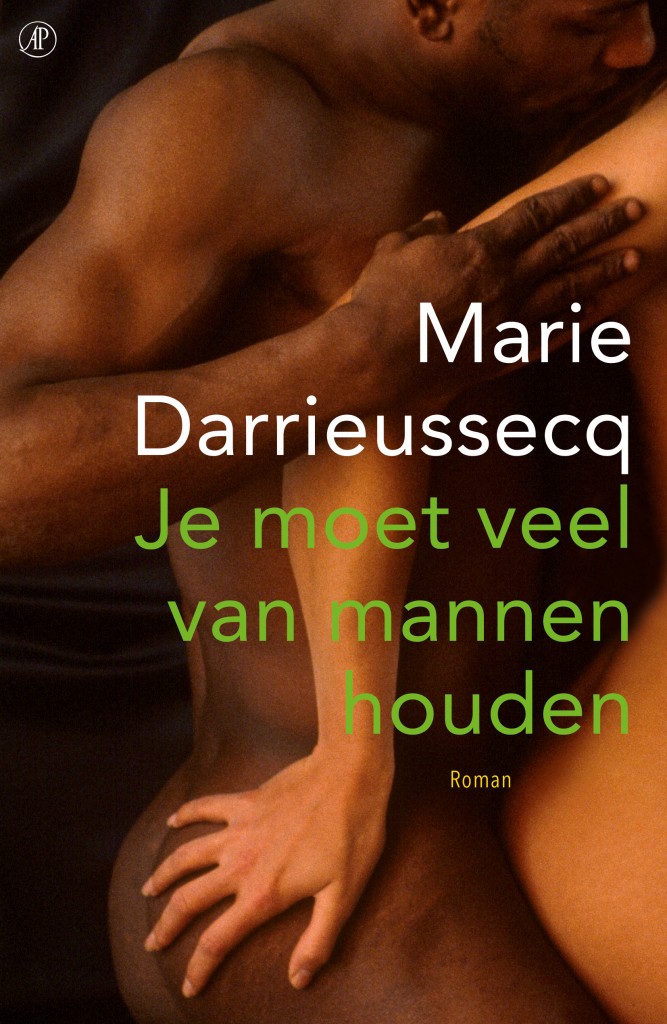 Beide schrijfsters hebben bovendien een scherpe neus voor de schandaalgeur die affaires tussen blanke vrouwen en niet-westerse mannen omhult.
Genoeg gedraald dus. Tijd voor het originele werk. Ongeveer een maand geleden bestelde ik op Amazon.com de Engelse vertaling van L'amant – The Lover (Pantheon Books) en vorig weekend las ik de 117 pagina's in één ruk uit. Mijn licht voorspelbare verdict: "Dit had ik vroeger moeten doen."
Ja, L'amant gaat over de affaire tussen een verpauperd Frans kostschoolmeisje in Saigon en een rijke Chinees van zevenentwintig. Maar het is allesbehalve het klassieke verhaal van de vermoorde onschuld en de verderfelijke leraar. Op haar vijftiende heeft de kleine Duras – want L'amant is een semi-autobiografische novelle – al behoorlijk wereldse inzichten: "Begeerte was niet iets waartoe je iemand moest verleiden. De begeerte lag in de vrouw die haar opwekte, of anders was er geen begeerte. Ze was er ofwel vanaf de eerste blik, ofwel was ze er nooit geweest. Ze wist onmiddellijk van een seksuele verbinding of ze bleef afwezig. Dat wist ik allemaal al voor ik het had meegemaakt."
Verrassend is vooral hoe Duras erin slaagt om in kort bestek zoveel meer te vereeuwigen dan haar affaire met de Chinees. L'Amant geeft een sfeerbeeld van de koloniale nadagen in Indochina, van de vlagen van waanzin waaraan moeder Duras ten prooi viel, van de spanningen tussen de broers van de schrijfster en van de aantrekkingskracht van de Mekong.
Onvergetelijk is Duras' beschrijving van de avonden waarop haar minnaar haar gezin meeneemt naar dure en drukbezochte Chinese restaurants: "Mijn broers zullen nooit ook maar één woord tegen hem zeggen, het is alsof hij onzichtbaar is voor hen, alsof hij niet solide genoeg is om te worden waargenomen, gezien of gehoord. Dat komt omdat mijn minnaar mij aanbidt, maar men ervan uitgaat dat ik niet van hem houd, dat ik bij hem ben voor z'n geld, dat ik niet van hem kan houden – dat is onmogelijk, terwijl hij alles van mij zou slikken en nog steeds van mij zou houden. Het komt omdat hij een Chinees is en geen blanke. De manier waarop mijn oudste broer mijn minnaar behandelt, zonder tegen hem te spreken, zonder zijn aanwezigheid te erkennen, is het gevolg van een onwankelbare overtuiging die navolging eist. We behandelen mijn minnaar allemaal zoals mijn broer dat doet. Ikzelf spreek nooit tegen hem in het bijzijn van mijn familie." Alleen Duras kan onbeschrijfelijke onbeschoftheid zo perfect in woorden vatten.
Zijn jullie ooit jarenlang door een boek 'achtervolgd'? En viel de lectuur dan uiteindelijk mee of tegen? Iemand ander werk gelezen van Marguerite Duras?