Nieuw! Voortaan kiest This Is How We Read een 'Boek van de Maand'. Alleen vers gedrukt of herdrukt werk dat de hele redactie aanspreekt, komt in aanmerking. We lezen en bespreken de topper immers samen in een 'gespreksrecensie'. Kom erbij en ontdek onze allereerste favoriet: Wachten op het Westen van Nausicaa Marbe!
Vooraf (Barbara): Een naam als Nausicaa Marbe valt op. Ik herinner me dat ik 'm als tiener tegenkwam in de Nederlandse editie van ELLE. Dat Marbe Roemeens was, wist ik eind jaren 1990 niet. Dat ik haar job wilde, of een gelijkaardige, was me wel duidelijk. (En pakte goed uit, I might add...) In elk geval ben ik meteen getriggerd wanneer ik in de voorjaarsbrochure van Atlas Contact lees dat Nausicaa in haar nieuwe boek Wachten op het Westen herinneringen ophaalt aan haar communistische jeugd in Boekarest. Ik zou een slechte halve Slavist zijn, als ik geen boon zou hebben voor reflecties over het leven achter het IJzeren Gordijn.
Vooraf (Katrien): Die boon deel ik – what are the odds – met Barbara. Dat was al zo toen ik koos voor een Erasmus in het Tsjechische Olomouc – oneindig opwindend vond ik dat: politieke wetenschap studeren in een land waar de transitie maar net achter de rug was. En die belangstelling is alleen maar toegenomen sinds ik samen ben met iemand die effectief heeft geleefd achter het IJzeren Gordijn. Mirand, mijn lief, groeide op in Albanië, onder het regime van de communistische dictator Enver Hoxha. Wachten op het Westen trok dus mijn aandacht, maar de lat ligt hoog. Zo heb ik nog maar net Vrij van Lea Ypi gelezen, de Albanese Wachten op het Westen die ik iedereen aanraad. Kan Marbe de vergelijking doorstaan?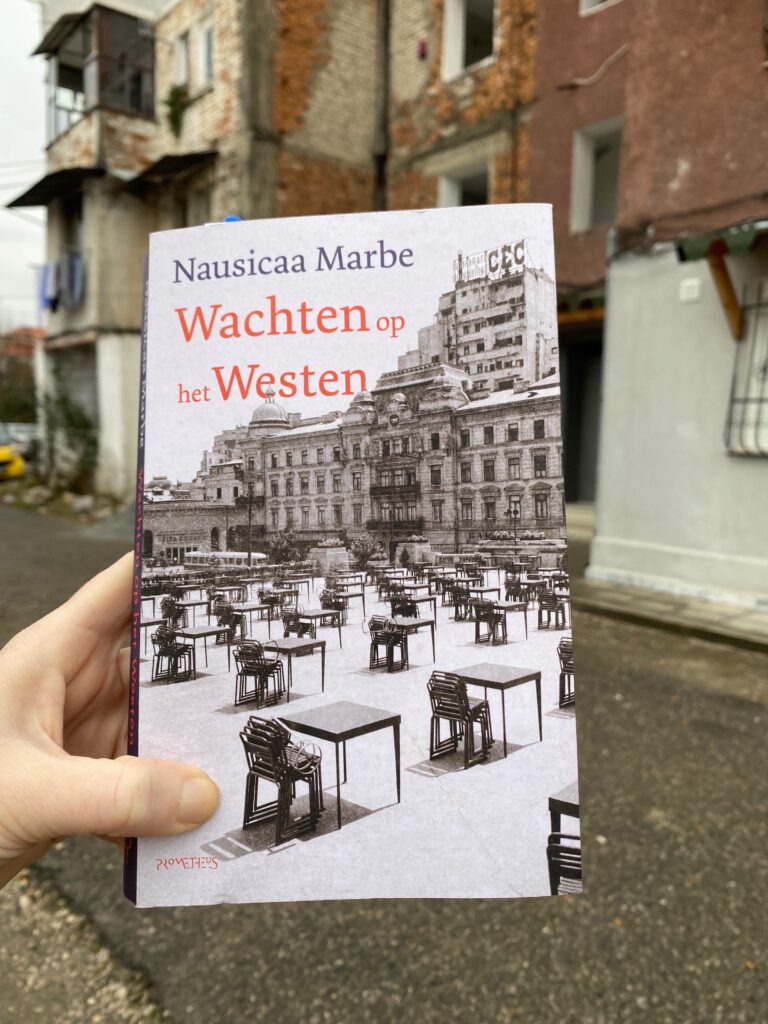 Sweet nineteen (Barbara): Wanneer Nederland in maart 2020 voor het eerst in harde lockdown gaat, lopen de straten leeg en verschijnen de mondmaskers. Nausicaa Marbes dochter is op dat moment 19, precies de leeftijd waarop haar moeder destijds in Nederland aankwam. De ironie ontgaat de schrijfster niet: "Voor de moeder viel alles op zijn plaats, voor de dochter viel alles uit elkaar." Sweet nineteen – de leeftijd waarop de wereld sluit of opent…
Zodra de tv beelden uitzendt van lege winkelschappen, krijgt Marbe berichtjes van vrienden: 'Jij weet hoe dat voelt; jij hebt dat al in Roemenië meegemaakt.' Mmm, ja en nee – denkt Marbe dan.
Enerzijds ziet ze gelijkenissen tussen het leven in coronatijd en dat onder het communistische juk.
De lockdown zet de gepantserde deur waarachter de schrijfster haar jeugdherinneringen bewaart op een kier: "De geest zoekt nu eenmaal houvast in elke splinter herkenning. Het gevoel opgesloten te zijn, de gedachte dat de tijd stilstaat, dat het echte leven zich elders afspeelt (…) de onwetendheid over een goede afloop, (…) – ik had het al meegemaakt. Vergelijkbare situaties in onvergelijkbare tijden."
Anderzijds dwingen de oppervlakkige gelijkenissen Nausicaa Marbe ook om het fundamentele verschil tussen een jeugd in een dictatuur en de pandemie in een vrij land te benoemen: "Niets was zo doods als het bijna voltooide arbeidersparadijs. Dat de hoogst bereikbare fase van het communisme met het einde van de geschiedenis zou samenvallen omdat de heilstaat waarin niets meer te verbeteren viel bereikt was, joeg mij de stuipen op het lijf. (…) We leefden al in het einde der tijden, in een eindeloze herhaling van hetzelfde. Niemand had het in die tijd (Boekarest in de jaren 1970, red.) over gebrek aan perspectief en wat dat met je kon doen. Dat is een zorg van vrije mensen, leerde ik in het begin van de pandemie. Daarom ging het hele land, huishouden voor huishouden, binnen afzienbare tijd doelen opstellen. (…) De tijd doden met cursussen, sport, nieuwe instrumentenuitproberen en nieuwe talen leren, huizen verbouwen en tuinen aanleggen – dat doet de vrije mens die bedrijvigheid gewend is. Die weet dat investeren in de toekomst loont. Maar toen ik klein was vroeg niemand elkaar naar toekomstplannen."
Wachten op het Westen is opgebouwd uit tien hoofdstukken, verder opgebroken door korte tussentitels. Marbe schrijft al jaren columns voor De Volkskrant en De Telegraaf en weet perfect hoe ze de aandacht van de lezer moet vasthouden: met korte anekdotes, verrassende observaties en sprekende details in een groter, persoonlijk verhaal.
Ik vlieg door de eerste drie hoofdstukken, blij verrast met de originele invalshoek op de recente (en helaas al te herkenbare) lockdown- en corona-ellende.
Mooi is ook dat Marbes herinneringen beginnen met een gouden randje. In de jaren 1960 is Boekarest een aangename, mondaine stad. Als kind gaat Nausicaa naar een Duitse school – ze dartelt door het relatief vrije decennium, waarin de Sovjetvuist van de jaren 1950 even z'n greep lost en de echte hel onder Nicolae Ceausescu nog moet losbreken.
Innerlijke lockdown (Katrien): Dat een lockdown pas echt een gevangenis wordt als hij ook je geest aantast, realiseert Marbe zich wanneer haar zoon in het voorjaar van 2020 met griepverschijnselen thuiskomt. Ze durft haar kind niet aan te raken en wil dat ook niet. "Nu wist ik dat ik in staat was om bang te zijn voor mijn zieke kind, niet alleen om wat hem kon overkomen, maar ook omdat hij mij zou kunnen besmetten. Dat ik, als hij toch hongerig naar beneden kwam, opzij kon springen of achteruitlopen om hem te ontwijken. Dat ik me kon afwenden om zijn adem niet in mijn gezicht te krijgen." Het brengt haar terug naar een bezoek aan Boekarest in 1987 – vijf jaar na haar vertrek uit Roemenië – toen een vroegere klasgenote uitweek op straat uit schrik dat hun ontmoeting zou gerapporteerd worden door een veiligheidsagent.
Zo uitwijken voor een dierbare, omdat het regime angst installeert in de hoofden van de bevolking. Dat zou Marbe nooit doen, zweert ze… tot op die lentedag dus.
Toch worstelt Marbe ook als kind al met de vraag wie ze kan vertrouwen. Hoe kan je je aan iemand binden als andere mensen levensgevaarlijk kunnen zijn? En hoe hou je je staande als "je eigen gedachten en verlangens vaker niet dan wel overeenkwamen met wat je aan de buitenwereld moest laten zien om zonder kleerscheuren de jaren door te komen?" Marbe ondervindt dat een 'intelligente lockdown van haar innerlijke leven' nodig is om zichzelf niet te verklikken. Tegelijk waken haar ouders erover dat ze zelf niet haar ergste vijand wordt. Want "wie zichzelf vrijheid gunde liet zich niet leiden door de meest extreme doemscenario's. Wie nog rustig wilde doorademen gaf niet toe aan achtervolgingswaanzin en complotwanen."
Krachtige passages vind ik, die reflectie over de terreur van de geest. Je kan wel de illusie koesteren dat onze gedachten zelfs in de ergste omstandigheden vrij zijn – een idee dat politiek gevangene Ahmet Altan uitdraagt in zijn hoopvolle gevangenisdagboek Ik zal de wereld nooit meer zien, maar vanzelfsprekend is dat niet in een regime waarin "iedereen die naar vrijheid verlangt en daar iets mee wil zichzelf niet anders kan zien dan als een tikkende tijdbom, een permanente dreiging voor zijn naasten. Hoe menselijker je was, hoe dichter je bij schoonheid, waarheid en al hun nuances wilde komen, bij rechtvaardigheid en menselijke waardigheid, hoe groter het ontploffingsgevaar."
Vrijheid, dat is ook het grote thema van Vrij, het boek van Lea Ypi dat ik al eerder aanhaalde. Dat dit in Albanië en Roemenië harder resoneert dan in andere satellietlanden in het voormalig Oostblok, schrijft ook Marbe. "Wij waren dubbel opgesloten, niet alleen achter het IJzeren Gordijn, maar ook binnen de grenzen van het eigen land." Wat voor ons vanzelfsprekend is, vrij kunnen bewegen en reizen, was dat in deze landen niet. Marbe zat hopeloos vast. Het maakt haar niet alleen hongerig naar vreemde talen – "een compensatie dat fysiek reizen onmogelijk was", maar ook naar de historische sporen in Roemenië die ontsnapten aan de culturele nivellering van het communistische bewind. Maar het mooist vindt ze toch de ontmoetingen met zeldzame buitenlandse toeristen: "Praten met en luisteren naar mensen die zich vrij over de wereld konden bewegen… voelde als opgelucht ademhalen."
Wat Marbe beschrijft, ligt niet heel lang of ver achter ons, maar toch valt zo'n geïsoleerd leven maar moeilijk voor te stellen voor iemand die opgroeide in het Westen.
Toch is het niet het exotisme van het verhaal dat me zo aantrekt. Het is precies het omgekeerde. Dat het allemaal niet lang of ver achter ons ligt.
En dat het ook wel eens voor ons zou kunnen liggen, zoals Marbe suggereert via de referenties naar de pandemie.
Barbara: Gaandeweg verdwijnt de vergelijking met de hedendaagse pandemie naar de achtergrond. Niet elke herinnering heeft een coronategenhanger: de laatste twee hoofdstukken beschrijven Nausicaas vlucht naar het Westen en de beslissing van haar ouders om te blijven. Ik begrijp dat de schrijfster er geen vergezochte parallellen wou bijsleuren. Toch mis ik het spel met de twee tijdslagen een beetje.
Wachten op het Westen geeft me veel zin om een reis naar Roemenië te plannen, en dan zeker naar het Peleskasteel in Sinaia of de kunstenaarskolonie 2Mai aan de Zwarte Zee. De memoires maken me nieuwsgierig naar ander werk van Nausicaa Marbe. Zo gaat dat bij steengoede boeken. Het stopt nooit op de laatste pagina…
Katrien: Die laatste pagina… In een paar zinnen vat Marbe het uiteenvallen van het Oostblok samen – van de val van de Berlijnse Muur tot de Roemeense revolutie – iets waarvan ze als negentienjarige vluchteling niet kon bevroeden dat dit in hetzelfde decennium nog stond te gebeuren. "Niks wisten we van de nadere bevrijding, de fenomenale wending van de geschiedenis die de kaart van Europa zou veranderen, het IJzeren Gordijn zou verbrijzelen en de grenzen zou openen." De ironie om precies vandaag deze woorden te lezen, op de dag dat Poetin Oekraïne is binnengevallen. Niks wisten we van de nadere aanval, de fenomenale wending van de geschiedenis, toen we Wachten op het Westen aanvatten. Zou er al een Oekraïense Lea Ypi of Nausicaa Marbe zijn opgestaan? Het stopt echt nooit op de laatste pagina…
PS: Barbara's favoriete Russische fotoboek en een Roemeense auteur die schrijft over 'cosmetische chirurgie op het geheugen' – trauma's uit je geest verwijderen, hoe doe je dat?
PPS: Het leven in Oost-Europa een soap? Wel in Het achtste leven, de omvangrijke Georgische klassieker die Katrien wekenlang in zijn greep hield.