Hoe smaakt succes nadat je keihard op je bek ging? Geen betere vrouw om het aan te vragen dan Chris Kraus. De eerste film van het feministische icoon flopte genadeloos, maar haar romandebuut I Love Dick werd een bestseller. Barbara sprak met Chris in Brussel: "Voorzichtig? Nee, dat ben ik niet."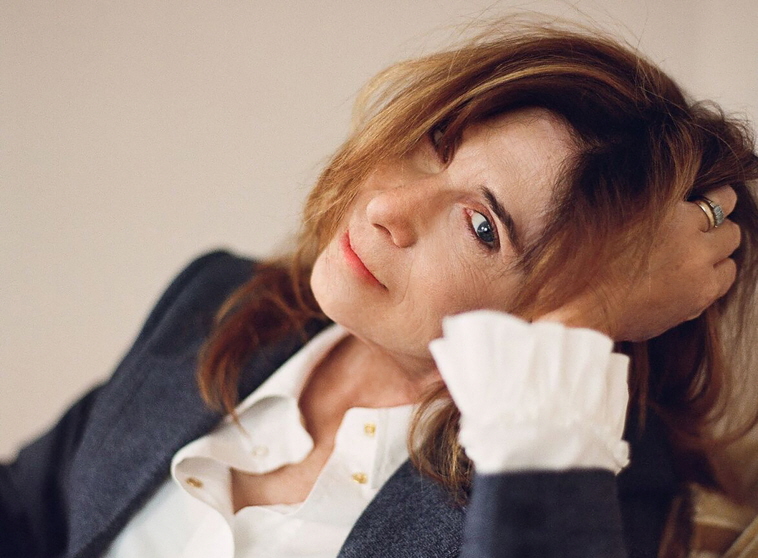 Ik was zeventien in 1997, de zomer dat I Love Dick verscheen. Men in Black was een hit aan de box office, de Backstreet Boys domineerden de radio. Maar 'het belangrijkste boek over mannen en vrouwen dat de afgelopen honderd jaar is verschenen' – zoals The Guardian het debuut van Chris Kraus omschreef? Dat ging compleet aan me voorbij. Te mijner verdediging: miljoenen andere lezers misten ook het moment.
I Love Dick is wat heet een 'slow burner', een boek dat pas doorbrak na jaren van mond-aan-mond reclame.
De bal ging aan het rollen in 2006, bij de heruitgave.  Eerst stuwden luidruchtige fans als Lena Dunham de verkoopcijfers de hoogte in. Toen werd de 'I Love Dick selfie' een statement op Instagram: "Kijk eens hoe vrijgevochten ik ben, ik lees het gifgroene boek met de provocerende titel op een openbare plaats!" Uiteindelijk kwam er zelfs een tv-serie naar het boek, met Kathryn Hahn en Kevin Bacon in de hoofdrollen. En zo transformeerde Chris Kraus geleidelijk tot wat ze vandaag is: de schrijfster van een internationale cult-klassieker die op tournee mag langs gerenommeerde Europese cultuurhuizen, zoals Bozar.
SNIJD HET HART ERUIT
Ik ontmoet Kraus op een bloedhete zomermiddag, in de koele en schemerige bar van het Brusselse Warwick hotel. Ze begroet me met een glimlach en buigt meteen samenzweerderig naar me toe, alsof ze zin heeft in een intiem gesprek. Eigenlijk heeft ze een hoorapparaat – zal ik later ontdekken – maar de toon is gezet. "Na de zomer verschijnt de Franse vertaling van mijn boek Summer of Hate," zegt Chris. "Het zou fijn zijn om daarover te praten." Juist ja, sinds I Love Dick schreef Kraus nog drie romans, drie essaybundels over kunst en een literaire biografie.
Ze is die zeldzame vrouw die na veertig jaar aanmodderen haar leven een nieuwe wending wist te geven en een vruchtbare late carrière aftrapte
"Toen ik bezig was aan I Love Dick, probeerde ik alles waarover ik de voorgaande veertig jaar had nagedacht in één boek te proppen. Dat was natuurlijk te veel en de ideeën vloeiden over in mijn volgende romans." In haar eerste drie, autobiografisch geïnspireerde boeken beschrijft Kraus wat ze meemaakte als twintiger en dertiger: haar spaak gelopen huwelijk met een 17-jaar oudere literatuurprofessor, de drie abortussen die ze onderging en haar vruchteloze pogingen om een distributeur te vinden voor haar langspeelfilm 'Gravity & Grace'. "Momenteel lees ik veel over de Maya's," zegt Kraus, nu vierenzestig. "Na deze tournee wil ik een korte roman schrijven. Pure fictie; dat is nieuw voor mij. Wist je dat de Maya's met geslepen vulkanisch glas iemands hart eruit sneden en dat opaten? Zoiets fascineert me."
CHRIS ZONDER VREES
Chris Kraus is een vrouw met vele fascinaties: haar boeken staan vol essayistische uitweidingen. Ze schrijft met evenveel gemak over de Franse filosofe en mystica Simone Weil als over de Duitse terroriste Ulrike Meinhof. De politieke situatie in Guatemala? De essentie bij schizofrenie en anorexia? Chris Kraus legt het je wel even uit. Weinig schrijvers vandaag zijn zo intellectueel onbevreesd. Kraus: "Ik was vroeger journalist, dus ik ben het gewend om me op korte tijd tot specialist in een onderwerp om te scholen. Ik vind het prima dat ik geen dokter of academicus ben: zo kan ik gewoon mijn mening geven, zonder voorzichtig te zijn. Niemand ziet me immers als een échte expert.
Ik ben schrijver, ik heb een bedrieglijk soort autoriteit."
Ook in haar openhartigheid is Chris Kraus onverschrokken. Ze schrijft vrijuit over haar ervaringen met SM en telefoonseks en over haar tijd als topless danseres in een bar. Vroege critici verwezen haar werk daarom naar het verdomhoekje 'vrouwelijke bekentenisliteratuur'. Kraus: "In dat opzicht is de wereld de afgelopen vijftien jaar verbeterd. Allerlei slimme vrouwelijke bloggers, columnisten en comedians eisten hun plek op in de publieke sfeer. Niemand durft onderwerpen als seks, liefde of familie nu nog te verbannen naar het getto van de banale, vrouwelijke interesses. En maar goed ook. Wel of geen kinderen, deze partner of een andere: dat zijn geen vrouwelijke keuzes, maar universele levensvragen."
KUT EN KIERKEGAARD
Een boek van Chris Kraus lezen is een aparte ervaring. Ze bekende ooit in een interview: "Toen ik I Love Dick schreef, was ik nieuwsgierig of ik het in één zin over de vrouwelijke kut en het existentialisme van Kierkegaard kon hebben. Ik bewees dat het kan, maar mensen worden er gek van." Haar romans hebben vandaag nog altijd iets prikkelends, gekmakends. Het ene moment mept Kraus je dood met citaten van Baudrillard, het volgende moment schrijft ze over de tijd dat ze haar rekeningen betaalde door blowjobs te geven. Wat na #MeToo vooral verbaast, is het gebrek aan woede waarmee ze die periode beschrijft. Kraus:
"Ik speel bewust met de toon van de schelmenroman, wanneer ik spottend beschrijf wat er in die achterkamers gebeurde. Maar het was wel degelijk een ervaring die me heeft beschadigd.
Alleen geloof ik – en dat schrijf ik ook in mijn essaybundel uit 2018, Social Practices – dat iederéén bij die uitwisseling een stukje waardigheid verloor. Niet alleen ik, maar ook de klanten, de manager. We zaten gevangen in een giftige vorm van hyperkapitalisme." In al haar eerlijkheid, ernst en zelfrelativering is Chris Kraus ronduit charmant: "Vraag je me nu echt of ik Susan Sontag (die andere feministische intellectueel uit New York, red.) heb gekend? Welnee! Ik was een totale niemand in de jaren '80 en zij was… Susan Sontag (lacht). Ik heb haar ooit opgezocht in het telefoonboek en gebeld. Met de vraag of ik haar college aan NYU mocht bijwonen. 'Ben je gek,' zei ze. 'Waarom zou iedereen moeten betalen en jij niet?' (lacht nog harder) Dat was mijn crash call naar Susan Sontag."
BOOT VOL DODE VRIENDEN
In de nasleep van haar succes als schrijfster, flakkert de interesse in Kraus' geflopte langspeelfilm herop. Er loopt in Stockholm een retrospectieve van haar filmwerk en luttele uren na ons interview wordt 'Gravity & Grace' getoond in Bozar. Kraus: "Het is meer dan twintig jaar geleden dat ik mijn film commercieel zag zinken. Dat voelt als een ander leven. Zoete wraak is niet aan de orde, die tijd is voorbij. Ik ben gewoon blij en dankbaar dat er vandaag interesse is in mijn ideeën. Heel wat acteurs die in mijn film meespeelden of kunstenaars over wie ik heb geschreven, zijn intussen dood. Mijn werk is het bootje waarmee ze tijdens deze tournee aanmeren in verschillende Europese steden. Ik ben blij om hen te introduceren bij een publiek dat hen niet kent." Dat klink aannemelijk. En toch. In één van haar boeken becijfert Kraus nauwkeurig dat elke ongeïnteresseerde aanwezige op de screening van 'Gravity & Grace' op de Berlijnse filmmarkt in 1996 haar 275 dollar kostte uit eigen zak. Vanavond betalen zo'n driehonderd geïnteresseerden in Brussel een ticket van twaalf euro om de film te zien. Dat moet toch wiskunde zijn waar ze vrolijk van wordt…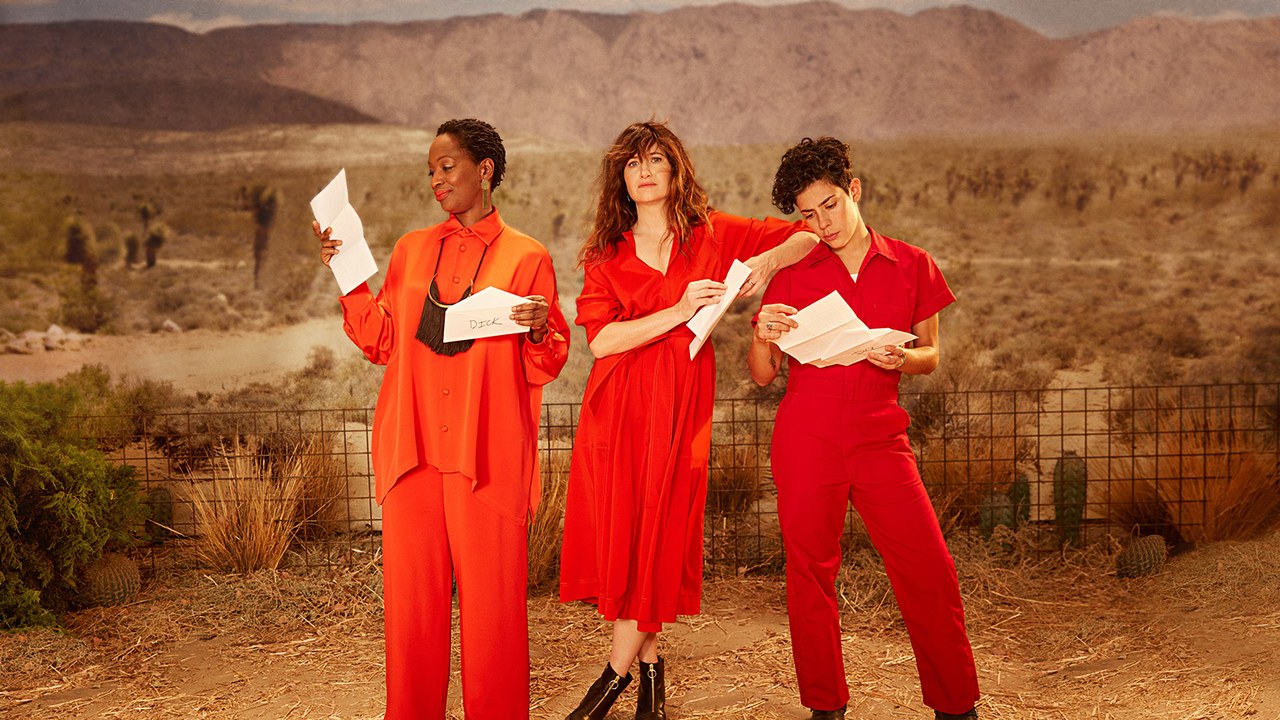 In 2016 bewerkte Jill Soloway 'I Love Dick' tot een 8-delige tv-serie met Kathryn Hahn (centraal op de foto). Kraus: "Ik was daar niet bij betrokken – ik heb geen verstand van tv-komedie. Ik ging wel op setbezoek en dat verliep heel gemoedelijk. Als ik zelf mijn werk zou verfilmen, was het resultaat waarschijnlijk donkerder."
Waarover gaat I Love Dick?
Nee, de Dick in de titel verwijst niet naar het mannelijke geslachtsorgaan – al speelt Kraus wel met dat idee. De Dick in kwestie is een Engelse cultuurcriticus die in LA woont en op wie de 39-jarige (en voorlopig keurig gehuwde) filmmaakster Chris Kraus verliefd wordt. Ze schrijft hem ellelange, ongewenste brieven, die gebundeld de roman 'I Love Dick' vormen. Al schrijvend ontleedt Kraus zichzelf – haar midlife crisis en mislukte (film)carrière, haar opgedroogde huwelijk en seksuele honger maar ook haar fascinatie voor bepaalde kunstenaars en denkers. Dick doet er amper toe: hij is niet meer dan het canvas waarop ze haar ideeën projecteert. Schandaal! Chris Kraus haalt de literatuurgeschiedenis overhoop: sinds wanneer speelt de man de rol van monddode muze en de vrouw die van eigenzinnige denker? Nog schandaliger! Kraus schendt de privacy van alle betrokkenen, want ze noemt zowel zichzelf, haar (ex-)man Sylvère als de verafgode Dick bij naam en toenaam.
Chris Kraus, I Love Dick, Nederlandse vertaling bij uitgeverij Lebowski, 2016
Wie is Chris Kraus?
Geboren in New York (The Bronx) in 1955 verhuist ze als tiener naar Nieuw-Zeeland: "Mijn ouders waren gedesillusioneerd door de Vietnamoorlog. Bovendien konden ze in de VS de medische zorg voor mijn zus, die een vorm van autisme heeft, niet betalen."
Ze haalt een bachelorsdiploma aan de universiteit van Wellington en werkt als journalist bij 'The Evening Post'. Op haar 21ste keert ze terug naar New York om acteerles te volgen: "Ik keerde van de rand van de beschaving terug naar het centrum."
Vanaf 1982 maakt Kraus experimentele kortfilms, die geen publiek trekken en evenmin geld opbrengen. Ze vertoeft in kunstenaarskringen en maakt de aidsepidemie van dichtbij mee.
In 1993-94 draait ze met hulp van een mecenas uit Nieuw-Zeeland haar eerste langspeelfilm. Ze begroet het project als "mijn mooiste kans in 10 jaar tijd", maar 'Gravity & Grace' wordt een flop die haar fysiek, mentaal en financieel onderuithaalt.
Eind 1994 zet een buitenechtelijke verliefdheid Kraus aan tot schrijven: het begin van haar tweede leven. Bij publicatie zorgt 'I Love Dick' voor extreme reacties in kleine kring, waarna de hype rond het boek geleidelijk groeit. Kraus verhuist definitief naar Los Angeles.
Feministische blogs en social mediakanalen helpen Kraus groot maken. Toch heeft de schrijfster zelf geen accounts of website: "Een bewijs van mijn luiheid, geen teken van verzet. Wat ik doe, wil ik goed doen en ik ben niet 24/7 scherp. Ik spaar mijn energie voor mijn schrijven. Twitter is er gewoon te veel aan."
PS: Dit interview verscheen eerder in het septembernummer van ELLE België, 2019
PPS: Dank aan Carissa Gallo voor de portretfoto