Ontmoet ons op de Boekenbeurs
Van 29 oktober tot 12 november is het weer zo ver: dé Boekenbeurs strijkt neer in Antwerp Expo. Topdagen voor boekenliefhebbers en zeker voor ons. This Is How We Read neemt dit jaar 10 auteursinterviews af . Kom naar onze gesprekken met o.a. Nicholas Sparks en Valerie Eyckmans. Of heb je meer zin in een workshop bloggen of een panelgesprek over stress?
(
Op de openingsdag, zondag 29 oktober, praat Barbara met Kristien Dieltiens (15u, Fintro Leessalon). De bekende jeugdauteur – die we vorig jaar op de Frankfurter Buchmesse al eens tegen het lijf liepen – vertelt over haar eerste roman voor volwassenen, Kortgeknipt (uitgeverij Vrijdag). Daarin volgen we twee Spaanse kinderen die in 1937, ten tijde van de Burgeroorlog, naar Vlaanderen komen op zoek naar een tijdelijk, veilig onderkomen. Maar is er een weg terug?
Op dinsdag 31 oktober vraagt Barbara bestseller auteur Nicholas Sparks (14u30, Oranje Podium) uit over z'n jongste roman, Wij Twee  (uitgeverij Lannoo). Dat is geen klassieke, überromantische Sparks – genre 'The Notebook'. Nu Sparks zelf een scheiding achter de rug heeft, richt hij z'n blik op andere vormen van liefde dan die tussen man en vrouw. Wij Twee is een liefdesverklaring van een gescheiden papa aan z'n dochter van zes. En aan z'n zieke, oudere zus. En aan het leven. Meer dan genoeg gespreksstof, dus.
Sparks is zo'n literaire celebrity – op woensdag 1 november (12u30, Fintro Leessalon) mag hij z'n verhaal gewoon nog eens doen. Later die middag (15u, Rood Podium) verzamelen vier experts zich rond Barbara voor een panelgesprek over stress.
Renate Breuer werkte jarenlang achter de schermen aan programma's als The Block en Peking Express… tot ze keihard crashte.
In De Averechtsheid van de dingen (uitgeverij Vrijdag) vertelt ze eerlijk maar met humor over haar burn-out. Heb je zelf last van chronische stress, vage maar vervelende lichamelijke klachten of energiedips? Ga dan aan de slag met de praktische tips van Leen Steyaert (Stop de rush, uitgeverij Van Halewyck), Chris Lenaerts (Hyperventilatie ontkracht, uitgeverij Lannoo) en Katrien Geeraerts (Blijven ademen, uitgeverij M-Books). Disclaimer: deze boeken kunnen je dagelijkse rituelen grondig beïnvloeden. Ze kregen mij (Barbara) alvast zo ver om mijn koffiegebruik drastisch te verminderen en 3 keer per dag – letterlijk – een 'adempauze' van 3 minuten in te lassen. Zeg niet dat U niet gewaarschuwd was!
Kurt interviewt ook op 1 november Luigi Ballerini, de Italiaanse auteur van de dystopische YA romans (on)volmaakt en Nul (uitgeverij Clavis), waar we het hier al eerder over hadden. Het interview kan je later lezen op thisishowweread, als je Luigi Ballerini graag hoort vertellen over (on)volmaakt, rep je dan diezelfde dag om 14 naar het Oranje Podium.
Katrien is in de herfstvakantie welgeteld één dag in het land en gaat dan, op 2 november, in gesprek met de Britse rouwtherapeute en auteur van Rouw werk, Julia Samuel (14u, Fintro Leessalon). Raakt de dood in de 21ste eeuw uit de taboesfeer, wat zijn de gevolgen van een slecht rouwproces en hoe spreek je met je kinderen over de dood, zijn maar enkele van de vragen die aan bod zullen komen. Dat Samuel een goede vriendin was van Lady Di, brengt ons meteen ook op de collectieve rouw. Een droef maar waardevol thema op Allerzielen.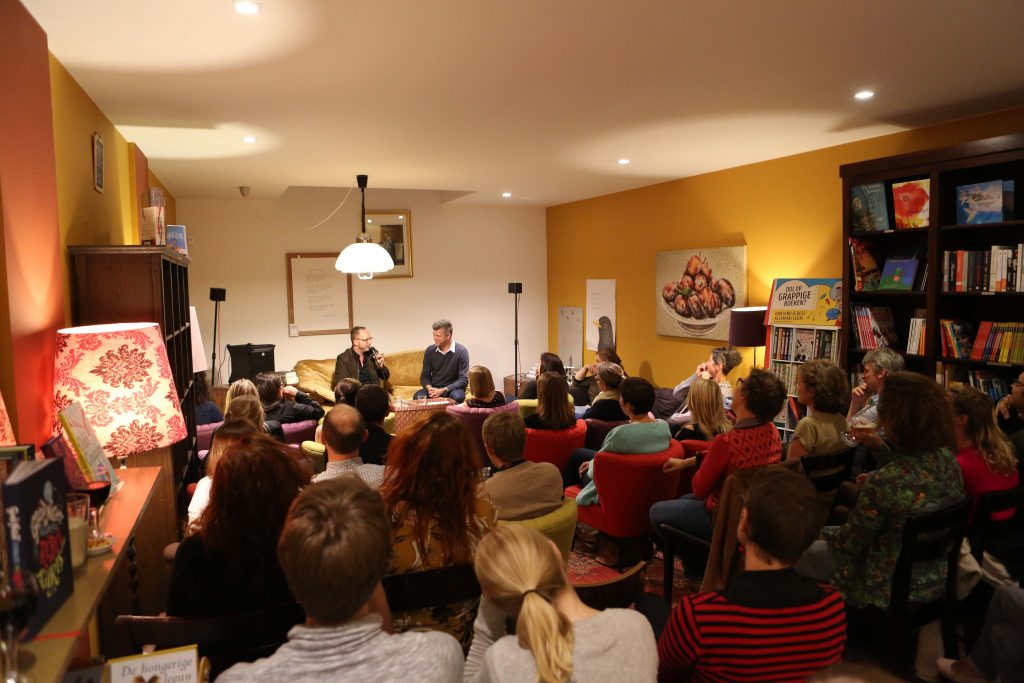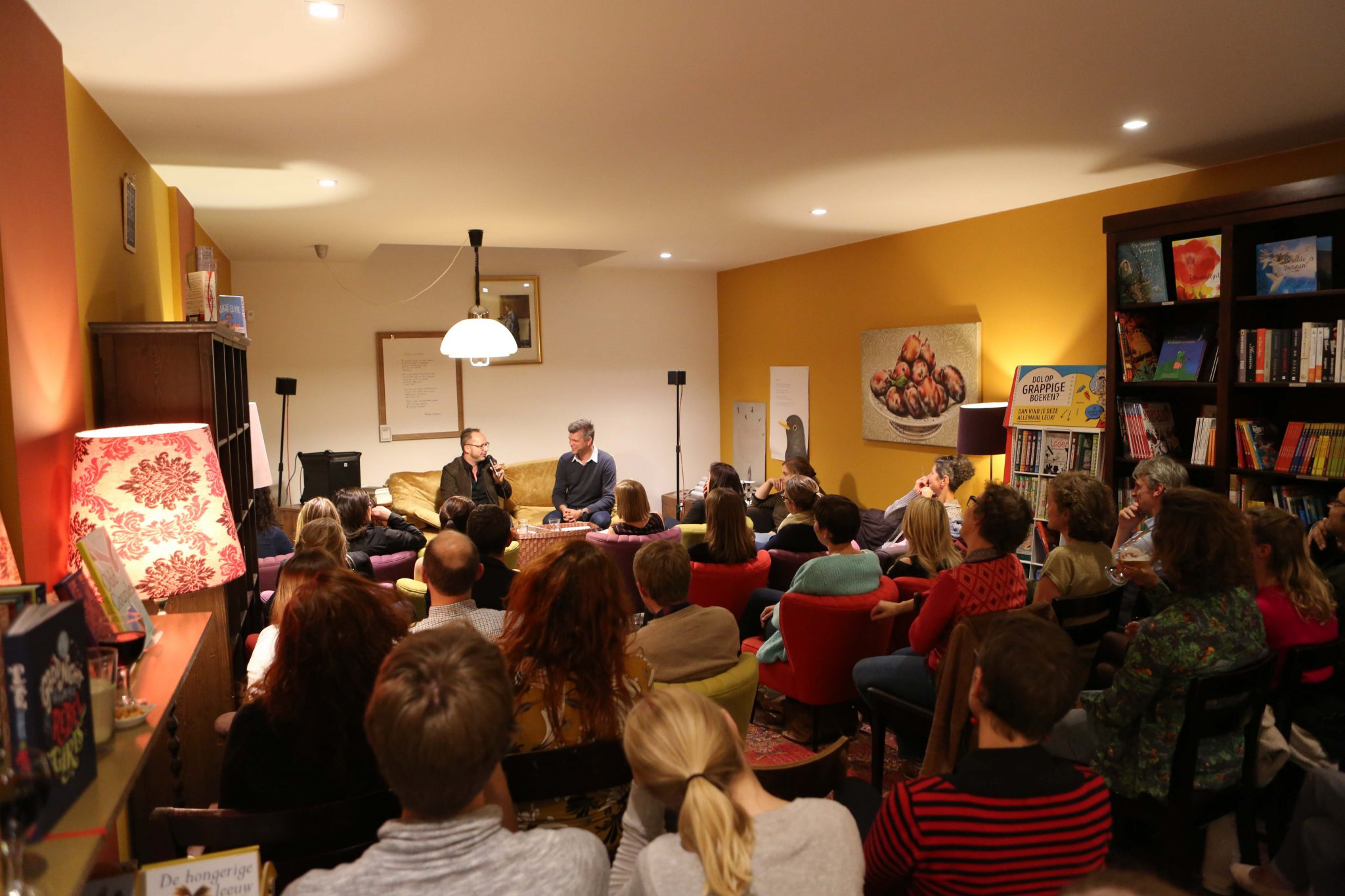 Op zondag 5 november modereert Kurt een dubbelgesprek met Valerie Eyckmans (Het belang van schoon ondergoed, uitgeverij Vrijdag) en Yannick Ottoy (En toen werd het zwart, uitgeverij Manteau) Ze zullen het onder andere hebben over Sam en Noah, over Missy en Alizée, de hoofdpersonages van beide romans die elk op hun manier omgaan met moeizaam volwassen worden, met vriendschap, met liefde en met de afwezigheid ervan. We zetten niet uiteraard niet alleen de romans naast elkaar, maar polsen ook hoe Valerie en Yannick het schrijverschap invullen. (14u, Fintro Leessalon)
Niet alleen lezers kunnen terecht op de Boekenbeurs. Ook aspirerende schrijvers komen er aan hun trekken. Dit jaar pakt Creatief Schrijven uit met de blikvanger van de beurs. Aan hun stand (hal 4, stand 429) staat een 'Dwarsboom', één van de prachtige platanen die gerooid werden op de Antwerpse Leien. Onder de kruin van deze vriendelijke schors vinden workshops plaats en ontmoetingen met schrijvers. Op vrijdag 3 november (11u, vooraf inschrijven!) gaan we er met jou op zoek gaan naar de juiste taal voor je blog. Een week later volgt de herkansing voor al wie er op onze recente column-avond niet bij kon zijn. Op 10 november (ook om 11u) geeft Jean-Paul Mulders tips aan columnisten.
Op de slotdag van de Boekenbeurs, zondag 12 november, praat Barbara met de Amerikaanse schrijfster Jenna Blum (12u30, Rood Podium) over haar roman De Verloren Familie  (uitgeverij Lannoo). Daarin zinderen de gevolgen van de Tweede Wereldoorlog na in alles wat overlever Peter Rashkin onderneemt. Ook de Vlaamse Rita Vrancken weet dat sommige breekpunten in het leven onomkeerbaar zijn. In haar roman-gebaseerd-op-waargebeurde-feiten Buiten blijft het zondag (uitgeverij Vrijdag) belandt een moeder van een tienerzoon op spoed, verlamd door de auto-immuunziekte bekend als het Syndroom van Guillain Barré. Vrancken vertelt op het Oranje Podium (15u) over de ervaring van het verlies van zelfstandigheid, over een moeizaam revalidatieproces en over schrijven als ultieme houvast.
Zien we jullie in Antwerp Expo?