Eveline op de buchmesse: kinderboeken
Vandaag, morgen en overmorgen leest u drie dagen lang alles over de Buchmesse achter de schermen. De straffe verhalen, onvergetelijke quotes en drie boekenmeisjes die tot op de bodem van de boekenbusiness duiken.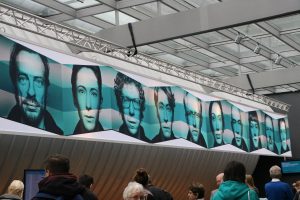 Mijn aandacht ging vooral uit naar kinderboeken en het verhaal dat zij en hun geestelijke vaders en moeders willen vertellen. Ik mocht illustrator Matthias De Leeuw en schrijfster Kristien Dieltiens enkele uren op de voet volgen. Tijdens het dagelijkse happy hour op het gastlandpaviljoen staan de jeugdauteurs en illustrators samen te aperitieven. "Wij van de afdeling 'kinderen' kennen de auteurs die voor volwassenen schrijven niet zo goed. We zien elkaar bij evenementen rond kinderboeken.", aldus Aline Sax en Tom Schamp. "Leuk om zo eens andere contacten te leggen."
Op het podium wordt een kruisbestuiving van auteurs gebracht. Eentje die z'n vruchten heeft afgeworpen en het personage Suzie Ruzie opleverde, is die van Benjamin Leroy en Jaap Robben. De twee vertellen hoe ze elkaar leerden kennen: "Via de datingssite Illuwrite, waar auteurs en illustratoren gematcht worden". Jaap zocht vooral op jonge, blonde, vrouwelijke profielen, Benjamin had als enige criterium: 'Liefst geen Nederlander.' Helaas kwamen de twee bij elkaar uit, grappen ze. Of gelukkig? Want naast Suzie Ruzie blinkt het duo ook uit met De zuurtjes en Als iemand ooit mijn botjes vindt.
Redacteur Dik Zweekhorst (Querido kinderboeken) nam me op sleeptouw tijdens een inkoopgesprek. Ik mocht meeluisteren terwijl Mevr. Garden van Tate Publishing (Yep, van het gelijkaardige, en schitterende museum) alle nieuwigheden uit haar fonds presenteert. Pop-up boeken doen het enorm goed. Tate heeft veel succes met hun inventieve Under the ocean en Querido's grootste vertaalsucces is het ABC3D. De pers is lovend over het stijlvol vormgegeven boek. Ik kan mijn collega journalisten enkel gelijk geven. Querido koopt zo'n 18-tal buitenlandse kinderboeken per jaar in, dus Dik moet selectief zijn. En rekening houden met de prijs van het boek, de Chinese wisselkoers, de verkoopbaarheid en het feit dat kinderboeken rond het thema kerst het door de komst van de Sint commercieel minder goed doen. Zelf is hij erg in z'n nopjes met het boek Steen, schaar papier van de Argentijnse Inés Garland. "Boeken uit Argentinië zijn in de ogen van veel uitgeverijen commercieel minder aantrekkelijk, vooral in vergelijking met Engelse of Amerikaanse boeken, maar deze Garland konden we niet laten liggen."
Oh, ja, en eentje die ik absoluut vertaald wil zien, is de Franse prentenboekenserie rond kleuter Lili, kampioen in het uiten van 'Neen', 'Van mij', 'Nog' en 'Waarom'. De vier peilers van de peuter-en kleuterpuberteit dus. Geniaal.
Zo, tot hier, morgen meer Buchmesse-roddels, weetjes en wist-je-datjes met Barbara.