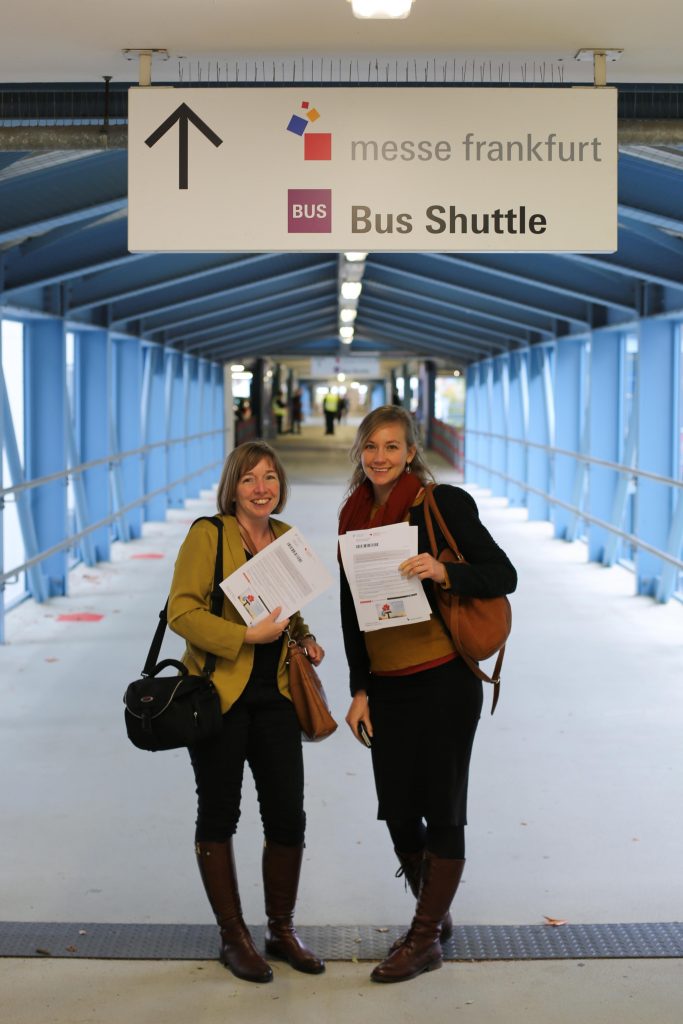 Van donderdag 20 tot zondag 23 oktober was This Is How We Read op de Frankfurter Buchmesse. We borrelden in het gastlandpaviljoen 'Flandern/Niederlände'… We volgden auteurs, redacteurs en illustratoren die internationale deals probeerden te scoren… En we sprokkelden stof voor ettelijke blogposts. Deze week delen we afwisselend onze eerste indrukken.
Wist je dat…
(1) Vlaamse en Nederlandse auteurs écht wel prominent aanwezig waren op de beurs dit jaar? Elke dag bezoeken zo'n 60.000 bezoekers de Frankfurter Buchmesse.
Je zou denken dat 99 afgevaardigden van de Nederlandstalige Letteren niet opvallen in zo'n massa. Edoch.
Luttele seconden nadat de shuttle bus ons aan ingang drie had uitgespuwd, spotten wij al meteen Arnon Grunberg. En onze stopwatch had de minuut nog niet bereikt, of daar botsten we in één van de wandelgangen op Annelies Verbeke, die – net als wij – op zoek was naar het Gastpaviljoen 'Vlaanderen & Nederland'. Verbeke ging daar op een podium haar bewondering voor Willem Elsschot toelichten. Wij gingen luisteren.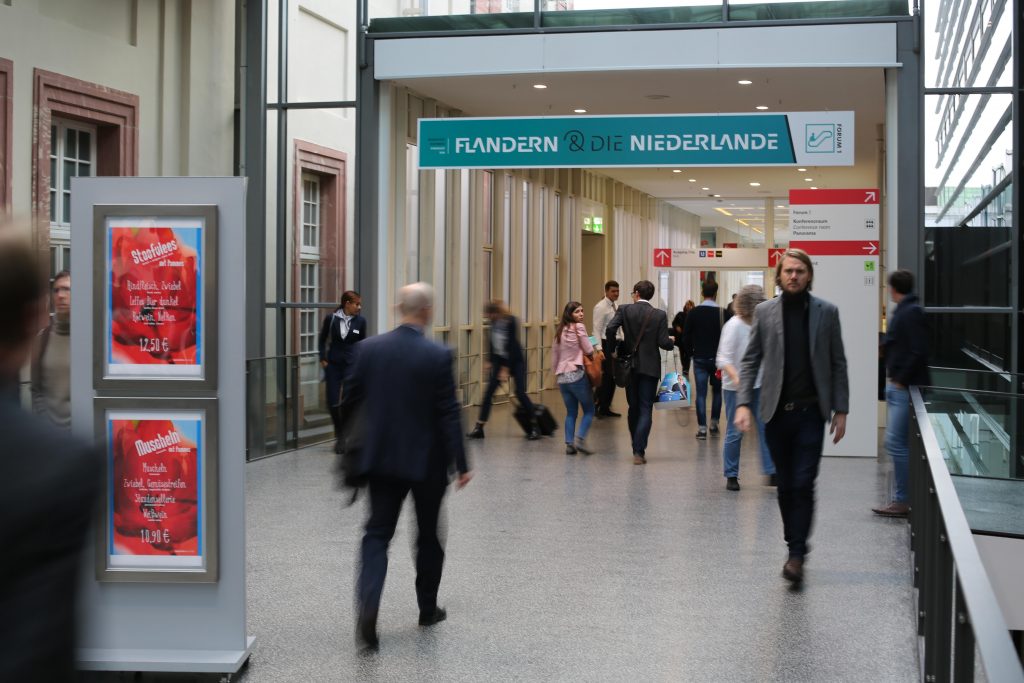 (2) Bart Moeyaert – 'Künstlerischer Leiter' van het gastlandschap – elke dag tijdens het happy hour een officieel fotomoment organiseerde? Wij hadden medelijden met (en bewondering voor) de fotografe die deze dagelijkse groepsfoto in goede banen moest leiden. Ten eerste: probeer een bende schrijvers die net hun gading hebben genomen van plateaus met Belgische bieren en schaaltjes frietjes, maar eens te enthousiasmeren om die buit weer los te laten…voor de foto. Ten tweede: aan het recht trekken van al die scheve jasjes ben je gemakkelijk tien minuten kwijt en zo lang kan iemand als Stefan Hertmans natuurlijk niet zwijgen. Nee, de fotografe had het niet onder de markt.
Een boekenmeisje (rara wie…) wou de vrouw ter hulp schieten, door Oek De Jong alvast vriendelijk aan te porren om toch alsjeblief mee op de foto te gaan.
Helaas bleek ze zich te richten tot een verder volslagen onbekende Oek De Jong Lookalike…
(3) Yves Petry het hele beursgebeuren – en vooral: zijn eigen plaats daarin – behoorlijk relativeerde? Petry was nog maar net in Frankfurt aangekomen, toen we hem donderdag tijdens het happy hour spraken. De auteur van 'Liefde bij wijze van spreken' en 'De maagd Marino' (bekroond met de Libris) schrijft op zijn website: 'Eigenlijk ben ik een Duitser, geboren in het lichaam van een Belg.' Tegen ons grapte hij
dat het vooral nederig maakt, zo als schrijver op de Frankfurter Buchmesse aankomen
en beseffen (ik citeer uit de losse pols…): 'Oh wat goed, ik heb aan deze immense boekenstapel een titel toegevoegd.'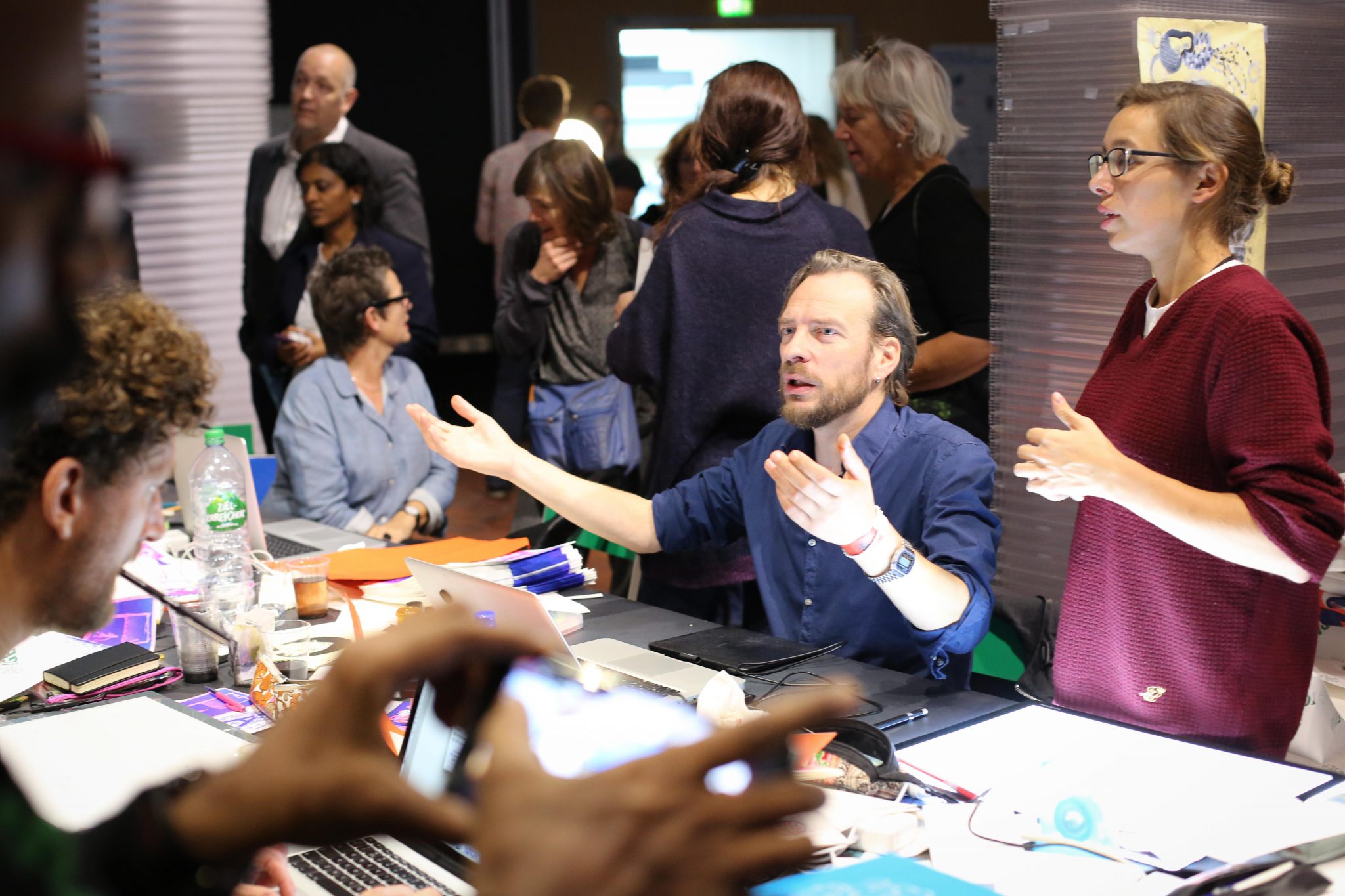 (4) Ik over twintig jaar misschien ontdek dat mijn passage op de Buchmesse me een aardige smak geld heeft opgeleverd? Dat zit zo. In het gastlandpaviljoen verzamelde er elke dag een select clubje Nederlandstalige illustratoren – onder wie Randall Casaer (foto hierboven), Gerda Dendooven (foto hieronder), Ted van Lieshouten en Ingrid Godon – die samen, ter plekke, een geïllustreerd magazine, Parade tekenden en in kleur lieten printen?
De oplage van Parade was vijfhonderd exemplaren. De filosofie achter dat cijfer: 'Creëer schaarste'.
Het was inderdaad aanschuiven om een magazine te bemachtigen, elke dag vlak voor het happy hour wanneer de 'oogst van de dag' werd verdeeld. Toch is het me gelukt een exemplaar van Parade #6 en Parade #7 te bemachtigen. Collector's items over twintig jaar? En anders toch fijn kijkvoer vandaag!
(5) De beurs op zondag – een publieksdag, terwijl de eerste drie beursdagen professionals only zijn – werd overspoeld door fantasy karakters en verklede jeugd? Het was ons niet helemaal duidelijk of deze Elsa's, Roodkapjes, Troetelberen, bloeddorstige verpleegsters en zombie chicks naar een bepaald (fantasy) boekgerelateerd evenement kwamen of de beurs gewoon kaapten om zichzelf aan een zo groot mogelijk publiek te kunnen showen? Ze poseerden alleszins gewillig voor ieders camera…
(6) Dit tripje naar Frankfurt voor Eveline, Katrien & mij naast een uitstap naar 'boekenwonderland' ook gewoon een pretreisje onder vriendinnen was? Inclusief (wij doen al eens graag aan gestoef – dit is uw waarschuwing…) drie overnachtingen in een fantastische penthouse, een avond culinair genieten bij een Italiaan en een oh zo foute badkamer met sterrenverlichting?