Van donderdag 20 tot zondag 23 oktober was This Is How We Read op de Frankfurter Buchmesse. We volgden auteurs, redacteurs en illustratoren die internationale deals probeerden te scoren… En we sprokkelden stof voor ettelijke blogposts. Deze week delen we afwisselend onze eerste indrukken.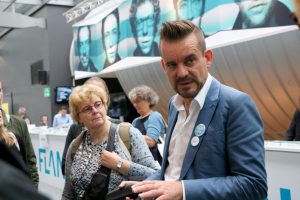 Wij hebben de eer het Gastland Paviljoen door de ogen van intendant Bart Moeyaert te verkennen. Die toont ons – ietwat hees van het feestje van de voorbije avond maar immer bevlogen – het ideale parcours van een ideale bezoeker. We ontdekken duistere hoekjes waar je met VR brillen lange wandelingen kan maken op enkele luttele vierkante meters. Ik kom er ietwat duizelig uit, Marnix Verplancke lijkbleek.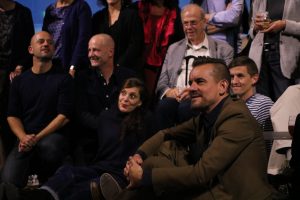 Op adem komen doen we aan het Noordzee strand waar we gedichten krijgen toegefluisterd. Achteraf genieten we – ook weer dankzij VR – van een totale operabeleving terwijl onze buurman een auteursfilm bekijkt en borrelen we met auteurs en Belgisch bier tijdens het happy hour. Bovendien heeft niemand een excuus om niet te komen want Bart plande de lezingen en auteursinterviews volgens het klokvaste ritme van de uitgevers: 5 min. wandelen, 20 min. luisteren en 5 min. wandelen.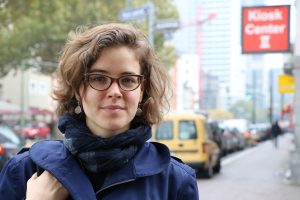 Waar uitgevers opscheppen met 'druk, druk, druk', beleeft de van een burn-out herstelde Bregje Hofstede de Messe op haar manier. Eén feestje, geen happy hour en vooral veel wandelen.
Ze vergelijkt haar passage in Frankfurt met het bezoek van een worstenliefhebber aan een slager: "Je leert hier het boekenvak van binnenuit kennen, de sluiers vallen ervan af."
Terwijl haar uitgever Eva Cossée de Buchmesse als het hoogtepunt van het jaar beschouwt ("een enorme reünie"), vraagt Hofstede zich af of een met TL-lampen verlichte hal wel de beste plek is om te netwerken. Thumbs up voor Bart en de gedempte verlichting van "ons" paviljoen. Saskia De Coster voelt zich op de Buchmesse dan weer eindelijk normaal, iets wat jeugdauteur Aline Sax en illustrator Matthias De Leeuw herkennen: "Je staat hier tussen je collega's, mensen die het heel gewoon vinden dat je schrijft."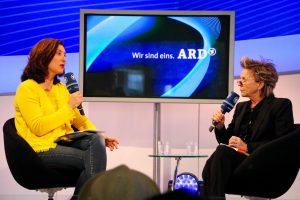 Connie Palmen krijg ik niet te spreken maar ik volg wel haar interview voor de Duitse televisie. Heel vertederend vind ik het hoe ze bijna in zwijm valt bij de gedachte aan een Waltzing Matilda zingende Ted Hughes, de Engelse dichter en echtgenoot van de suïcidale Sylvia Plath, aan wij zij eerherstel gaf in Jij zegt het. "Er ist sehr attraktiv… (dromerig lachje) Ja… Sehr attraktiv."
Het was ook dankzij la Palmen dat ik net voor vertrek ontdekte dat al die kleine uitgeversstandjes op de Buchmesse eigenlijk kleine cafés zijn waar tussen pot en pint boekendeals worden gesloten. Hoewel de platte schoenen (n° 1 Buchmesse tip) geen overbodige luxe zijn, blijven de Dafalgans bij mij wel in de koffer. Het meest bezochte café – euh standje – euh café bij de Nederlandstalige uitgevers? Atlas Contact, voor de gin tonic.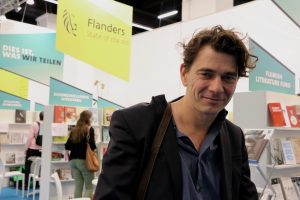 Volgens nachtbraker Dimitri Verhulst vinden alle boeiende gesprekken 's nachts  plaats: "Met wat er op de beurs gebeurt heb ik minder voeling maar als ik tegen de ochtend terugkeer naar mijn hotel, is dat steevast met een stapeltje visitekaartjes." The place to be voor Dimitri Verhulst? De lobby van hotel Frankfurter Hof: "Cees Nooteboom heeft daar zijn eigen troon." Dimitri zelf deed er aan nachtelijke PR met "de koning van het vak", Philip Gwyn Jones van de gerenommeerde Engelse uitgeverij Granta. Hopelijk deden die korte nachten Dimitri niet de das om op het voetbalveld. Je leest het goed, Dimitri heeft de eer deel uit te maken van de Vlaams-Nederlandse schrijversploeg. Naar jaarlijkse traditie neemt die het op tegen het Duitse nationale schrijversteam onder leiding van de echte bondscoach. Dimitri had dan weer graag een vrouw in het team gezien. Rara over wie heeft hij het hier?
"Zij lijkt me wel iemand die smerig kan tackelen."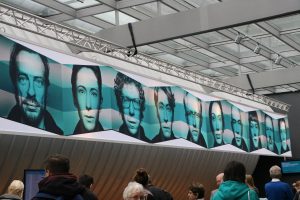 Stefan Brijs is vooral onder de indruk van het geconcentreerde Duitse publiek. In de Lesezelt hangen maar liefst 200 toeschouwers aan zijn lippen. Tussendoor netwerkt en borrelt hij met collega's en buitenlandse uitgevers en ziet hij de wereld verenigd op de beurs: "Het is indrukwekkend om al die landen, geloven en culturen samen te zien." Over zijn eigen uitgeverij, Atlas Contact heeft hij niets dan lof.
"Op zo'n beurs zie je pas hoe hard je uitgeverij werkt. Overdag houden ze zich bezig met je oeuvre en 's avonds met je persoon. Indien nodig houden ze je 's nachts zelfs op het rechte pad. Het was ook een goede zet om een lange tafel in hun standje te zetten. Heel wat schrijvers van de jongere generatie heb ik daar voor het eerst ontmoet."
Drie dagen Messe vindt Brijs wel het maximum. "Vijf dagen, dat houdt alleen Dimitri Verhulst vol."
PS. Welke Buchmesse posts mag je nog van mij verwachten? Naast een uitgebreid interview met Bregje Hofstede naar aanleiding van haar nieuwste boek De herontdekking van het lichaam, volgde ik uitgever Daniël Van der Meer van Das Mag en lees je in Psychologies een interview met Saskia De Coster.