Met Een hoek af nam Annelies Marin deel aan onze zomerse columnwedstrijd.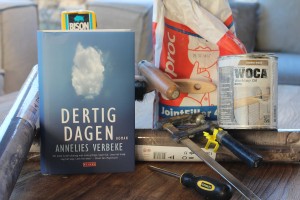 Een hoek af
'Ik heb gebeld voor een afspraak. Maandag kan ik langsgaan.' Ze kroop nog dieper weg tussen de kussens. 'Het wordt tijd. Ik wil weten of ik gek ben.'
De berggeit in haar hoofd mekkert en laat verstaan dat ze dat een goed idee vindt.
Met gekrulde tenen tikt ze tegen het boek aan het bedeinde. Met gebalde vuist kegelt ze ook het exemplaar naast haar hoofd de grond op. Niet de berggeit, maar Annelies.
Een boek of vijf tegelijk, ongestapeld, gebladwijzerd, van achteren naar voren, sequel naar prequel en liefst zoveel en vaak mogelijk door elkaar.
Alleen dan kan ze haar eigen fantasie en stemmen in het hoofd de baas.
Met een ruk scheurt ze de papieren cover van haar nieuwe aanwinst. Een maagdelijk witte kaft kijkt haar doordringend aan, nodigt uit om te slaan. Open en dicht. Ze streelt zachtjes de achterflap en laat haar warme hand door de pagina's glijden. Ze bespeelt een verkreukte bladwijzer en vraagt waar hij zich wil nestelen. Een, twee, misschien wel drie hoofdstukken verder? Met een krachtige stoot slaat ze de eerste pagina's om, en ontmoet Alphonse, een klusjesman die in de Vlaamse Westhoek woont.
Overgeleverd aan de drang naar een nieuwe wereld, stopt ze behoedzaam met lezen. Pagina vijfentwintig wordt gemarkeerd, met een kruimel witte chocola en gepofte rijst, en de rimpels van het smalle leeskarton dat samen met haar al heel wat literaire werelden heeft afgeschuimd.
De verfborstels van Annelies' (niet de eerste, maar een tweede) nieuwe hoofdpersonage maken later die dag bevrijdend plaats voor uitgestrekte berglandschappen, zandstormen, grasduinen en een bron. Met inspiratie en water gevuld, om haar intussen dor en dorstig geworden werkbrein te laven. Gespannen en snakkend naar afleiding maakt ze kennis met Djibril en zijn oude vriend, die zich net als zij durven te verliezen in de kronkels en stemmen van hun fantasierijke bovenkamer. Maar verderop kreunen een pen en notitieblok om aandacht. Woorden vragen niet enkel om gelezen, maar ook geschreven te worden.
De Anneliezen gaan zelf aan het werk, en geven zich bloot. Aan een bureau in een vlinderkamer, in de vakantiezon op een strandlaken, tussen de pagina's van Cécile en kribbels van Ish, de muren van Alphonse en witregels van Verbeke, de afvinklijsten van bucketlist en happy doodle boeken. Meer dan 30 dagen lang en vandaag ook op deze pretblog voor professionele boekenmeisjes.
'De dokter zei dat ik niet gek ben. Maar ook niet echt normaal. Er zou ergens een hoek af zijn, een ezelsoor. Niets om ons zorgen over te maken.'
Ze kruist arrogant het ene been over het andere en wipt ongeduldig met haar voet op en neer. 'En die bemoeizuchtige berggeit heeft hij het zwijgen opgelegd. Gewoon de berg af, gevangen als een normale domme geit.'
Ze slaat een boek open, en ontsnapt. And that is why she reads.
Annelies Marin besloot al een hele tijd vóór haar studies Germaanse Talen om schrijfster te worden, omdat schrijvers eigenlijk nooit écht volwassen moeten worden, wist ze ergens te hebben opgevangen. En haar pen kriebelde vooral! Ze specialiseerde zich dan ook in kinder- en jeugdliteratuur, en is nu werkzaam als freelancer voor verscheidene educatieve uitgeverijen. Daarnaast verzorgt ze als copywriter de communicatie en marketing van bedrijven die actief zijn in de culturele, sociale en gezondheidssector.