Laat een olifant krimpen en voilà… welkom in het fantasierijke universum van Haruki Murakami. Of toch nog niet helemaal. Laat die olifant leven in een Japanse stad waar mensen hamburgers eten, verliefd worden en Anna Karenina lezen en je komt al een beetje dichter bij de Murakami essentie. Murakami is de Japanse auteur die het bevreemdende en absurde laat plaatsvinden waar het het meest wringt, namelijk dicht bij ons.
Zo komt het ook dat ik een groot liefhebber ben van Murakami, terwijl fantasy helemaal niet aan mij is besteed. Met stip op één staat nog altijd Norwegian wood, mijn eerste Murakami crush. Aan zijn kortverhalen had ik mij nog niet gewaagd. Maar na een ode aan het 'korteverhaal' door Annelies Verbeke op een schrijfdag, schafte ik me twee jaar geleden The elephant vanishes aan in de Brusselse Waterstones en … liet het ongelezen. In een poging dit goed te maken, plaatste ik het begin januari op mijn lijstje: de vijf voor 2015, vijf boeken die ik dit jaar wilde gelezen hebben.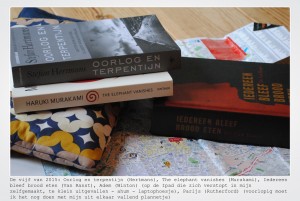 Eén van mijn favoriete verhalen uit de bundel is The bakery attack. Een pasgehuwde man en zijn echtgenote hebben 's nachts reuze honger maar de koelkast is leeg. De man bekent dat hij ooit een bakkerij overviel toen hij platzak was en geen eten had. Zijn echtgenote spoort hem aan om hetzelfde te doen en diept – totaal onverwacht – een pistool uit haar auto. Bij gebrek aan open bakkerijen valt het koppel een Mac Donalds binnen waar ze dertig hamburgers buit maken. Klinkt als een actieverhaal? Totaal niet. Bij Murakami geen loeiende sirenes die het koppel achtervolgen en geen Mac Donalds medewerker die het duo verschalkt. Bij Murakami draait het om de vervreemding tussen de man en zijn echtgenote die niet alleen gesymboliseerd wordt in hun knagende honger maar ook tot uiting komt in de verborgen kantjes die hij van haar ontdekt. Waar komt immers het pistool vandaan en de practised efficiency waarmee ze het hanteert? Typisch Murakami, die eindeloze eenzaamheid die de ander nooit kan vervullen. Ook het absurde speelt een rol: wie overvalt een Mac Donalds voor enkele burgers? Waarom zou je je leven riskeren als je ook gewoon naar de winkel kan gaan? Nog absurder is de deal die de eigenaar van de bakkerij voorstelde:
"The baker was a classical-music freak, and when we got there, he was listening to an album of Wagner ouvertures. So he made us a deal. If we would listen to the record all the way through, we could take as much bread as we liked."
De verhalen uit de bundel laten je als lezer op het eerste zicht dan ook altijd achter met meer vragen dan antwoorden: 'waarom?', 'hoe kan dat?', 'wat gebeurt er echt?'. Dat komt doordat Murakami de verhalen dankzij een heel precies gebruik van details zo echt doet lijken: de lege ijskast, de bezorgdheid van de Mac Donalds medewerker over zijn boekhouding, de Wagner plaat… Dat realistische kantje doet je als lezer automatisch zoeken naar een rationele verklaring. Het is echter pas als je dat verlangen overboord gooit – of het hoogstens wat laat zeuren – , dat je ten volle van Murakami kan gaan genieten.
PS Wij lazen dit jaar ook kortverhalen van Hilary Mantel, Jhumpa Lahiri en Ljoedmila Petroesjevskaja.
PPS Van mijn lijstje met vijf boeken voor 2015 las ik ook al Iedereen bleef brood eten.
PPPS The elephant vanishes verscheen in het Nederlands als De olifant verdwijnt bij uitgeverij Atlas Contact.