Met Lezen? Mij niet gezien nam Regine Ryckoort deel aan onze zomerse columnwedstrijd.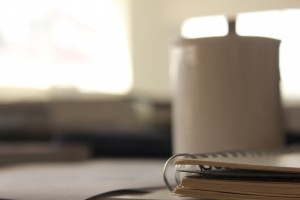 Lezen? Mij niet gezien!
Mijn vrouw is verslingerd aan boeken. Ikzelf houd er niet zo van. Nog nooit geweest.
Ik kan me niet voorstellen dat ik andermans geschrijf interessant zou vinden. Of grappig of spannend of meeslepend. En bovenal, ik wil er geen moment voor vrij maken. 't Is zonde van die mooie tijd waarin je zoveel andere dingen kunt beleven.
En toch!
Onlangs zat mijn vrouw met opgetrokken knieën en knusjes onder een deken in de sofa. Mij helemaal niet vreemd, want zo zit ze altijd als ze een boek leest. Maar wat die keer gebeurde, bracht me wel een beetje van slag. Ik stond in de keuken aardappelen te schillen en hoorde opeens een afschuwelijke kreet. Van de schrik sneed ik in mijn vingers, vloekte dat het geen naam had en liet terstond het mes op de grond vallen. Ik snelde naar mijn vrouw toe en vond haar rustig lezend in haar boek. Ik bleef haar zeker twee minuten lang aankijken, maar ze reageerde niet. Zo verdiept was ze in het verhaal.
Ik zuchtte luid om mijn aanwezigheid kenbaar te maken, zoog op mijn bloedende vinger en kuchte even. Geen antwoord. Ze hoorde me niet.
"Schat, waarom schreeuwde je zo?" vroeg ik dan maar.
Niks.
"Schat…?"
"Sstt…"
Ik droop af naar de keuken. Ze wilde met rust gelaten worden. Ik legde een pleister op mijn vinger. Hervatte mijn bezigheden. Tien minuten later bereikte opnieuw een gruwelijke kreet de keuken. Zoiets was nog nooit eerder gebeurd en ik vroeg me af of ik niet moest ingrijpen.
Stilletjes sloop ik naar het salon, loerde voorzichtig aan de deur. Geen paniek. Vrouwlief zat nagelbijtend aan haar boek gekluisterd. Merkte me niet eens op.
"Schat, welk boek lees je eigenlijk? Je doet vreemd."
Ach, ik kon evengoed tegen mijn keukenmesje praten. Het zou evenmin reageren zoals mijn vrouw. Ik trok me terug op mijn terrein en zou me bij de volgende kreet niet meer ongerust maken. Maar er volgde geen kreet meer. Neen, de volgende uitbarsting werd een onbedaarlijke lachbui.
Ik kon het niet laten om te polsen of mijn vrouw echt niet gek werd.
"Schat, wat is dat met jou? Of met dat boek?"
Natuurlijk dat ze niet antwoordde. Ze hikte van het lachen en de tranen rolden over haar gezicht.
"Goh, ik kan niet meer… ik kan niet meer."
Ze klapte het boek dicht, legde het op de salontafel, droogde haar natte wangen met een tip van het dekentje en stond recht uit de sofa. Ze liep langs me heen, schudde met haar hoofd en verdween naar boven.
Zo zie je maar wat een boek met een mens kan doen. Het zou je knettergek kunnen maken!
Daarom zeg ik altijd 'Lezen? Mij niet gezien!'… maar zodra mijn vrouw het boek uit heeft, dan is het mijn beurt! Ik wil weten wat ze leest. Ik zal er waarlijk tijd voor moeten maken.
Gewoon omdat ik bekommerd ben over haar psychische toestand. Verder hoef je er niks achter te zoeken.
Regine Ryckoort leeft met woorden, zinnen, verhalen in haar hoofd. Papier om te lezen en een klavier om op te tikken, zijn haar grootste passie.