Sri Lanka wordt de parel van de Indische oceaan genoemd en geroemd om zijn overvloedige natuur, eeuwenoude tempels, eindeloze theeplantages en warme ontvangst. Sinds het einde van de burgeroorlog tussen de Tamils en het Sri Lankaanse leger in 2009 zit het toerisme in Sri Lanka weer in de lift.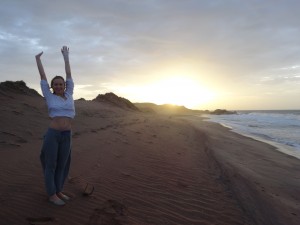 We boekten een rondreis met Riksja Travel, waarbij we zelf een pakket samenstellen met bouwstenen. We hoeven dus niet zelf op zoek naar hotels en vervoer, maar onderbouwen elke etappe van onze reis graag met alle nodige informatie.
We zetten de reisgidsen even op een rijtje en vergelijken de achtergrondinformatie, verblijftips, plattegronden en insteek die de gidsen kiezen. Oh ja, uit elke gids halen we ook graag één gouden literaire tip. Inderdaad, onverbeterlijk, die boekenmeisjes…
Titel: Insight Guide – Sri Lanka
Uitgever: Cambium
Laatste update: 2O15
Pluspunten:
Deze gids begint met een heel uitgebreid hoofdstuk met algemene informatie en achtergrond rond Sri Lanka: geschiedenis, bevolking, kunst, winkelen, … Daarna vind je voor elk gebied een hoofdstuk rond de bezienswaardigheden met voldoende uitleg. Deze hoofdstukken worden onderbroken door extra inserts: over de vriendelijke reuzen van Sri Lanka (olifanten), de traditie van Ayurveda,… Wij konden ook waarderen dat de gids aan het begin van het boek de topbezienswaardigheden even opsomt, aangezien wij het type reizigers zijn die kleding en schoenen in een koffer gooit om halsoverkop te vertrekken.
Praktische tips:
De achterflap bevat enkele Sri Lankaanse zinnen en uitdrukkingen, zo weten we snel hoe we iemand kunnen begroeten 'Ayubowan' en bedanken 'Istuti'. De gids bevat plattegronden die erg duidelijk zijn. Achteraan het boek zit een dik hoofdstuk met tips rond vervoer, hotels, restaurants en evenementen.
Geschikt voor:
Ideale, complete gids voor wie in het ongewisse springt. Deze gids hecht evenveel belang aan de cultuur en historie als het leren kennen van het Sri Lanka van nu.
Gouden literaire tip:
Insight Guide tipt niet minder dan 22 boeken: van fictie als Michael Ondaatje en Leonard Woolf zoals wij eerder ook lazen, boeken over Sri Lanka's bekendste architect, Geoffrey Bawa tot zeer gespecialiseerde gidsen over de vogels en reptielen van het land.
Titel: Sri Lanka landengids
Uitgever: Dominicus
Laatste update: 2012
Pluspunten:
Dominicus heeft een stevige reputatie als het op degelijke, uitgebreide gidsen aankomt. Wij nemen hem dan ook graag mee omdat we weten dat we hier op cultureel gebied in de watten gelegd zullen worden. Het eerste hoofdstuk focust op algemene achtergrondinformatie. Naast de geschiedenis en de bevolking is er ook ruimte om de geografie, religie, liteartuur, keuken en fauna en flora te bespreken. Voor elke streek voorziet de gids een apart hoofdstuk, waar diep wordt ingegaan op de geschiedenis en cultuur van elke halte.
Praktische tips:
Dominicus focust op de inhoud van de reis, minder op praktische tips. Achteraan het boek staan aanbevelingen voor enkele websites waarop makkelijk een kamer geboekt kan worden bijvoorbeeld, maar restaurants krijgen minder aandacht in het boek.
Geschikt voor:
Ideaal voor de cultuurminnende reiziger, die al onder de pannen is en vooraf alles vastlegt. Onmisbaar op inhoudelijk vlak om elke aspect van je reis te kunnen uitdiepen.
Gouden literaire tip:
Dominicus gaat uitgebreid in op de traditie van de heldendichten Mahabharata en Ramayana. In Sri Lanka kan je niet om de verwijzingen naar deze vertellingen heen: heilige plaatsen, afbeeldingen, tempels en zelfs de gedragscode dragen sporen van beide heldendichten.
Titel: Trotter – Sri Lanka
Uitgever: Lannoo
Laatste update: 2013
Pluspunten:
Een trotter gids is de beste vriend van elke avontuurlijke reiziger. Stop een Trotter in je backpack en je reis kan beginnen, zonder op voorhand iets te hebben vastgelegd. Het eerste hoofdstuk dient als praktische reddingsboei: vervoer, budget, gezondheid, taal, nuttige adressen,… kortom, alles wat je moet weten vanaf het moment dat je vaste voet aan Sri Lankaanse grond krijgt.
Voor elke streek/stad krijg je tips over hoe die streek te bereiken, waar je voor moet oppassen (nepgidsen of zakkenrollers), wat er te zien valt en waar je kan slapen en eten. Trotter vermeldt telkens heel wat hotels en restaurants en duidt ze ook handig aan op de plattegrond.
Praktische tips:
Trotter werkt met gradaties: hotels kunnen van luxueus tot goedkoop, restaurants van 5 tot … euro. Bij elk hotel en restaurant wordt duidelijk omschreven wat je kan verwachten van de kamers of wat de specialiteiten zijn. Ook voor bezienswaardigheden geeft Trotter aan wat absoluut de moeite is: één, twee of drie backpackers-icoontjes geven aan hoe belangrijk het is dat je er langsgaat.
Geschikt voor:
Avonturiers die alles ter plaatse zelf willen ontdekken. Je kiest bij aankomst in welke hotels je verblijft, wat je volgende halte is, hoe je die bereikt en welke restaurants je aandoet.
Gouden literaire tip:
De gids raadt aan vooraf Au jardin d'eden van Giovanni di Marignolli te lezen, een 14e eeuws reisverhaal dat uit het Latijn in het Frans vertaald werd. Verder tipt Trotter De schorpioenvis van Nicolas Bouvier, een (anti-)reisverhaal van een door ziekte en depressie geplaagde auteur in de jaren 50.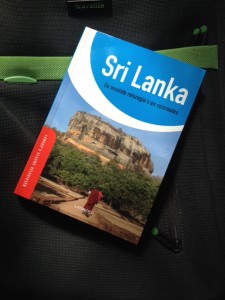 Titel: Blauwe reisgids – Sri Lanka
Uitgever: Lannoo
Laatste update: 2012
Pluspunten:
De gids is opgedeeld in twee delen. In deel 1 krijgen lezers alle informatie per stad/regio met aan het eind van elk hoofdstuk enkele praktische tips: vervoer, eten, slapen,… Wij appreciëren vooral dat we hier alle adressen en openingstijden van bezienswaardigheden gebundeld krijgen.
Deel 2 bestaat uit enkele uitgestippelde rondreizen van twee tot zeven dagen: In de sporen van oude koningen, Onderweg in de bergen, Op ontdekkingstocht aan de oostkust,… Per reisdag wordt het vervoer, de bezienswaardigheden, eventuele lunchhaltes,… uitgebreid uitgelegd.
Praktische tips:
Het boek heeft een apart hoofdstuk over logies, met voor elke stad opties van duur tot goedkoop. Bij elke verblijfplaats staat ook aangegeven of je er kan eten. Het laatste hoofdstuk bevat alle praktische informatie van tijdsverschillen tot fooien en kamperen.
Geschikt voor:
Rondreizende toeristen die graag zelf hun reis in handen nemen, maar wat houvast willen met uitgestippelde routes.
Gouden literaire tip:
De Duitse dichter Herman Hesse schreef Siddhartha, een Indische vertelling, een fictief verhaal over het leven van Boeddha. De gids beschrijft ook de tempeltour in de voetsporen van Herman Hesse, een dagtocht dat je langs de tempels van Kandy voert die de dichter geïnspireerd hebben.
Hoe de reis geweest is, wil u weten? Helemaal top. Sri Lanka heeft ons hart veroverd: prachtige natuur, hartverwarmende ontvangst, lekker eten, interessante bezienswaardigheden, fijne ontmoetingen, mooie en kleinschalige hotels, aardige gids, goed uitgebalanceerd programma,…
PS: Romans voor reizigers richting Sri Lanka en Roadtrip door West-China