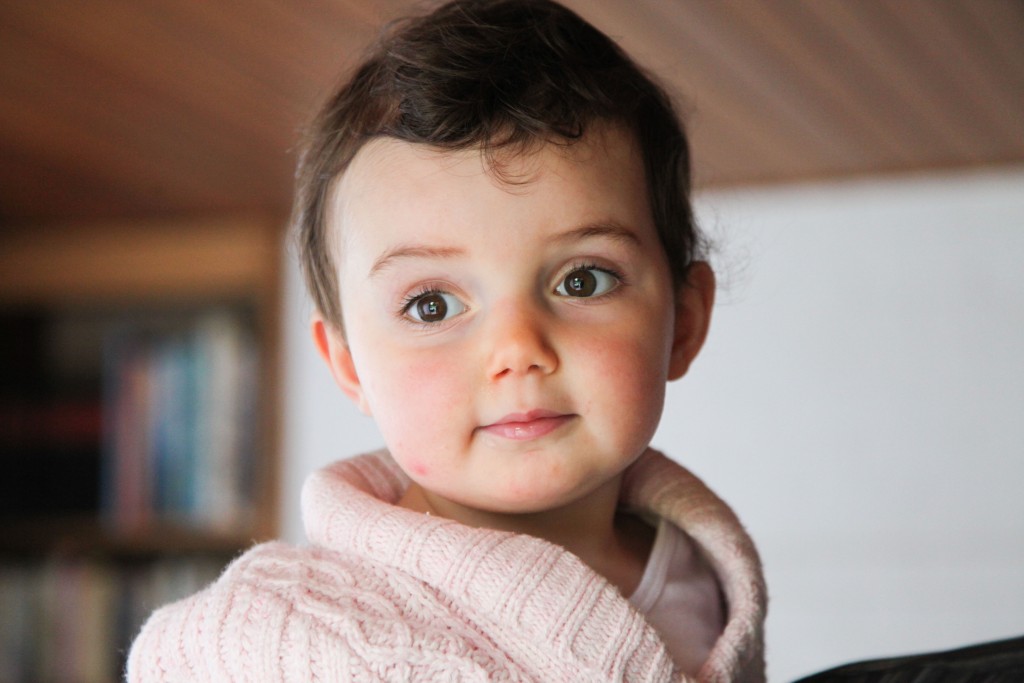 Volgens de Griekse mythologie woont Echo in een spelonk van de berg Helikon. Volgens mij dribbelt ze dagelijks door mijn living en keuken. Astrid herhaalt al een tijdje alles wat ze hoort. Ze herkauwt flarden van elke zin die wij tegen haar zeggen. Het lekkerst in de mond liggen de woorden die niet voor haar oren bestemd zijn. Snauw elkaar één keer kattig af en je kind kent een nieuw woord.
Astrid mag in elk geval niet klagen. Voor iemand die graag zinnetjes na-aapt, is het in mijn buurt dikke pret. Schier eindeloos is de overbodige uitleg waarvan ik ons dagelijkse leven voorzie.
Sinds ik moeder ben is mijn gêne om luidop een eind weg te lullen helemaal verdwenen.
De sirene van een ambulance inspireert mij tot wijsheden over zieke mensen waar de Bond Zonder Naam een punt aan zuigt.
Tegen kinderen moet je veel praten. Daarvan ben ik overtuigd. En dus babbel ik in Astrids gezelschap haar wereld aan elkaar. Om te voorkomen dat de gesprekjes die haar stimuleren mij afstompen, lees ik over taalverwerving en ontwikkelingspsychologie. Ik praat niet met mijn dochter omdat het moet van de boekjes  – het is een spontane en hardnekkige neiging. Juist daarom vind ik het geruststellend om te lezen dat die babbeldrang niet debiel is maar gezond.
Peuters pikken van hun ouders woorden en grammatica op maar ook een manier van denken. De Sovjetpsycholoog Vygotski ontdekte dat jonge kinderen die bij het puzzelen luidop in zichzelf praatten zich langer konden concentreren dan hun zwijgzame evenknieën. Ze putten vertrouwen uit hun dialoog met zichzelf. Het verschil bleef ook op latere leeftijd waarneembaar, nadat alle proefkinderen het hardop praten hadden verleerd.
Vygotski's verklaring? Kinderen 'internaliseren' de stem van hun opvoeders. In het hoofd van elke volwassene klinkt de echo van moeder of vaders stem. In zichzelf mompelende kleuters zitten halverwege dat 'verinnerlijkingsproces'. De aanmoedigingen van hun ouders zetten de toon voor hun conversatie met zichzelf. Het is dus allesbehalve onnozel om een rondje gepuzzel te voorzien van een voice-over: "Wil de koe niet in het vakje? Komaan, we proberen het nog eens. Hier met die pootjes, koe." Dat soort prietpraat legt volgens Vygotski het fundament van een gezond vermogen tot zelfaansturing.
Ach, een mens vindt altijd wel een theorie om z'n eigen tenenkrullende gedrag recht te praten.
Welk effect mijn woordenstroom over koetjes en varkens zal hebben op Astrid, lijkt me moeilijk meetbaar. Eigenlijk ben ik minstens zo benieuwd wat al dat praten op kinderniveau doet met mezelf.
Ik ben zeker niet de eerste moeder die vindt dat een kind opvoeden een gevoel geeft van empowerment. Ik vraag me af welke rol taal daarin speelt.
In mijn gesprekken met Astrid is een glansrol weggelegd voor de fantastische figuur 'Ons Mama'. Wat een bron van wijsheid, zorg en zekerheid is dat. "Ons mama zal er een kusje op geven. Kom hier, ons mama kan het maken. Wacht op ons mama, we doen het samen." Soms lijkt het of ik door zoveel over haar te spreken, dat zelfbewuste sujet heb gecreëerd.
Fake it till you feel it – zegt men in acteurskringen. Hoe je denkt, wordt hoe je spreekt. En hoe je spreekt, wordt hoe je leeft – zei Ghandi. Ik denk de laatste tijd dat de dialoog tussen peuter en moeder niet alleen het kind extra zelfvertrouwen geeft maar ook de volwassene. Een inzicht met een hoog Bond Zonder Naam gehalte, ongetwijfeld. Maar daar trekt ons mama zich niks van aan.
Deze column verscheen in november 2011 in Psychologies. Astrid was toen éénentwintig maanden.