Wanneer een genomineerde van onze columnwedstrijd haar eerste boek voorstelt, zal niets ons ervan weerhouden erbij te zijn. Niets. Dus ook niet die monsterfile naar Mechelen, niet de wegenwerken die me omleidden via Warschau, niet de zoektocht naar een parkeerplaats waarbij ik na een half uur zoeken heb zitten janken omdat de eerste vrije plaats anderhalve centimeter te kort was, en al zeker niet de microben die mijn neus lieten leeglopen met het debiet van de watervallen van Coo. Ik stond er, daar in ArteNova, waar Ans De Bremme haar boek Je mag ook huilen voorstelde.
Op elke stoel een kont, zo zien we het graag. De zaal zat zo vol dat de vloer kreunde. Het leeglopen van mijn voorhoofdholte kon ik stelpen met een kleine life hack (twee opgerolde keukenhanddoeken, één in elk neusgat), zodat ik handenvrij kon zitten luistervinken in het wachtende publiek. Er werd over boeken gepraat, her en der. Fijn. En over schrijfcursussen. 'Ik hou van lange zinnen, met veel woorden, maar die worden er onverbiddelijk uitgehaald', klonk het achter me, over een cursus columns schrijven. Yep, ik weet hoe dat voelt.
Ans trapte de avond op gang met een passage uit haar boek. We maken meteen kennis met Ellen Van Gullem en haar zus Jana, net nadat ze hun ouders verloren in een auto-ongeluk.
Ellen raast aan één stuk door, terwijl Jana haar ratelende zus met grote ogen gadeslaat.
'Je mag ook huilen hoor', onderbreekt ze haar grote zus met luide stem.
Ellen verstart.
'Je mag ook gewoon huilen hoor', fluistert Jana nog een keer.
In wat volgt doet Drama handjeklap met Toeval, altijd een goed recept voor een straf verhaal. Ellen kan de dood van haar ouders moeilijk behappen, maar ploetert moedig door in het Leuvense kotleven. Ze weigert aanvankelijk alle hulp, ook die van de jonge psycholoog Daan Van Keerbergen. Wanneer Ellen door de spullen van haar overleden moeder snuistert, stuit ze op een geheimzinnige foto met een al even mysterieus opschrift. Ze gaat op onderzoek uit. Na wat horten en stoten gaat ze ondertussen akkoord om met Daan af te spreken, die een oud-leerling van haar vader blijkt te zijn. Stukje bij beetje breit Ellen de aanwijzingen die haar nieuwe omgeving haar aanreikt aan elkaar en stuit zo op een schokkend geheim…
'Het boek is volledig fictief', lachte Ans tijdens het interview door Mariska Blommaert, 'maar uiteraard zitten er flink wat elementen uit mijn persoonlijke ervaring in het boek. Het kotleven in Leuven, bijvoorbeeld, of dingen die ik opvang in pakweg de wachtkamer van de dokter. Elke schrijver doet dit, denk ik.'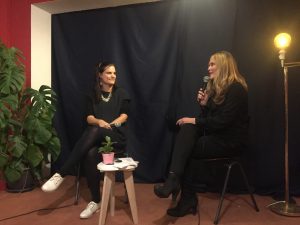 Hoewel Ans eerder furore maakten met gedichten via het dichterscollectief Weer/Woord, moet ze bekennen dat haar grote liefde eigenlijk proza is. Die liefde kon ze de afgelopen twee jaar kwijt in het schrijven van Je mag ook huilen. Tijdens die lange periode vond ze het moeilijk om tijd te blijven vinden om te schrijven, en om haar ongeduld te verenigen met het trage proces van het vinden van een uitgever en de tientallen karweitjes die horen bij het uitgeven van een boek.
Ans sprak openhartig over hoe ze na enkele afwijzingen door de grote uitgeverijen een thuis vond bij het kleinere Het Punt. Een keuze waar ze blij om is, omdat ze er meer autonomie heeft en van een persoonlijkere aanpak kan genieten. Op de vraag of ze denkt van schrijven te kunnen leven, bleken haar voeten stevig op de grond te staan. Dat zou een illusie zijn, zegt ze, en bovendien vindt ze haar dagdagelijkse job te fijn.
Je mag ook huilen heeft flink wat stadia doorlopen, vertelde ze. Het begon eigenlijk als kortverhaal, maar daar werd het algauw te lang voor. Ideaal voor een novelle, zou je denken, maar daar zijn uitgevers vandaag niet zo happig op. Het werd dus een Young Adult roman, die zich ook gewoon door volwassenen laat lezen.
Ze neemt de bierviltjes die op tafel liggen en begint er een huisje mee te stapelen. Steeds een etage hoger. Voor elke etage een nieuwe droom, glimlacht ze bij zichzelf.
Hoewel Je mag ook huilen behoorlijk dramatisch is, is het geen triest boek. Ans wil beschrijven hoe gewone mensen omgaan met moeilijke situaties, hoe ze zich op donkere momenten optrekken aan kleine lichtpuntjes. Het was erg belangrijk dat het geen compleet drama werd, zei ze. En dat zal je ook terugvinden in haar tweede boek, dat al op stapel staat. Fout gelopen relaties zullen centraal staan en deze keer in een boek voor volwassenen, verklapte ze.
Je kan Ans ontmoeten op de boekenbeurs, waar ze op 1 november tussen 10u en 14u signeert.
Je mag ook huilen, Ans De Bremme (Het Punt)
PS: Ans was vorig jaar genomineerd voor onze columnwedstrijd met Vrouwen versieren. Meer woorden die in je kleren kruipen vind je op haar blog.
PPS: wij zijn wél happig op novelles, en vooral wanneer we zin hebben in een uurtje slow reading!
PPPS: Zin in meer Young Adult? Probeer deze eens.