Het Betere Boek festival in Gent kleurde dit jaar rood. Curator Johan De Boose koos Rusland als thema en stelde een multi-disciplinair programma samen met muziek, theater, lezingen, interviews en poëzie. Thisishowweread was er graag bij, en tekende present voor enkele interessante Belgo-Russische uitwisselingen in de Minardschouwburg en Nest. Het prachtige weer had Het Willemfonds er handig bij besteld, waardoor het festival baadde in een zomers sfeertje.
Konijntjes
Of hij niet beter over konijntjes zou schrijven, vroeg een vriend? In plaats van zo'n roman over de moord op een personage? Aleksandr Skorobogatov moest zijn boek zelfs bij zijn uitgever verdedigen. Na de Wit-Russische censuur, kreeg hij in ons Belgenland het gevoel dat velen hem liever over witte pluizige wezentjes zien schrijven, in plaats van over een auteur die zijn hoofdpersonage omlegt. Met een hamer. En spijkers.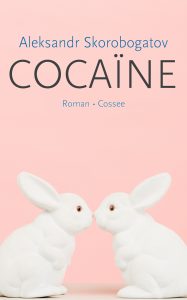 Toch zet hij door, en mag nu overal in Vlaanderen en Nederland gaan voorlezen over een boek dat niet over konijntjes gaat. Of toch een beetje. En dat het boek hem nauw aan het hart ligt, tonen de herhaalde stuiptrekkingen en slappe lachsalvo's die hij niet kan onderdrukken. Ruth Joos sprak hem over het schrijfproces en het vak. Aleksandr windt er geen doekjes om:
Mensen denken dat een boek schrijven leuk is, een aangename hobby naast het werk en zo. Nee. Een boek is keihard zwoegen.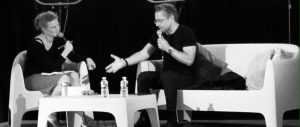 Revolutie
Johan De Boose, curator van Het Betere Boek, presenteert zijn jeugdroman/graphic novel Oktober, over de gedoemde liefde tussen de dakloze Maxim en de aristocratische Vera tegen de achtergrond van de Russische revolutie.
Johan de Boose leest voor, terwijl illustrator Caryl Strzelecki de lezing illustreert. De prenten worden achteraf verloot in het publiek, en Thisishowweread mag zit de trotse eigenaar noemen van één van de meesterwerkjes. We onthouden u de visual niet, uiteraard. Tekst en beeld wisselen elkaar in het boek af en vullen aan. En, ja we konden het niet laten om Oktober mee naar huis te slepen, met dank aan de stand van Boekhandel Limerick ter plaatse.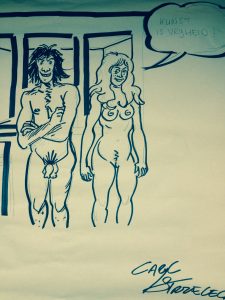 Bronzen Uil
Het festival wordt afgesloten met de uitreiking van De Bronzen Uil, de prijs voor het beste Nederlandstalige debuut van het afgelopen jaar. De genomineerden waren John-Alexander Janssen met Een verhaal uit de Zonnestad, Gerrit Janssens met Twaalf, Emy Koopman met Orewoet, Haro Kraak met Lekhoofd, Dimitri Leue met Het Lortchersyndroom,  Lieke Kézér met De afwezigen en Elise Wuyts met De studente (Vrijdag). De zeskoppige jury koos voor De Afwezigen van Lieke Kézér en feliciteerde de schrijfster met volgende lovend woorden:
Door de zorgvuldig opgebouwde perspectiefwisselingen en een hoog tempo wordt de lezer betrokken bij personages die zich stotterend, haperend, snuivend en soms opportunistisch door een heftig leven worstelen. De auteur slaagt erin de donkere thematiek met de troost en de schoonheid van de muziek te verzachten
De publieksprijs ging naar John-Alexander Janssen met Een verhaal uit de Zonnestad.