Cocaïne – Aleksandr Skorobogatov
Thisishowweread tikte op de schouder van Aleksandr Skorobogatov. Of we hem enkele vragen mochten stellen. Over zijn nieuwe roman, Cocaïne, die op 6 april verschijnt, over censuur en over te braaf zijn in de literatuur.
Dat mocht. Leest u mee?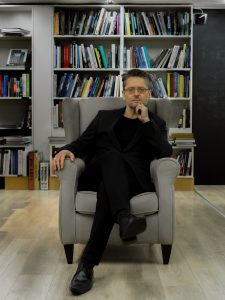 Je woont en werkt sinds de jaren 90 in België, maar begon je schrijverscarrière in de Sovjet-Unie. De censuur speelde je parten, je boeken kleurden buiten de lijntjes. Kan je ons daar wat meer over vertellen?
Toen ik als piepjonge schrijver in de Sovjet-Unie voor de eerste keer naar de redactie kwam van het enige literaire tijdschrift in Wit-Rusland werd ik door de redacteur daar voor gek verklaard. Ik hoopte dat wat ik schreef gepubliceerd kon worden, maar kreeg te horen:
"Je schrijft goed genoeg, maar wat je schrijft kan niet gepubliceerd worden. Als je gepubliceerd wil geraken moet je anders schrijven".
Maximalistisch als ik was wilde ik niet anders gaan schrijven, ik wilde niet politiek correct zijn, ik wilde mijn ziel niet verkopen aan het communistische regime. En als gevolg van mijn keuze kon ik niets publiceren. Ik was vele jaren een van die schrijvers die 'voor in de tafel' schreven. Het was een geijkte term: je wist dat wat je schreef niet publiceerbaar was en dat de eindbestemming van jouw verhaal of roman een tafellade zou worden. Zelfs al ben je een wereldgenie zoals Michail Boelgakov of Daniil Charms, je schrijft niet voor een publiek, maar voor je eigen tafellade.
Vreemd genoeg werd op het hoogtepunt van de perestrojka mijn anticommunistisch verhaal integraal, zonder censuur gepubliceerd, maar met mijn tweede publicatie, de roman Sergeant Bertrand (die onlangs in het Nederlands werd heruitgegeven door Cossee, Amsterdam) heb ik wel volop met censuur te maken gekregen. Iedereen raadde me aan om die censuur te aanvaarden en mijn roman in gecensureerde versie te laten publiceren omdat ik als een jonge beginnende schrijver zo'n kans gewoon onmogelijk mocht laten voorbijgaan en omdat gewoon niemand dat anders deed. Maar uiteindelijk koos ik ervoor om van de publicatie af te zien. Voor mijn uitgever was het waarschijnlijk voor de eerste keer in zijn leven dat hij zoiets meemaakte en ik werd opnieuw voor gek verklaard. Maar de uitgeverij zwichtte uiteindelijk en onverwacht heb ik letterlijk binnen een kwartier mijn zin gekregen en kon ik het belangrijkste van de weggecensureerde tekst terug in de publicatie krijgen.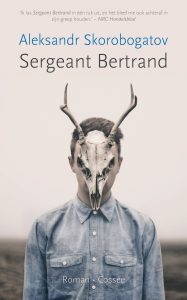 Gek genoeg blijft de censuur mij nog steeds achtervolgen, ook buiten de grenzen en tijd van de Sovjet-Unie. Dezelfde roman Sergeant Bertrand werd in de Franse vertaling (net zoals in de Italiaanse trouwens), gecensureerd. De inleiding werd als te 'morbide' beschouwd en daarom weggelaten. Portret van een onbekend meisje (Cossee, Amsterdam) werd in Rusland als quasi kinderporno bekeken en vreemd genoeg roept mijn nieuwste roman Cocaïne morele bezwaren op bij mijn Nederlandse uitgever. Ik hoop in ieder geval dat ik de tekst toch integraal zal kunnen uitbrengen, maar het is nog afwachten. (nvdr Alexander hield het been stijf en mag ondertussen samen met ons uitkijken naar de integrale publicatie van Cocaïne)
Het hoofdpersonage in Cocaïne, je nieuwste boek, is zelf schrijver in Rusland en wint de Nobelprijs voor de vrede. Eenmaal in Stockholm vervagen de lijnen tussen fantasie en werkelijkheid. Kan je iets meer vertellen over het spel met de verhoudingen tussen auteur, lezer en hoofdpersonage?
Cocaïne is mijn grappigste en tegelijkertijd misschien ook meest tragische boek tot nu toe.
De roman is gebaseerd op een kortverhaal dat ik in de jaren '80 in de Sovjet-Unie schreef en dat daar om ideologische redenen nooit gepubliceerd werd. Het is het enige verhaal dat nooit door de censuur is geraakt. De reden waarom is nog steeds een raadsel voor mij. Stilistisch stemt het met de Russische traditie van Nikolaj Gogol en Daniil Charms waar de werkelijkheid een heel relatief en rekbaar verschijnsel is.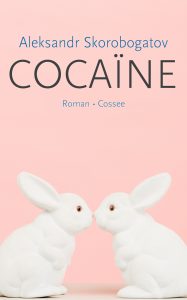 De auteur, tevens hoofdpersonage, schrijft een verhaal dat daarna door elk personage wordt gecorrigeerd of afgebroken. Zijn uitgever noemt de roman geniaal, maar stelt daarna wel voor om alles af te breken of te schrappen (een voorstel dat je als schrijver in realiteit veel te vaak krijgt) en een heel nieuw verhaal te schrijven, in dit geval over konijnen.
De schrijver wordt door zijn karikaturaal nationalistische vaderland uitgestoten en verbannen, maar het leven in zijn nieuwe thuisland is mogelijkerwijs misschien nog gekker dan in zijn vaderland. Denk aan dat verhaal van Daniil Charms waar oude vrouwtjes ten gevolge van overdreven nieuwsgierigheid bij bosjes uit het raam vallen en blijven vallen of aan een novelle van Gogol waar een neus zijn eigenaar verlaat om een belangrijke persoon in Sint-Petersburg te worden en je hebt ongeveer een idee over de surrealistische avonturen van het hoofdpersonage van Cocaïne, zowel in zijn eigen land als in Stockholm.
Het is een verhaal dat baadt in zwarte humor, Russische folklore en steunt op de verworvenheden van de westerse modernistische roman. In Rusland werd het vergeleken met het werk van Charms, Ionesco en Beckett. Ik kan voor mezelf moeilijk een beter compliment bedenken.
Waarom de titel Cocaïne?
Een antwoord op die vraag zal je zelfs met de zwaarste folteringen niet van me loskrijgen. Het is wel een van de meest courante vragen die ik van lezers van het boek krijg.Wat mij betreft mag ieder het op zijn eigen manier invullen en beantwoorden.
Censuur blijft je achtervolgen?
Censuur is zoals gezegd inderdaad een blijvend verschijnsel in mijn leven. Dat beest laat me niet los. Ik probeerde recent nog een Facebookpagina voor mijn nieuwe boek aan te maken, maar Facebook liet me niet toe om het woord 'cocaïne' als titel van de pagina te gebruiken. Ik heb op alle mogelijke manieren geprobeerd om dat te omzeilen, maar niets kon baten. Facebook wou de titel maar niet aanvaarden. Uiteindelijk ben ik erin geslaagd om de pagina "Cocaïne: the book" aan te maken, al moest ik daarvoor wel nog een speciale toelating van de Facebook admins krijgen. Ik mag dus wel zeggen dat zo een start veel leuks belooft.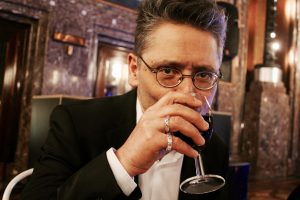 Welke reacties kreeg je tot nu toe?
De meest gehoorde reacties van de proeflezers van de Nederlandse vertaling zijn 'uniek' en 'nog nooit zoiets gelezen!'. Een collega-schrijver prees hoe gedurfd het geschreven is en zei dat we in Vlaanderen veel te 'braaf' zijn geworden. Bernard Kreise, de belangrijkste vertaler van Russische literatuur in Frankrijk, noemde het boek 'een totaal nieuwe Russische literatuur waar iedereen in het westen naar op zoek is'.
Onafgezien van die rare 'bad omen' van Facebook en de zachte strijd met mijn uitgever, hoop ik dat Cocaïne goed zal worden ontvangen. Ik heb alles bij elkaar zo'n dertig jaar aan het boek gewerkt en ik hoop dat de lezer zal lachen, treuren en griezelen met de geweldige avonturen van mijn arme schrijver in zijn queeste om zijn verloren liefde terug te winnen en zijn eigen plek onder de zon te vinden.
Een deel van dit interview leest u in Elle België.
P.S.: wij spraken Aleksandr na zijn optreden voor Behoud de begeerte in de stadsschouwburg van Leuven en schreven hem een brief over de neveneffecten van Sergeant Bertrand.
P.P.S.: zin om de boekvoorstelling in Bibliotheek Permeke bij te wonen? Schrijf je hier in!