Meet en greet met Aleksandr Skorobogatov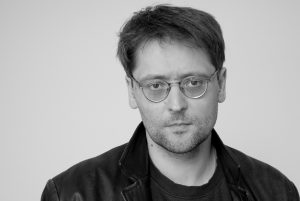 Aleksandr Skorobogatov opent Saint Amour met een fragment uit zijn Portret van een onbekend meisje. Hij leest voor in het Russisch. De daadkracht van de Slavische taal creëert een intimiteit waarmee Skorobogatov even een tête-a-tête aangaat met iedereen in het publiek. Ritmisch ruisende Russische klanken omringen ons. Hoofdpersonage, setting en betekenis slingert de Wit-Rus het publiek in als hij overschakelt op het Nederlands. Heerlijk hoekig, massief en imposant Nederlands met een Russisch accent. Hij trekt de intimiteit open en nodigt ons uit om het verhaal te volgen. Zijn optreden is geladen, machtig en teer.
'Ik volgde een opleiding als acteur', vertelt Skorobogatov achteraf in de lounge. 'Ik sloeg ooit tilt voor een publiek van drieduizend mensen. Ik sprak twee lijnen uit en toen volgde een enorm zwart gat.' Hij trad jarenlang niet op, volgde een literaire opleiding en schreef. In de lage landen is zijn ster rijzende, in Rusland is Skorobogatov 'one of the big guys'. In 1991 won hij met Sergeant Bertrand, dat nu in vertaling opnieuw uitkomt, de prestigieuze prijs voor 'Beste roman van het jaar' van Yunost (Moskou).
'De stap om weer op het podium te kruipen is één van de zwaarste uit mijn leven, maar ik moet het doen. Het is een stap om weer mezelf te worden in het verwerkingsproces van de dood van mijn zoon.'
De zoon van Aleksandr werd als tiener brutaal vermoord toen hij met enkele vrienden in een datsja logeerde op het platteland. 'Het is het ultieme falen', legt Skorobogatov op tafel, 'je kind niet kunnen redden als ouder. Je bent kapot, als mens, en gebroken, als man.' Hij werd in de rechtszaal geconfronteerd met de moordenaars, maar kon geen emotie opbrengen. 'In mijn ogen draag ik de schuld.'. Zijn zelfvertrouwen als mens kelderde. 'Ik had geen kracht om de straat op te gaan. De stap zetten om opnieuw op een podium te gaan staan en voor te lezen in een vreemde taal is bijna onmogelijk. Ik ervaar intense angst, paniek, euforie en twijfel, maar ik moet het doen. Ik doe het voor mijn zoon, hij kan het niet meer meemaken.'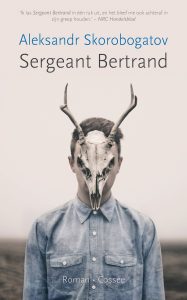 Als 'auditie' voor Saint Amour werd Aleksandr tot bij Luc Coorevits geroepen. 'Het was de eerste keer dat ik iets in het Nederlands zou voorlezen aan iemand. Ik las mijn stuk drie keer voor. De eerste keer was slecht, de tweede keer was beter en de derde keer was rampzalig.' Maar Coorevits zag dat de man moed had. Alles zou goedkomen, en Aleksandr zou in het Russisch voorlezen. 'Zijn vertrouwen gaf me de kracht om het gevecht tegen mijn onzekerheden aan te gaan. Zonder zijn steun zou het me niet gelukt zijn.', mijmert Aleksandr.
'In Gent heb ik doodsangsten uitgestaan. Ik ga voor de voorstelling altijd even naar de zaal kijken. De Vooruit is gigantisch. De andere schrijvers weten hoe moeilijk het is voor mij en steunen me enorm. We kenden elkaar voor de tournee niet, maar leven tien dagen samen. We zijn kort onderweg, maar worden toch een groep.'
Over het negatief advies rond Saint Amour is de Wit-Rus erg duidelijk: 'Het advies stipuleert dat we te veel betaald worden en dat het format niet werkt. Van elk boek van twintig euro dat verkocht wordt, ontvangt de schrijver tien procent. We kunnen niet leven van onze kunst. Verder hebben de volle zalen en het lachen, huilen en meeleven wel bewezen dat Saint Amour niet dood is.'
Sergeant Bertrand en Portret van een onbekend meisje, Aleksandr Skorobogatov, Uitgeverij Cossee.
P.S.: Barbara houdt van Russen. Russische schrijvers, that is.
P.P.S.: Ze mogen ook al een tijdje onder de grond verpozen.
P.P.P.S: Of het zal toch niet zo heel erg lang meer duren, met deze Russische diva op leeftijd.