In dat drukke hoofd van mij zou die reis een romantische komedie worden. Een soort van Tiny in Azië, maar dan anders. Beter, zelfs. De reis van mijn leven.
Not. Factor 25 kort samengevat?
Radiomaker Eva Daeleman neemt een break van haar vliegende carrière, boekt een ticket naar Hanoï, landt in Azië… en crasht. Keihard. Huilbuien, eenzaamheid, heimwee en Azië dat tegenwerkt zoals enkel Azië dat kan. Bovenal bonkt 'De Vraag' constant tegen haar hersenpan aan: 'Is dit het nu?'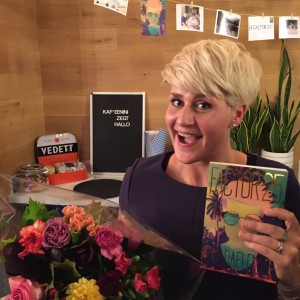 Eva filosofeert over haar verwachtingen en haar angsten.  Ze raast door haar hersenkronkels al was het een achtbaan. Ze heeft lak aan literaire conventies en schrijft zoals ze de ether volbabbelt.
Easy schmeazy.
of
Mijn leven liep als een tiet.
Tijdens haar boekvoorstelling in het hippe KaffeeNini vertelt ze dat een boek uitbrengen een erg emotioneel proces is gebleken. 'Ik ontdekte de noodzaak van waterproof mascara'.
We nippen aan de perfecte gin tonic gemixt door Bombay Sapphire als Eva op een stoel kruipt om haar boek voor te stellen. 'Ik ben er niet eens stiekem trots op, op mijn boek', glundert ze. Ondertussen worden de heerlijke Aziatische hapjes van Elisa kookt rondgedragen.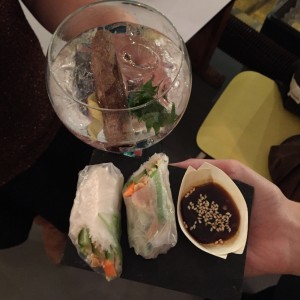 Terwijl de aanwezigen stukjes mie zitten te slurpen, ratelt Eva verder. 'Ik kwam terug van mijn reis met 30 A4'tjes die ik had volgekrabbeld, vaak 's nachts of tussendoor, terwijl ik op de bus zat te wachten.' En nu is er dus Factor 25. Eva hupt van haar stoel en het feest kan beginnen.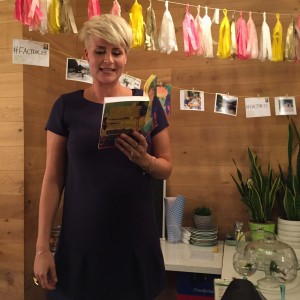 Wij konden de extatische Eva twee minuten op een stoel planten voor enkele vragen. Ok, dan, één minuut en anderhalve vraag, de rest handelden we per mail af.
Wat vind je de mooiste zin uit je boek?
Het is oké om te twijfelen, om het allemaal niet te weten, om weken aan een stuk te janken, om te zoeken naar wat je wil en het niet meteen te vinden, alles is oké. Een zin die me zelfs nu in het dagelijks leven in België nog wakker schudt.
Je zei dat je het hardst gehuild hebt bij aanvang van je reis. Kan je de situatie schetsen? 
Ik kwam aan in Vietnam na een reis van ongeveer 14 uur, moe en met jetlag natuurlijk. Bleek dat ik m'n visum niet cash kon betalen, de geldautomaten leeg waren en m'n bagage kwijt. Alles wat mis kon gaan, ging mis. En dat tijdens de eerste 24 uur in m'n eentje.
Wat was het meest euforische moment? 
Het duiken op Koh Tao: mijn allereerste duik in zee. Als ik niet zo'n mondstuk in mijn mond had zou ik heel luid 'wauuuw' geroepen hebben.
Zijn er al plannen voor een volgend boek? Factor 30?
Hm, eerder Factor 27 of zo. Er zijn nog geen concrete plannen, maar van schrijven gaat m'n hart sneller slaan, dus ik ga het blijven doen. In de vorm van een boek, een blog of een column, dat weet ik nog niet.
Right, wij houden het voor u in de gaten. Ondertussen kan u al genieten van een heerlijke read vol humor, overpeinzingen en Eva's immer aanwezige vlotte babbel. Blond (soms), dapper (alleen op reis) en schrijfster (allé, onder andere), een twintiger naar ons hart.
Factor 25, Eva Daeleman, Manteau
P.s.: kudos voor het omslagontwerp van Pinkeye.
P.P.s.: nog inspiratie nodig rond Azië? Sri Lanka in boeken en Nepal passeerden hier al de literaire revue.