Ik kan blogposten vol schrijven over Berlijn. Technisch gezien doe ik dat al even, en bestookte ik jullie al met Berlijnse boekentips. Maar goed, aangezien Katrien, Barbara en Kurt af en toe ook hun zegje willen doen, beperk ik me vandaag tot drie literaire hotspots
Het gaat hier dus niet om het fantastische DDR museum, de heerlijke wandelmogelijkheden in de Tiergarten, het flaneren lang Unter Den Linden of het bezoek aan het Jüdisches Museum. Ofschoon dat jullie niet mag weerhouden om al deze plekken op je wishlist te zetten voor Berlijn.
Beloof ons wel dat je begint met een bezoek aan volgende literaire hotspots:
Shakespeare & Sons
Neem de U-Bahn naar het hart van het vroegere Oost-Duistland, kuier even langs de brede Karl Marx Allee met z'n typische Oostblok architectuur en ontdek een sterk staaltje Engelstalige literatuur in Shakespeare & Sons. De boekhandel herbergt het nieuwste van het nieuwste op het gebied van Engelstalige literatuur, en hun selectie is uitstekend en getuigt van goede smaak.
Het Lief vloog in de kinderliteratuur, ik schafte er Svetlana Aleksijevitsj Tsjernobil Prayers aan. En omdat we het type zijn om meteen in nieuwe aanwinsten te willen duiken (en omdat Het Lief jarig was en verwend moest worden), trakteerden we onszelf op twee van hun geweldige bagels met koffie en chai. Yum!
Bebelplatz
U kent de bekende uitspraak van Heinrich Heine:
"Waar men boeken verbrandt, verbrandt men uiteindelijk ook mensen"
Dat Waar, dat is de Bebelplatz in Berlijn. Op 10 mei 1933 werden er 25000 'verboden' boeken verbrand door studenten en nazi aanhangers. Een koperen gedenkplaat herinnert aan het gevaar van het verbieden van boeken. Joods kunstenaar Micha Ullman ontwierp een monument op het plein. Door een glazen plaat kijk je in een enorme ruimte vol lege boekenkasten onder het plein. Enfin, ons zicht wordt lichtjes belemmert door een klas verveelde Italiaanse pubers die geterroriseerd worden door een strenge gids. Maar kom, we gedenken, we gedenken…
Literaturhaus
Buuurp… skuseer. Het mag eigenlijk niet, boertjes laten op een blog, maar het Literaturhaus serveert zo'n overheerlijke gerechten, u moet het ons vergeven.
Het Literaturhaus, in een zijstraat van de Kurfürstendamm, staat pal naast het Käthe Kollwitz museum, en is omringd door een prachtige tuin. Als wij er een bezoek brengen, loopt er net een tentoonstelling van Hermann Hesse. De kelder van het statige huis herbergt een boekhandel, en in de wintertuin staan de vriendelijke dames van restaurant Wintergarten klaar om je te verwelkomen. En hoe.
Wij reserveren een plaatsje in de wintertuin voor het avondeten. Het Lief heeft het nog altijd over zijn sorbet van augurken met varkenspotenterrine (geen grap). Als hoofdgerecht smulde ik van een perfecte quinoa met gegrilde groenten en verdween mijn tafelgenoot even helemaal in een smeuïge Tandoori.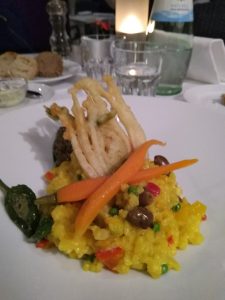 Zzhhe pièce de résistance was toch het dessert: Florentiner Apfelkuche voor hem, en apfelstrudel met een berg (echt, de grootste hoop slagroom van mijn leven) erbij.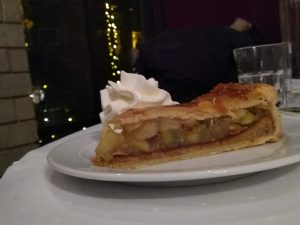 Om maar te zeggen dat dit adresje een aanrader is. Of een 'moeten', als u in de stad bent.
Hou ons zeker op de hoogte van bijkomende literaire must sees in Berlijn!