Sinds Sandrine Lambert me tijdens een Wisper-cursus op het hart drukte dat het echt -écht- wel toegelaten is om in jeugdverhalen de zaak om de meest dramatische manier totaal te laten ontsporen, beleef ik elke dag tonnen plezier door dat advies zonder schroom toe te passen. In jeugdverhalen. In columns. In emails, vaak met een kloek potje oogrollen van de argeloze ontvanger als gevolg.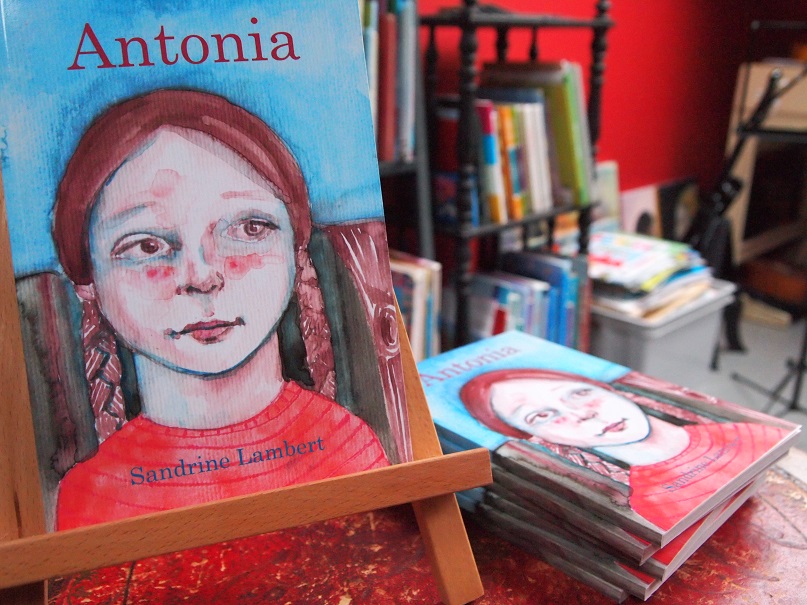 Wanneer Sandrine een nieuw prentenboek voor kinderen uit het Avondrood-atelier laat rollen, verwachten we ons dus aan een staaltje Toegepaste Fantasie voor Gevorderden in een kleurrijk jasje. Het resultaat heet Antonia en waar het precies over gaat laten we Sandrine even zelf vertellen:
Antonia zit zoals elke dag braaf in de klas, maar dan, dán…
… vlucht ze weg via het plafond. Dat is heel makkelijk: gewoon de roze pijltjes volgen. Zo komt ze terecht in een kleurrijke wereld vol mooie en leuke dingen. Maar waar ze ook angst opzoekt, omdat een beetje bang zijn ook leuk is. Ze sluit er vriendschap met een jongen en met een olifant. En soms is er ook ontroering of teleurstelling – wat ook fijn kan zijn als er iemand is die klaarstaat om je te troosten.
Antonia is een puur prentenboek, zonder tekst. Je laat de fantasie van de lezer dus helemaal zelf zijn weg zoeken. Welke boodschap vind je dat de lezer zeker moet meekrijgen?
Dat fantasie grenzeloos is. Dat je situaties helemaal kan veranderen door fantasie. Je kan in een overvolle trein fantaseren dat je wegvlucht (via het dak, het raam of de afvoer van het toilet). Maar je kan ook fantaseren dat je in feite bij een kampvuur zit, dat het dus heel aangenaam is om zo dicht bij elkaar te zitten. Omdat die mensen gewoon je vrienden zijn. En misschien maak je dan wel vrienden – of niet (zoals je zelf wenst).
Je hebt Antonia helemaal zelf gemaakt en uitgegeven. Gaat dat gemakkelijker als je -zoals jezelf- gepokt en gemazeld bent in het boekenvak of ben je op de nodige hindernissen gestoten?
Dat ging nu heel gemakkelijk. Mijn opa maakte vroeger het parochieblad helemaal zelf: Hij schreef artikels, ging mensen interviewen, typte alles in, vormde mooie titels met afwrijfletters en hij maakte er geweldige pentekeningen bij. Die manier van werken heeft me altijd aangesproken. Ik had het gevoel dat ik daar nu dichtbij zat.
Antonia vindt de wereld te druk. Geldt dat ook voor Sandrine?
Ja. Al merk ik dat ik de drukte meestal zelf opzoek.
Is er in tijden van instant entertainment nog genoeg plaats voor dagdromen?
Ik hoop het. Zelf heb ik bewust geen smartphone. En omdat ik niet met de auto rijd, doe ik alles met het openbaar vervoer. Als ik op de bus lees, word ik ziek. Het enige dat ik er dus kan doen is dromen, dat doet echt deugd. Vroeger deed ik dat in de kerk, nu in de bus. Ik hoop dat iedereen genoeg uren heeft waarop hij alleen maar kan dromen.
Wanneer je in je blootje gaat zwemmen in een vulkaan, hoe zorg je er dan voor dat je kleren niet onder de hardnekkige lavavlekken komen te zitten?
Die leg je enkele kilometers verder. Dat betekent dus dat je die afstand in je blootje moet afleggen, maar niemand die daar op let (mensen kijken vooral naar hun smartphone).
Kruip je zelf al eens door de badafvoer? Waar beland je dan? Vind je altijd je weg terug, of heb je al eens een tussenstop in een vreemd bad moeten maken om de weg te vragen?
Ik doe dat veel. Heel vaak zitten er monsters in de badafvoer. Die kunnen niet goed zwemmen, daarom krijgen ze me niet te pakken. Zo'n afvoer komt altijd uit onder mijn bed. Eenmaal daar, moet ik wel opletten, want monsters onder een bed zijn gevaarlijk.
Zijn de olifanten in Antonia gebaseerd op echte olifanten? Kunnen we ze ontmoeten, of te logeren vragen?
De olifanten in Antonia zijn ook maar mensen, ze doen hun best, maar soms ontspoort dat. Je ontmoet ze overal, en het is goed om ze soms uit te nodigen. Maar soms misdragen ze zich – zoals dat gaat.
Antonia, Sandrine Lambert (Avondrood Boeken, www.avondroodboeken.be)
(Foto en illustraties: Sandrine Lambert)