Sandrine Lambert (1974) is auteur en illustrator. In 2001 debuteerde ze met Versjes op mijn buik, een prentenboek dat ze schreef én illustreerde. Daarna verschenen er nog 33 kinderboeken van haar hand. Voor volwassenen schreef ze twee romans, een bundel met kortverhalen en eentje met poëzie.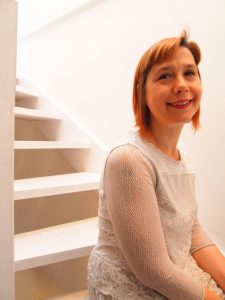 Thisishowweread mocht even schaamteloos in Sandrine's creatieve brein rondsnuffelen en alle mogelijke vragen stellen.
Je schrijft en illustreert. Beschouw je jezelf als schrijfster of als illustrator?
Ik hou niet van vakjes. Vroeger zag ik mezelf als schrijfster die ook illustreert, maar ik trek me er minder en minder van aan. Ik schijf en illustreer zoals ik schilder: ik vertrek vanuit een verhaal, en pas mijn medium hier aan aan. Ik schilder sinds m'n 12de en begon naar aanleiding van mijn eerste identiteitscrisis. Ik wist niet wie ik moest zijn. Als ik elke dag schilder, ben ik kunstenaar, dacht ik. Ik ben nooit gestopt, sindsdien heb ik elke dag getekend of geschilderd. Het geeft me een soort van veiligheid en houvast.
Wat is je meest recente boekenproject?
De mooiste dag, een project met bejaarden. Ik wilde iets maken voor ouderen, een kinderboek dat niet echt een kinderboek is. Ik vroeg oudere mensen om even weg te dromen en terug te kijken op de mooiste dag van hun leven.
Wat wordt je volgende project?
Er zitten een aantal projecten in de diepvries. Ik publiceer niet alles wat ik maak. Ik werk gevoelsmatig: ik werk iets af en leg het even weg. Af en toe ga ik terugkijken. Eén prentenboek gaat over hoogsensitiviteit: kinderen veranderen in bomen om een moment van rust in te kunnen inlassen.
Wat is je favoriete kinderboek en waarom?
Dr. Seuss' Green Eggs and Ham. Een absurd boek, ik heb het deze zomer gekocht in Singapore. Neal Gaiman las het al voor op Youtube, en dat filmpje is blijven hangen. Ik lees het boek aan mijzelf voor.
Wat is je favoriete zelfgeschreven/geïllustreerd boek en waarom?
Moeilijke vraag. Ik lees mijn eigen boeken eigenlijk nooit terug. 123 piano zou toch m'n favoriet zijn. Ik heb thuis 16 piano's en moest dat verantwoorden. Ik ben geen muzikant en kan geen muziekworkshops geven, maar ik dacht, 'als ik er nu eens een boek over schrijf?' Nu geef ik workshops over het boek en heb ik een excuus voor al die piano's.
Je geeft cursussen creatief schrijven, wat trekt je hierin aan?
Heerlijk is dat, een hele avond naar verhalen luisteren. Ik doe het vooral vanuit mijn passie en om inspiratie door te geven.
Minder leuk vind je signeren op de boekenbeurs?
Inderdaad, twee uur lang achter een tafel zitten en hopen dat iemand langskomt om je boek te laten signeren is geen pretje. Sommige bezoekers denken dat ik achter de kassa zit en komen zelfs naar me toe om boeken af te rekenen.
Je kan dit voorjaar opnieuw enkele interessante cursussen volgen bij Sandrine. Ook op haar website publiceert ze regelmatig nieuwe schrijfselen.